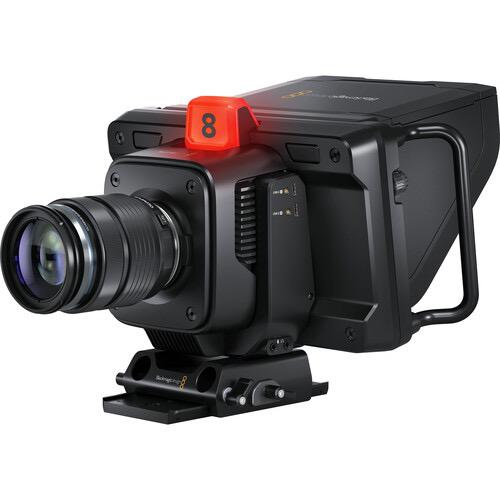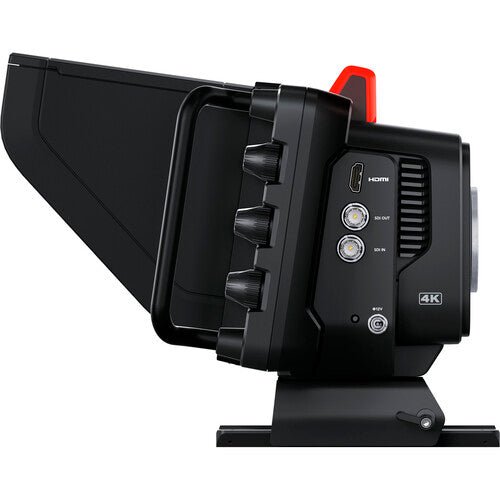 Active Micro Four Thirds Lens Mount
Capture up to UHD 4K 3840 x 2160p60
12G-SDI Input/Output/ HDMI Output
Control via HDMI/SDI/USB/or Ethernet
7" LCD Capacitive Touchscreen
Record to External USB-C Disks
Records Blackmagic RAW/Up to 25600 ISO
3.5mm Audio Input/Built-In Mics
Built-In DaVinci Resolve Color Corrector
Light Carbon Fiber Polycarbonate Body
The ultimate self contained live production camera!

Blackmagic Design Studio G2 has taken the cutting-edge technology of its predecessor and pushed it to the very limits! No longer do you have to lug around a large studio camera for amazing shots; we've packed all the same features into a lightweight, durable body that you can take with you anywhere. Plus, with its digital film camera dynamic range and color science, the Studio G2 is capable of creating stunning cinematic footage even in extremely difficult lighting conditions. And its ISO sensitivity of up to 25,600 lets you record beautiful scenes under subdued lighting without worrying about compromising image quality. Advanced features such as talkback, tally, camera control capabilities and Blackmagic RAW recording give you absolute control over your recordings. With powerful abilities such as focus and zoom demand for lens control as well as live streaming ability, this studio camera is truly one of a kind! Whether you're taking on location shoots or in-studio production work, the Blackmagic Design Studio G2 Camera makes every shot feel like a masterpiece.

Designed for Live Production

With its large 7" viewfinder and lightweight design, this is the ideal camera for any broadcast or streaming needs. Not only does it record superior Blackmagic RAW footage to USB disks, making it perfect for capturing events like speeches, panel discussions, lectures, and more, but also—thanks to its side handles—allows for comfortable use over long periods of time. Capture all your A-list chat shows, television productions, broadcast news reports, sports matches from the best angles, events at your conference center—and even wedding videos with ease. With its touch screen and powerful physical controls at your fingertips, you'll be able to track shots smoothly wherever you go.

Revolutionary Studio Camera Design

This revolutionary piece of equipment gives large broadcasters the ability to record high-quality shots without having to lug around overly bulky and expensive cameras. It's designed in a compact form factor, making it easily transportable and perfect for on-the-go production. The lightweight carbon fiber reinforced polycarbonate body of this powerful miniaturized camera offers broadcast quality production and is nearly indestructible. Not only does it come with an innovative 7" touchscreen viewfinder but it also has knobs for brightness, contrast, and focus peaking which allows you to get your footage live and hassle free.

Exceptional Low Light Performance

For cinematographers, photographers, and videographers who need precision and consistency no matter what kind of environment they're shooting in, this sensor-rich camera will do just that. With gain options from -12dB (100 ISO) up to +36dB (25,600 ISO), it captures beautiful footage even when facing gloomy natural light or cycling through night scenes. The primary native ISO of 400 is optimal for use under studio lighting, while its secondary high base ISO of 3200 ensures viewing pleasure despite the challenging environment.

Get Cinematic Images in Live Production!

With advanced sensors and Blackmagic's Generation 5 color science, you can get the same powerful imaging technology used in digital film cameras! Achieve incredible results with this camera, featuring 13 stops of dynamic range for darker blacks and brighter whites. With resolution ranging from 3840 x 2160 to 6144 x 3456 and support for frames that range from 23.98 to 60 fps, you have everything you need for both HD and Ultra HD productions. Make live production easier with its built in DaVinci Resolve primary color corrector control in the switcher - providing much better images than standard broadcast cameras.

Affordable Photographic Lenses!

Its EF or MFT lens mounts make it compatible with a stunning array of affordable photographic lenses, giving you incredible quality and accuracy for your creative projects. Plus, its new active lens mount makes adjustments easier than ever. You can now make changes to the lens remotely so you don't have to risk destabilizing your tripod while reaching around to adjust it manually. The optional focus and zoom demands give you that "B4 broadcast lens feel" from the safety of the tripod handles, making tracking shots and operating the camera more reliable than ever before.

Frame Shots with Large 7" Viewfinder

This exceptional camera features a large 7" high resolution screen for easy and precise camera work, as well as a powerful HDR display perfect outdoors – even in sunlight! On-screen overlays provide you with record status, histogram, focus peaking indicators, levels, frame guides and more. Plus, you can apply 3D LUTs to ensure each shot has the desired color and look. Plus, this user-friendly touchscreen has menus and pre-set customizations allowing you to quickly access the settings right for every job. And when you're on the go, trust that your camera is safely secured with its included sun shade - or use Blackmagic's (optional) Studio Viewfinder shade! Embrace detailed high-resolution images and video creation with the Blackmagic Design Studio Camera 4k Plus G2.

Physical and Touchscreen Controls

Featuring advanced control knobs and physical buttons on the device itself, you can fine tune your beautiful images to perfection. What's more, the focus peaking knob on the right allows you to adjust the detail highlight so you can capture true authenticity. Your camera also has three function buttons conveniently placed on the left side of the device that are assignable to certain tasks such as zebra, false color, LUTs and more! For a truly one-of-a-kind broadcasting experience, look no further than the BlackMagic Design Studio Camera 4K Plus G2. Easily adjust settings to create sharp shots for HD broadcasts and live streaming events with all of the accurate details and stunning clarity you expect from this blockbuster professional grade device.

Built-in Tally for On Air Status

With this studio camera, you get a very large and eye-catching tally light that illuminates in three colors for on air, preview, or ISO recording. Additionally, it includes clip on transparent camera numbers so talent can identify each camera with ease. This Blackmagic Studio Camera also supports the SDI tally standard used on all ATEM live production switchers and the HDMI tally used on ATEM Mini switchers. What's more is that SDI tally eliminates complex wiring making job setup quicker than ever before!

Communicate with the Director via Talkback

Take your production quality to the next level with this innovative camera that has SDI connections and talkback capabilities – an essential feature for professionals. Directors can communicate with camera operators in real-time to help guide shot selection during the event, ensuring that each angle of the show is captured. With both 3.5mm and 5 pin XLR broadcast headsets supported by all models, you have control over every component of your event. Plus, talkback works with any embedded SDI audio devices so worry no more about compatibility issues.

Powerful Broadcast Connections

This amazing video camera is built for rigorous demands in the digital film industry. Perfect for ATEM Mini and ATEM SDI switchers, it features HDMI and 12G-SDI connections along with headphone and microphone connections. The springy 10GBASE-T Ethernet allows you to connect all video, tally, talkback and power through a single electric cable. Save on costs without compromising on quality thanks to its amazing SMPTE fiber workflow—but with standard Cat 6A copper Ethernet cable! In addition, the two USB-C expansion ports make it easy to expand your options and create a fantastic studio recording experience like no other.

Four Ways to Connect

Its powerful features make it easy to get broadcast-style results in any situation. It has HDMI, 12G‑SDI, and 10G Ethernet connections so you'll always find the right connection no matter what technology you're using. With these types of connectors, tallying, talkback control, recording triggers and even camera power can be supplied over a single cable! Plus, the built-in LCD helps you easily monitor your video stream. And thanks to its lightweight design with revolutionary fanless cooling technology, it's easy to move the camera between shots while still producing amazing results.

Get Low Cost Camera Control via SDI

This second generation of the popular Studio Camera Series provides total control from any ATEM switcher with inbuilt protocol support and return data communication via the HDMI connection. Not only are we discussing improved controls and shot selection, but true stability in the field meaning you don't have to worry about camera shake or frame jumps ruining your production. Features like lens control, color correction, and tally can be handled safely from the ATEM switcher itself while allowing the operator to focus solely on framing their shots and creating a captivating visual experience.

Low Cost SMPTE Fiber Style Workflow

This studio camera frees you from bulky wires and cables without sacrificing performance quality, thanks to its efficient single Ethernet cable setup. Get reliable communication and power for unparalleled convenience during production with SMPTE fiber alternative that's much cheaper than traditional options. The Blackmagic Studio Converter even takes care of video conversions at the switcher side so all you need to do is connect power.

Live Streaming for Global Remote Cameras

state-of-the-art tech and innovative design make this camera uniquely equipped for remote living streaming anywhere in the world. just plug it via a connection to internet ethernet or connect any phone device usb-c port you ready rock with setup whatever capture is instantly sent back through h.264 hd live straight studio.>

USB Expansion Port for Accessories

With a powerful USB-C expansion port and 12-bit Blackmagic RAW recording capabilities, you get more flexibility and control over your projects. You can create superior video quality with the ability to detach any external USB flash disk and record in RAW format as well as add a USB-C to Ethernet adapter to control your camera over a network via easy to use REST APIs. Plus plug in optional focus and zoom demanders for full lens control just like larger studio cameras.

Incredible Blackmagic RAW Quality

With its new Blackmagic RAW format, you can rest assured that it will store your detailed sensor information forever without sacrificing image quality. Plus, adjustments to ISO, white balance, and exposure settings can be tweaked in DaVinci Resolve when needed, so you get to have total control over your images. And these files are fast and small too - expect incredible editing responsiveness every time!

Includes Built-in Microphones

With this incredible camera, you can create spectacular images thanks to an incredibly wide field of view that's perfect for tight shots like interviews or presentations. Plus, you also get sound included in the design so setup time is lightning fast - just plug it and go! And with two built-in microphones— shock and wind resistant to boot!—there's no need for a separate audio recorder. Perfect for catching crisp stereo separation on location. For added convenience, there are both a 3.5mm audio input and headphone jack for connecting external microphones. And for professionals, there's even a Pro model that includes XLR inputs and a speaker so you can listen to your program return audio right from the camera itself.

World's Best Camera Audio

With its two channel XLR inputs, you'll be able to capture sound from your chosen microphones with +24 dBu line level power and ultra low noise preamp capabilities. Not only this, but you can take advantage of 117 dB of high dynamic range due to the camera's built-in analog to digital converters. This means that you can capture sound higher in volume than any microphone itself – perfect for those looking for broadcast-grade quality audio. Whether used on set or for capturing live events, the Blackmagic Design Studio Camera offers an unbeatable combination of precision engineering and superior performance making it an ideal choice for all your audio needs.

Monitor Program Video

Combining world-class image quality with an incredibly portable design, this camera sets a new precedent for versatility. Not only does it feature an impressive 3840 x 2160 resolution, but also a phenomenal PGM button that lets you switch from the viewfinder to a program return feed from the switcher – making sure the camera operator always knows what's going on. Plus, with its built in speaker, you can monitor switcher audio with ease! But that's not all; it also comes with a variety of features such as support for up to 6G-SDI connections, tally interface connection terminals, and more. So if you're looking for maximum performance combined with easy setup and use - look no further than the Blackmagic Design Studio Camera 4K Plus G2.

Built In ND Filters

This impressive camera has been designed with the filmmaker's creative vision in mind, delivering jaw-dropping 6K Pro video quality and all the power of a fully loaded production studio. What makes this camera truly stand out is its high-quality remote controllable ND filters that allow you to quickly reduce the amount of light entering the camera – meaning even in even the harshest lighting conditions, you can still capture beautiful images. Not only that, but they filter both optical and IR wavelengths evenly – so no more worrying about contamination from invisible light sources.

Powered by Blackmagic OS

The studio camera comes equipped with the latest Blackmagic OS platform; it's intuitive, reliable and responsive with plenty of features that allow for full control of advanced settings such as 3D LUTs, HDR, metadata entry and more. It also offers incredible power efficiency – it'll turn on virtually instantly so you never miss a shot! The LCD touchscreen boasts simple tap and swipe gestures making adjusting settings quick and efficient, even when shooting on the go!

Supports 3D LUTs for Film Looks!

Equipped with full resolution 4K video capture, plus 15 stops of dynamic range, you get stunning detail and true-to-life colors in every shot. When shooting with Blackmagic RAW files, logarithmic film gamma ensures that the original image data is preserved. To preserve all clothing ranges in a single shot use 3D LUTs to convert the image just before it's displayed on the LCD! With the Blackmagic Studio Camera 4K Plus G2 3D LUTs can be used to give a much more attractive look without being permanently burned into the RAW file.* The images come out looking great straight from camera as well so you can worry less about editing later.

Localized in 13 Popular Languages

It's equipped with an advanced design that makes it suitable for a variety of filming scenarios, from larger studio settings to smaller projects. Plus, it supports 13 different languages, so no matter where you are, you can always get the information you need with ease.

Powers From DC or 10G Ethernet

The Blackmagic Design Studio Camera 4k Plus G2 is your powerful, all-in-one solution for filming smooth, stunning visuals. You don't need to worry about power because this camera has a 12V DC locking power connector so that the cable won't slip out and you also get a power supply with 5 different adapters to fit the socket in any country! And, if you're using a single Ethernet cable for connection, the camera and its accessories can be powered through the same connection. The included Blackmagic Studio Converter has a big power supply to deliver power over the Ethernet without having to try and find a plug. This camera makes versatile cinematic shooting in any situation simple and convenient!
Imaging
| | |
| --- | --- |
| Image Sensor | 17.78 x 10 mm (Four Thirds) CMOS |
| Sensor Resolution | Not Specified by Manufacturer |
| ISO Sensitivity | 100 to 25,600 |
| Gain | 0 to 18 dB |
| Signal-to-Noise Ratio | 63 dB |
Camera
| | |
| --- | --- |
| Lens Mount | Micro Four Thirds |
| Shutter Speed | 1/5000 to 1/24 Second |
| Built-In ND Filter | None |
| Built-In Microphone Type | Stereo |
| Broadcast System Compatibility | NTSC, PAL |
Interfaces
CCU I/O
None
Video I/O
1 x HDMI 2.0 Output

1 x BNC (12G-SDI) Input

1 x BNC (12G-SDI) Output

Audio I/O
1 x 1/8" / 3.5 mm TRS Stereo Microphone Input

1 x 1/8" / 3.5 mm TRRS Headphone/Mic Headphone/Line Input/Output

Other I/O
2 x USB-C (USB 3.2 / 3.1 Gen 1) Control/Data/Video Input/Output
Broadcast System Compatibility
NTSC, PAL
Recording
Recording Modes
DNxHD/ProRes:

3840 x 2160p at 23.98/24/25/29.97/30/50/59.94/60 fps

1920 x 1080p at 23.98/24/25/29.97/30/50/59.94/60 fps

Raw Recording
Blackmagic RAW

3840 x 2160 at 23.98/24.00/25/29.97/50/59.94/60 fps [26 to 190 Mb/s]

Audio Recording
Raw: 2-Channel 24-Bit 48 kHz LPCM Audio
Display
| | |
| --- | --- |
| Display Type | Fixed Touchscreen LCD |
| Display Size | 7" |
| Resolution | 1920 x 1200 |
Power
| | |
| --- | --- |
| Power I/O | 1 x Barrel (12VDC) Input |
| Power Consumption | >46 W |
Environmental
| | |
| --- | --- |
| Operating Temperature | 32 to 104°F / 0 to 40°C |
| Storage Temperature | -4 to 113°F / -20 to 45°C |
| Operating Humidity | 0 to 90% |
General
Shoe Mount
None
Accessory Mounting Thread
2 x 1/4"-20 on Camera Body

1 x 3/8"-16 on Camera Body

Tripod Mount
3/8"-16 Female
Dimensions (W x H x D)
10.77 x 6.68 x 6.59" / 27.36 x 16.97 x 16.74 cm (Without Protrusions)
Weight
Weight
Have a question about Blackmagic Design Studio Camera 4k Plus G2?
Ask a question.
Ask a question
⚠️ WARNING: This product can expose you to chemicals including Lead, which is known to the State of California to cause cancer and birth defects and/or other reproductive harm. For more information go to www.P65Warnings.ca.gov