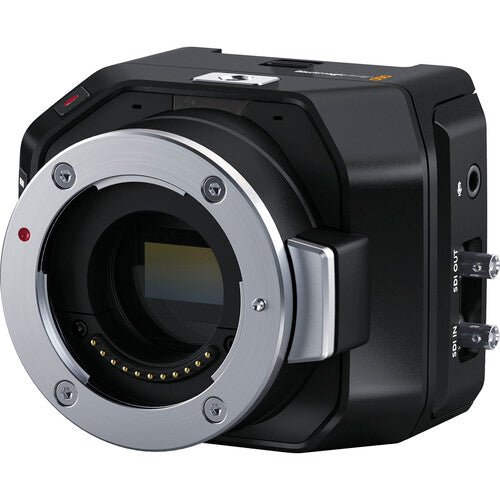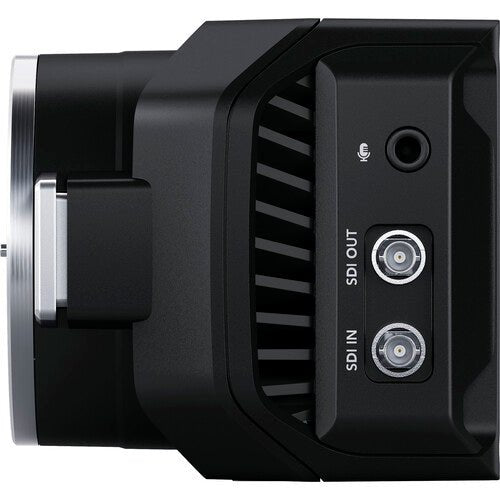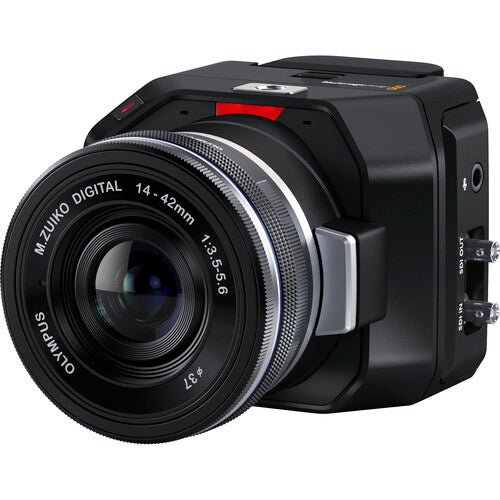 Active Micro Four Thirds Lens Mount
UHD 4K Resolutions up to 3840 x 2160p60
12G-SDI Video Input/Output/HDMI Output
13-Stop Dynamic Range
Compact Design
Camera Control via SDI/HDMI or USB
Program and Talkback over SDI/ Tally
USB-C Expansion Port/ 3.5mm Audio In
Built-In Color Corrector
Canon LP-E6 Battery Slot
The world's smallest Ultra HD broadcast camera!

This powerful cinema camera is perfect for any creative filming project. It's packed with features – an MFT lens mount, very low light 4K image sensor and cinematic color science – that ensure stunning images and videos. Plus, you can control the built-in color corrector and lens using either SDI or HDMI connections, giving you great power over your content. And it doesn't just stop there– Blackmagic Micro Studio Camera 4K G2 also gives you 12G-SDI for HD and Ultra HD operation up to 2160p60, as well as Blackmagic RAW recording to USB disks! Finally, you get breathtaking log gamma capability which allows for richer colors and cinematic looks that would otherwise require expensive post-production changes. Whether you're a new or veteran cinematographer, this amazing camera will help bring your vision to life.

Designed for Live Production

Now you can place cameras virtually anywhere for a more gripping viewing experience. With its size, you get more angles than ever before – perfect to capture all the action for any kind of work like television production, broadcast news, sports, education…even conference centers and churches! And since it records professional-grade Blackmagic RAW to USB disks, you can easily store footage for later use in editing and color correction tasks. Put simply - the Blackmagic Design Micro Studio Camera 4K G2 is designed with your professional live production needs in mind for a seamless broadcasting experience!

Revolutionary Studio Camera Design

This tiny and rugged camera packs a whole lot of punch and is ideal for those wanting to build their own live production set. It includes features not found in traditional large studio cameras but housed within a frame that is much smaller than the lens mount, that's made from durable magnesium alloy. With its versatile support for MFT lenses or adapters to broadcast lenses, you'll be able to make use of all your gear with ease. In addition, this Blackmagic camera utilizes HDMI and SDI technologies while also providing access to quick settings menus as well as initiating recording with a few simple button taps.

Exceptional Low Light Performance

Equipped with an image sensor that's sensitive to light, the camera gains from -12dB (100 ISO) up to +36dB (25,600 ISO). Never worry about dark scenes again - you can shoot in natural light or even in the evening. In addition, its primary native ISO of 400 allows you to use it under studio lighting. For when there's not much light around, the secondary high base ISO of 3200 ensures perfect images every time. Plus, this camera offers all-in-one control and convenience – all settings like the gain can be adjusted using either the HDMI menu or remotely from a switcher via its SDI/HDMI remote camera control. Get creative and experiment with shots – no matter what time of day with the Blackmagic Design Micro Studio Camera 4K G2!

Get Cinematic Images in Live Production!

This amazing camera is packed with features that will open up a world of possibilities. The stunning 4K sensor combines with Blackmagic generation 5 color science, giving you the same imaging technology used in digital film cameras. When combined with the DaVinci Resolve primary color correction system, you get better images than simple broadcast cameras. With 13 stops of dynamic range and a resolution of 4096 x 2160, this camera is perfect for HD and Ultra HD work. For ultimate versatility, it supports from 23.98 fps up to 60fps—so no matter what kind of project you're working on, you can be sure of quality results.

Affordable Photographic Lenses!

This powerful MFT lens mount camera is compatible with a wide range of affordable photographic lenses from Olympus, Panasonic, Sigma and more, giving you all the quality of high resolution photography at an unbeatable price. You can adjust the active lens mount remotely—ideal for those hard to reach areas—and the optional focus and zoom demands let you finesse settings just like an expensive B4 broadcast lens.

Built-in Tally for On Air Status

This camera is designed with impressive tally technology, which illuminates red when on air, green in preview, and orange when recording ISO. It's never been easier for talent to be prepared and confident when presenting to camera. Plus, it's compatible with SDI and HDMI tally protocol switchers like ATEM Television Studio, ATEM Constellation, and ATEM Mini. Giving directors the power to seamlessly cut between cameras while enjoying visibility into which units are on during production through this tally feature. Plus, complex cabling no longer has to get in the way of clear communication between devices and teams!

Powerful Broadcast Connections

Experience all the benefits of our popular 12G-SDI connection which makes setup a breeze with an ability to connect with video, tally and camera return in one simple solution. Additionally, you get a full size HDMI connector for local video monitoring so you can verify settings through the menu overlay or monitor remote cameras wherever they are. All that plus a USB-C expansion port allows for recording to external disks or controlling the camera via zoom and focus demands - something your production won't want to be without. And if that wasn't enough, we even added a 3.5mm port for connecting professional microphones; perhaps you're using them on a podcast or influencer shoutout? The possibilities are endless!

Two Ways to Connect

Now you can connect in ways you never thought possible with HDMI and 12G-SDI, allowing you to seamlessly integrate into switchers like the ATEM Mini or the ATEM Constellation for a truly broadcast-grade experience. Featuring unlimited video streaming, this camera has everything you need for even the most complex streams - tally, talkback, control, and record triggering – all in a single HDMI cable. Boasting zero latency and high-quality resolution of up to 4K/60 FPS, this camera makes sure that your broadcast is infinitely scalable and high quality.

Includes Built-in Microphones

With the Blackmagic Design Micro Studio Camera 4K G2 recording professional audio and video is easier than ever. This game-changing piece of equipment features two built-in mics, perfectly positioned to capture optimal stereo separation. Plus, boasting a 3.5mm audio input, this camera makes it simple to attach larger microphones with wind protection—so you can record high quality sound without worrying about interference from the elements. So you won't miss a beat! The icing on the cake? Video and audio are embedded within the SDI and HDMI outputs, ensuring perfect synchronization between the two. Say goodbye to complicated setup times—it's time for your audience to get a full studio experience at home!

USB-C for External Disks and Ethernet Control

It features a 12-bit Blackmagic RAW file format that captures every detail and nuance for optimal post-production work. Plus, a high speed USB-C expansion port allows you to control your camera over a network, record to external disks, or attach a range of must-have accessories. For studio-style lens control, just plug in optional focus and zoom demands to control the full range of your lenses.

Incredible Blackmagic RAW Quality

Blackmagic RAW is a revolutionary new format designed to capture and preserve the quality of the sensor data from your camera. Some file formats such as H.264 are highly compressed, so add noise and artifacts, causing sensor detail to be lost forever. Blackmagic RAW eliminates this problem so you get stunning images with incredible detail and rich color throughout the whole post production pipeline. Blackmagic RAW also saves camera settings as metadata so you can change ISO, white balance and exposure later in DaVinci Resolve. Plus the files are small and fast, so editing responsiveness is incredible. Only Blackmagic RAW gives you the highest quality, smallest files and fastest performance!

Powered by Blackmagic OS

The revolutionary new Blackmagic OS operating system makes your camera fast and efficient, and it's intuitive design allows you to access all of the great features with ease. You'll love the row of buttons that make navigating menus fast and easy, plus the instantaneous power on speeds up everything from recording to streaming. And with pro-level features like on screen focus and exposure tools, 3D LUTs, HDR, metadata entry, timecode, and even Blackmagic RAW settings; this camera will take your visuals to the next level.

Localized in 13 Popular Languages

Blackmagic Micro Studio Camera 4K is designed to be used worldwide so it support 13 popular languages! When setting up your camera, you can choose to work in English, German, French, Spanish, Polish, Portuguese, Italian, Russian, Turkish, Ukrainian, Chinese, Japanese or Korean. It's easy to switch to another language simply by going into the menu settings. When switching between languages, all the on screen overlays, heads up display, and setup menus will be displayed in the selected language and you can change languages any time you like!

Battery Back-up Power

Are you looking for a reliable studio camera with amazing power options? Look no further than the Blackmagic Design Micro Studio Camera 4k G2! You'll get convenience and longevity when using this camera, whether it's during live broadcasts or out in the field. Keep your cables locked in at all times with the common 12V DC locking power connector, while being able to switch between AC socket adapters from different countries without any hassle and even connect to V-Lock batteries! Plus, use an LP-E6 compatible battery for local power backup to get you up and running even faster! With such powerful capabilities, you can always trust that the Blackmagic Micro Studio Camera 4K G2 will be there for all of your production needs.
Imaging
| | |
| --- | --- |
| Image Sensor | 17.78 x 10 mm (Four Thirds) CMOS |
| Sensor Resolution | Not Specified by Manufacturer |
| Gain | 0 to 18 dB |
| Signal-to-Noise Ratio | 63 dB |
Camera
| | |
| --- | --- |
| Lens Mount | Micro Four Thirds |
| Built-In ND Filter | None |
| Built-In Microphone Type | Stereo |
| Broadcast System Compatibility | NTSC, PAL |
Interfaces
CCU I/O
None
Video I/O
1 x HDMI 2.0 Output

1 x BNC (12G-SDI) Input

1 x BNC (12G-SDI) Output

Audio I/O
1 x 1/8" / 3.5 mm TRS Stereo Microphone Input
Other I/O
2 x USB-C (USB 3.2 / 3.1 Gen 1) Control/Data/Video Input/Output
Recording
Recording Modes
DNxHD/ProRes:

3840 x 2160p at 23.98/24/25/29.97/30/50/59.94/60 fps

1920 x 1080p at 23.98/24/25/29.97/30/50/59.94/60 fps

Raw Recording
Blackmagic RAW

3840 x 2160 at 23.98/24.00/25/29.97/50/59.94/60 fps [26 to 190 Mb/s]

Audio Recording
Raw: 2-Channel 24-Bit 48 kHz LPCM Audio
Display
Power
| | |
| --- | --- |
| Power I/O | 1 x Barrel (12VDC) Input |
| Power Consumption | >25 W |
Environmental
| | |
| --- | --- |
| Operating Temperature | 32 to 104°F / 0 to 40°C |
| Storage Temperature | -4 to 113°F / -20 to 45°C |
| Operating Humidity | 0 to 90% |
General
| | |
| --- | --- |
| Shoe Mount | None |
| Accessory Mounting Thread | 4 x 1/4"-20 on Camera Body |
| Tripod Mount | 3/8"-16 Female |
| Dimensions (W x H x D) | 3.3 x 2.6 x 2.74" / 8.4 x 6.6 x 6.96 cm (Without Protrusions) |
| Weight | 10.58 oz / 0.3 kg |
Have a question about Blackmagic Design Micro Studio Camera 4k G2?
Ask a question.
Ask a question
⚠️ WARNING: This product can expose you to chemicals including Lead, which is known to the State of California to cause cancer and birth defects and/or other reproductive harm. For more information go to www.P65Warnings.ca.gov