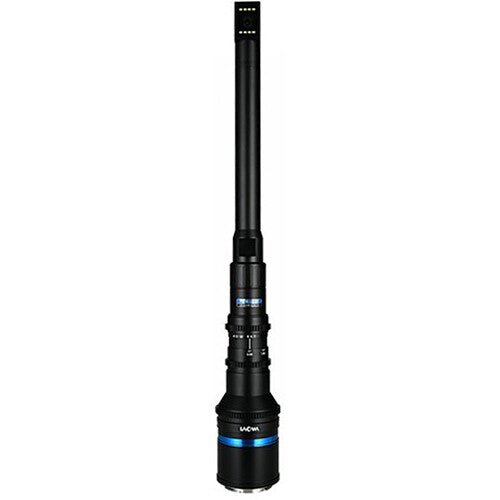 Covers Full Frame Format
T14 to T40 Aperture Range
7 Iris Blades
0.8" Minimum Focus Distance
2x Magnification
Interchangeable 90 and 0° Lens Tubes
What shots Periprobe can do?

The Laowa 24mm T14 2x Periprobe Lens is here to revolutionize the way you take photos. Now you can access hard-to-reach places and capture the images of your dreams! With this lens, you can hold your camera up or down to create a periscope perspective that's perfect for shooting things like tree holes at seven feet. Imagine how cool the pictures you'll take will be! You don't even need to bother with a big tank and waterproof housing; this lens does the trick. It's compact and easy to use, and its long body makes it perfect for reaching into small spaces. Don't worry about waiting for the perfect moment — now you can find it and snap it with ease with the Laowa 24mm T14 2x Periprobe Lens.

Travel through tight space

This cutting-edge lens is designed to eliminate the annoying pre-shoot preparation normally required when shooting objects close to each other. With Laowa's Periprobe lens, traveling through tight spaces has never been easier - just rig up your camera on a slider or tripod and you're ready to shoot. Plus, with its incredible 2x zoom capacity, it's never been faster to get the perfect shot.

Look up

With 2x magnification, 85° wide AoV and close working distance, users could create a special close-up face-up and face-down shot that other lenses cannot do.

360° Rotation

With it's innovative designed clutch mechanism feature you are able to unlock and adjust the orientation ring for maximum movement - just perfect for crafting those amazing cinematic shots. Experience smooth perspective movements with ease when you install the 0.8 mod gear focus, making complex images a breeze to capture.

Bug-eye perspective

The ultra-wide 85° of this lens gives you the ability to capture more background information, creating unique and stunning macro photographs. With a working distance of 0.8"/2cm when in 2x magnification, this lens is able to focus exceptionally close to the subject for spectacularly detailed images with a bug-eye perspective.

2x Magnification

With 2x magnification, users would have higher flexibility to shoot subjects of different sizes. More textures and details can be captured with higher magnification.

Deep depth of field

This unique lens has a wider perspective than other telephoto macro lenses, making it the perfect companion for those wanting to capture stunning images of animals in their natural habitat. With an aperture range that starts from T14 and goes up to T40, you will be able to create images with a greater depth of field, offering more detail and a richer, more realistic look to your images.

Long & tubular lens barrel

Thanks to the reach of the Laowa 24mm T14 2x Periprobe Lens, you can poke it into tight, hard-to-reach spaces without having to get too close. Whether you're shooting those tiny details in a Lego house or capturing the wonders of nature peeking out of a tree hole, the Laowa 24mm T14 2x Periprobe Lens enables you to see and capture what others can't. From fishes in a river to exotic birds in a cave, you can get stunning photos without the hassle of getting too close.

Waterproof front barrel

The front barrel of the Periprobe is ingeniously waterproof, granting you the superpower to capture mesmerizing shots underwater without the need for a bulky housing. As you plunge into the depths of creativity, this lens will accompany you every step of the way, enabling you to capture the enigmatic beauty that lies beneath the surface. Immerse your viewers in a world where marine wonders come alive and breathtaking aquatic scenes unfold before their eyes.

LAOWA 0.7x Focal Reducer

This unique and innovative lens is designed specifically for full-frame cameras, but APS-C and Micro Four Thirds users can use it too with the help of a dedicated 0.7x focal reducer. This clever device reduces the crop from APS-C and M43 cameras and gives you a boosted light of up to f/10 while maintaining the perspective of the lens. Every photographer will appreciate the versatility this lens gives them - from extreme close-ups to capturing images of subjects like insects that are otherwise out of reach.
| | |
| --- | --- |
| Focal Length | 24mm |
| Maximum Aperture | T14 |
| Minimum Aperture | T40 |
| Lens Mount | Canon RF |
| Lens Format Coverage | Full Frame |
| Optical Design | 28 Elements in 19 Groups |
| Filter Thread | None |
| Minimum Focus Distance | From Front of Lens: 0.8" / 2 cm |
| Diaphragm Blades | 7 |
| Image Stabilization | No |
| Weight | 27.2 oz / 770 g |
⚠️ WARNING: This product can expose you to chemicals including Lead, which is known to the State of California to cause cancer and birth defects and/or other reproductive harm. For more information go to www.P65Warnings.ca.gov