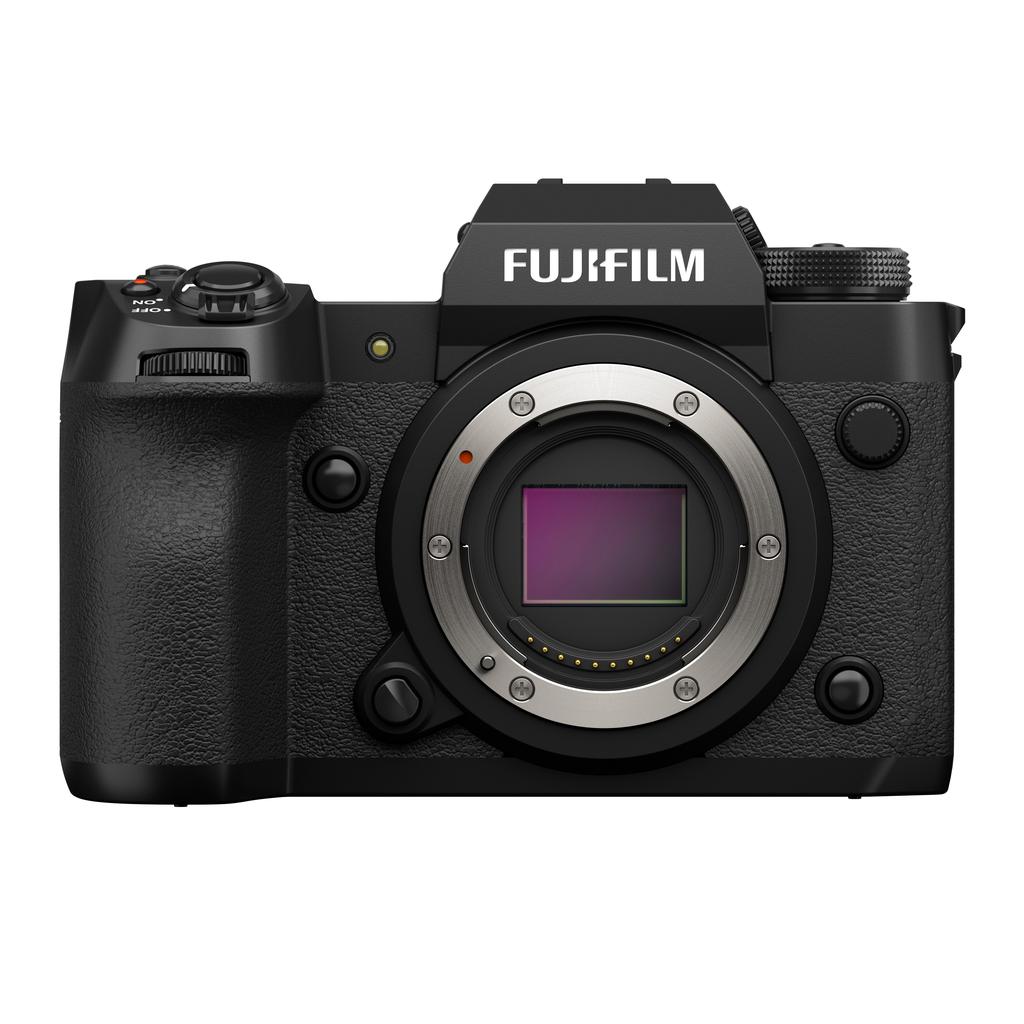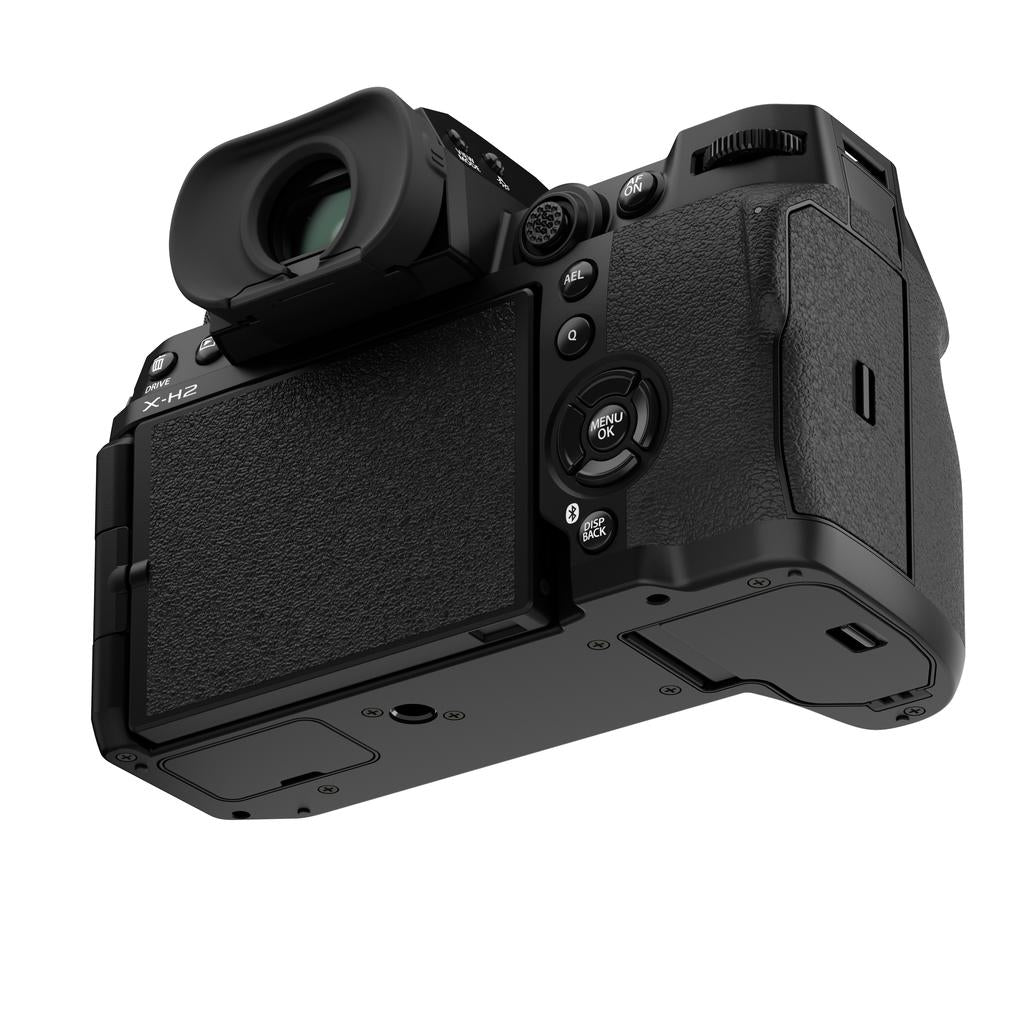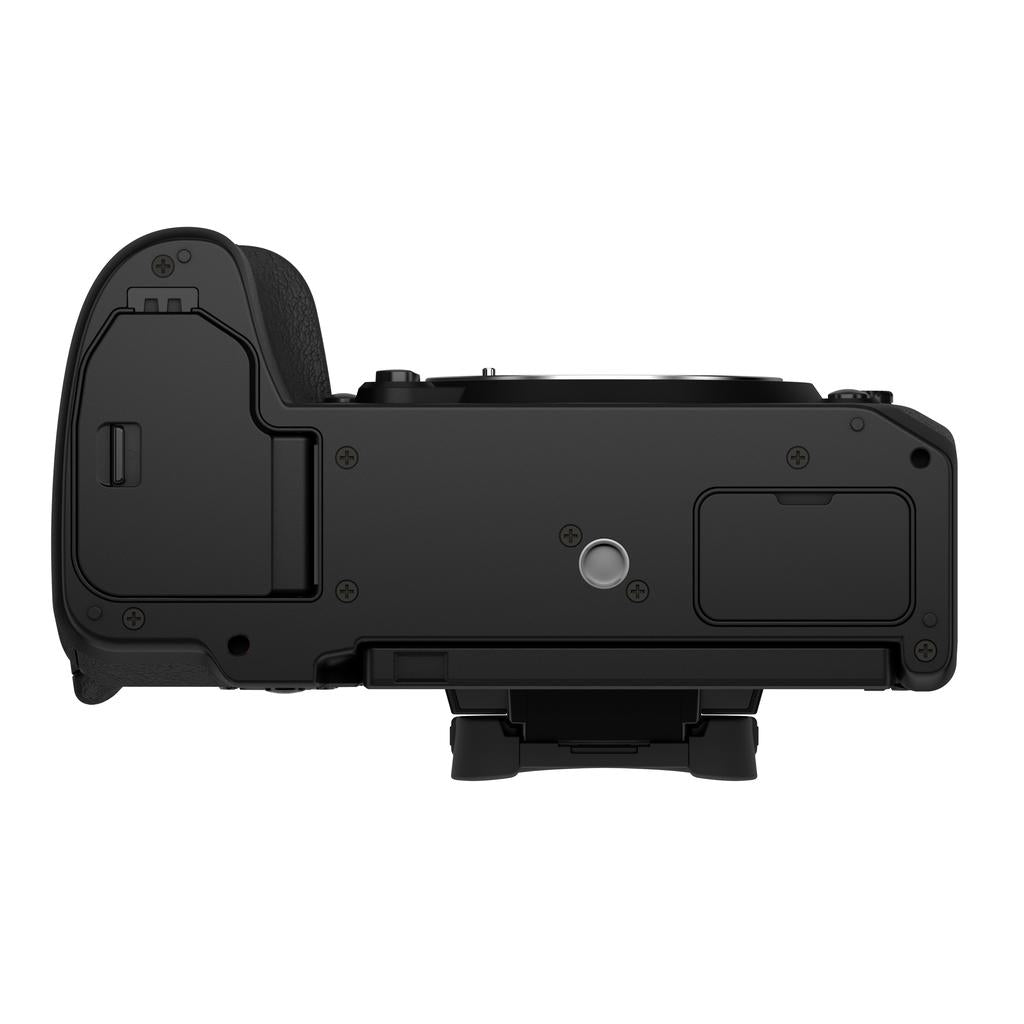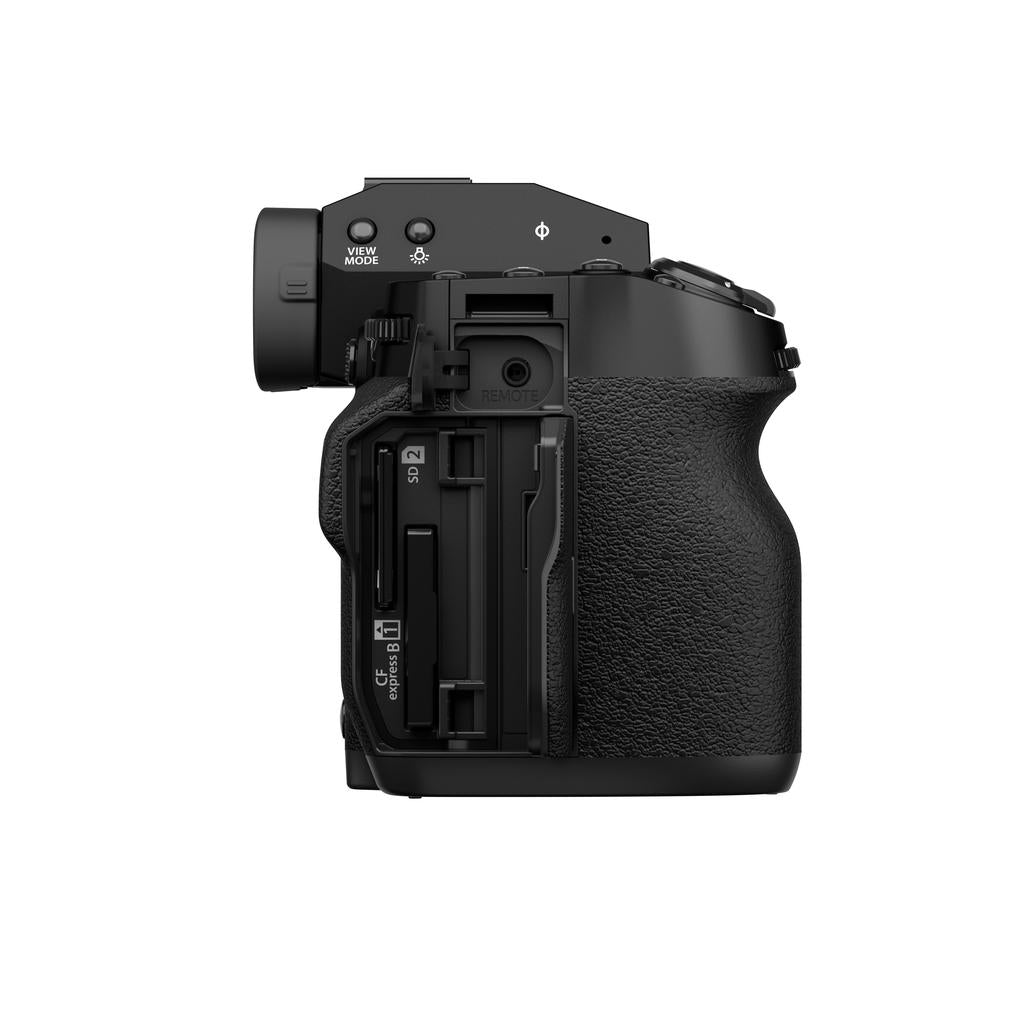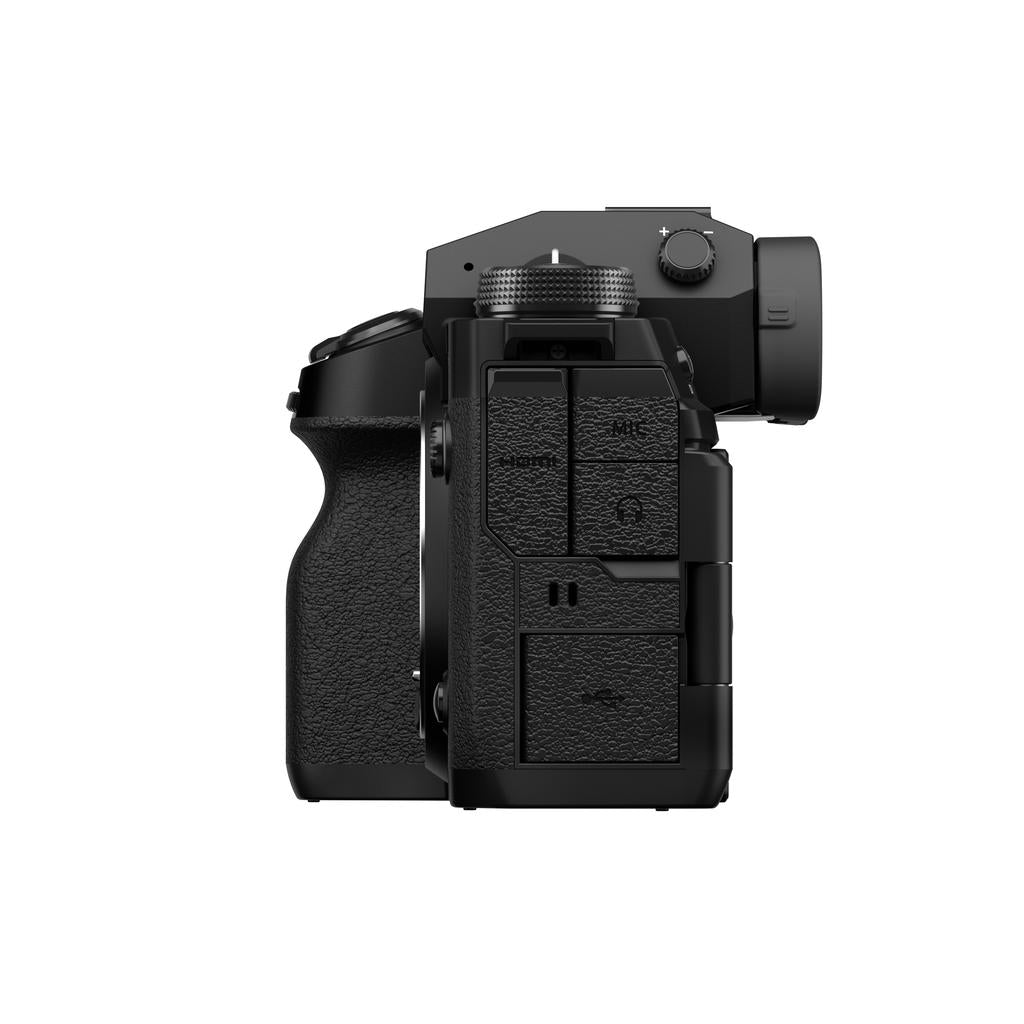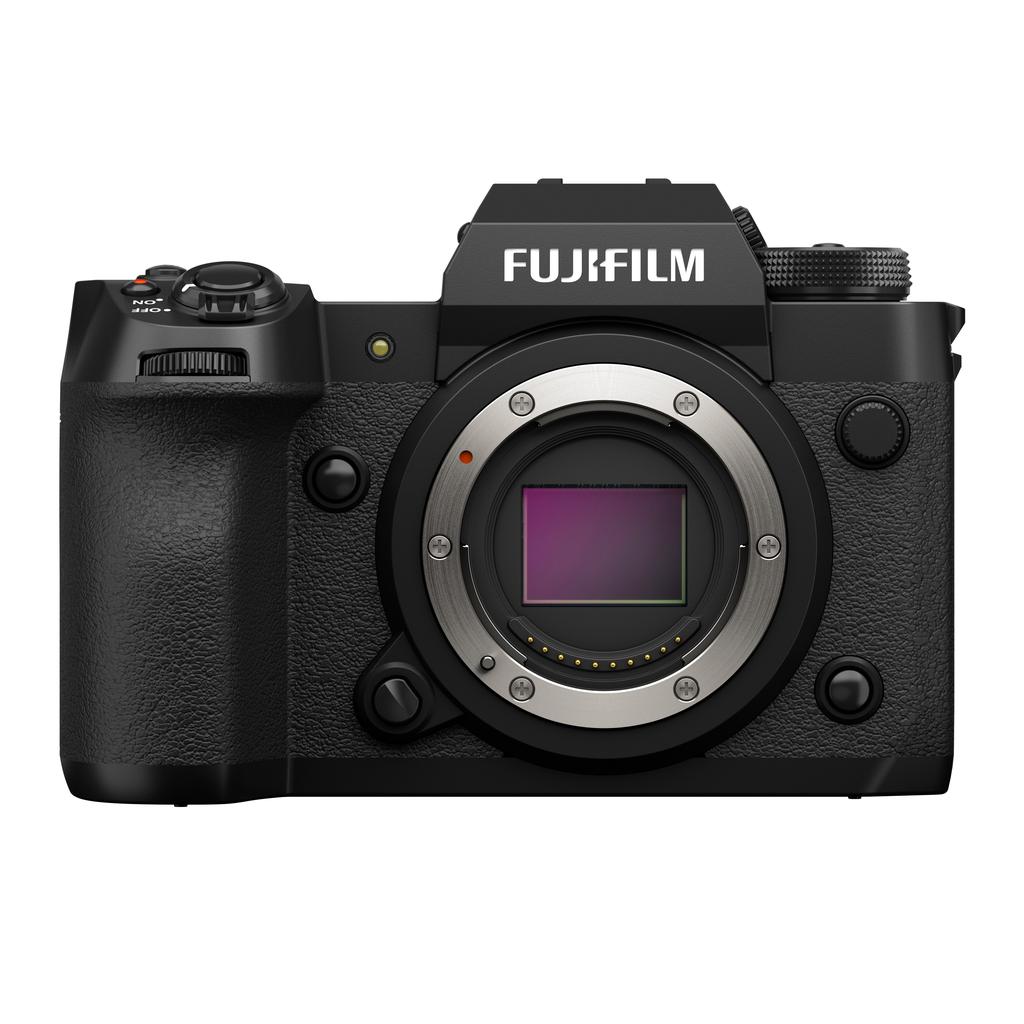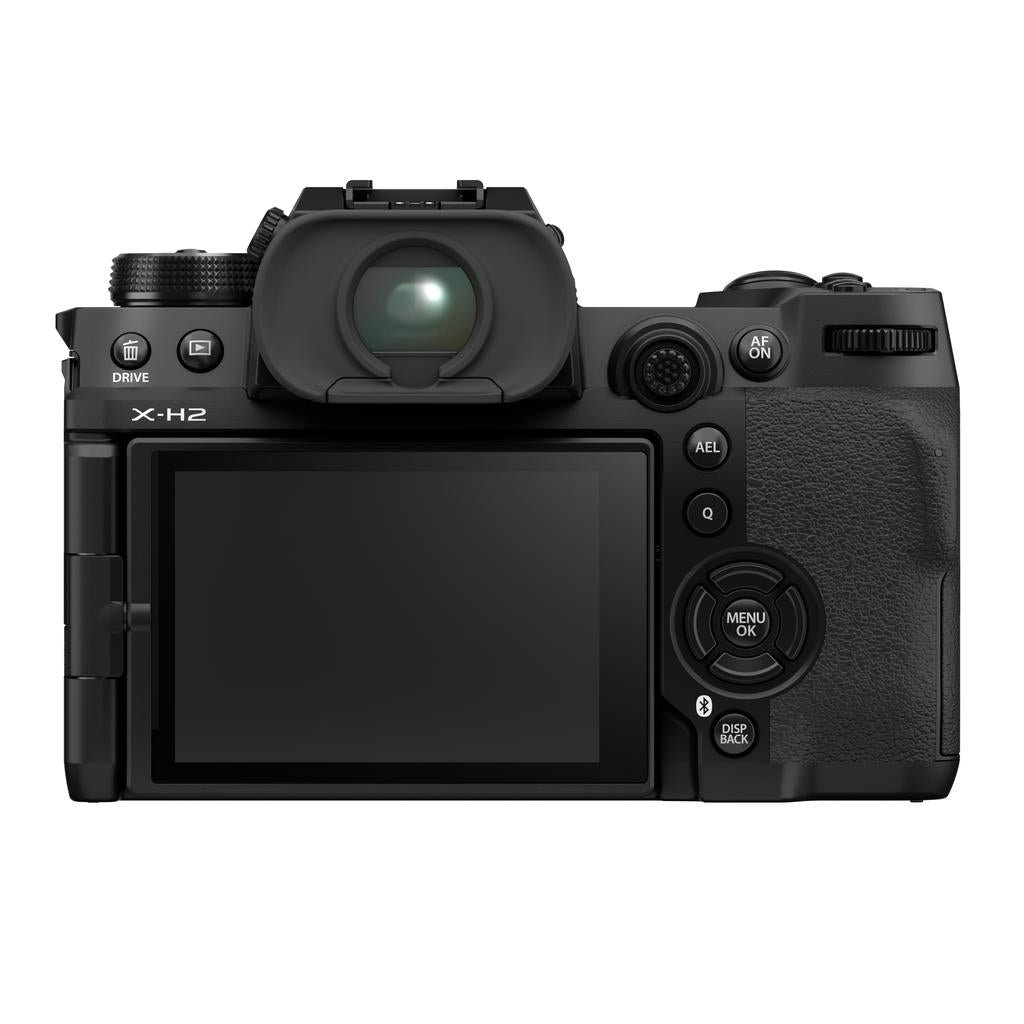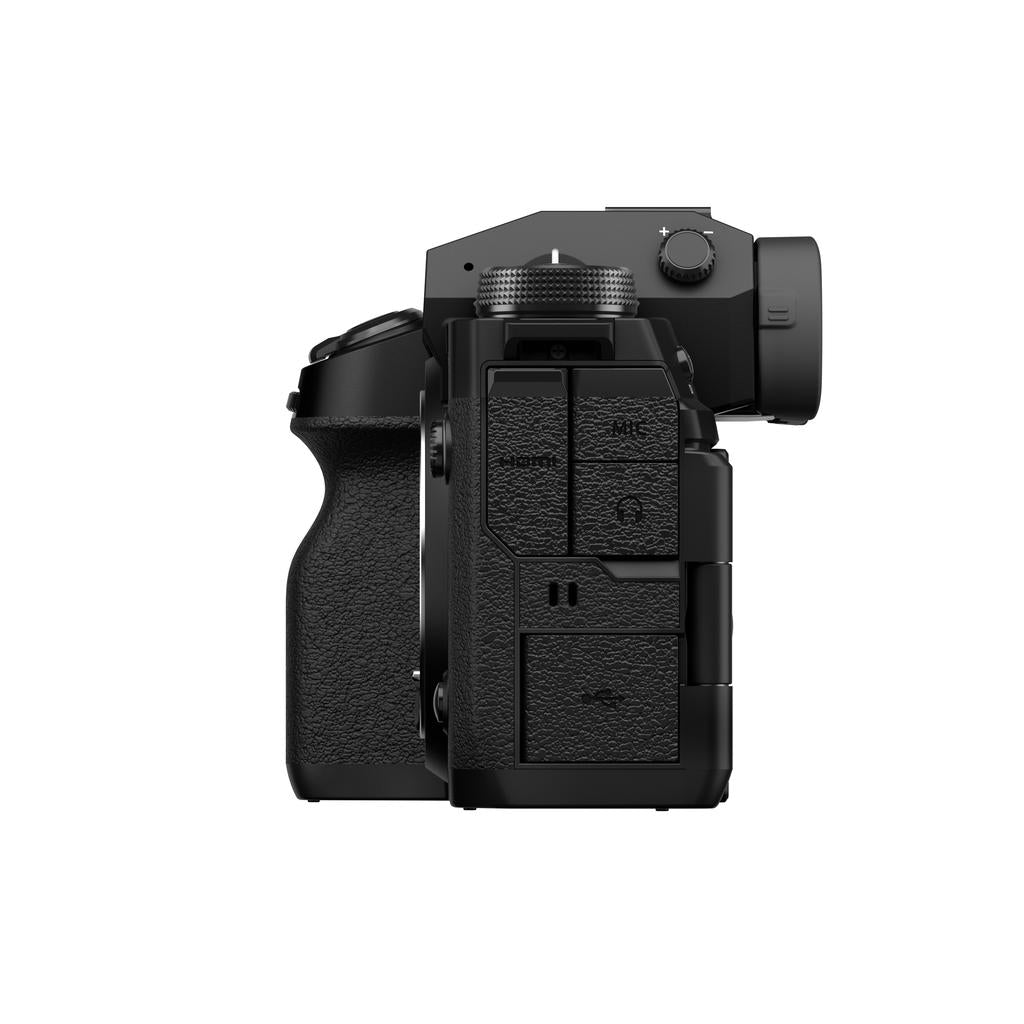 40MP APS-C X-Trans5 BSI Sensor
160MP Pixel Shift Multi-Shot
8K 30p 4K 60p FHD 240p 10-Bit Video
CFexpress Type B & SD UHS-II Card Slots
7-Stop In-Body Image Stabilization
5.76m-Dot OLED Electronic Viewfinder
20 fps E-Shutter
15 fps Mech. Shutter
BSI High resolution 40MP sensor

The X-H2 features a brand new sensor that captures stunning 8K video images as well as 40.2MP still images. This is a huge increase from the previous model, making the X-H2 one of the most powerful cameras on the market today.

Twice the processing speed of X-Processor 4

AI processing technology - HEIF format - Apple ProRes support* - CFexpress™ Type B card* - Reduced power consumption The 40.2MP sensor has been enhanced with a new image-processing algorithm that boosts resolution without sacrificing signal-to-noise ratio, making for astonishingly clear and detailed pictures.

ISO125

It features a newly developed X-Trans CMOS 5 HR sensor and improved pixel structure, allowing light to be received more efficiently. ISO 125 – previously an extended sensitivity – is now available as standard sensitivity. The X-H2 also features 4K/60p recording, a high-speed readout of 6K images, and an AF tracking system that can keep up with the most action-packed scenes.

160MP Pixel Shift MULTI SHOT

With the help of the Pixel Shift Combiner software, you can now produce a single, ultra-high-resolution 160MP image with a single touch of the shutter button.

160MP Pixel Shift MULTI SHOT continued…

Using its in-body stabilization system to shift the sensor by a half pixel between each frame, the X-H2 precisely makes 20 frames to ensure that every red, green, and blue pixel has the same information. The result is a final image with almost no false colors visible.

Supports HEIF Image Format

The FUJIFILM X-H2 is a powerful camera that supports the HEIF image format. This format delivers 10-bit image quality in files that are up to 30% smaller than standard JPEGs. With the X-H2, you'll be able to produce high-quality results straight out of camera.

8K Oversampled 4K HQ Mode

Take stunning 4K video with 8K oversampling. This results in beautiful, clear footage that makes full use of the camera's 40.2 megapixel sensor.

Improved Video Recording Time

With its 8K/30P recording capabilities, the X-H2 is able to capture stunning imagery that is rich in detail and color. Additionally, the X-H2's heat-dissipating structure ensures that your recordings will not be interrupted due to overheating.

New MF Assist「Focus Meter」

With its focus meter, you can easily adjust the focus to get the perfect shot every time. The X-H2 also features focus peaking, which makes it easy to keep your subject in focus while you're recording movies.

F-Log2 Support

The FUJIFILM X-H2 is a high-end digital camera that supports the latest F-Log2 recording format. This expanded dynamic range of 13+ stops allows for greater post-production potential, giving you the ability to create stunning images and videos with incredible detail and clarity.

RAW Output via HDMI

With a compatible HDMI recording device, the X-H2 can record 12-bit RAW video at resolutions of up to 8K and 29.97 frames per second. This makes it perfect for capturing stunning video footage that can be edited and manipulated in post-production to create incredible visuals.

Subject-Detection Autofocus

With its X-Processor 5, it features subject-detection AF based on Deep Learning technology that automatically detects and tracks a broad range of subjects. Whether you're trying to capture a fast-moving car or plane, or simply want to keep an eye on a group of people, the X-H2 will make sure you get the shot you want. And because it's mirrorless, you'll enjoy all the benefits of a smaller, lighter camera body that's easy to carry with you wherever you go.

Digital Zoom

The camera's 40.2 megapixel sensor ensures that your videos will be crisp and clear, while the digital zoom function gives you up to 2x the reach you would have with a standard lens. With the XF18-120mmF4 LM PZ WR lens attached, you can effortlessly transition to the digital zoom function when you need more reach, without compromising on quality.

Up to seven stops of in-body image stabilization

This top-of-the-line camera features a 5-axis in-body image stabilization system that provides up to seven stops of compensation, making it easy to handhold in any situation. Plus, the in-body image stabilization function enables the image sensor to be precisely shifted, for the camera's Pixel Shift Multi Shot function. As a result, you'll get gorgeous images no matter what lighting conditions you're shooting in.

High-Resolution Electronic Viewfinder

The electronic viewfinder has a 0.8x magnification and uses 5.76 million dots for an incredibly realistic and detailed view. A refresh rate of approx. 120fps makes it easy to look through the viewfinder, even at an extreme angle, by suppressing image blur and distortion.

Tough, Weather-Resistant Body

With its 79 weather-sealed points, the X-H2 is dust and moisture resistant, and can operate in temperatures as low as -10°C (14°F). The top panel LCD screen, adjustable AF-ON button sensitivity, 1.62-million dot vari-angle LCD monitor, and independent movie recording button all deliver intuitive, comfortable handling.

Improved Shutter Durability

Shutter durability has been improved to 500,000 actuations

Remote Rec Function

The FUJIFILM X-H2 is a high-end camera that allows up to four cameras to be connected and operated simultaneously. This makes it perfect for professional photographers or videographers who need to capture multiple angles or perspectives at once. The optional FT-XH File Transmitter makes it easy to control all of the cameras from a single browser, giving you the power to start and stop video recording, adjust settings, and save, load, and copy camera settings. Whether you're shooting a wedding, a music festival, or any other event where getting the perfect shot is essential.

Updated Handgrip

The camera features an improved handgrip for a more comfortable and secure grip, making it ideal for using with longer or large-aperture lenses.

Feather-Touch Shutter Release

With its responsive shutter button and enhanced autofocus system, the X-H2 provides the ultimate shooting experience.

Supports CFexpress™ Type B Card

With two card slots, you can make the most of the X-H2's incredible video performance. The CFexpress Type B card slot allows for high-speed data transfer, making it perfect for shooting 4K video. The UHS-II SD card slot is perfect for storing all your photos and videos. The X-H2 also features a 3.69 million dot OLED viewfinder, 3" tilting LCD screen, and an improved AF system that uses phase detection pixels on the image sensor.

Enhanced Video Functions

The FUJIFILM X-H2 gives you the power to capture brilliant video footage with ease. The standalone video-recording button and 1.62 million dot vari-angle LCD monitor make it simple to record beautiful video footage, and the full-sized HDMI Type A port ensures easy connectivity. With its impressive features and easy operation, the FUJIFILM X-H2 is the perfect camera for anyone who wants to capture stunning video footage.
Model name
FUJIFILM X-H2
Lens Mount
FUJIFILM X mount
Image sensor
23.5mm x 15.6mm (APS-C) X-Trans CMOS 5 HR with primary color filter
Number of effective pixels
40.2 millions pixels
Sensor Cleaning System
Ultra Sonic Vibration
Image Processing Engine
X-Processor 5
Storage media
SD Card (-2GB) / SDHC Card (-32GB) / SDXC Card (-2TB) / UHS-I / UHS-II / Video Speed Class V90 / CFexpress Type B Card (-2TB)

*Please check Compatibilityfor more detail.

*Please check the list of the operation confirmed CFexpress Type B Card
File format of still image
| | |
| --- | --- |
| DCF | Compliant with Design rule for Camera File system (DCF2.0) |
| JPEG | Exif Ver.2.32*1 |
| HEIF | 4:2:2 10bit |
| RAW | 14bit RAW (RAF original format) |
| TIFF | 8bit / 16bit RGB (In-camera Raw Conversion Only) |
Number of recorded pixels
| | |
| --- | --- |
| [L] | 〈4:3〉 6864 x 5152 〈3:2〉 7728 x 5152 〈16:9〉 7728 x 4344 〈1:1〉 5152 x 5152 〈5:4〉 6432x5152 |
| [M] | 〈4:3〉 4864 x 3648 〈3:2〉 5472 x 3648 〈16:9〉 5472 x 3080 〈1:1〉 3648 x 3648 〈5:4〉 4560x3648 |
| [S] | 〈4:3〉 3464 x 2592 〈3:2〉 3888 x 2592 〈16:9〉 3888 x 2184 〈1:1〉 2592 x 2592 〈5:4〉 3264x2592 |
Panorama
| | |
| --- | --- |
| [L] | 〈vertical〉 9600 x 2160 〈Horizontal〉 9600 x 1440 |
| [M] | 〈vertical〉 6400 x 2160 〈Horizontal〉 6400 x 1440 |
| Digital Tele-Converter | 2.0x / 1.4x / OFF |
Sensitivity
Still Image
Standard Output: AUTO1 / AUTO2 / AUTO3 /ISO125-12800 (1/3 step)

Extended Output: ISO64 / ISO80 / ISO100 / ISO25600 / ISO51200

Movie
Standard Output: AUTO / ISO125-12800 (1/3 step)

Extended Output: ISO25600
| | |
| --- | --- |
| Exposure control | TTL 256-zone metering / Multi / Spot / Average / Center Weighted |
| Exposure mode | P (Program AE) / A (Aperture Priority AE) / S (Shutter Speed Priority AE) / M (Manual Exposure) |
Exposure compensation
| | |
| --- | --- |
| Still | -5.0EV - +5.0EV 1/3EV step |
| Movie | -2.0EV - +2.0EV 1/3EV step |
Image stabilizer
Mechanism
Image sensor shift mechanism with 5-axis compensation
Compensation Effect
7.0 stops

*based on CIPA standard

*Pitch/yaw shake only

*With XF35mmF1.4 R lens mounted

Digital Image Stabilization
Yes (movie mode only)
IS MODE BOOST
Yes (movie mode only)
Shutter type
Focal Plane Shutter
Shutter speed
Mechanical shutter
P mode: 4sec. to 1/8000sec. A mode: 30sec. to 1/8000sec. S/M mode: 15min. to 1/8000sec. Bulb: up to 60min.
Electronic shutter
P mode: 4sec. to 1/180000sec. A mode: 30sec. to 1/180000sec. S/M mode: 15min. to 1/180000sec. Bulb: 1sec. Fixed
Electronic front curtain shutter
P mode: 4sec. to 1/8000sec. A mode: 30sec. to 1/8000sec. S/M mode: 15min. to 1/8000sec. Bulb: up to 60min.
Mechanical + Electronic shutter
P mode: 4sec. to 1/180000sec. A mode: 30sec. to 1/180000sec. S/M mode: 15min. to 1/180000sec. Bulb: up to 60min.

*Mechanical shutter works until 1/8000sec.

E-front + Mechanical shutter
P mode: 4sec. to 1/8000sec. A mode: 30sec. to 1/8000sec. S/M mode: 15min. to 1/8000sec. Bulb: up to 60min.

*Electronic front curtain shutter works until 1/2000sec.

E-front + Mechanical + Electronic shutter
P mode: 4sec. to 1/180000sec. A mode: 30sec. to 1/180000sec. S/M mode: 15min. to 1/180000sec. Bulb: up to 60min.

*Electronic front curtain shutter works until 1/2000sec, Mechanical shutter works until 1/8000sec.

*The Electronic Shutter may not be suitable for fast-moving objects or handheld shooting. Flash cannot be used.

Movie
8K: 1/8000sec. to 1/24 sec. 6.2K: 1/8000sec. to 1/24 sec. DCI4K/4K: 1/8000sec. to 1/4 sec. FHD: 1/8000sec. to 1/4 sec.

*Cannot choose slower shutter speed than framerate for some settings.

Synchronized shutter speed for flash
Mechanical shutter: 1/250sec. or slower

Electronic shutter: 1/125sec. or slower
Continuous shooting
CH Electronic shutter Approx. 20fps (1.29x Crop) (JPEG 1000+ frames, Compressed RAW 1000+ frames, Lossless compressed RAW 1000+ frames, Uncompressed RAW 202 frames, Compressed RAW + JPEG 129 frames, Lossless compressed RAW + JPEG 95 frames, Uncompressed RAW + JPEG 90 frames)

CH Electronic shutter Approx. 13fps (1.29x Crop) (JPEG 1000+ frames, Compressed RAW 1000+ frames, Lossless compressed RAW 1000+ frames, Uncompressed RAW 1000+ frames, Compressed RAW + JPEG 372 frames, Lossless compressed RAW + JPEG 361 frames, Uncompressed RAW + JPEG 223 frames)

CH Electronic shutter Approx. 10fps (1.29x Crop) (JPEG 1000+ frames, Compressed RAW 1000+ frames, Lossless compressed RAW 1000+ frames, Uncompressed RAW 1000+ frames, Compressed RAW + JPEG 1000+ frames, Lossless compressed RAW + JPEG 1000+ frames, Uncompressed RAW + JPEG 1000+ frames)

CH Electronic shutter Approx. 13fps (JPEG 1000+ frames, Compressed RAW 1000+ frames, Lossless compressed RAW 1000+ frames, Uncompressed RAW 1000+ frames, Compressed RAW+JPEG 131 frames, Lossless compressed RAW+JPEG 131 frames, Uncompressed RAW+JPEG 127 frames)

CH Electronic shutter Approx. 8.9fps (JPEG 1000+ frames, Compressed RAW 1000+ frames, Lossless compressed RAW 1000+ frames, Uncompressed RAW 1000+ frames, Compressed RAW+JPEG 769 frames, Lossless compressed RAW+JPEG 751 frames, Uncompressed RAW+JPEG 302 frames)

CH Mechanical shutter Approx. 15fps (JPEG 1000+ frames, Compressed RAW 1000+ frames, Lossless compressed RAW 1000+ frames, Uncompressed RAW 400 frames, Compressed RAW+JPEG 110 frames, Lossless compressed RAW+JPEG 108 frames, Uncompressed RAW+JPEG 104 frames)

CH Mechanical shutter Approx. 10fps (JPEG 1000+ frames, Compressed RAW 1000+ frames, Lossless compressed RAW 1000+ frames, Uncompressed RAW 1000+ frames, Compressed RAW+JPEG 512 frames, Lossless compressed RAW+JPEG 492 frames, Uncompressed RAW+JPEG 223 frames)

CH Mechanical shutter Approx. 7.0fps (JPEG 1000+ frames, Compressed RAW 1000+ frames, Lossless compressed RAW 1000+ frames, Uncompressed RAW 1000+ frames, Compressed RAW+JPEG 1000+ frames, Lossless compressed RAW+JPEG 1000+ frames, Uncompressed RAW+JPEG 1000+ frames)

Pre-shot Electronic shutter Approx. 20fps (1.29x Crop) (While half press 20 frames, After full press 1000+ frames)

Pre-shot Electronic shutter Approx. 13fps (1.29x Crop) (While half press 13 frames, After full press 1000+ frames)

Pre-shot Electronic shutter Approx. 10fps (1.29x Crop) (While half press 10 frames, After full press 1000+ frames)

Pre-shot Electronic shutter Approx. 13fps (While half press 13 frames, After full press 1000+ frames)

*No. of recordable frames are calculated based on CFexpress Type B card in a cold start

*Recordable frames depends on recording media

*Speed of continuous shooting depends on shooting environment and shooting frames
Drive Mode
AE Bracketing
2 frames / 3 frames / 5 frames / 7 frames / 9 frames

*by 1/3EV step, up to ±3EV steps

Filmsimulation bracketing
Any 3 types of film simulation selectable
Dynamic Range Bracketing
100% / 200% / 400%
ISO sensitivity Bracketing
±1/3EV / ±2/3EV / ±1EV
White Balance Bracketing
±1 / ±2 / ±3
Focus Bracketing
AUTO / MANUAL
Multiple Exposure
Yes (Max. 9 frames) / Additive / Average / Bright / Dark
HDR Mode
AUTO / 200% / 400% / 800% / 800% +
Advanced filter
Toy camera / Miniature / Pop color / High-key / Low-key / Dynamic tone / Soft focus / Partial color (Red / Orange / Yellow / Green / Blue / Purple)
Pixel Shift Multi Shot
Yes
Focus
Mode
Single AF / Continuous AF / MF
Type
Intelligent Hybrid AF (TTL contrast AF / TTL phase detection AF)
Low-light Performance
Contrast: -4.0EV XF50mmF1.0 attached

Phase Detection: -7.0EV XF50mmF1.0 attached

AF frame selection
Single point AF: 13x9 / 25x17 (Changeable size of AF frame)

Zone AF: 3x3 / 5x5 / 7x7 from 117 areas on 13×9 grid

Wide/Tracking AF: Yes (AF-S: Wide / AF-C: Tracking)

All: Yes

Face/eye detection
Yes
Subject detection
Yes (Animal/Bird/Automobile/Motorcycle&Bike/Airplane/Train)
Flash
EF-X8
Guide Number: approx. 11 (ISO200・m) / approx. 8 (ISO100・m)

Sync. Mode: 1st Curtain / 2nd Curtain

Flash Mode: TTL (TTL AUTO / STANDARD / SLOW SYNC. ) / MANUAL / COMMANDER / OFF

Shoe mount flash
Sync. Mode: 1st Curtain / 2nd Curtain / AUTO FP (HSS)

Flash Mode: TTL (TTL AUTO / STANDARD / SLOW SYNC. ) / MANUAL / MULTI *When EF-X500 is set / OFF

Synchronized terminal
Sync. Mode: 1st Curtain / 2nd Curtain

Flash Mode: MANUAL

Hot shoe
Yes (Dedicated TTL Flash compatible)
Viewfinder
EVF: 0.5 inch OLED Color Viewfinder, Approx. 5.76 million dots

Coverage of Viewing Area vs. Capturing Area: Approx. 100%

Eyepoint: Approx. 24mm (from the Rear End of the Camera's Eyepiece)

Diopter Adjustment: -5~+3m-1

Magnification: 0.80x with 50mm Lens (35mm Equivalent) at infinity and Diopter set to -1.0m-1

Diagonal Angle of View: approx. 40° (Horizontal angle of view: approx. 32° )

Built-In Eye Sensor

LCD monitor
3.0 inch vari-angle Touch Screen Color LCD Monitor

Aspect Ratio: 3:2

Dots: Approx. 1.62 million dots
Touch Screen Mode
Shooting Mode
Shooting, AF, Focus Area, OFF, Double Tap Setting (ON/OFF), Touch Function Setting (ON/OFF), Touch Zoom (ON/OFF), EVF Touch Screen Area Setting
Playback Mode
Swipe, Pinch-in / Pinch-out, Double-tap, Drag
Sub LCD monitor
1.28 inch Monochrome LCD Monitor

Aspect Ratio: 1:1

Dots: 128x128-dot
Movie recording
File format
MOV:

Apple ProRes 422 HQ, Linear PCM (Stereo sound 24bit / 48KHz sampling)

Apple ProRes 422, Linear PCM (Stereo sound 24bit / 48KHz sampling)

Apple ProRes 422 LT, Linear PCM (Stereo sound 24bit / 48KHz sampling)

HEVC/H.265, Linear PCM (Stereo sound 24bit / 48KHz sampling)

MPEG-4 AVC/H.264, Linear PCM (Stereo sound 24bit / 48KHz sampling)

MP4:

MPEG-4 AVC/H.264, AAC

Movie compression
All Intra / Long GOP
File size

Frame rate

Bitrate

[8K(16:9)] 7680 x 4320 29.97p/25p/24p/23.98p 720Mbps/360Mbps/200Mbps/100Mbps/50Mbps

[6.2K(16:9)] 6240 x 3510 29.97p/25p/24p/23.98p 720Mbps/360Mbps/200Mbps/100Mbps/50Mbps

[DCI4K HQ(17:9)] 4096 x 2160 29.97p/25p/24p/23.98p 720Mbps/360Mbps/200Mbps/100Mbps/50Mbps

[4K HQ(16:9)] 3840 x 2160 29.97p/25p/24p/23.98p 720Mbps/360Mbps/200Mbps/100Mbps/50Mbps

[DCI4K(17:9)] 4096 x 2160 59.94p/50p/29.97p/25p/24p/23.98p 720Mbps/360Mbps/200Mbps/100Mbps/50Mbps

[4K(16:9)] 3840 x 2160 59.94p/50p/29.97p/25p/24p/23.98p 720Mbps/360Mbps/200Mbps/100Mbps/50Mbps

[Full HD(17:9)] 2048 x 1080 59.94p/50p/29.97p/25p/24p/23.98p 720Mbps/360Mbps/200Mbps/100Mbps/50Mbps

[Full HD(16:9)] 1920 x 1080 59.94p/50p/29.97p/25p/24p/23.98p 720Mbps/360Mbps/200Mbps/100Mbps/50Mbps

[Full HD(17:9) High speed rec.] 2048 x 1080 240p/200p/120p/100p 720Mbps(recording)/360Mbps(recording)/200Mbps(recording)

[Full HD(16:9) High speed rec.] 1920 x 1080 240p/200p/120p/100p 720Mbps(recording)/360Mbps(recording)/200Mbps(recording)

*For recording movies, use a CFexpress Type B card or SD memory card with UHS Speed Class 3 or higher.

*For recording movies in 360Mbps, use a CFexpress Type B card or SD memory card with Video Speed Class 60 or higher.

*For recording movies in 720Mbps, use a CFexpress Type B card or SD memory card with Video Speed Class 90 or higher.

*Selectable bitrate will be changed depends on the setting.

*Apple ProRes codec can be only recorded to CFexpress Type B card

*Bitrate for Apple ProRes codec is not selectable.

*Recording time can become short depending on the temperature and/or shooting conditions

Film simulation mode
19 modes (PROVIA/Standard, Velvia/Vivid, ASTIA/Soft, Classic Chrome, PRO Neg.Hi, PRO Neg.Std, Classic Neg., Nostalgic Neg., ETERNA/Cinema, ETERNA BLEACH BYPASS, ACROS, ACROS + Ye Filter, ACROS + R Filter, ACROS + G Filter, Black & White, Black & White + Ye Filter, Black & White + R Filter, Black & White + G Filter, Sepia)
Monochromatic Color
Yes
Grain Effect
Roughness
STRONG, WEAK, OFF
Size
LARGE, SMALL
Color Chrome Effect
STRONG, WEAK, OFF
Color chrome Blue
STRONG, WEAK, OFF
Smooth Skin Effect
STRONG, WEAK, OFF
Dynamic range setting
Still
AUTO / 100% / 200% / 400%

ISO restriction: DR100%: No limit、DR200%: ISO250 or more、DR400%: ISO500 or more

Movie
100% / 200% / 400%

ISO restriction: DR100%: No limit、DR200%: ISO250 or more、DR400%: ISO500 or more
White balance
| | |
| --- | --- |
| Auto | White Priority / Auto / Ambience Priority |
| Custom | Custom1 - 3 |
| Color temperature selection | 2500K-10000K |
| Preset | Daylight / Shade / Fluorescent Light-1 / Fluorescent Light-2 / Fluorescent Light-3 / Incandescent Light / Underwater |
| Clarity setting | ±5 steps |
| Self-timer | 10sec. / 2sec. |
| Interval timer shooting | Yes (Setting : Interval, Number of shots, Starting time, Interval timer shooting exposure smoothing) |
Wireless transmitter
| | |
| --- | --- |
| Standard | IEEE802.11a/b/g/n/ac (standard wireless protocol) |
| Encryption | WPA/WPA2 mixed mode, WPA3 |
| Access mode | Infrastructure |
Bluetooth®
| | |
| --- | --- |
| Standard | Bluetooth Ver. 4.2 (Bluetooth low energy) |
| Operating frequency (Center frequency) | 2402 - 2480MHz |
Terminal
Digital interface
USB Type-C (USB3.2 Gen2x1)
HDMI output
HDMI connector (Type A)
Others
ø3.5mm, stereo mini connector (Microphone)

ø3.5mm, stereo mini connector (Headphone)

ø2.5mm, Remote Release Connector

Hot shoe

Synchronized terninal
Power supply
NP-W235 Li-ion battery (included)
Battery life for still images*2
Economy Mode: Approx. 680 frames

Normal Mode: Approx. 540 frames

*When XF35mmF1.4 R is set

Actual battery life of movie capture*2
8K: Approx. 70min. (29.97p)

4K: Approx. 75min. (59.94p)

Full HD: Approx. 85min. (59.94p), Approx. 90min. (120P)

*Face detection is set to OFF

Continuance battery life of movie capture*2
8K: Approx. 100min. (29.97p)

4K: Approx. 120min. (59.94p)

Full HD: Approx. 140min. (59.94p)

*Face detection is set to OFF
Dimensions
Width: 136.3mm

Height: 92.9mm

Depth: 84.6mm

(Minimum Depth: 42.8mm)

Weight
including battery and memory card: Approx. 660g

excluding battery and memory card: Approx. 579g
Operation Environment
| | |
| --- | --- |
| Operating Temperature | -10℃ - +40℃ |
| Operating Humidity | 10% - 80% (no condensation) |
| | |
| --- | --- |
| Starting up period | Approx. 0.49sec. |
Accessories included
Li-ion battery NP-W235

AC power adapter AC-5VJ

Plug adapter

USB cable

Shoulder strap

Body cap

Hot shoe cover

File transmitter/vertical battery grip connector cover

Memory card slot cover

Sync terminal cover

Cooling fan connector cover

Cable protector

Owner's manual
⚠️ WARNING: This product can expose you to chemicals including Lead, which is known to the State of California to cause cancer and birth defects and/or other reproductive harm. For more information go to www.P65Warnings.ca.gov