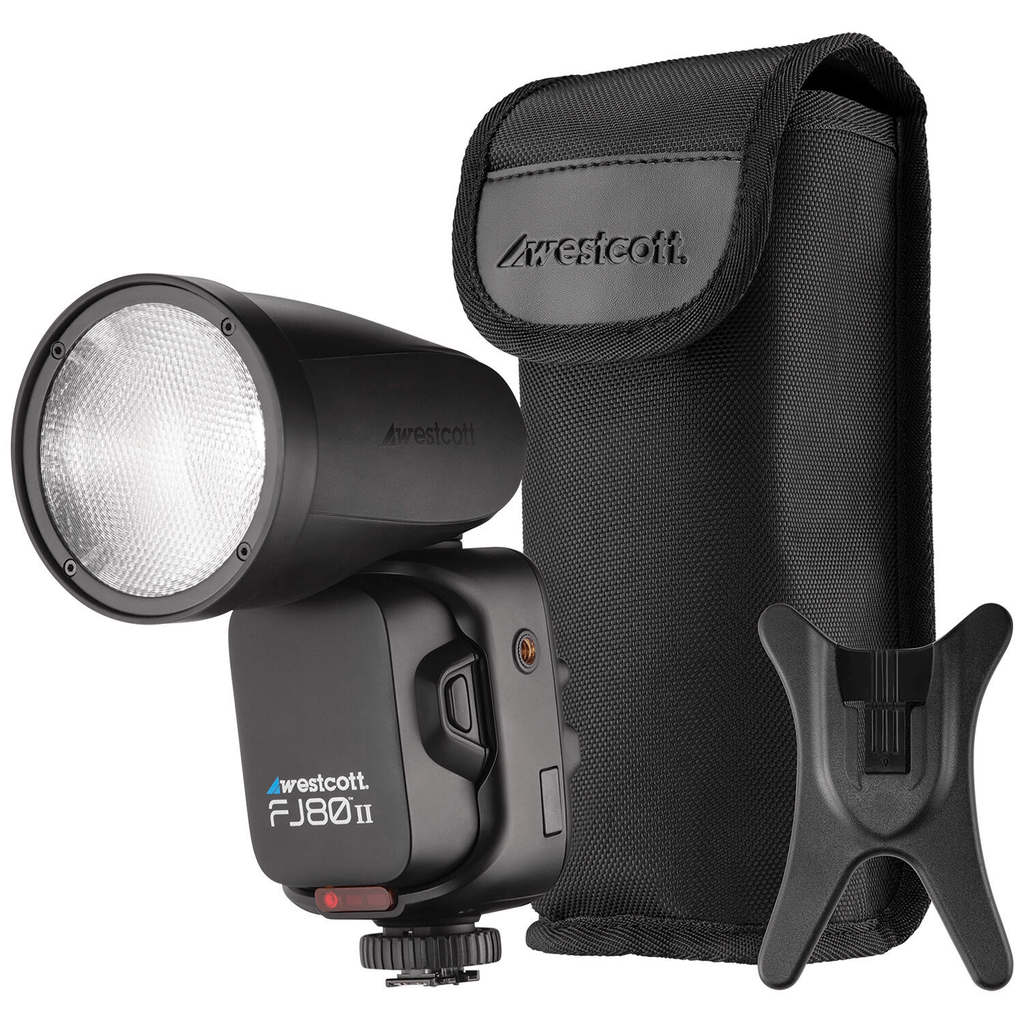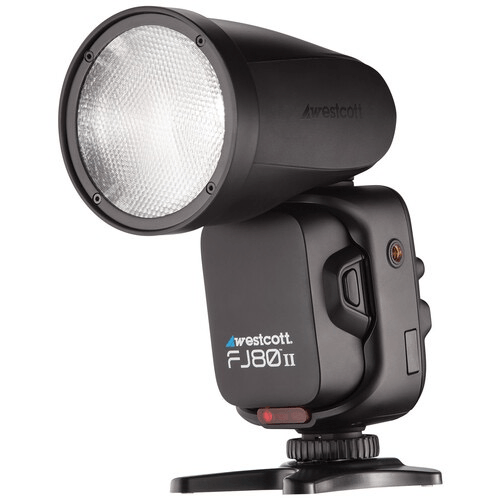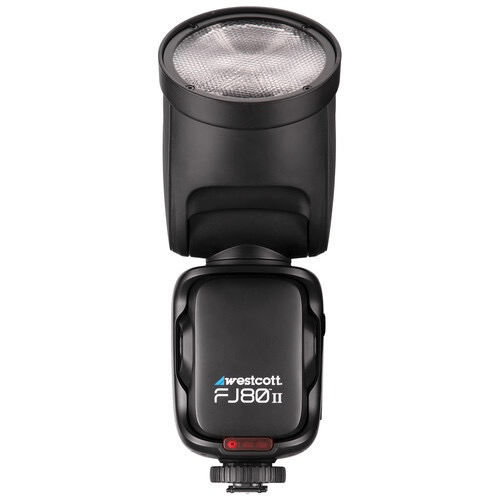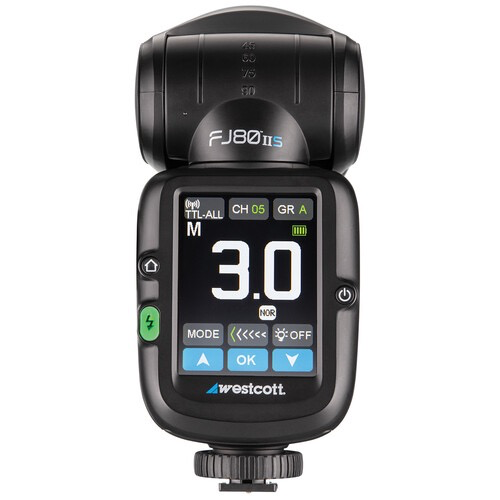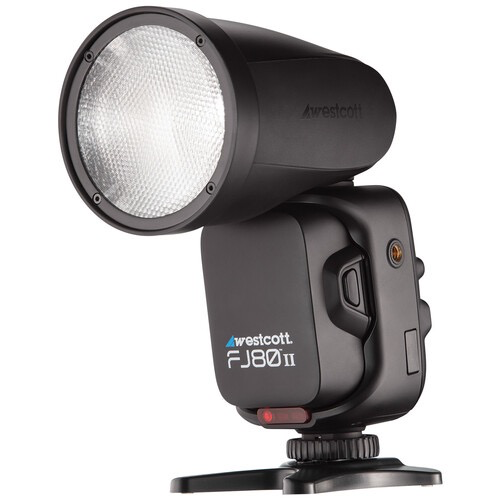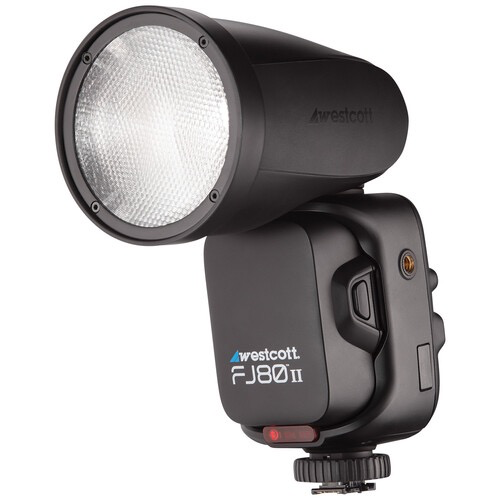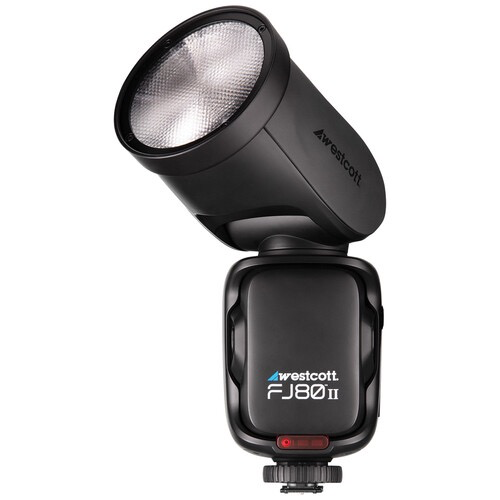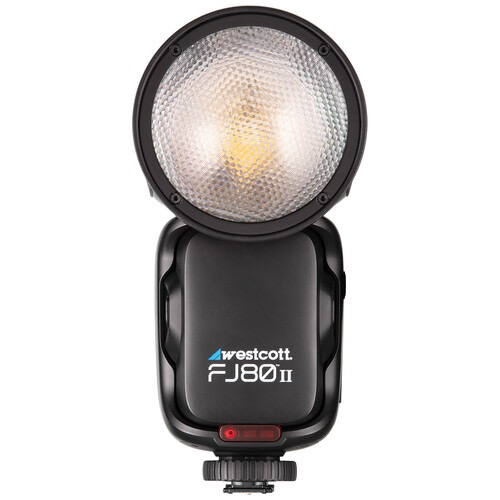 Sony TTL Compatible
2.8" Touchscreen
Onboard Transceiver
500+ Flashes on Rechargeable Battery
Built-In Receiver
328' Wireless Range
Recycling: 0.05 to 1.5 sec
Supports HSS
Color Stability Across Full Energy Range
The Only Touchscreen Speedlight Flash

Check out the Westcott FJ80 II M Touchscreen 80Ws Speedlight for Sony mount. This powerful flash features an integrated radio transceiver and multi-brand camera compatibility, making it a versatile option for any photographer. Plus, the 2.8" LCD color touchscreen makes navigating the menu system a breeze.

When not shooting Sony, it's compatible with Multiple Camera Brands

This portable flash is compatible with most Canon, Nikon, Sony (with adapter), Fuji, Panasonic Lumix, and Olympus cameras, making it a great choice for photographers who use multiple camera brands.

Integrated Transceiver for FJ Wireless and Canon RT Flashes

With its integrated 2.4 GHz transceiver, you can use the FJ80 II on-camera as both a flash and transmitter. This gives you the ability to control FJ400 and FJ200 strobes, FJ-XR receivers, off-camera FJ80 speedlights, and Canon RT devices directly from the hot shoe. When mounted off-camera, the FJ80 acts as a client speedlight. You can trigger it via an on-camera mounted FJ80, FJ-X2m or FJ-X3 Wireless Trigger, or Canon RT system transmitter. The touch screen makes it easy to navigate menus and change settings.

Unrivaled Color Consistency at Every Power Level

The Westcott FJ80 II M for Sony Touchscreen 80Ws Speedlight is designed to provide the most accurate color temperature stability at 5500K across its entire 9-stop output range. This means that you'll get consistent images throughout your shoot, with matching color temperatures across the entire FJ Flash Series. The FJ80 II also offers enhanced wireless communication in high-interference locations like events and weddings. With its 16 groups and 31 channels, you can control the flash from up to 328 feet away. Plus, the energy range can be displayed in whole numbers or fractions, so you always know how much power you have left.

TTL, High-Speed Sync, and More

With an intuitive full-color LCD touchscreen display, the FJ80 is super easy to use. It features Manual and TTL Flash Modes, High-Speed Sync (HSS) up to 1/8000s, plus Front and Rear Curtain Sync. You can control up to 16 groups across 31 separate channels. Plus, there's Automatic Memory Recall, group and channel assignment, and Group Exposure Compensation. The FJ80 II also has Continuous Capture up to 20 FPS, TTL to Manual Equivalent (as Client), modeling lamp settings, and more. And you can keep your FJ80 II up-to-date by downloading and installing the latest firmware via the onboard USB-C data port.

20% Longer-Lasting Battery & Designed for Faster Shooting

With its 80Ws of power, it can provide 500+ full-power flashes per charge, making it perfect for extended use. Its fast recycle time of 0.05 to 1.5 seconds makes it ideal for action photography, while its energy-efficient LED modeling lamp ensures that you get the perfect shot every time. Simply point and shoot with this user-friendly Speedlight and leave the rest to the professionals at Westcott!

Articulating Portable Flash with Multiple Mounting Options

This portable flash head provides 360° horizontal and 90° vertical pivot ranges, making it perfect for any situation. You can mount it on your camera via the cold shoe or its built-in 1/4"-20 female thread, or use the included shoe stand to make it free-standing. The shoe stand is equipped with a 1/4"-20 female thread for mounting to most light stands with no additional hardware required. And with its 80Ws of power, you'll be able to get the perfect shot every time.

FJ80 II Camera Compatibility

With its latest firmware update, it provides TTL and HSS compatibility with a wide range of camera models. This makes it an ideal choice for photographers who want the flexibility to use different cameras with their speedlight. The FJ80 II M has a powerful 80Ws output and a fastrecycling time, making it perfect for high-speed photography.
| | |
| --- | --- |
| Maximum Power | 80 Ws |
| Energy Range | 9 F-Stop (0.3 - 80 Ws) |
| Flash Duration (t0.1) | 1/250 - 1/3300s |
| Flash Duration (t0.5) | 1/800 - 1/10000s |
| Recycle Time | 0.05 - 1.5s |
| Continuous Capture | 20 FPS (Camera Model Dependent) |
| Color Temperature Stability | Normal/TTL/HSS: 5500 ±200K |
| Mounting System | FJ80 Magnetic Mount (ф75) |
| Flash Increments | 0.1-Stop and 1.0-Stop |
| Flash Modes | Manual, TTL |
| IGBT | Yes |
| Flash Exposure Compensation (FEC) | ±3 |
| Modeling Lamp | LED 3W 5500K ±200K |
| Sync Functions | HSS, Normal (Front & Rear Curtain) |
| Sync Speed | Up to 1/8000s (High-Speed) |
| Standard Flash Sync | Camera Model Max Sync Speed |
| Wireless Radio Frequency | 2.4GHz |
| Wireless Channels | 31 (01-31) |
| Wireless Groups | 16 |
| Wireless Range | 328' (100m) |
| Canon ID | 100 keys (00-99, RT only) |
| Display | LCD Touchscreen Color Display |
| Auto-Dump | Yes |
| Cooling | Passive |
| Voltage Stabilization | Yes |
| Heat Protection | Yes |
| Port Type | USB-C for Firmware Updates (PC, Mac) |
| Auto-Power Off | Yes |
| Audible Beep | Yes |
| Auto Memory Recall | Yes |
FJ80 II Battery
| | |
| --- | --- |
| Flashes Per Charge | 500+ at Full Power |
| Battery Type | DC Lithium Polymer |
| Capacity | 17.76 Wh, 1600mAh |
| Voltage | 11.1V |
| Recharge Time | ~2 hours |
| Output Current | 10A |
| Charge Current | ≤1.5A |
| Charge Temperature | 50°F ~ 113°F |
| Discharge Temperature | 14°F ~ 122°F |
| Battery Charge Cycles | 300 (@80% after 300) |
| Battery Charge Voltage | 12.6V |
| Battery Charge Input | AC 100-240V, 50-60Hz, 0.5A |
Technical Specs
| | |
| --- | --- |
| USE & CARE INSTRUCTIONS | Wipe with a dry cloth as needed. • Keep away from fire, water, and moisture. • Do not submerge in water. • Avoid drastic temperature changes before, during, and/or after use. • Do not overtighten shoe lock dial when mounting to camera. • Ensure the FJ-80 II is securely mounted before use. • Surrounding RF interference may affect the communication performance of the FJ-80 II and FJ Wireless products. • Do not attempt to modify any Westcott products. Contact Westcott for assistance. |
| WARRANTY | One Year |
| MATERIALS | Plastic, Rubber, Electronics Components, Metal |
| LENGTH | 8.3" / 21.0 cm |
| WIDTH | 3.1" / 7.9 cm |
| HEIGHT | 3.1" / 7.9 cm |
| WEIGHT | 1.3 lbs. / 0.6 kg |
| VOLTS | 12.6V |
| ADAPTER INCLUDED | None |
| LAMP/TUBE USER CHANGEABLE | Yes |
⚠️ WARNING: This product can expose you to chemicals including Lead, which is known to the State of California to cause cancer and birth defects and/or other reproductive harm. For more information go to www.P65Warnings.ca.gov