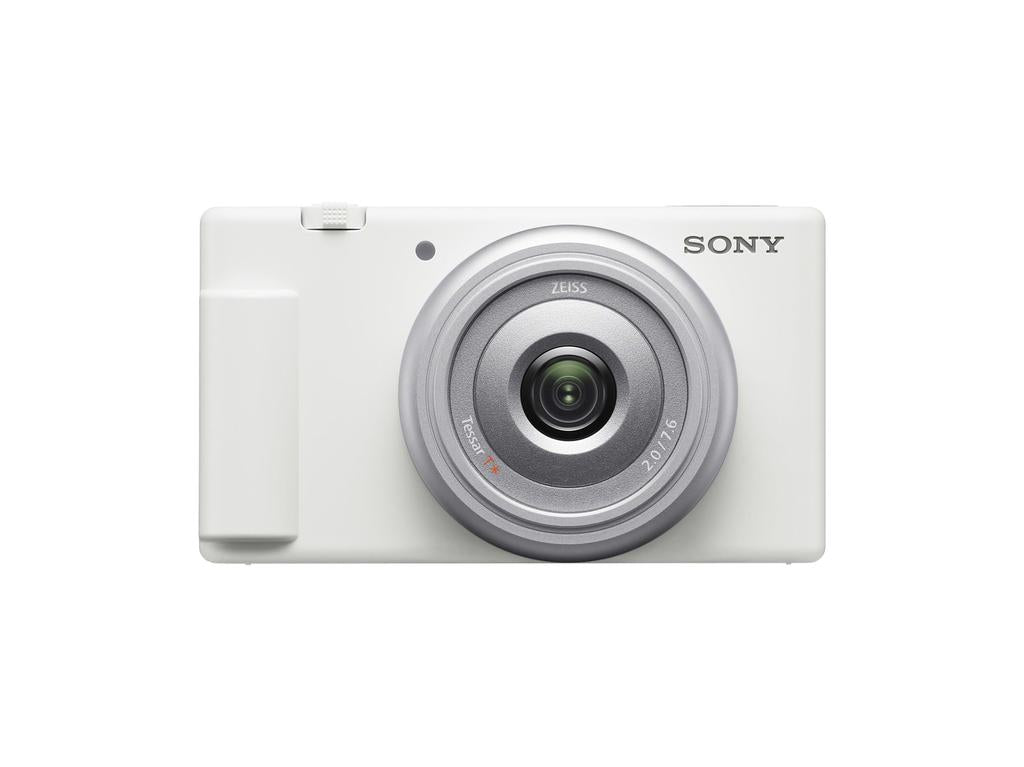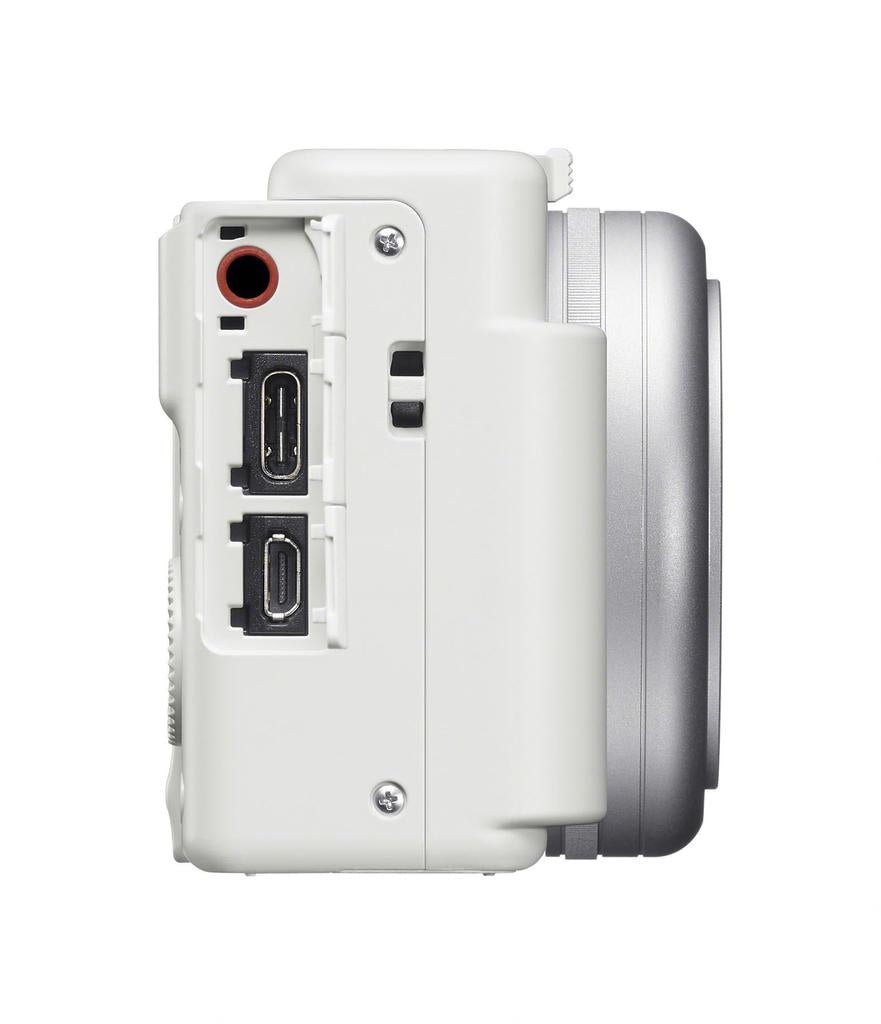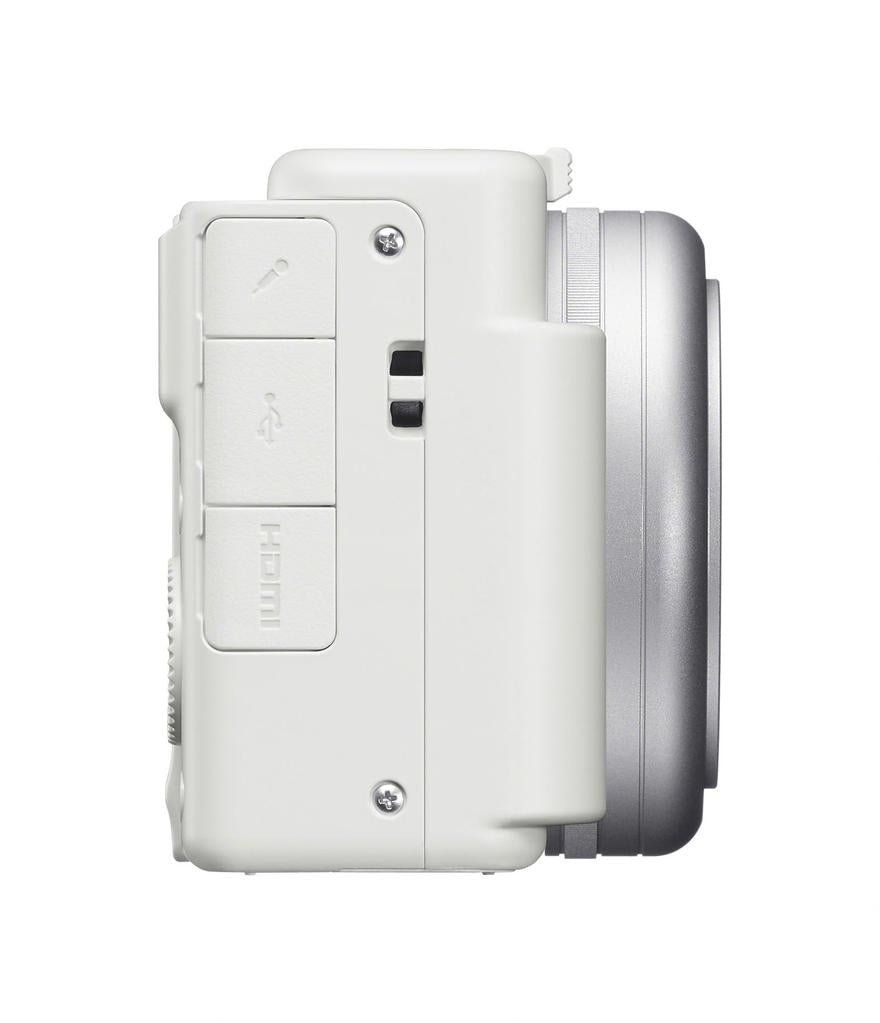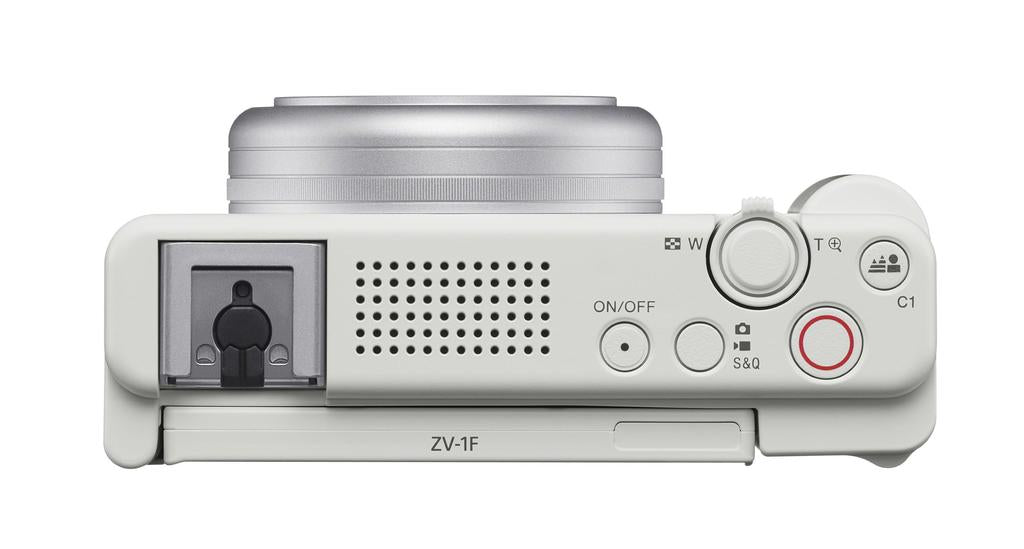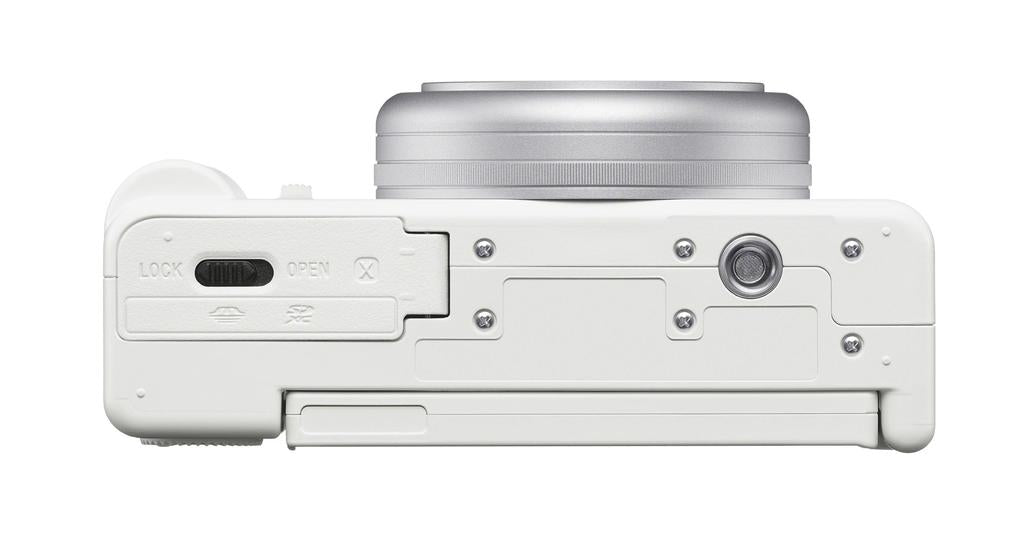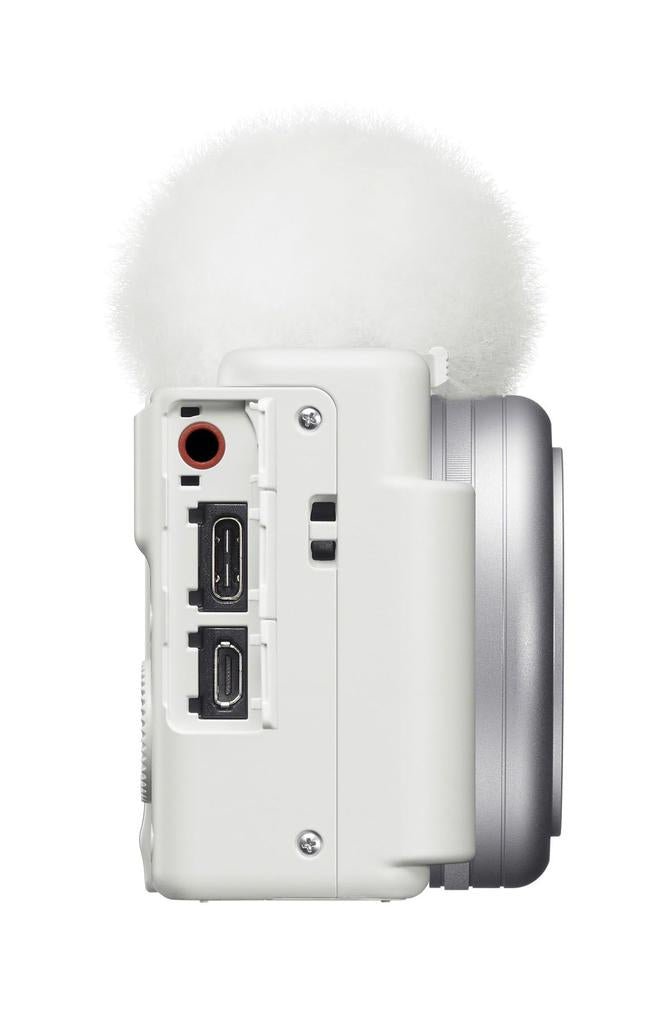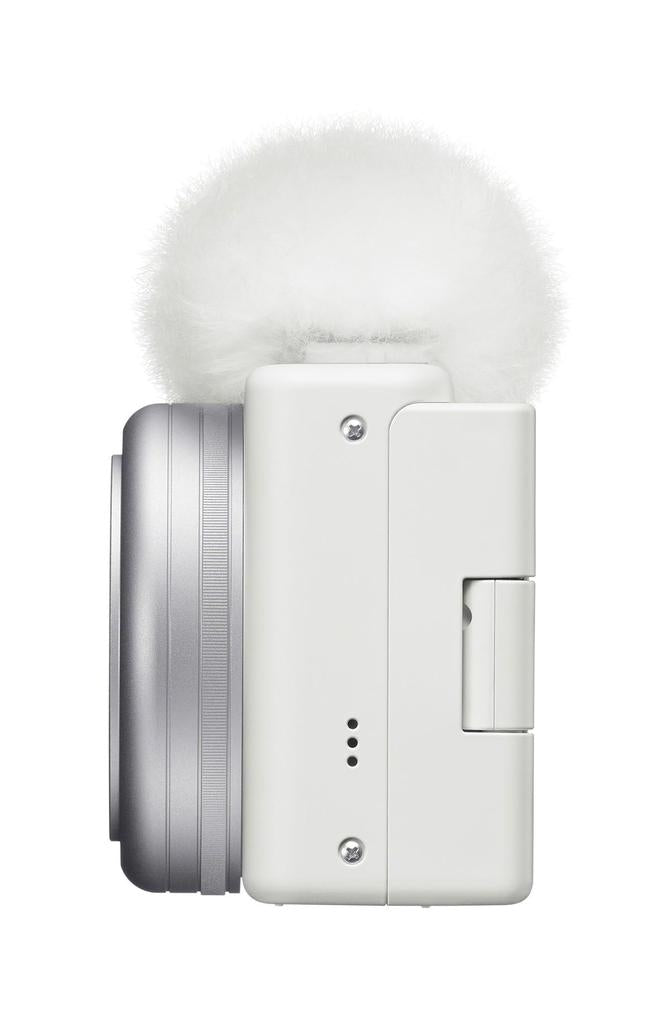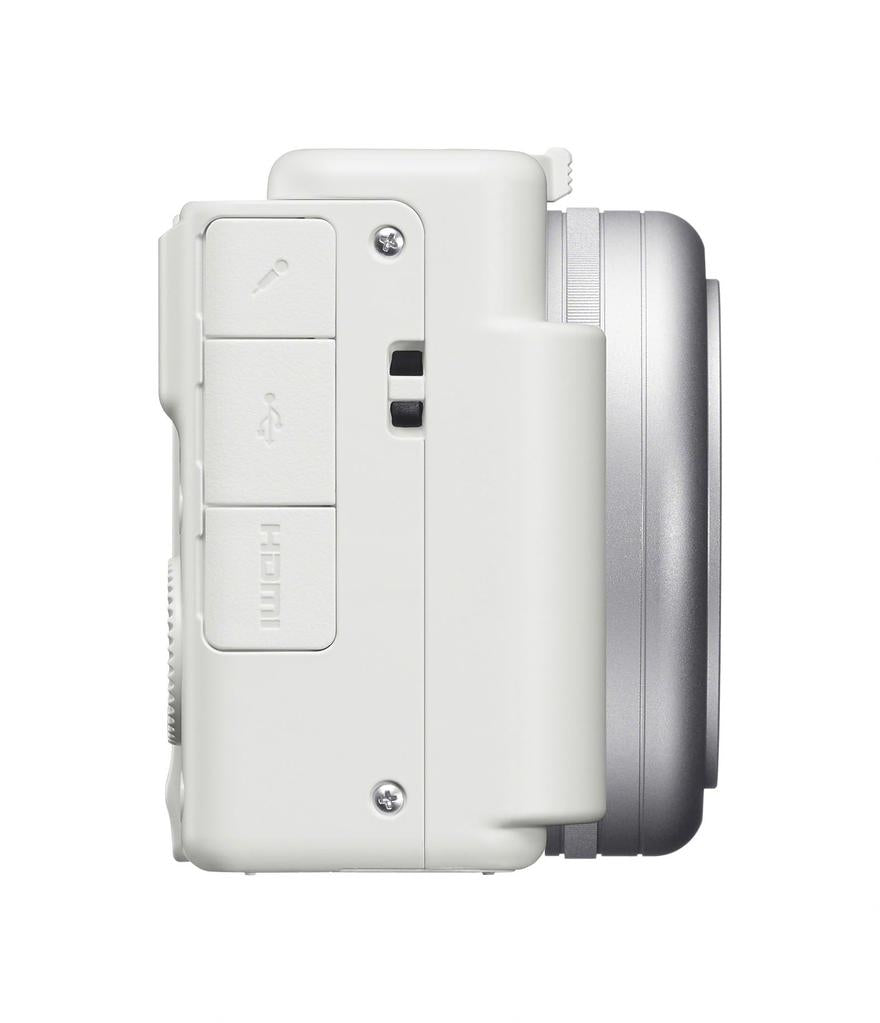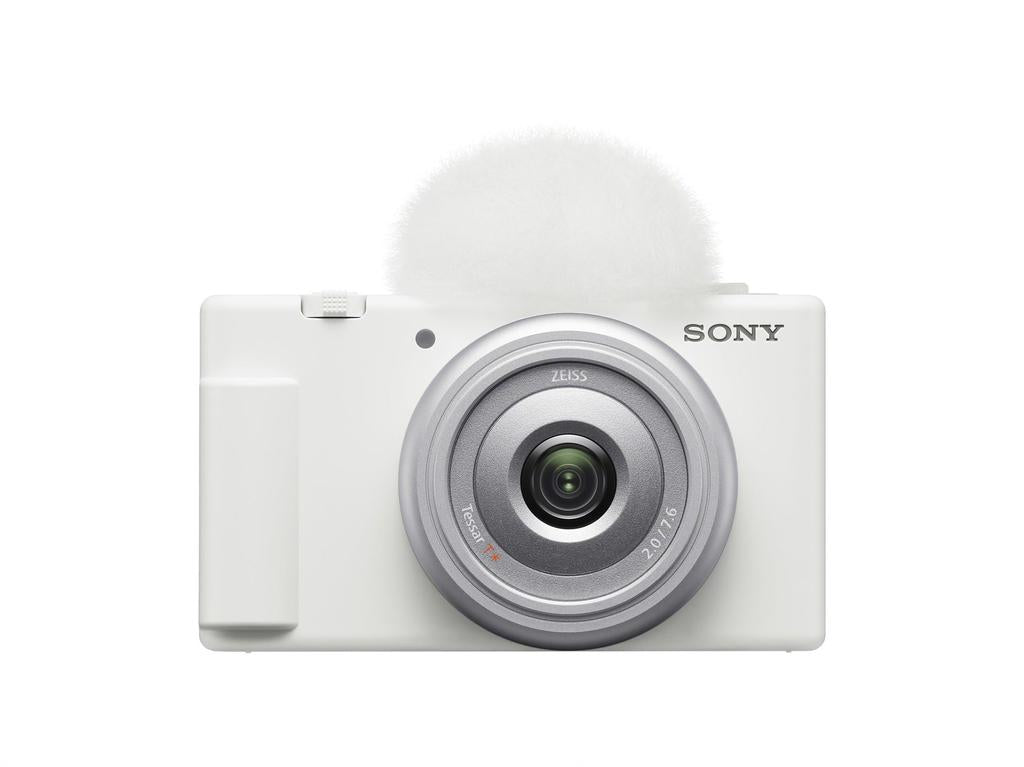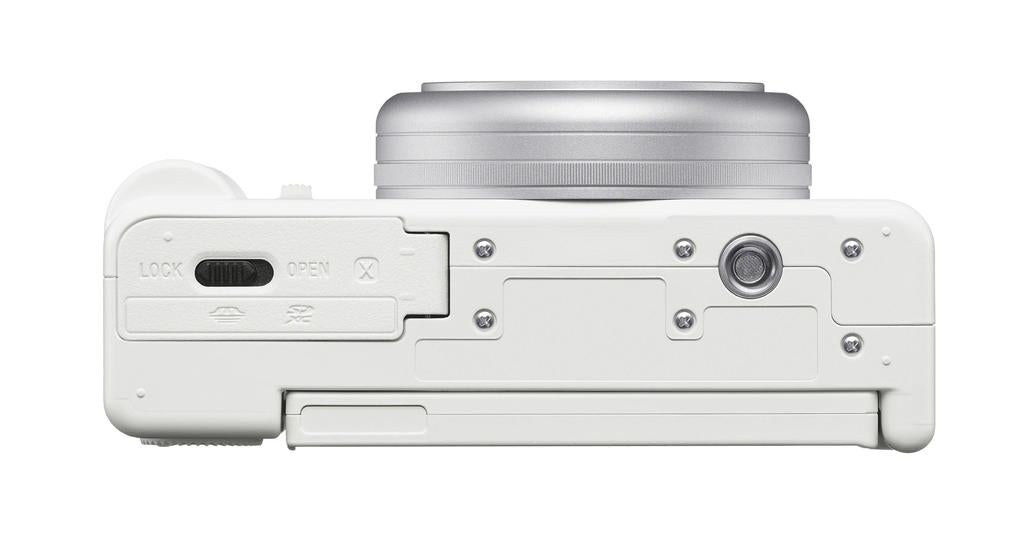 20.1MP 1" Exmor RS BSI CMOS Sensor
BIONZ X Image Processor
ZEISS 20mm-Equivalent f/2-f/8 Lens
UHD 4K30p Video Recording
3.0" Side Flip-Out Touchscreen LCD
Background Defocus & Face Priority AE
5x Slow Motion & 60x Hyperlapse Modes
Directional 3-Capsule Mic & Mic Jack
High-Quality Livestreaming
Easy Smartphone Connection
Elevate your vlogging

Are you ready to take your content creation to the next level? If so, then you need the Sony ZV-1F Vlog Camera. This pocket-sized powerhouse is packed with features specifically designed for vloggers and online video creators. With a large 1-inch sensor and wide angle 20mm1 lens, it produces dazzling image quality that will take your videos to new heights. Additionally, the easy-to-use interface makes it simple to capture incredible footage with ease. So whether you're just getting started or are a seasoned pro, the Sony ZV-1F is the perfect camera for you.

Fit everything in frame

With its ultra-wide angle 20 mm1 lens, you can take amazing photos with incredible depth and perspective - even in small spaces! Whether you're shooting indoors or outdoors, the ZV-1F will let you capture all the action with stunning clarity.

Beautiful skin tones for everyone

This camera accurately captures your skin tone, ensuring you a healthy and natural look. You can also select the Soft Skin Effect to OFF/ Low/ Mid/ High to adjust your skin smoothness.

Sharp autofocus, bright face

Using Eye AF, the camera automatically recognizes human faces and eyes, making sure you stay in focus in front of the lens. Switching the focus to another subject is easy - just touch the screen. There's no need to worry about lighting either, as Face Priority AE (autoexposure) will automatically brighten your face.

Designed for clear voice recording

This camera is designed specifically for content creators and vloggers, with a built-in directional 3-capsule mic that collects sound from in front of the camera. This means you can focus on being creative without worrying about the sound quality while recording. Indoors or outdoors, the ZV-1F is the perfect camera for anyone who wants to create great video content.

Vertical video made simple

With the ZV-1F, you can rotate horizontal video in-camera with no extra editing required. Plus, vertical videos are automatically tagged so you can transfer them straight to your smartphone, letting you get your content out to the world quickly.

Connect to your smartphone to do more

With its easy-to-use transfer capabilities, you can quickly and easily move your images and videos to your smartphone over W i-Fi. The Imaging Edge Mobile Plus app also allows you to remotely control the camera for remote shooting.

Select the best scenes

One of the most useful features is the Shot Mark function, which allows you to quickly and easily cut out clips of 15, 30, or 60 seconds. This is perfect for when you want to share a quick clip with your followers or friends. Shot Marks also make it easy to find the scenes you want to use later, so you don't have to waste time searching through hours of footage.

Use a shooting grip for easy vlogging

Check out the Sony ZV-1F Vlog Camera, designed specifically for content creators and vloggers. This camera comes with the GP-VPT2BT shooting grip, which makes it easier to grab stable shots and can also be used as a tripod. Plus, the grip can be rotated to have the zoom lever and recording button on either side, so you don't have to stretch around the camera body to reach them.

Next level audio quality

If you're serious about your vlogs, then you need a camera that can help you take your content to the next level. The Sony ZV-1F Vlog Camera is perfect for content creators and vloggers who want to improve the audio quality of their videos. With the ability to connect external microphones, you can record your voice from a distance or directly in front of the camera, ensuring that your audience hears every word loud and clear. Whether you're filming at an event or just taking some time to talk to your viewers, the Sony ZV-1F Vlog Camera will help you create videos that sound as amazing as they look.

Simple streaming with a single cable

The Sony ZV-1F Vlog Camera is the perfect tool for content creators and vloggers. The 1-inch (1.0-type) image sensor and Creative Look ensure vibrant visuals, while the Directional 3-Capsule Mic will give you excellent audio. The camera also transforms into a high-quality web camera by simply connecting a compatible device via USB.

Keep your subjects in focus

With its high precision focusing, you can be sure that your subject will stay razor sharp. The 425 contrast- detection AF points are arranged to cover a wide area of the captured image, so you can be sure to get the perfect shot every time. Additionally, the Eye AF track ensures that faces are tracked without getting diverted by other subjects.

Capture the details, even in dim light

Thanks to its 20.1 million pixel Exmor RS™ 1.0-type stacked CMOS image sensor with integral memory, the Sony ZV-1F Vlog Camera For Content Creators and Vloggers can capture clear video with little noise even when shooting in dimly lit locations. While shooting in Intelligent Auto mode, you can now shoot video with the background blurred to the maximum possible extent, allowing the main subject to be captured more clearly and giving your videos extra impact.

Touch-controlled step zoom

With just a touch of the LCD panel, you can easily zoom in to the view of your preference. You can select from 1.0x/1.5x/2.0x/4.0x16 to quickly change the angle of view to make sure you capture your best side. Plus, the built-in directional 3-capsule mic ensures that your audio is always clear and focused.

Shoot for longer with a USB-chargeable battery

The ZV-1F is also incredibly easy to use, thanks to its simple controls and user-friendly interface. Plus, with itsbuilt-in USB Type-C® port, you can easily charge the camera on the go. Whether you're shooting video for your YouTube channel or capturing everyday moments with friends and family, the Sony ZV-1F is the perfect vlog camera for any content creator.

Start the shoot with a timer

The large self-timer countdown appears in the center of the screen, so you'll always know when it's time to begin shooting. Plus, the camera's compact design makes it easy to carry with you wherever you go. Whether you're a beginner or a professional content creator, the Sony ZV-1F is the perfect camera for you!

Newly developed wind screen using recycled polyester

With its built-in wind screen, you can be sure that your audio will be clear even in windy conditions. And because it uses recycled materials, you can feel good about your purchase knowing that you're helping to reduce your environmental impact.

Using recycled plastic

The ZV-1F uses SORPLAS recycled plastic in its construction, which helps reduce its environmental impact. Plus, the camera body is designed to be comfortable and easy to hold, making it perfect for on-the-go vlogging.

Reducing plastic packaging

Because Sony care about the environment, they've eliminated their use of plastic in packaging and are now using plant-based non­woven fabric or paper bags to wrap the products while maintaining the protective and high cushioning properties of plastic.

Aiming to achieve a zero environmental footprint

At Sony, they're also conscious of their impact on the environment. That's why they've made a commitment to achieving a zero environmental footprint across the entire Sony Group. So you can feel good about using their products knowing that they're doing their part to preserve the Earth.
Image Sensor
| | |
| --- | --- |
| Sensor Type | 1.0-type (13.2 mm x 8.8 mm) Exmor RS CMOS sensor, aspect ratio 3:2 |
| Number of Pixels (Effective) | Approx. 20.1 Megapixels |
| Number of Pixels (Gross) | Approx. 21.0 Megapixels |
Lens
| | |
| --- | --- |
| Lens Type | ZEISS Tessar T* Lens, 6 elements in 6 groups |
| ND Filter | 25.3 |
| Filter Diameter | φ40.5 |
| F-number (Maximum Aperture) | F2.0 |
| Focal length (f=) | f=7.6 mm |
| Focus Range (From the Front of the Lens) | Approx. 5 cm (0.17 ft) to Infinity |
| Optical Zoom | |
| Clear Image Zoom (Still Image) | 20M Approx. 2x / 10M Approx. 2.8x / 5.0M Approx. 4x |
| Clear Image Zoom (Movie) | 4K: 1.5x HD: Approx. 2x |
| Digital Zoom (Still Image) | 20M Approx.4x / 10M Approx.5.6x / 5.0M Approx.8x |
| Digital Zoom (Movie) | Approx.4x |
| Angle of View (35MM Format Equivalent) | 94°(20 mm) |
Screen
| | |
| --- | --- |
| Screen Type | 7.5 cm (3.0type)(4:3) / 921,600 dots / Xtra Fine / TFT LCD |
| Adjustable Angle | Opening Angle:approx. 176 deg., Rotation Angle:approx. 270 deg. |
| Touch Panel | Yes |
| MF Assist Magnification | 1.6x, 4.0x |
Camera
| | |
| --- | --- |
| Image Processing Engine | Yes (BIONZ X) |
| STEADYSHOT (STILL IMAGE) | Electronic |
| Focus Type | Contrast-detection AF |
| Focus Mode | Single-shot AF, Continuous AF, Manual Focus |
| Focus Area | Wide (425 points(contrast-detection AF)), Zone, Center, Flexible Spot (S/M/L), Expanded Flexible Spot |
| Exposure Compensation | +/- 3.0EV, 1/3EV step |
| ISO Sensitivity (Still Image)(Recommended Exposure Index) | Auto (ISO125-6400),125/160/200/250/320/400/500/640/800/1000/1250/1600/2000/2500/3200/4000/5000/6400/8000/10000/12800 (Extendable to ISO80/100) |
| ISO Sensitivity (Movie) | Auto:(ISO125Level-ISO6400Level),125/160/200/250/320/400/500/640/800/1000/1250/1600/2000/2500/3200/4000/5000/6400/8000/10000/12800 |
| White Balance Modes | Auto, Daylight, Shade, Cloudy, Incandescent, Fluor.: Warm White, Fluor.: Cool White, Fluor.: Day White, Fluor.: Daylight, Underwater Auto, C.Temp./Filter, Custom |
| WB Micro Adjustment | Yes (G7 to M7,57-step) (A7 to B7,29-step) |
| Electronic Shutter | Program Auto (1/4" - 1/32000) / Manual(1/4" - 1/32000) / Aperture Priority(1/4" - 1/32000) / Shutter Priority(1/4" - 1/32000) |
| Aperture | Program Auto (F2/F8) / Manual(F2/F8) / Shutter Priority(F2/F8) / Aperture Priority(F2/F8) |
| Image Control | Contrast, Saturation, Sharpness, Creative look, Color Space, Quality (JPEG (Extra fine, Fine, Standard)) |
| Noise Reduction | high ISO NR:Normal/Low/Off |
| Dynamic Range Functions | Off, Dynamic Range Optimizer (Auto/Level 1-5) |
| Shooting Mode | Auto (Intelligent Auto), Program Auto, Aperture Priority, Shutter Speed Priority, Manual Exposure, Movie Mode (Program Auto, Aperture Priority, Shutter Speed Priority, Manual Exposure, Movie Auto (Intelligent Auto)), S&Q Mode (Program Auto, Aperture Priority, Shutter Speed Priority, Manual Exposure, S&Q Auto(Intelligent Auto)) |
| Continuous Shooting Speed (maximum) (with max. recording pixels) | Speed Priority Continuous Shooting: approx. 16 fps, Continuous Shooting: approx. 3.5 fps |
| Self-timer | 10 sec. / 5 sec. / 2 sec. / self timer(movie) |
| DRIVE MODES | Single, Continuous shooting, Self-timer |
| Panorama (Shooting) | |
| Picture Profile | off/PP1-PP10 (Black Level, Gamma(Movie, Still, Cine1-2, ITU709, ITU709 [800%], S-Log2, S-Log3, HLG, HLG1, HLG2, HLG3), Black Gamma, Knee, Color Mode, Saturation, Color Phase, Color Depth, Detail, Copy, Reset) |
| Light Metering Mode | Multi Pattern, Center Weighted, Spot, Entire Screen Avg, Highlight |
| OBJECT TRACKING | Yes (Tracking) |
| EYE AF | [Still images] Human (Right/Left Eye Select) / Animal; [Movie] Human |
| INTERVAL REC | Yes (1-60 sec. interval, 1-9999 shots, AE lock/AE tracking(High/Mid/Low)) |
Slow & Quick Motion (S&Q)
| | |
| --- | --- |
| Image frame rate | NTSC mode: 1fps, 2fps, 4fps, 8fps, 15fps, 30fps, 60fps, 120fps / PAL mode: 1fps, 2fps, 3fps, 6fps, 12fps, 25fps, 50fps, 100fps |
Power
| | |
| --- | --- |
| Power Source | DC3.6V(supplied battery) |
| Battery System | Rechargeable battery pack NP-BX1 |
| Power Consumption (Camera Mode) | Approx. 1.5W with LCD monitor (CIPA standard) |
| USB Charge/USB Power Supply | Yes (Shooting, Playback) |
| Battery Life (CIPA) (Still Images) | Monitor: Approx. 360 / Approx. 180min., Monitor (When Auto Monitor off is set to 2sec):Approx. 540 / Approx. 270min. |
| Battery Life (CIPA) Movies (actual shooting) | Monitor: Approx. 60min. |
| Battery Life (CIPA) Movies (continuous shooting) | Monitor: Approx. 90min. |
Lens2
| | |
| --- | --- |
| Filter Diameter | φ40.5 |
| Linear Focus | Yes |
| Scan System | Progressive scan |
| Color filter | R,G,B primary color mosaic filters |
Camera2
| | |
| --- | --- |
| Active Mode | Electronic |
| Focusing type | Contrast-detection AF |
| METERING SENSITIVITY | EV 0 to 20 (at ISO100 equivalent) |
| ISO Sensitivity(REI) - Auto Controll Range | Auto(ISO125-6400),125/160/200/250/320/400/500/640/800/1000/1250/1600/2000/2500/3200/4000/5000/6400/8000/10000/12800 (Extendable to ISO80/100) |
| Face Detection Mode | Face Priority inAF(On/Off), Face Priority in Multi Metering(On/Off), Regist. Faces Priority(On/Off) |
| Face Detection - Face Registration | New Registration / Order Exchanging / Delete / Delete All |
| Face Detection - Maximum number of detectable faces | 8 faces |
| Proxy Recording | Yes (1280 x 720(Approx.9Mbps)) |
| Program shift AE | Yes |
| AE locked when focus is locked | Yes |
| Flash Bracketing | |
| Flash compensation | |
| Flash Sync. Speed | |
| Flash - Recycling Time Control | |
| External flash | |
| Flash Type | |
| Red Eye Reduction | |
| Auto Orientation | On only |
Monitor, Viewfinder2
| | |
| --- | --- |
| MF Assist Magnification | 1.6x,4.0x |
Recording2
| | |
| --- | --- |
| Recording Format | Still Images: JPEG ( DCF, Exif, MPF Baseline ) compliant |
| Memory Stick Duo | 32GB |
| Memory Stick Micro | 16GB |
| SD Memory Card | 128GB |
| microSD Memory Card | 64GB |
Microphone / Speaker
| | |
| --- | --- |
| Built-in Microphone | Stereo |
| Speaker | mono |
| Volume Setting | 16 steps |
| Wind Noise Reduction | Off / On |
Playback2
| | |
| --- | --- |
| Single Image Cue - Review (Movie) | Yes |
| Single Image Cue - Slow Playback (Movie) | Yes |
| Image Index | 9 / 25 images |
| Display as Group | Yes |
| Slide Show - Video Out | 4K (HDMI) |
| Slide Show - Movie | Yes |
| Slide Show Settings | Image: All Interval: 1 / 3 / 5 / 10 / 30 sec. Repeat: On / Off |
| Zoom Magnification of Playback Mode | Yes |
| Automatic Image Rotation | Yes |
| Auto Orientation(Auto pict rotation in response to camera position in playback) | Yes |
| Rotate | Single / Select / All but This |
| Delete | Image / Folder / Date / Group |
| Protect | Select / Folder / Date / Group |
| Still image capture (from movie from 16:9Movie to Still Image Size) | XAVC S 4K : 8.3M(3840×2160) XAVC S HD : 2.1M(1920×1080) |
PC Link2
Menu, Indicator
| | |
| --- | --- |
| Function Guide - Histogram Indicator | Yes(On/Off) |
| Function Guide - Beep | Yes(On/Shutter/Off) |
Interface2
| | |
| --- | --- |
| NFC - One-touch remote | |
| NFC - One-touch sharing | |
| Wi-Fi - Ctrl with Smartphone(Single) | |
| Wi-Fi - Send to Smartphone | Yes (Select on This Device / Select on Smartphone) |
Print2
Video Out
| | |
| --- | --- |
| HDMI - 2D (Auto) | Yes |
| HDMI Info. Display - HDMI Info. Display | Off/On |
| Video Out Mode - Video Out Mode | NTSC / PAL |
USB
| | |
| --- | --- |
| USB Connect - Mass Storage | Yes |
| USB Connect - MTP | Yes |
| LUN Settings (Multi/Single) | Multi / Single |
Optional Accessory Capability
Power, Others
| | |
| --- | --- |
| Supplied Battery - Maximum Voltage | 4.2V |
| Supplied Battery - Nominal Voltage | 3.6V |
| Supplied Battery - Capacity for Shooting | 4.5Wh(1240mAh) |
| AC Adaptor (supplied) - Power Requirements | |
| AC Adaptor (supplied) - Output voltage | |
| AC Adaptor (supplied) - Dimensions (WxHxD) | |
| AC Adaptor (supplied) - Mass | |
| Body Material | Aluminum and plastic |
| Operating Temperature | 0 degrees C. - +40 degrees C. / 32 degrees F. - 104 degrees F. |
| Storage Temperature | -20 degrees C. - +55 degrees C. / -4 degrees F. - +131 degrees F. |
Operating Speed
| | |
| --- | --- |
| Shutter Release Time Lag | Approx. 0.007 sec. |
| Continuous Shooting (Maximum number of recoded pixels) | Approx.0.06 sec |
Accessibility
| | |
| --- | --- |
| Screen Reader | Yes (Language: English, Speed: 7 steps, Volume:16 steps) |
Viewfinder
| | |
| --- | --- |
| Screen Type/Number of Dots | |
Print
| | |
| --- | --- |
| Exif Print | Yes |
| PRINT Image Matching (PIM3) | Yes |
Interface
| | |
| --- | --- |
| NFC | |
| WI-FI | Yes(IEEE802.11b/g/n(2.4GHz band)) |
| Bluetooth | Yes (Bluetooth Standard Ver. 4.1 (2.4GHz band)) |
| Input and Output Terminal | USB Terminal Type-C (USB2.0), Micro HDMI, Microphone jack (3.5mm Stereo mini jack) |
| Eye-Fi | |
Others
| | |
| --- | --- |
| PlayMemories Camera Apps | |
| TRILUMINOS Color | Yes |
| 4K image output | Yes |
| Other Shooting Functions | Shot Mark (Movie) |
| InCamera Guide | Yes |
| Other Playback Function | Rating |
| Operating Speed | Start-up Time (Approx. 1.2 sec.) / Shooting Time Lag (Approx. 0.15 sec.) / Shooting Interval (Approx. 0.44 sec.) |
| Digital Level Gauge | Yes (Pitch and roll) |
| DIMENSIONS (W X H X D) (APPROX.) | (4 1/4in. × 2 3/8 in. × 1 7/8 in.) |
| WEIGHT (CIPA COMPLIANT) | Approx. 256g (9.1oz.)(Battery and Memory Card are included) / Approx. 229g (8.1oz.)(Body Only) |
| Supplied Accessory | Instruction Manual |
Other functions
| | |
| --- | --- |
| Power Saving | 1min / 2min / 5min / 30min |
| Clock Function,Setting | Yes |
| Area Setting | Yes |
| Demo Mode | |
| REC Lamp | Yes |
| NTSC/PAL switchover | Yes |
Recording
| | |
| --- | --- |
| Compatible Recording Media | [XAVC S(100Mbps)] SDXC/SDHC Memory Card (UHS-I U3 or higher); [XAVC S(60Mbps/50Mbps)] SDXC/SDHC Memory Card (Class 10 or higher); [Still image] Memory Stick Duo, Memory Stick PRO Duo, Memory Stick PRO-HG Duo, Memory Stick Micro, Memory Stick Micro(Mark2), SDXC/SDHC/SD Memory Card (Class 4 or higher), micro SDXC/SDHC/SD Memory Card (Class 4 or higher) |
| Recording Format (Movie Audio) | XAVC S:LPCM 2ch |
| Color Space (Still) | sRGB, Adobe RGB |
| DCF/DPOF | DCF/EXIF/MPF |
| Still Image Number of recorded pixels (Image Size) | 3:2mode:20M(5,472×3,648) / 10M(3,888×2,592) / 5M(2,736×1,824),4:3mode:18M(4,864×3,648) / 10M(3,648×2,736) / 5M(2,592×1,944) /16:9mode:17M(5,472×3,080) / 7.5M(3,648×2,056) / 4.2M(2,720×1,528),1:1mode:13M(3,648×3,648) / 6.5M(2,544×2,544) / 3.7M(1,920×1,920) |
| Movie Recording Mode (NTSC) | NTSC/PAL Selector: [NTSC] XAVC S 4K: 30p 100M(3,840x2,160/30p) / 30p 60M(3,840x2,160/30p) / 24p 100M(3,840x2,160/24p) / 24p 60M(3,840x2,160/24p), XAVC S HD:60p 50M(1,920x1,080/60p) / 60p 25M(1,920x1,080/60p) / 30p 50M(1,920x1,080/30p) / 30p 16M(1,920x1,080/30p) / 24p 50M(1,920x1,080/24p) / 120p 100M(1,920x1,080/120p) / 120p 60M(1,920x1,080/120p) |
| Movie Recording Mode (PAL) | NTSC/PAL Selector: [PAL] mode XAVC S 4K: 25p 100M(3,840x2,160/25p) / 25p 60M(3,840x2,160/25p), XAVC S HD:50p 50M(1,920x1,080/50p) / 50p 25M(1,920x1,080/50p) / 25p 50M(1,920x1,080/25p) / 25p 16M(1,920x1,080/25p) / 100p 100M(1,920x1,080/100p) / 100p 60M(1,920x1,080/100p) |
| Proxy Recording | Yes (1280 x 720(Approx.9Mbps)) |
| Still Image Number of recorded pixels (Image Size) during Movie | XAVC S 4K : 8.3M (3840×2160) XAVC S HD : 2.1M (1920×1080) |
| Recording Format (Movie) | XAVC S |
⚠️ WARNING: This product can expose you to chemicals including Lead, which is known to the State of California to cause cancer and birth defects and/or other reproductive harm. For more information go to www.P65Warnings.ca.gov