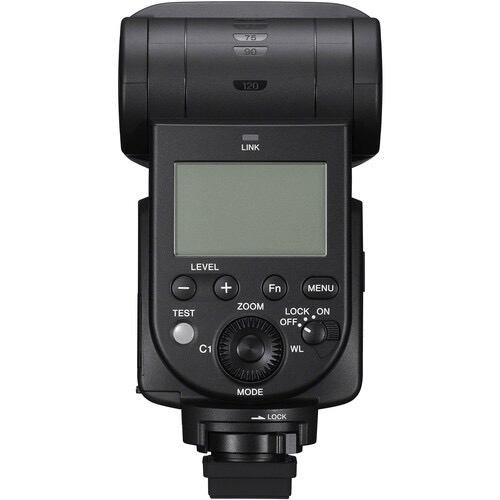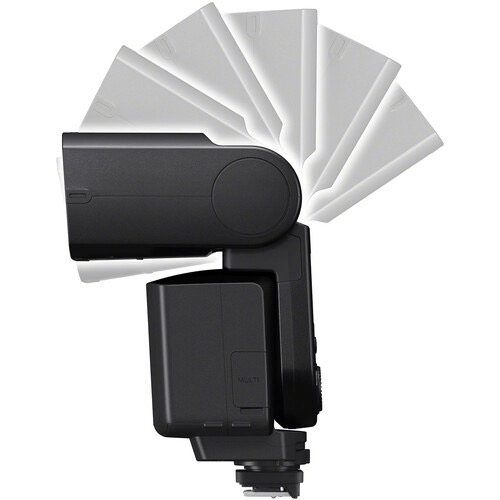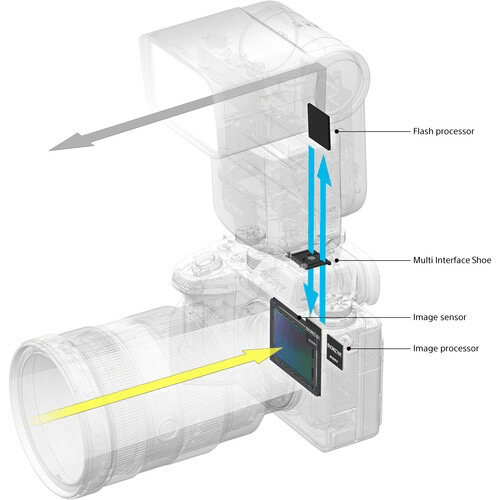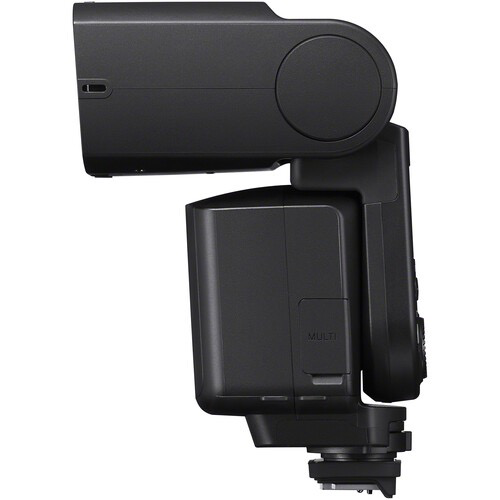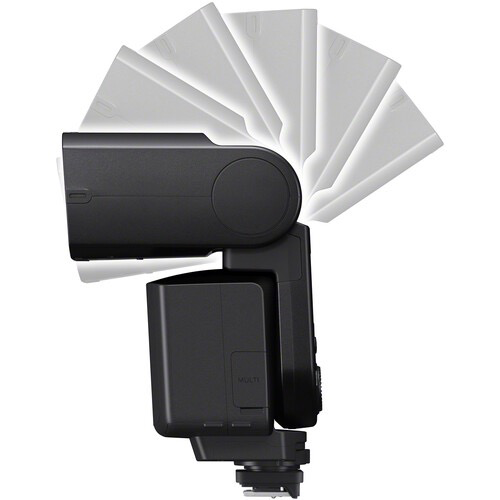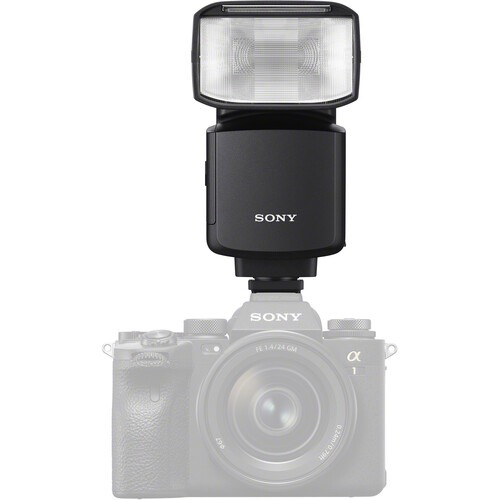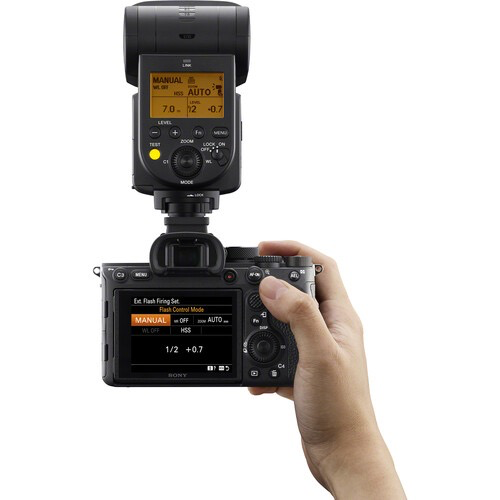 Compatible with Sony ADI / P-TTL
Per-Frame P-TTL Flash Control
On-Camera Flash & Transceiver
Recycle Time: 1.7 Seconds
Flash Control Linked to Face Detection
Up to 200 Consecutive Flashes at 10 fps
Comprehensive Control from Sony Alpha
Compact F60RM2 flash supports the latest camera technology

The Sony F60RM2 Wireless Radio Flash is a versatile and powerful flash unit that delivers outstanding performance in a compact and lightweight package. This flash unit offers reliable flash at high continuous shooting speeds and sync at shutter speeds up to 1/400 sec, making it an ideal choice for photographers who demand the best in performance and versatility. The F60RM2 also features wireless radio communication for added control and convenience, as well as a durable design that ensures years of reliable operation.

Intelligent communication with the latest α bodies

This flash unit features a built-in radio receiver that allows you to wirelessly control the flash settings from your camera. The F60MR2 also has a fast flash recycling time, making it ideal for capturing rapid-fire shots. With its multi-interface shoe, this flash unit can be attached to a wide variety of accessories and diffusers, giving you the ability to customize your lighting setup to suit your needs.

Output for a wide range of lighting needs

This flash is designed by Sony to deliver consistent F60RM2 light output that meets your professional lighting needs. It also supports focal lengths from 24mm (15mm with the wide panel) to 105mm, making it a versatile option for a variety of shooting situations.

Flash control linked to camera face detection

This flash is compatible with select Sony cameras and automatically adjusts white balance to give you consistent, accurate colours. It also features face detection, so your main subject will always be perfectly lit - even in a group setting.

Auto white balance accuracy that only original equipment can achieve

This advanced flash unit features in-house design that transfers colour temperature data to your camera. That data is then used to precisely adjust white balance, so you can render colours naturally in any situation.

Light output optimised for focal length and image size

This powerful flash features radio wireless control, making it easy to take great photos with consistent lighting, no matter where you are. With a focal length range of 24-105mm, this flash is perfect for a variety of situations, whether you're shooting portraits or landscapes.

Fast recycle and dependable high-speed continuous flash

The Sony F60RM2 Wireless Radio Flash is one of the best on the market, delivering fast recycle times and continuous flash shooting for extended periods of time. This flash is perfect for capturing those perfect shots in any situation, whether it's a wedding, a sporting event, or anything in between. With a set of four batteries, you can get up to 320 flashes with a recycle time of 2.0 seconds - that's plenty of power to get the job done right.

Innovative overheating prevention for longer shooting sessions

Looking for a flash that won't overheat? Look no further than the Sony F60RM2 Wireless Radio Flash. Made with heat resistant materials and featuring an optimised flash algorithm, this flash is resistant to overheating, meaning you can shoot for longer periods of time without interruption.

Stable high-speed continuous flash shooting

This high-performance flash is compatible with Sony cameras, and can provide continuous flash for up to 60 frames in high-speed bursts at up to 10 fps. With this kind of power and reliability, you'll be able to capture amazing photos and videos in any situation, even in low-light conditions.

Up to 1/400 sec. shutter sync with a compatible camera for new expression

The Sony F60RM2 wireless radio flash is a versatile and powerful tool for photographers of all levels. With the ability to sync up to 1/400 sec, it is perfect for capturing fast-moving subjects or creating beautiful bokeh in your images. Whether you are shooting in low light or trying to capture that perfect moment, the F60RM2 is an essential piece of kit for any photographer's arsenal.

Per-frame P-TTL flash control adapts to changing light

This flash unit uses pre-flash to control each individual flash during continuous bursts, making it perfect for tracking fast-moving subjects in changing light conditions.

Minimal flash trigger time lag

When used in conjunction with a compatible camera, the F60RM2 significantly reduces the time lag between pressing the shutter button and flash output, so you won't miss a beat. With its compact and lightweight design, the F60RM2 is easy to take with you wherever you go, making it an essential tool for any photographer.

Flexible bounce angle adjustment

This flash features a wireless radio triggering system that makes it easy to angle the flash head 180 degrees to the left or right, 150 degrees up, or 8 degrees down. With this feature, you can easily bounce the light off of walls or ceilings to create the perfect lighting for your photos. Additionally, this flash has a fast recycling time of 0.1 – 5 seconds, making it ideal for capturing action shots. And with a guide number of 46 (ISO 100, m) and a TTL range of 0 – 20m (65.6 ft), you can be sure that this flash will give you the power and flexibility you need to take stunning photos in any situation.

Comprehensive control from compatible cameras

With its convenient radio flash control, you can easily adjust flash compensation, ratio, and other parameters right from your camera – perfect for quickly getting that perfect shot. Plus, with a camera custom key assigned to the flash display, you can keep an eye on all the settings while looking through the viewfinder.

Dot-matrix display and custom keys for efficient operation

The built-in radio receiver gives you the freedom to shoot without cumbersome cords or wires, while the Quick Navi display makes operation a breeze. Plus, the assignable arrow key, control wheel, and custom key input let you customize your shooting experience to perfectly suit your needs.

Metal shoe foot with rugged side frame

This unit features a metal shoe foot with rugged side frame that significantly increases strength and durability. The electrical contacts on the Multi Interface Shoe are also reinforced, making this one of the most reliable flashes available.

Enhanced dust and moisture resistance

This versatile and reliable flash features a dust and moisture resistant design, making it ideal for use in any environment.

Versatile radio wireless communication

This flash is designed for stable wireless radio communication at distances up to 30 m/98.4 ft., making it perfect for even the most challenging photography projects. The F60RM2 also supports slow sync, rear-curtain sync, and multi flash for even more creative possibilities.

Wireless radio control for up to 15 flash units

With the ability to control up to 15 flash and/or receiver units in 5 groups, this flash is perfect for any photographer who wants ultimate control over their shots. Plus, with the optional FA-WRC1M commander and/or FA-WRR1 receiver, you can even use this flash with units that don't feature wireless radio communication.
Basic information
| | |
| --- | --- |
| DIMENSIONS (APPROX.) | W 78.1 mm X H 143.1 mm X D 104.6 mm (3 1/8 inches × 5 3/4 inches × 4 1/8 inches) |
| WEIGHT(APPROX.) | 439 g (15.5 oz) (only main unit) |
Type
| | |
| --- | --- |
| TYPE | Auto electronic flash (clip-on type) with pre-flash metering |
| SHOE TYPE | Multi Interface Shoe |
Flash Head(Light-emitting unit)
| | |
| --- | --- |
| MAXIMUM GUIDE NUMBER | 60 (Flash coverage setting 200 mm/STD flash distribution, ISO100・m) |
| TEST FLASH | Yes |
| BOUNCE ANGLE | Up 150 deg (0 deg / 30 deg / 45 deg / 60 deg / 75 deg / 90 deg / 120 deg / 150 deg) Down 8 deg, Left and right 90 deg (0 deg / 30 deg / 45 deg / 60 deg / 90 deg) |
| FLASH COVERAGE | AUTO/MANUAL(20 mm-200 mm)Angle of view at 14 mm focal length is also covered with the wide panel |
| FLASH MODE | TTL/MANUAL/MULTI |
| FLASH DURATION (APPROX.) | Within 2.8 ms(1/1 MANUAL) |
| FLASH CONTROL | Flash control using pre-flash (P-TTL/ADI) |
| COLOR TEMPERATURE (APPROX.) | 5500K |
| FREQUENCY (APPROX.) | 0.1-5.0 seconds(Alkaline battery)/0.1-4.0 seconds(Ni-MH battery) |
| POWER LEVEL SWITCHING | 22 levels(1/1-1/128) 1/3 steps |
| HIGH-SPEED SYNC(HSS) | Yes |
| CONTINUOUS FLASH PERFORMANCE | 200 flashes at 10 flashes per second |
| BUILT-IN WIDE PANEL | Yes(15mm) |
| MODELING FLASH | Yes |
| BOUNCE FLASH | Yes |
| BUILT-IN BOUNCE SHEET | Yes |
Radio controlled wireless function
| | |
| --- | --- |
| RADIO CONTROL WIRELESS FUNCTION | Yes (commander/receiver) |
| GROUPS | 3 groups(TTL/MANUAL), 5 groups(group flash photography) |
| FREQUENCIES | 2.4 GHz band |
| CHANNELS | 14 Channels(Auto/manual) |
| COMMUNICATION DISTANCE (APPROX.) | 30 m |
| | |
| --- | --- |
| MAXIMUM FLASH UNITS | 15 units |
| LIGHTING RATIO CONTROL | 3 groups(TTL) |
Other functions
| | |
| --- | --- |
| AUTO ZOOM CONTROL OPTIMIZED FOR IMAGE SENSOR SIZE | Yes |
| FLASH DISTRIBUTION SETTING | Yes |
| AUTO WB ADJUSTMENT | Yes |
| CUSTOM KEY SETTINGS | Yes |
| MEMORY SETTINGS | Yes |
Display
| | |
| --- | --- |
| LCD PANEL | Yes(Dot matrix) |
External connectors
| | |
| --- | --- |
| MULTI/MICRO USB TERMINAL | Yes |
Power source
| | |
| --- | --- |
| POWER SOURCE | Four AA-size alkaline or Ni-MH batteries |
Other features
| | |
| --- | --- |
| DUST AND MOISTURE RESISTANT DESIGN | Yes |
What's in the box
| | |
| --- | --- |
| Connector protect cap ( 1 ), Mini-stand ( 1 ), Carrying case ( 1 ) | |
⚠️ WARNING: This product can expose you to chemicals including Lead, which is known to the State of California to cause cancer and birth defects and/or other reproductive harm. For more information go to www.P65Warnings.ca.gov