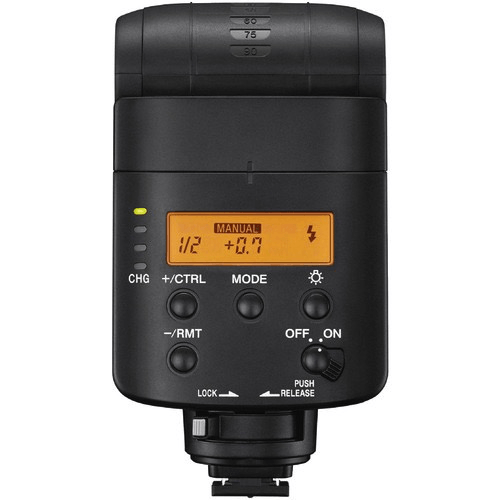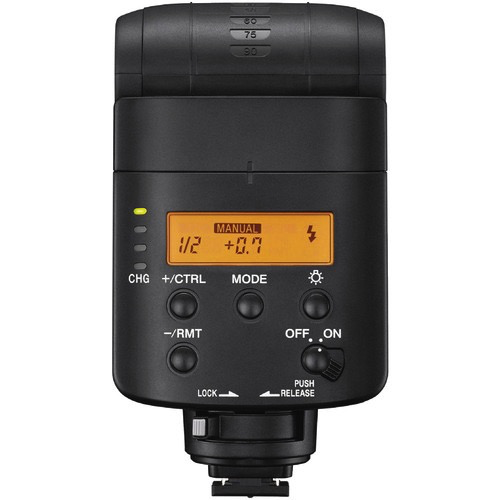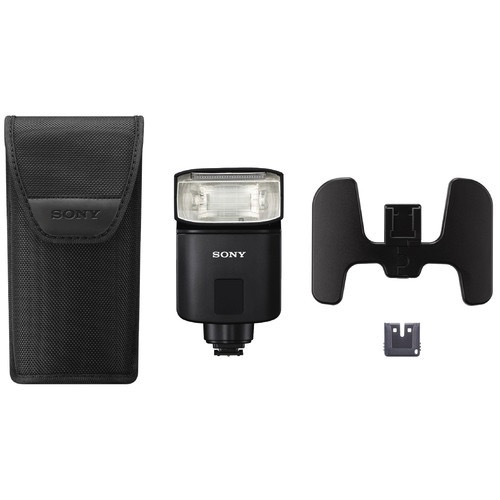 Compatible with Sony ADI / P-TTL
Guide Number: 105' at ISO 100 and 105mm
Zoom Range: 24-105mm (15mm with Panel)
Tilts from -8 to 90°
Rotates 180° Right and 90° Left
Wireless TTL Controller/Remote Flash
LCD Panel & Dust/Water Resistant
Recycle Time: 0.1-5 Seconds
Slow
High-Speed - 1st & 2nd Curtain Sync
Runs on 2 AA Batteries
Slim, compact, and lightweight Flash

The Sony HVL-F32M External Flash is a powerful and compact flash that is perfect for everyday shooting. With a guide number of 32 (GN321), this flash is the perfect size to fit E-mount cameras. It is convenient for everyday shooting and is easy to carry with its flat design. This flash is perfect for capturing crisp, clear photos and videos.

Control your shadows with bounce flash

This flash unit features bounce capability, which will reduce the shadow intensity and produce softer lighting. The results are natural, beautiful photos that you'll be proud to share with family and friends.

Flash settings in plain sight

This powerful flash features a variety of modes and intensity settings that are displayed on the LCD panel, making it easy to find the perfect lighting for your shots. Plus, a warning display lets you know when the remaining charge is getting low, so you can keep shooting without interruption.

Dust and moisture resistant design

This flash is designed to withstand even the most challenging outdoor conditions, thanks to its specially designed seals that keep dust and moisture out.

Common features for uncommon lighting techniques

This flash unit can be operated remotely, making it perfect for wireless photography. Additionally, the high-speed sync (HSS) feature allows you to sync your flash with high-speed shutter speeds, resulting in beautiful, well-lit photos. With advanced distance integration (ADI)3, the HVL-F32M flash unit is able to accurately meter the distance between the lens and subject, resulting in more precise flash intensity control. Whether you're shooting in low light or bright sunlight, this versatile flash unit will help you capture stunning images.
| | |
| --- | --- |
| DIMENSIONS (APPROX.) | W 66mm X H 119mm X D 82mm ( 2 5/8inches X 4 3/4inches X 3 1/4inches) |
| WEIGHT(APPROX.) | 235g (8.3 oz) (only main unit) |
Type
| | |
| --- | --- |
| TYPE | Auto electronic flash (clip-on type) with pre-flash metering |
| SHOE TYPE | Multi Interface Shoe |
Flash Head(Light-emitting unit)
| | |
| --- | --- |
| MAXIMUM GUIDE NUMBER | 31.5 (Flash coverage setting 105mm/STD flash distribution,ISO100・m) |
| BOUNCE ANGLE | Up 90deg (0deg/30deg/45deg/60deg/75deg/90deg) Down 8deg, Right 180deg (0deg/30deg/45deg/60deg/75deg/90deg/120deg/150deg/180deg), Left 90deg (0deg/30deg/45deg/60deg/75deg/90deg) |
| FLASH COVERAGE | AUTO/MANUAL(24mm-105mm)Angle of view of at 15mm focal length is also covered with the wide panel |
| FLASH MODE | TTL/MANUAL |
| FLASH DURATION (APPROX.) | Within 4.5ms(1/1 MANUAL) |
| FLASH CONTROL | Flash control using pre-flash (P-TTL/ADI) |
| COLOR TEMPERATURE (APPROX.) | 5500K |
| FREQUENCY (APPROX.) | 0.1-5.0 seconds(Alkaline battery)/0.1-4.0 seconds(Ni-MH battery) |
| POWER LEVEL SWITCHING | 22 levels(1/1-1/128) 1/3 steps |
| HIGH-SPEED SYNC(HSS) | Yes |
| REPETITION (APPROX.) | More than 120 times(Alkaline battery)/More than 150 times(Ni-MH battery) |
| CONTINUOUS FLASH PERFORMANCE | 40 flashes at 5 flashes per second |
| BUILT-IN WIDE PANEL | Yes(15mm) |
| BOUNCE FLASH | Yes |
| BUILT-IN BOUNCE SHEET | Yes |
Optical control wireless function
| | |
| --- | --- |
| OPTICAL CONTROLLED WIRELESS FLASH | Yes(controller/remote) |
| CHANNELS | 1 Channel |
| COMMUNICATION DISTANCE (APPROX.) | 5m |
| GROUPS | 1 Group |
Other functions
| | |
| --- | --- |
| AUTO ZOOM CONTROL OPTIMIZED FOR IMAGE SENSOR SIZE | Yes |
| AUTO WB ADJUSTMENT | Yes |
Display
| | |
| --- | --- |
| LCD PANEL | Yes(Segment) |
| CHARGE PROGRESS INDICATOR | Yes |
Power source
| | |
| --- | --- |
| POWER SOURCE | Two AA-size alkaline or Ni-MH batteries |
Other features
| | |
| --- | --- |
| DUST AND MOISTURE RESISTANT DESIGN | Yes |
What's in the box
Connector protect cap(1)

Mini-stand(1)

Carrying case(1)
⚠️ WARNING: This product can expose you to chemicals including Lead, which is known to the State of California to cause cancer and birth defects and/or other reproductive harm. For more information go to www.P65Warnings.ca.gov