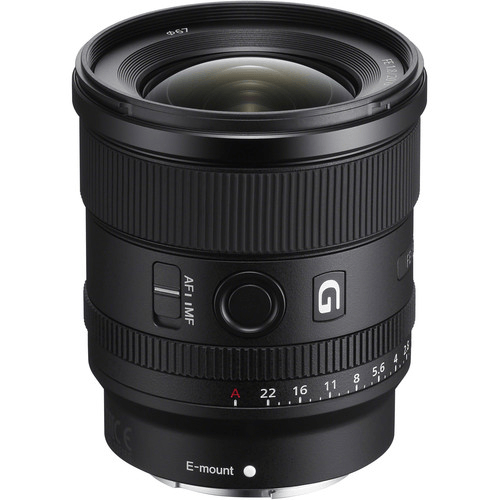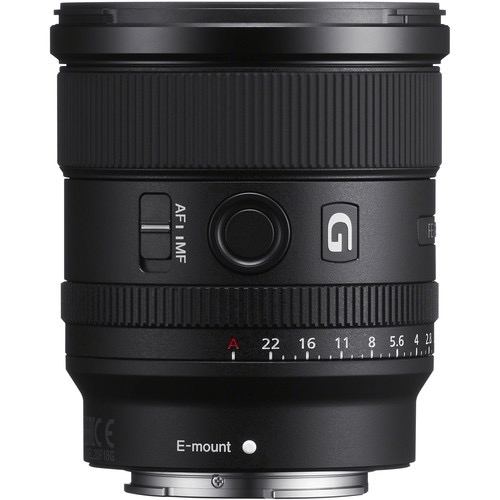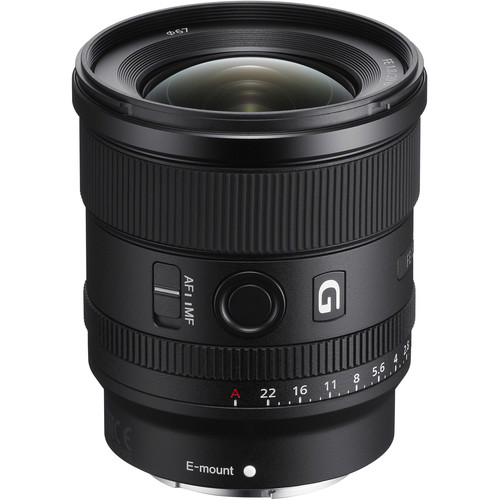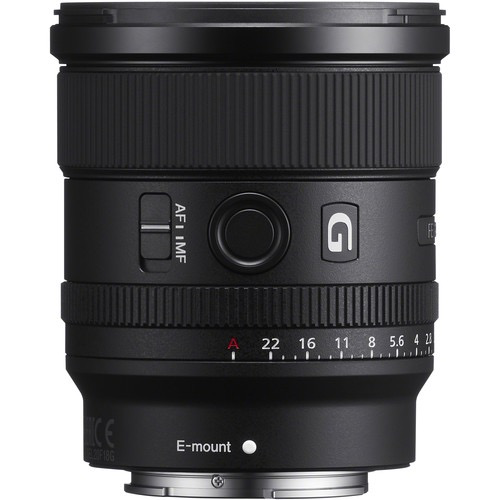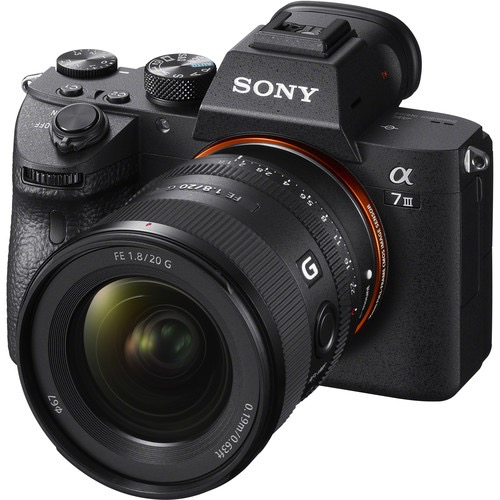 ZEISS 35 mm Full Frame normal prime lens
Two AA (advanced aspherical) elements
Smooth bokeh enhances depth and dimension
Close minimum focusing distance of just 0.63 ft
Ultra-wide-angle Prime G lens
XD Linear Motor offering excellent response and low vibration for fast and precise quiet AF
Sony Nano AR Coating to eliminate flare and ghosting
FE 20 mm F1.8 G

The Sony FE 20mm f/1.8 G Lens offers uncompromising accuracy and reliable autofocus capabilities that will keep you shooting flawlessly and consistently every moment of your outside or studio shots. Furthermore, its adaptive design makes it incredibly lightweight and portable, perfect for taking on the go with you wherever your photography endeavors take you. There's no need to sacrifice quality or convenience equipped with this remarkable lens – capture impressive image clarity at any angle with this amazing piece of photography equipment!

A compact high-resolution 20 mm F1.8 prime lens

With Sony's innovative optics technology, this lens is capable of excellent corner-to-corner resolution even at its maximum F1.8 aperture – perfect for capturing sharp images and vibrant colors! Even better, it features a remarkably compact design that makes it ultra-portable – perfect for shooting on the go! Whether you're chasing sunsets or captivating everyday life shots, trust in Sony's reliable performance to bring your vision to life. With an E-mount body, you'll have unrivaled AF performance, control, and reliability – all delivered in one highly mobile system.

Superb corner-to-corner resolution from F1.8

With two AA (advanced aspherical) elements, this innovative lens design minimizes aberrations for exceptional resolution from edge to edge. At its widest F1.8 aperture, every image will come out crisp and vivid - whether you're shooting a landscape or portraiture. Thanks to its lightning fast autofocus system and lightweight design, your subjects will look natural and genuine, no matter how quickly they move!

Smooth, natural-looking bokeh

This powerful lens has been designed to give you precise control over spherical aberration – so you can create spectacular bokeh with smooth, creamy highlights every time. Even in low-light situations, the nine-blade circular aperture makes sure that all of your shots come out looking professional and vibrant. Let your creativity expand with the natural depth and exquisite quality that only a G Lens series can provide.

Realistically rendered point sources

Two AA (advanced aspherical) elements and three ED (Extra-low Dispersion) glass elements are employed to minimize sagittal flare so that point light sources are reproduced accurately and without color smearing.

Superb AF speed, precision, and tracking

Two XD (eXtreme Dynamic) Linear Motors easily keep up with Sony's high-speed camera bodies, taking full advantage of their AF speed, precision, and tracking potential. New control algorithms make it possible to drive the lens's large focus group smoothly and without delays for responsive, silent, low-vibration autofocus.

Compact and lightweight for enhanced mobility and handling

An advanced optical design that includes two AA elements is supported by a refined mechanical system in a G Lens that weighs just 13.2 oz (373 g). Small size and light weight enhance mobility when used with compact E-mount bodies, and make up a well-balanced system that is ideal for use on gimbals or accessory grips. The FE 20 mm F1.8 G is a versatile lens for a wide variety of still and movie shooting situations.

Excellent close-up performance, even for selfies

In addition to the fact that 20 mm is a great focal length for selfies, this lens has a minimum focusing distance of just 0.63 ft (0.19 m) when used in AF mode, and an even closer 0.59 ft (0.18 m) minimum focusing distance when focused manually. It is an excellent choice for gimbal/grip mounting, whether shooting selfies or other subjects.

Nano AR Coating for crisp contrast

Sony's original Nano AR Coating creates a precise, regular nanostructure on lens surfaces that does not interfere with light transmission, while suppressing reflections that can cause flare and ghosting. Internal reflections are reduced to an absolute minimum, achieving outstanding clarity and contrast. (1. Nano AR Coating / 2. Glass / 3. Transmitted light).

Dust and moisture resistant

A dust- and moisture-resistant design provides the reliability needed for outdoor use in challenging conditions.

Natural, linear manual focus response

Linear Response MF ensures that the focus ring responds directly and linearly to subtle control when focusing manually. Focus ring rotation translates directly to a corresponding change in focus, so control feels immediate and precise.

Customizable focus hold button

A conveniently placed focus hold button not only offers easy focus hold control, but can be assigned to a variety of other functions from a menu accessed via the camera body.

Fluorine front-element coating

The front lens element features a fluorine coating that repels water, oil, and other contaminants, while making it easier to wipe off any contaminants or fingerprints that do become attached to the lens surface.

Easy manual focus/autofocus switching

A focus mode switch that allows instant switching between auto and manual focus mode can be a great advantage when shooting subjects or situations that require fine manual focus adjustment.

Switchable aperture ring click stops

In addition to providing the fast response required for professional application, the aperture ring includes a switch that turns its click stops on or off: ON for tactile feedback when shooting stills, or OFF for seamless, silent control when shooting movies.

30 mm equivalent on APS-C bodies

This lens also balances well on smaller APS-C format bodies, providing a very useful wide-angle focal length of 30 mm (full-frame format equivalent). 30 mm is great for taking snapshots around town, shooting the scenery while hiking or mountain climbing and much more. The SEL20F18G is highly recommended for APS-C, as well as full-frame users.

Sony's movie technology supports advanced moviemaking

Featuring a fast, precise AF and tracking with XD Linear Motors and an ultra-wide 20mm angle view on full frame bodies (30mm on APS-C bodies or with Super 35 angle of view settings) this lens will produce sharp and stunning images every time. With its bright F1.8 maximum aperture, you can shoot in lower light conditions without compromising on quality. What's more, it has a compact and lightweight design allowing you to take stunning macro shots with ease. Whether you are a professional photographer or amateur enthusiast, this lens offers excellent close-up performance that is sure to impress. And if that isn't enough for you, its internal focus design makes it incredibly convenient for use on compact gimbals or grips for vlogging and other applications – so you can capture those candid moments with clear detail like never before!
Lens
| | |
| --- | --- |
| Lens Mount | E Mount |
| FORMAT | Full Frame |
| MINIMUM APERTURE | F/22 |
| MAXIMUM APERTURE | F/1.8 |
| MAXIMUM MAGNIFICATION | 0.2x |
| FOCAL-LENGTH (MM) | 20mm |
| ANGLE OF VIEW | 94 |
| MINIMUM FOCUS DISTANCE | 7.09"/ 18 cm |
| OPTICAL DESIGN | 14 Elements in 12 Groups |
| FOCUS TYPE | AutoFoucs |
| IMAGE STABILIZATION | NO |
SIZE AND WEIGHT
| | |
| --- | --- |
| WEIGHT | 13.16 oz / 373 g |
| DIMENSIONS ( ø x L ) | 2.89 x 3.33" / 73.5 x 84.7 mm |
⚠️ WARNING: This product can expose you to chemicals including Lead, which is known to the State of California to cause cancer and birth defects and/or other reproductive harm. For more information go to www.P65Warnings.ca.gov