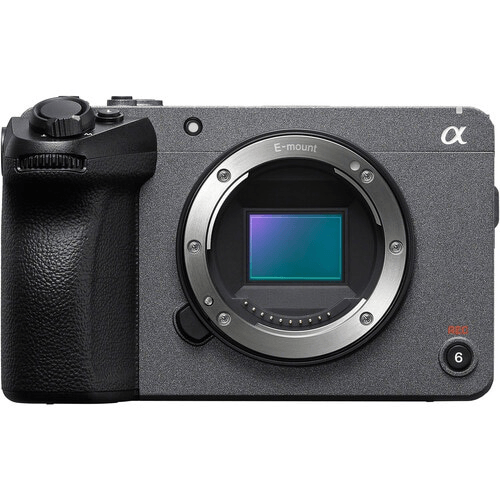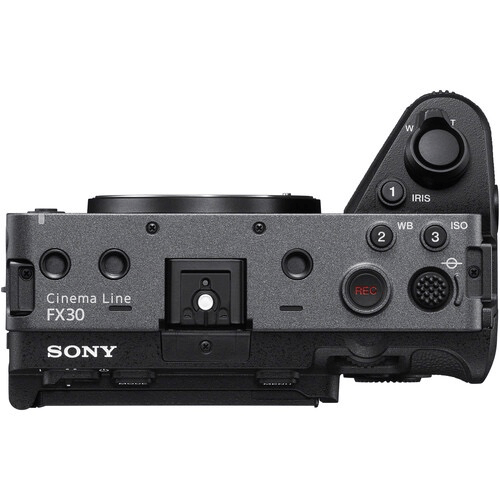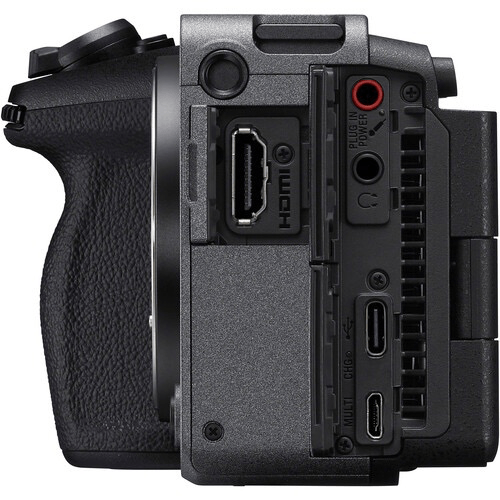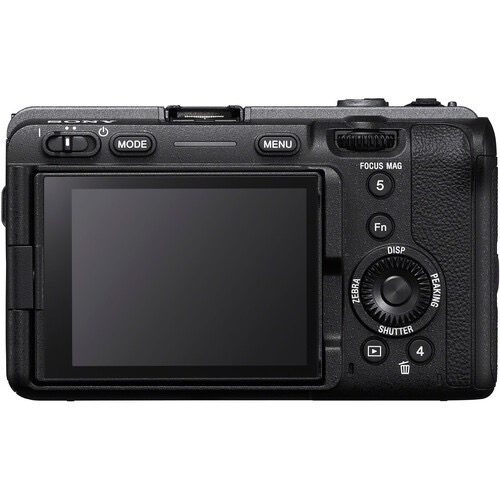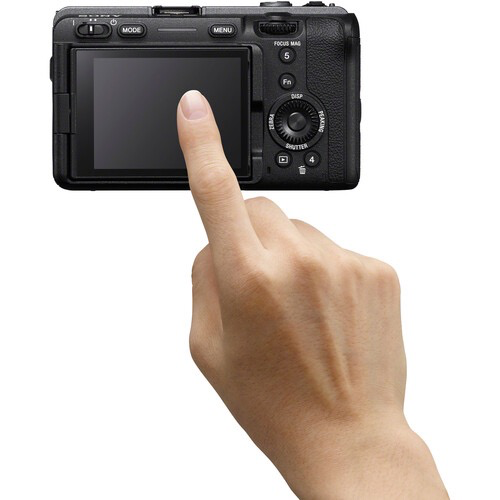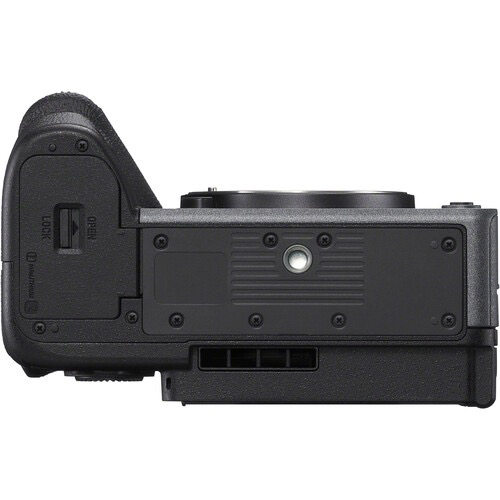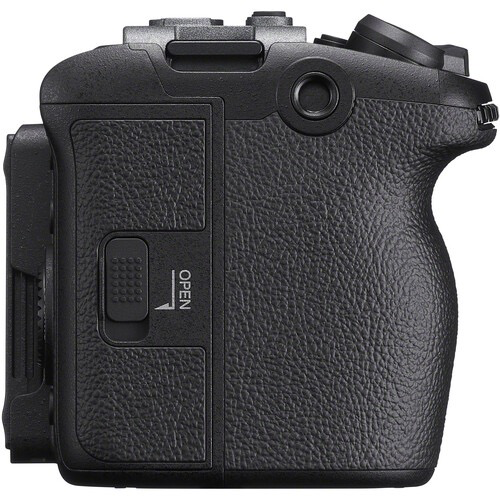 26.1MP APS-C BSI CMOS Sensor
UHD 4K up to 120p
Compact Form Designed for Cage-Free Use
10-Bit 4:2:2 XAVC S-I
16-Bit Raw Output
S-Cinetone/S-Log3/HLG
14+ Stops DR
Phase Detection AF/Face Tracking/Eye AF
Standard ISO 100-32000 | Dual Base ISO
Dual CFexpress Type A/SDXC Card Slots
User LUTs & Timecode Sync Support
Leap into the world of filmmaking

Small in size but big on features, the Sony FX30 Super 35 Camera is a filmmaking powerhouse that sets the standard for cinematic imagery. With its S-Cinetone™ and S-Log3 capabilities, the FX30 provides stunning visuals with high level grading that will take your films to the next level. Additionally, the camera's compact design makes it more accessible than ever for up-and-coming creators, making it easy to get started on your filmmaking journey.

Support for filmmaking

The Sony FX30 Super 35 Camera delivers stunning images with 6K oversampling and a true cinematic look. This compact camera is perfect for anyone who wants to take their photography or videography to the next level. With sophisticated AF and stabilization features, you can focus on composition and not worry about the complexity of crews and rigging.

Designed for visual storytelling

Its S-Cinetone picture profile provides a beautiful cinematic look, while features like Dual Base ISO and Cine EI ensure gorgeous images and workflow.

Drawing on the Cinema Line heritage

By fusing together the best of both worlds - experience in the film industry with the cutting edge of digital imaging technology - Sony has created a camera that is sure to exceed all expectations in terms of both quality and performance.

Beautiful imagery

The back-illuminated Exmor R APS-C CMOS sensor ensures that your photos and videos will be of the highest quality, while the 6K oversampling compresses vast amounts of information into 4K recordings. Plus, with the BIONZ XR processing engine, you'll enjoy natural gradations, realistic color reproduction, and low noise levels in every image!

S-Cinetone gives you a cinematic look without grading

The S-Cinetone picture profile provides beautiful color, skin tones and other visual aspects that will make your videos and photos look amazing.

Infinite possibilities of expression with S-Log3

With its S-Log3 gamma curve, the FX30 provides access to an expansive color gamut and 14+ stops latitude, allowing for true cinematic image quality during post-production color grading.

User LUTs provide an accurate image preview

The Sony FX30 is a Super 35 camera that gives you the power to customize your LUTs to get the perfect final image. With both preset and user-supplied LUTs available, you can tailor the look of your recorded footage and HDMI output to match your specific needs.

10-bit 4:2:2 recording for greater editing latitude

With its 10-bit 4:2:2 video recording capabilities, this camera will allow you to produce more natural gradations in post-production, giving your films a fuller look. Plus, the Long GOP or All-Intra compression options provide more color information, making your films even more vibrant and colorful.

Cine EI, Cine EI Quick, and Flexible ISO modes

This camera features Cine EI2 and Cine EI Quick modes for easy setup and great latitude, respectively, while Flexible ISO provides terrific exposure options.

Dual Base ISO (ISO800 / ISO2500)

This camera comes with a base ISO of 2500, so you can get clean footage even in dimly lit environments. Plus, the noise levels are practically identical to those at the 800 ISO setting, meaning you won't have to sacrifice quality for quantity. So go ahead and shoot away in any lighting conditions.

Slow-motion images at up to 120 frames per second

With its 4K recording capabilities, the Sony FX30 Super 35 Camera allows you to capture stunningly smooth slow-motion footage at up to 120 frames per second. This means you can create incredible 5x (max.) slow-motion sequences that will really wow your viewers. Autofocus ensures that your shots are always crisp and clear, while the camera's lightweight design makes it easy to carry with you wherever you go.

Reliable AF maintains a steady focus

With its sophisticated tracking features and tenacious subject tracking, you'll be able to get the perfect shot every time. The wide-area AF provides stable AF and flexible focusing for a wide range of shooting situations, while the Real-time Tracking based on Sony's unique, AI-based subject recognition ensures precise focus on the face and eyes. The Real-time Eye AF also makes it easy to keep your shots in focus, even when your subject is moving around.

In-body image stabilization for hand-held shooting

With Active Mode, you can shoot hand-held at 4K resolution without the need for a gimbal, thanks to the precision gyroscope sensor and optical compensation.

Compensation for focus breathing

With in-camera focus breathing compensation, this camera can minimize field-of-view shift that could occur when racking focus. This feature, along with additional breathing compensation available in post-production software supported by camera metadata, makes the Sony FX30 Super 35 Camera an ideal choice for anyone looking to capture high-quality, stable imagery.

Ready to go wherever you shoot

Compact and light in weight, the FX30 can be operated in combination with gimbals and drones, or with a variety of attached equipment. It's designed to withstand long shoots, with sturdy construction suited to harsh conditions.

Compact, lightweight body

With its distinctive flat-top design, the FX30 is perfect for handheld shooting or gimbal mounting, and its comfortable grip makes it ideal for extended shooting sessions. Weighing in at just 1 lb 6.8 oz (646 g) with battery and memory card, the FX30 is easy to carry with you wherever you go. And with its 2 lb 1.5 oz (951 g) XLR handle unit, you can easily add external microphones and other accessories to customize your shoot.

New main menu

With the Sony FX30 Super 35 Camera, you can easily access frame rate, shutter speed, and other shooting parameters via a list-style main menu. Plus, the menu can be assigned to a custom button for even faster access. This camera also features separate main menus for movies and stills, so you can optimize your settings for each type of shot.

Two CFexpress Type A and SD card compatible media slots

It has dual slots for CFexpress Type A storage, which is the next standard for compact storage. This allows you to record 4K movies at high bit rates without any problems. Plus, the fast write/read speeds of the CFexpress Type A cards ensures that your videos will be saved quickly and efficiently.

Flexible high-resolution touch-panel LCD monitor

This camera features a side-opening vari-angle rear monitor that makes it easy to position and frame your shots, even in tight spaces. The monitor is bright enough for easy outdoor daytime viewing, and it incorporates a swipe-to-access function menu.

Broad connectivity in a compact body

The camera features an HDMI Type-A connector that can be used for external recorders and display devices. Other connectors include USB Type-C®, Multi/Micro-USB, mic, headphone, and a Multi Interface Shoe with built-in digital audio interface. The camera also features a 3" LCD screen for easy viewing and playback of your footage.

16-bit RAW output via HDMI

The Sony FX30 Super 35 Camera is the perfect choice for demanding workflows. With 16-bit RAW output over HDMI connection to compatible external recorders, you'll be able to record video at 4672 x 2628 [16:9] resolution, exceeding DCI-4K resolution.

Expandable to meet your needs

The Sony FX30 Super 35 Camera is a powerful and versatile camera that is perfect for any situation. With its superb image quality, amazing lens options, and excellent audio capabilities, this camera is sure to give you the results you need.
Battery Operating Time
| | |
| --- | --- |
| Actual recording, CIPA standard | Approx. 115 min |
| Continuous recording, CIPA standard | Approx. 175 min |
| Still image, CIPA standard | Approx. 570 shots |
Size & Weight (Approx.)
| | |
| --- | --- |
| Weight (main unit only) | 646 g (1 lb 6.8 oz) (with battery and memory card included), 562 g (1 lb 3.8 oz) (body only) |
| Weight (including supplied accessories) | 951 g (2 lb 1.5 oz) (with XLR Handle, battery and memory card included) |
| Dimensions (W x H x D) | 129.7 mm x 77.8 mm x 84.5 mm (5 1/8 x 3 1/8 x 3 3/8 inches) (body without protrusions) |
Operation
| | |
| --- | --- |
| Operating Temperature | -20 to +55 degrees C |
| Storage Temperature | -20 to +55 degrees C |
Recording Frame Rate (Video)
| | |
| --- | --- |
| XAVC S-I 4K | 3840x2160/59.94p, 50p, 29.97p, 25p, 23.98p |
| XAVC S-I HD | 1920x1080/59.94p, 50p, 29.97p, 25p, 23.98p |
| XAVC S 4K | 3840x2160/119.88p,100p,59.94p, 50p, 29.97p, 25p, 23.98p |
| XAVC S HD | 1920x1080/119.88p,100p,59.94p, 50p, 29.97p, 25p, 23.98p |
| XAVC HS 4K | 3840x2160/119.88p,100p,59.94p, 50p, 23.98p |
| Recording/Playback Time (Video) | |
| XAVC S-I 4K | XAVC S-I 4K 59.94p: When using CEA-G160T (160 GB) Approx. 25 minutes, When using CEA-G80T (80 GB) Approx. 10 minutes, XAVC S-I 4K 50p: When using CEA-G160T (160 GB) Approx. 35 minutes, When using CEA-G80T (80 GB) Approx. 15 minutes |
| XAVC S-I HD | XAVC S-I HD 59.94p: When using CEA-G160T (160 GB) Approx. 75 minutes, When using CEA-G80T (80 GB) Approx. 35 minutes, XAVC S-I HD 50p: When using CEA-G160T (160 GB) Approx. 90 minutes, When using CEA-G80T (80 GB) Approx. 40 minutes |
| XAVC S 4K | XAVC S 4K 59.94p/50p 200M: When using CEA-G160T (160 GB) Approx. 80 minutes, When using CEA-G80T (80 GB) Approx. 40 minutes, XAVC S 4K 59.94p/50p 150M: When using CEA-G160T (160 GB) Approx. 100 minutes, When using CEA-G80T (80 GB) Approx. 50 minutes |
| XAVC S HD | XAVC S HD 59.94p/50p 50M: When using CEA-G160T (160 GB) Approx. 270 minutes, When using CEA-G80T (80 GB) Approx. 130 minutes, XAVC S HD 59.94p/50p 25M: When using CEA-G160T (160 GB) Approx. 430 minutes, When using CEA-G80T (80 GB) Approx. 210 minutes |
| XAVC HS 4K | XAVC HS 4K 59.94p/50p 200M: When using CEA-G160T (160 GB) Approx. 80 minutes, When using CEA-G80T (80 GB) Approx. 40 minutes, XAVC HS 4K 59.94p/50p 150M: When using CEA-G160T (160 GB) Approx. 100 minutes, When using CEA-G80T (80 GB) Approx. 50 minutes, XAVC HS 4K 59.94p/50p 100M: When using CEA-G160T (160 GB) Approx. 150 minutes, When using CEA-G80T (80 GB) Approx. 75 minutes, XAVC HS 4K 59.94p/50p 75M: When using CEA-G160T (160 GB) Approx. 190 minutes, When using CEA-G80T (80 GB) Approx. 95 minutes, XAVC HS 4K 59.94p/50p 45M: When using CEA-G160T (160 GB) Approx. 290 minutes, When using CEA-G80T (80 GB) Approx. 140 minutes |
Recording Format (Proxy Audio)
| | |
| --- | --- |
| XAVC Proxy | AAC-LC, 128 kbps, 2 ch |
Recording Format (Proxy Video)
XAVC HS HD
Long exposure NR: On/Off, available at shutter speeds longer than 1 sec., High ISO

MPEG-H HEVC/H.265 1920x1080 4:2:0 10 bit 16 Mbps 1920x1080 4:2:0 10 bit 9 Mbps

XAVC S HD
MPEG-4 AVC/H.264 1280x720 4:2:0 8 bit 6 Mbps
Other Video Function
| | |
| --- | --- |
| Video Functions | Audio Level Display, Audio Rec Level, TC/UB, Creative Look, Gamma Display Assist, PAL/NTSC Selector |
Recording (Still)
| | |
| --- | --- |
| Recording Format | JPEG (DCF Ver. 2.0, Exif Ver. 2.32, MPF Baseline compliant), HEIF (MPEG-A MIAF compliant), RAW (Sony ARW 4.0 format compliant) |
| Image Size (pixels) [3:2] | L: 6192 x 4128 (26M), M: 4384 x 2920 (13M), S: 3104 x 2064 (6.4M) |
| Image size (pixels) [4:3] | L: 5504 x 4128 (23M), M: 3888 x 2920 (11M), S: 2752 x 2064 (5.7M) |
| Image Size (pixels) [16:9] | L: 6192 x 3480 (22M), M: 4384 x 2464 (11M), S: 3104 x 1744 (5.4M) |
| Image size (pixels) [1:1] | L: 4128 x 4128 (17M), M: 2912 x 2912 (8.5M), S: 2064 x 2064 (4.3M) |
Camera Section
| | |
| --- | --- |
| SHUTTER SPEED | [Movie] 1/8000 to 1/4 (1/3 steps), up to 1/60 in AUTO mode (up to 1/30 in Auto slow shutter mode), [Still image] 1/8000 to 30 sec |
| Imaging Device (Type) | APS-C type (23.3 x 15.5 mm), Exmor R CMOS sensor |
| Number of Pixels (Effective) | Movie: Approx. 20.1 megapixels, Still image: Approx. 26.0 megapixels |
| Number of Pixels (total) | Approx. 27.0 megapixels |
| ISO Sensitivity | [Movie] ISO 100-32000 equivalent , AUTO (ISO 100-6400, selectable lower limit and upper limit), [Still image] ISO 100-32000 (Expandable to ISO 50- 102400), AUTO (ISO 100-6400, selectable lower limit and upper limit) |
| Slow and Quick Motion Function | [XAVC S-I HD / XAVC S HD]NTSC mode: 1fps,2fps,4fps,8fps,15fps,30fps,60fps,120fps,240fps, PAL mode: 1fps,2fps,3fps,6fps,12fps,25fps,50fps,100fps,200fps |
| White Balance | Auto / Daylight / Shade / Cloudy / Incandescent / Fluorescent / Underwater / Color Temperature (2500 to 9900K) & color filter / Custom |
| GAMMA CURVE | Off / PP1-PP6 / PP10-PP11, Parameters: Black level, Gamma (Movie, Still, S-Cinetone, Cine1-4, ITU709, ITU709 [800%], S-Log3, HLG, HLG1-3), Black Gamma, Knee, Color Mode, Saturation, Color Phase, Color Depth, Detail, Copy, Reset |
| LATITUDE | 14+ stop (S-Log3) |
Focus system
| | |
| --- | --- |
| type | Fast Hybrid AF (phase-detection AF / contrast-detection AF) |
| FOCUS POINT | Movie: 495 points (phase-detection AF), Still image: 759 points (phase-detection AF) |
| SENSITIVITY RANGE | EV-3 to EV20 (ISO100 equivalent with F2.0 lens attached) |
| Focus Mode | Movie: AF-C (Continuous AF), Manual Focus, Still image: AF-A (Automatic AF), AF-S (Single-shot AF), AF-C (Continuous AF), DMF (Direct Manual Focus), Manual Focus |
| Focus Area | Movie: Wide / Zone / Center Fix / Spot / Expand Spot, Still image: Wide / Zone / Center Fix / Spot / Expand Spot / Tracking |
| OTHER FOCUS FEATURES | Focus Magnifier (APS-C: 6.1x / 12.1x) |
Monitoring
| | |
| --- | --- |
| LCD | Opening Angle:Approx. 176 °, Rotation Angle:Approx. 270 ° |
Built-in Microphone
| | |
| --- | --- |
| Built-in Microphone | Built-in, stereo |
File System
| | |
| --- | --- |
| File System | FAT12, 16, 32, exFAT |
Zoom Function
| | |
| --- | --- |
| Clear Image Zoom | Movie: Approx. 1.5x (4K), Approx. 2x (HD), Still image: L: Approx. 2x, M: Approx. 2.8x, S: Approx. 4x |
| Digital Zoom | Movie: Approx. 4x Still Image: L: Approx. 4x, M: Aapprox. 5.7x, S: Approx. 8x |
| Smart Zoom | Still Image: M: Approx. 1.4x, S: Approx. 2x |
Still image function
| | |
| --- | --- |
| SHUTTER | Electronic shutter |
| DRIVE MODES | Single Shooting, Self-timer, Self-timer (Cont.), Bracket: Single, Bracket: Cont., White Balance bracket, DRO bracket |
| CONTINUOUS SHOOTING SPEED | |
| Noise Reduction | High ISO NR: Normal / Low / Off |
| Flash control | Opening Angle: Approx. 176 deg., Rotation Angle: Approx. 270 deg. |
| OTHER STILL IMAGE FUNCTION | Anti-flicker Set |
Custom function
| | |
| --- | --- |
| CUSTOM FUNCTION | Custom key settings, My Menu, My Dial Settings, Reg. Custom Shoot Set |
Lens Compensation
| | |
| --- | --- |
| LENS COMPENSATION | Peripheral Shading, Chromatic Aberration, Distortion |
Wi-Fi/NFC
| | |
| --- | --- |
| SUPPORTED FORMAT | IEEE 802.11a/b/g/n/ac |
| FREQUENCY BAND | 2.4 GHz band/5 GHz band |
| SECURITY | WEP/WPA-PSK/WPA2-PSK |
| NFC | |
FTP Transfer
| | |
| --- | --- |
| FTP Transfer | Wired LAN (USB-LAN), USB Tethering, Wi-Fi |
RAW Output
| | |
| --- | --- |
| HDMI | 4672 x 2628 (59.94p, 50p, 29.97p, 25p, 23.98p), 16bit |
Media
| | |
| --- | --- |
| type | CFexpress Type A / SD card (x2), Simult. Rec, Sort, Auto Switch Media, Copy |
Image Stabilization
| | |
| --- | --- |
| type | Image Sensor-Shift mechanism with 5-axis compensation (Compensation depends on lens specifications) |
| Mode | Movie: Active / Standard / Off, Still image: On / Off |
| COMPENSATION EFFECT (STILL IMAGES) | 5.5 stops (based on CIPA standard. Pitch/yaw shake only. With Planar T* FE 50mm F1.4 ZA lens mounted.) |
Zoom
| | |
| --- | --- |
| ZOOM FUNCTION | Zoom ring rotate |
Recording Format (Video)
| | |
| --- | --- |
| XAVC S-I 4K | XAVC S-I 4K 59.94p: 600 Mbps 4:2:2 10 bit MPEG-4 AVC / H.264, XAVC S-I 4K 50p: 500 Mbps 4:2:2 10 bit MPEG-4 AVC / H.264, XAVC S-I 4K 29.97p: 300 Mbps 4:2:2 10 bit MPEG-4 AVC / H.264, XAVC S-I 4K 25p: 250 Mbps 4:2:2 10 bit MPEG-4 AVC / H.264, XAVC S-I 4K 23.98p: 240 Mbps 4:2:2 10 bit MPEG-4 AVC / H.264 |
| XAVC S-I HD | XAVC S-I HD 59.94p: 222 Mbps 4:2:2 10 bit MPEG-4 AVC / H.264, XAVC S-I HD 50p: 185 Mbps 4:2:2 10 bit MPEG-4 AVC / H.264, XAVC S-I HD 29.97p: 111 Mbps 4:2:2 10 bit MPEG-4 AVC / H.264, XAVC S-I HD 25p: 93 Mbps 4:2:2 10 bit MPEG-4 AVC / H.264, XAVC S-I HD 23.98p: 89 Mbps 4:2:2 10 bit MPEG-4 AVC / H.264 |
| XAVC S 4K | XAVC S 4K 59.94p/50p: 200 Mbps 4:2:2 10 bit MPEG-4 AVC / H.264, XAVC S 4K 59.94p/50p: 150 Mbps 4:2:0 8 bit MPEG-4 AVC / H.264, XAVC S 4K 29.97p/25p: 140 Mbps 4:2:2 10 bit MPEG-4 AVC / H.264, XAVC S 4K 23.98p: 100 Mbps 4:2:2 10 bit, MPEG-4 AVC / H.264, XAVC S 4K 29.97p/25p/23.98p: 100 Mbps 4:2:0 8 bit MPEG-4 AVC / H.264, XAVC S 4K 29.97p/25p/23.98p: 60 Mbps 4:2:0 8 bit MPEG-4 AVC / H.264, XAVC S 4K 119.88p/100p: 280 Mbps 4:2:2 10 bit MPEG-4 AVC / H.264, XAVC S 4K 119.88p/100p: 200 Mbps 4:2:0 8 bit MPEG-4 AVC / H.264 |
| XAVC S HD | XAVC S HD 59.94p/50p/29.97p/25p/23.98p: 50 Mbps 4:2:2 10 bit MPEG-4 AVC / H.264, XAVC S HD 59.94p/50p/29.97p/25p/23.98p: 50 Mbps 4:2:0 8 bit MPEG-4 AVC / H.264, XAVC S HD 59.94p/50p: 25 Mbps 4:2:0 8 bit MPEG-4 AVC / H.264, XAVC HD 29.97p/25p: 16 Mbps 4:2:0 8 bit MPEG-4 AVC / H.264, XAVC S HD 119.88p/100p: 100 Mbps 4:2:0 8 bit MPEG-4 AVC / H.264, XAVC S HD 119.88p/100p: 60 Mbps 4:2:0 8 bit MPEG-4 AVC / H.264 |
| XAVC HS 4K | XAVC HS 4K 59.94p/50p: 200 Mbps 4:2:2 10 bit MPEG-H HEVC / H.265, XAVC HS 4K 59.94p/50p: 150 Mbps 4:2:0 10 bit MPEG-H HEVC / H.265, XAVC HS 4K 59.94p/50p/23.98p: 100 Mbps 4:2:2 10 bit MPEG-H HEVC / H.265, XAVC HS 4K 59.94p/50p: 75 Mbps 4:2:0 10 bit MPEG-H HEVC / H.265, XAVC HS 4K 59.94p/50p: 45 Mbps 4:2:0 10 bit MPEG-H HEVC / H.265, XAVC HS 4K 23.98p: 100 Mbps 4:2:0 10 bit MPEG-H HEVC / H.265, XAVC HS 4K 23.98p: 50Mbps 4:2:2 10 bit MPEG-H HEVC / H.265, XAVC HS 4K 23.98p: 50 Mbps 4:2:0 10bit MPEG-H HEVC / H.265, XAVC HS 4K 23.98p: 30 Mbps 4:2:0 10 bit MPEG-H HEVC / H.265, XAVC HS 4K 119.88p/100p: 280 Mbps 4:2:2 10 bit MPEG-H HEVC / H.265, XAVC HS 4K 119.88p/100p: 200 Mbps 4:2:0 10 bit MPEG-H HEVC / H.265 |
| RECORDING FORMAT (AUDIO) | LPCM 2 ch(48 kHz 16 bit), LPCM 2 ch(48 kHz 24 bit), LPCM 4 ch(48 kHz 24 bit) |
Interface
| | |
| --- | --- |
| AUDIO INPUT | 3.5 mm Stereo minijack, XLR handle: [INPUT1][INPUT2] XLR/TRS-type 3-pin(female) (x2), line/mic/mic +48 V selectable, Mic Reference -40 to -60 dBu / [INPUT3] 3.5 mm Stereo minijack |
| HEADPHONE OUTPUT | 3.5 mm Stereo minijack |
| SPEAKER OUTPUT | Built-in, monaural |
| HDMI OUTPUT | YCbCr 4:2:2 10 bit / RGB 8 bit |
| Multi Interface Shoe | With Digital Audio Interface |
| TC INPUT/TC OUTPUT | Multi/Micro USB, TC IN *6 With Digital Audio Interface |
| USB Terminal | USB Type-C® (x1, SuperSpeed USB 10 Gbps (USB 3.2) compatible), Multi/Micro USB (x1) |
Power Consumption
| | |
| --- | --- |
| Movie | Approx. 5.6 W (with E PZ 18-105mm F4 OSS lens attached) |
| Still Image | Approx. 3.5 W (with E PZ 18-105mm F4 OSS lens attached) |
Playback
DIMENSIONS ( W X H X D )
Approx. 509 g / Approx. 1lb 2.0 oz (Body Only: Approx. 424 g / Approx. 0 lb 15.0 oz)

124.0mm x 71.1mm x 59.7mm, 124.0mm x 71.1mm x 53.5mm (FROM GRIP TO MONITOR) / 5 x 2 7/8 x 2 3/8 inches, 5 x 2 7/8 x 2 1/8 inches (FROM GRIP TO MONITOR)
What's In The Box
| | |
| --- | --- |
| SUPPLIED ACCESSORIES | Camera body | ILME-FX30 Rechargeable Battery | NP-FZ100 USB battery charger | AC-UUD12 Top Handle with XLR Input Module Body cap MI Accessory shoe cap Handle Shoe Cap USB-A to USB-C cable (USB 3.2) |
| General | |
| CAMERA TYPE | Interchangeable lens digital camera |
| Lens mount | E-mount |
| Bluetooth | |
| Bluetooth | Bluetooth Standard Ver. 5.0 (2.4 GHz band) |
⚠️ WARNING: This product can expose you to chemicals including Lead, which is known to the State of California to cause cancer and birth defects and/or other reproductive harm. For more information go to www.P65Warnings.ca.gov