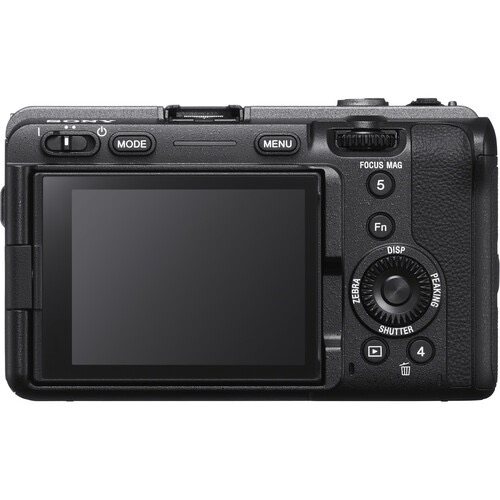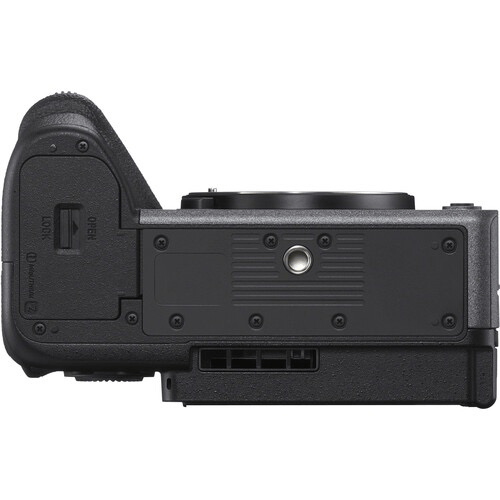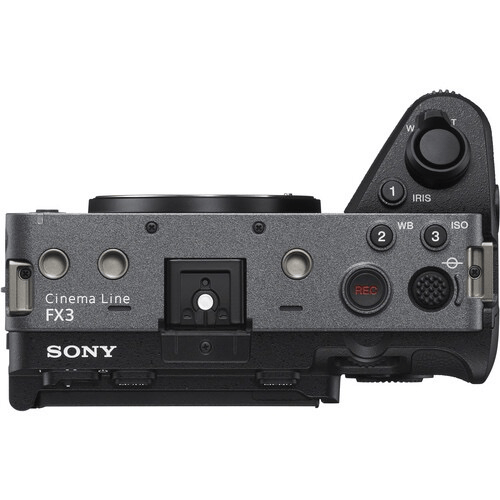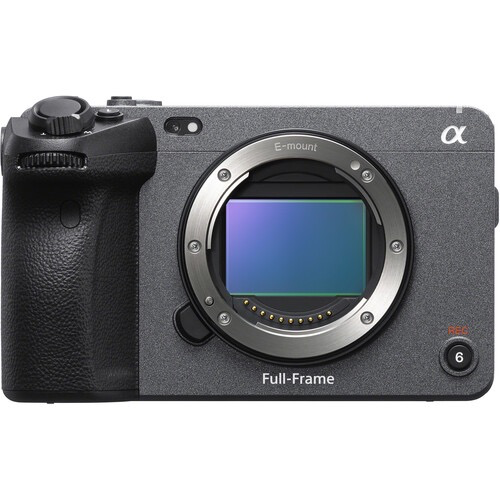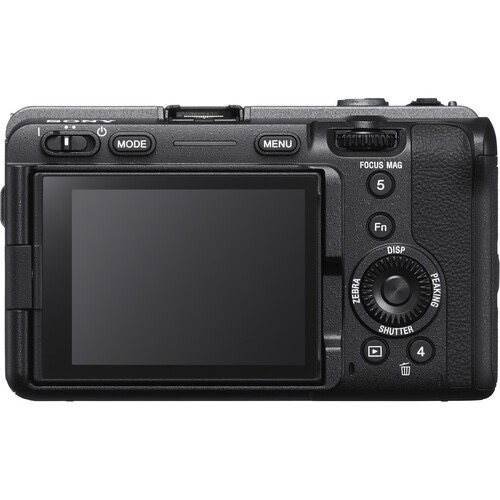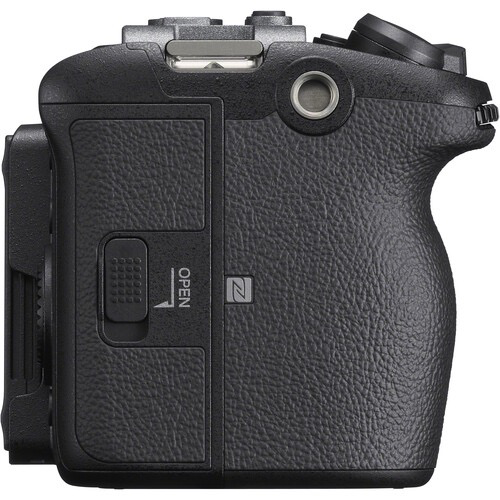 35 mm full frame (35.6 x 23.8 mm)
Exmor R CMOS sensor
High-performance image-processing engine
High sensitivity
wide dynamic range
Acclaimed cinematic color with S-Cinetone
16-bit RAW data output
Fast Hybrid AF for dependable focus during movie shooting
Full-Frame Image Capture In Dim Light.

The FX3 has a full-frame image sensor that allows you to take clear, usable photos in dim lighting with its innovative light gathering techniques. This camera is able expand up ISO Sensitivity from 80 - 102400 for movies all the way up until 409600 which provides even more flexibility when shooting video footage.

Wide Dynamic Range.

The FX3 provides an extraordinary 15+ stops of dynamic range to handle settings ranging from well-lit interiors and outdoors in mid day, through morning hours up until evening shots. This device allows for unprecedented cinematic freedom when color grading your video footage - without any loss or distortion.

Stunning Bokeh and Full-Frame Creativity.

With a full-frame sensor and cinematic 4K resolution, this camera captures the scene with stunning bokeh. The shallow depth of field makes it possible for you to create amazing photos without having any worries about your subject being in focus while all those other distracters around them are out of focus!

Cinematic Color Science of S-Cinetone™.

The S-Cinetone color, developed for Sony's acclaimed FX9 and available as the default look on their newest camera release -the Fx3. It is a rich tone that closely resembles what actors would see when filming in Cinema Line Studio which means it has natural skin tones without being grades down or changed from its original state just because they are now using this specific style of film editing software!




Smooth Transitions and Touch Focus Control.

With the FX3, your shots will be in perfect focus every time. There are seven settings for AF Transition Speed and five sensitivity levels that allow you to choose how easily it changes or stays on one subject as opposed other subjects when focusing; simply touching an LCD panel selects what is being focused-upon!

Dual High-Speed Media Slots.

Designed for modern filmmaking, Sony's Alpha FX3 camera is ready to take your productions to the next level. With support for high bit-rate recording using CFexpress Type A cards, it's perfect for capturing cinema-quality video. And with two identical media slots, you can easily shoot continuously or create backups of your footage. Add in intelligent features like 4K HDR recording and advanced autofocus, and you've got a camera that's ready to create stunning videos that will wow your audience.
Image Sensor
| | |
| --- | --- |
| Number of Pixels | Approx. 10.2 megapixels (effective) for movies, Approx. 12.1 megapixels (effective) for Still images, Approx. 12.9 megapixels (total) |
| Sensor Type | 35mm full frame (35.6 x 23.8 mm), Exmor R CMOS sensor |
Recording ( still images )
| | |
| --- | --- |
| RECORDING FORMAT (AUDIO) | LPCM 2ch (48kHz 16bit), LPCM 2ch (48kHz 24bit), LPCM 4ch (48kHz 24bit), MPEG-4 AAC-LC 2ch |
| RAW OUTPUT | HDMI: 4264 x 2408 (59.94p/50p/29.97p/25p/23.98p), 16bit |
Recording (Movie)
RECORDING FORMAT
XAVC'S
COLOUR SPACE
XAVC Proxy: AAC-LC, 128kbps, 2 channels
PROXY AUDIO
XAVC Proxy: AAC-LC, 128kbps, 2 channels
PROXY VIDEO
1280 x 720 (Approx. 6Mbps), 1920 x 1080 (Approx. 9Mbps), 1920 x 1080 (Approx. 16Mbps)
GAMMA CURVE
Off / PP1-PP11, Parameters: Black level, Gamma (Movie, Still, S-Cinetone, Cine1-4, ITU709, ITU709 [800%], S-Log2, S-Log3, HLG, HLG1-3), Black Gamma, Knee, Color Mode, Saturation, Color Phase, Color Depth, Detail, Copy, Reset
SLOW & QUICK MOTION
XAVC S 4K: [NTSC mode] 1fps, 2fps, 4fps, 8fps, 15fps, 30fps, 60fps, 120fps, [PAL mode] 1fps, 2fps, 3fps, 6fps, 12fps, 25fps, 50fps, 100fps, XAVC S HD: [NTSC mode] 1fps, 2fps, 4fps, 8fps, 15fps, 30fps, 60fps, 120fps, 240fps2, [PAL mode] 1fps, 2fps, 3fps, 6fps, 12fps, 25fps, 50fps, 100fps, 200fps2

XAVC S-I 4K: [NTSC mode] 1fps, 2fps, 4fps, 8fps, 15fps, 30fps, 60fps, 120fps, [PAL mode] 1fps, 2fps, 3fps, 6fps, 12fps, 25fps, 50fps, 100fps, XAVC S-I HD: [NTSC mode] 1fps, 2fps, 4fps, 8fps, 15fps, 30fps, 60fps, 120fps, 240fps2, [PAL mode] 1fps, 2fps, 3fps, 6fps, 12fps, 25fps, 50fps, 100fps, 200fps2

VIDEO FUNCTIONS
Audio Level Display, Audio Rec Level, TC/UB, Creative Look, Gamma Display Assist, PAL/NTSC Selector
RECORDING SYSTEM
| | |
| --- | --- |
| MEDIA | CFexpress Type A / SD card (x2), Simult. Rec, Sort, Auto Switch Media, Copy |
NOISE REDUCTION
| | |
| --- | --- |
| NOISE REDUCTION | Long exposure NR: On/Off, available at shutter speeds longer than 1 sec., High ISO NR: Normal/Low/Off |
WHITE BALANCE
| | |
| --- | --- |
| WHITE BALANCE MODES | Auto / Daylight / Shade / Cloudy / Incandescent / Fluorescent / Warm White / Cool White / Day White / Daylight / Flash / Underwater / Color Temperature 2500 to 9900K & color filter / Custom |
FOCUS
| | |
| --- | --- |
| FOCUS TYPE | Fast Hybrid AF (phase-detection AF / contrast-detection AF) |
| FOCUS SENSOR | Exmor CMOS sensor |
| FOCUS POINT | [Movie] 627 points, [Still image] 35mm full frame: 759 points (phase-detection AF) |
| FOCUS SENSITIVITY RANGE | EV-3 to EV20 (ISO100 equivalent with F2.0 lens attached) |
| FOCUS MODE | AF-S (Single-shot AF), AF-C (Continuous AF), DMF (Direct Manual Focus), Manual Focus |
| FOCUS AREA | [Movie] Wide / Zone / Center / Flexible Spot / Expanded Flexible Spot, [Still image] Wide / Zone / Center / Flexible Spot / Expanded Flexible Spot / Tracking |
| EYE AF | Eye AF ([Movie] Human (Right/Left Eye Select), ([Still image] Human (Right/Left Eye Select) / Animal,),Face detection (Face Priority in AF, Face Priority in Multi Metering, Regist. Faces Priority), [Movie] AF Subj. Shift Sensitivity, [Movie] AF Transition Speed, [Still image] Focus Magnifier (35mm full frame: 2.1x / 4.1x, APS-C: 1.5x / 3.0x) |
RECORDING SYSTEM
LOCATION INFORMATION LINK FROM SMARTPHONE

RECORDING FORMAT

Yes
MEDIA
Memory Stick Micro(M2), Memory Stick PRO-HG Duo, Memory Stick PRO Duo, microSDHC memory card, microSD memory card, microSDXC memory card, SDHC memory card (UHS-I/II compliant), SD memory card, SDXC memory card (UHS-I/II compliant)
MEMORY CARD SLOT
SLOT1:Slot for SD(UHS-I/II compliant) memory card, SLOT2:Multi slot for Memory Stick Duo/SD(UHS-I compliant) memory card
NOISE REDUCTION
| | |
| --- | --- |
| NOISE REDUCTION | LHigh ISO NR: Normal/Low/Off, Long exposure NR: On/Off , available at shutter speeds longer than 1 sec. |
WHITE BALANCE
| | |
| --- | --- |
| WHITE BALANCE MODES | Auto / Daylight / Shade / Cloudy / Incandescent / Fluorescent Warm White / Cool White / Day White / Daylight / Flash /Underwater/ Color Temperature 2500 to 9900K & color filter G7 to M7(57-step), A7 to B7(29-step) / Custom |
EXPOSURE
| | |
| --- | --- |
| METERING TYPE | 1200-zone evaluative metering |
| METERING SENSOR | Exmor RS CMOS sensor |
| METERING SENSITIVITY | EV-3 to EV20 (ISO100 equivalent with F2.0 lens attached) |
VIEW FINDER
| | |
| --- | --- |
| EYE POINT | Approx. 23mm from the eyepiece lens, 18.5mm from the eyepiece frame at -1m-1 (CIPA standard) |
| FINDER FRAME RATE SELECTION | STD 60fps / HI 120fps |
LCD SCREEN
| | |
| --- | --- |
| MONITOR TYPE | 7.5cm (3.0-type) type, approx. 1.44M dots, Opening Angle:Approx. 176 deg., Rotation Angle:Approx. 270 deg. |
OTHER FEATURES
| | |
| --- | --- |
| DIGITAL ZOOM | Smart zoom (Still images):35mm full frame: M:approx 1.5x, S:approx 2x, APS-C: M:approx 1.3x, S:approx 2x, Digital zoom (Still images):35mm full frame: L:approx 4x, M:approx 6.1x, S:approx 8x, APS-C: L:approx 4x, M:approx 5.2x, S:approx 8x, Digital zoom (Movie):35mm full frame: approx 4x, APS-C: approx 4x |
| FACE DETECTION | Modes:Face Priority in AF(On/Off), Face Priority in Multi Metering(On/Off), Regist. Faces Priority(On/Off), Face registration, Max. number of detectable: 8 faces |
| OTHERS | Electronic Front Shutter Curtain, Silent Shooting, Anti-flicker Shoot 3 |
SHUTTER
| | |
| --- | --- |
| TYPE | Electronically-controlled, vertical-traverse, focal-plane type |
| SHUTTER TYPE | Auto/Mechanical shutter/Electronic shutter |
| SHUTTER SPEED | [Still images, Single shot]2 Mechanical Shutter: 1/8000 to 30 sec, Bulb, AUTO: 1/32000 to 30 sec, Bulb, Electronic Shutter: 1/32000 to 30 sec, [Still images, Continous shooting]2 Mechanical Shutter: 1/8000 to 30 sec, AUTO: 1/32000 to 1/8 sec, Electronic Shutter: 1/32000 to 1/8 sec, [Movies]: 1/8000 to 1/4 (1/3 steps) up to 1/60 in AUTO mode (up to 1/30 in Auto slow shutter mode) |
| CONTINUOUS SHOOTING SPEED | Hi+: 10 fps, Hi: 8 fps, Mid: 6 fps, Lo: 3 fps |
| FLASH CONTROL | Sony α System Flash compatible with Multi Interface Shoe, attach the shoe adaptor for flash compatible with Auto-lock accessory shoe, Flash sync speed 1/250 sec. |
| NOISE REDUCTION | Long exposure NR: On/Off, available at shutter speeds longer than 1 sec., High ISO NR: Normal / Low / Off |
IMAGE STABILIZATION
| | |
| --- | --- |
| TYPE | Image Sensor-Shift mechanism with 5-axis compensation (Compensation depends on lens specifications) |
| COMPENSATION EFFECT | 5.5 stops (based on CIPA standard. Pitch/yaw shake only. With Planar T* FE 50mm F1.4 ZA lens mounted. Long exposure NR off.) |
FLASH CONTROL
| | |
| --- | --- |
| TYPE | Pre-flash TTL |
| CONTROL | Pre-flash TTL[[F_DI0181]] |
| FLASH COMPENSATION | +/- 3.0 EV (switchable between 1/3 and 1/2 EV steps) |
| FLASH MODES | Autoflash, Fill-flash, Flash off, Hi-speed sync.2, Rear Sync., Red-eye reduction (on/off selectable), Slow Sync., Wireless2 |
| EXTERNAL FLASH COMPATIBILITY | Sony α System Flash compatible with Multi Interface Shoe, attach the shoe adaptor for flash compatible with Auto-lock accessory shoe |
| WIRELESS CONTROL | Yes (Light signal: Available with Fill-flash, Slow Sync., Hi-speed sync. / Radio signal: Available with Fill-flash, Rear Sync., Slow Sync., Hi-speed sync.) |
DRIVE
| | |
| --- | --- |
| DRIVE MODES | Single Shooting, Continuous shooting (Hi+/Hi/Mid/Lo selectable), Self-timer, Self-timer (Cont.), Bracket:Single, Bracket:Cont., White Balance bracket, DRO bracket |
| CONTINUOUS DRIVE SPEED | Continuous shooting: Hi+: max. 11fps, Hi: max. 6fps, Mid: max. 6fps, Lo: max. 3 fps 4 |
| SELF - TIMER | 10 sec. delay / 5 sec. delay / 2 sec. delay / Continuous self-time / Bracketing self-timer |
| NUMBER OF RECORDABLE FRAMES (APPROX.) | JPEG Extra fine L: 99 frames3, JPEG Fine L: 116 frames3, JPEG Standard L: 137 frames3, RAW: 46 frames3, RAW & JPG: 45 frames3 |
| SELF TIMER | 10 sec. delay/5 sec. delay/2 sec. delay/Continuous self-timer/Bracketing self-timer |
DRIVE PLAYBACK
| | |
| --- | --- |
| MODES | 9/25-frame index view, Auto Review (10/5/2 sec,Off), Delete, Disp Cont Shoot Grp, Enlarged display mode (L: 19.9x, M: 12.9x, S: 10.0x), Folder selection (Date/ Still/ AVCHD/XAVC S HD/XAVC S 4K), Forward/Rewind (movie), Image orientation (Auto/Manual/Off selectable), Protect, Rating, Single (with or without shooting information Y RGB histogram & highlight/shadow warning), Slideshow |
WIFI
| | |
| --- | --- |
| SUPPORTED FORMAT | IEEE 802.11a/b/g/n/ac |
| SECURITY | WEP/WPA-PSK/WPA2-PSK |
| FREQUENCY BAND | 2.4GHz band/5GHz band4 |
| FTP TRANSFER | Wired LAN (USB-LAN), USB Tethering, Wi-Fi |
| SYNC TERMINAL | Yes |
| HEADPHONE TERMINAL | Yes (3.5 mm Stereo minijack) |
| USB TYPE C TERMINAL | Yes (SuperSpeed USB 5Gbps (USB 3.2) compatible) |
| FUNCTIONS | FTP Transfer Func.(Wi-Fi), View on Smartphone, Remote control via Smartphone, NFC One-touch remote, NFC One-touch sharing, PC Remote, BRAVIA Sync (Control for HDMI), PhotoTV HD |
| HD Output | HDMI micro connector (Type-D), BRAVIA Sync (Control for HDMI), PhotoTV HD, 4K movie output/4K still image PB |
AUDIO
| | |
| --- | --- |
| MICROPHONE | Built-in, stereo |
| SPEAKER | Built-in, monaural |
POWER
| | |
| --- | --- |
| POWER CONSUMPTION | [Movie] Approx. 7.3W (with FE 28-70mm F3.5-5.6 OSS lens attached), [Still image] Approx. 3.4W (with FE 28-70mm F3.5-5.6 OSS lens attached) |
| BATTERY OPERATING TIME | Approx. 95 min (Actual recording, CIPA standard) 1, Approx. 135 min (Continuous recording, CIPA standard), Approx. 580 shots (still images, CIPA standard) |
| BATTERY LIFE ( MOVIE ) | Approx. 125 min. |
| INTERNAL BATTERY CHARGE | YES |
| POWER CONSUMPTION WITH LCD SCREEN | [Still images] Approx. 2.0 W (with E PZ 16-50 mm F3.5-5.6 OSS lens attached), [Movies] Approx. 3.5 W (with E PZ 16-50 mm F3.5-5.6 OSS lens attached) |
| USB POWER SUPPLY | Yes |
OTHERS
| | |
| --- | --- |
| OPERATING TEMPERATURE | 32-104 Degrees |
SIZE AND WEIGHT
| | |
| --- | --- |
| WEIGHT (Main Unit Only) | 715 g (1 lb 9.3 oz) (with battery and memory card included), 640 g (1 lb 6.6 oz) (body only) |
| DIMENSIONS ( W X H X D ) | 129.7 mm x 77.8 mm x 84.5 mm (5 1/8 x 3 1/8 x 3 3/8 inches) (body without protrusions) |
⚠️ WARNING: This product can expose you to chemicals including Lead, which is known to the State of California to cause cancer and birth defects and/or other reproductive harm. For more information go to www.P65Warnings.ca.gov