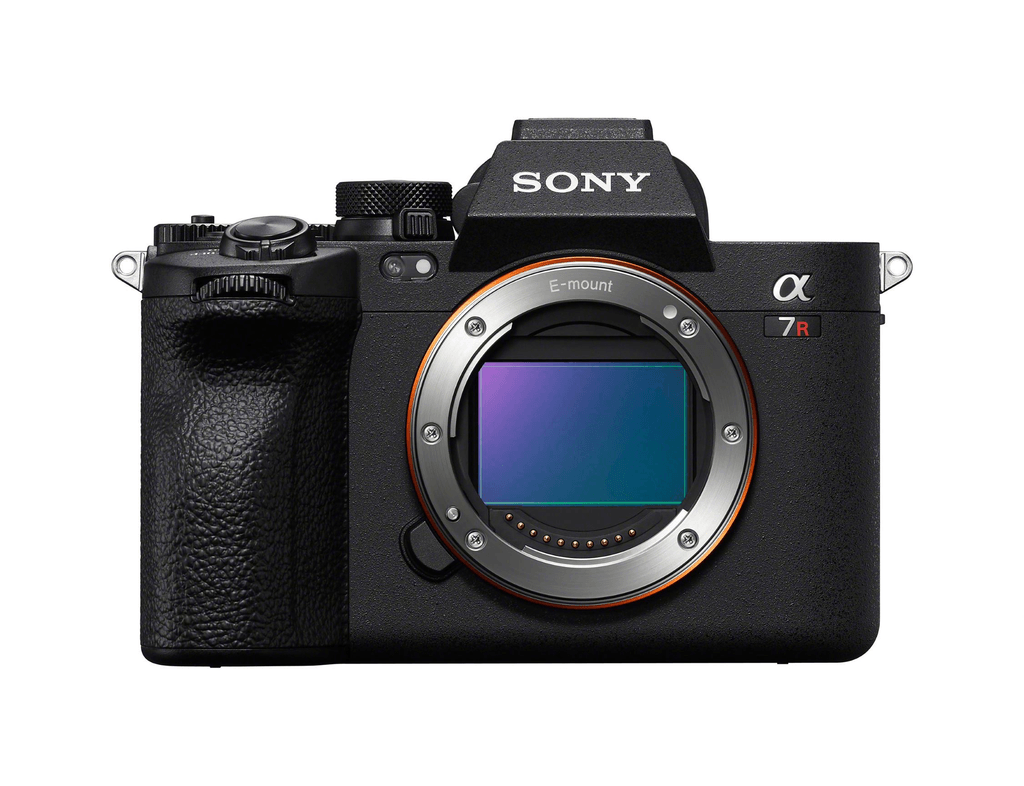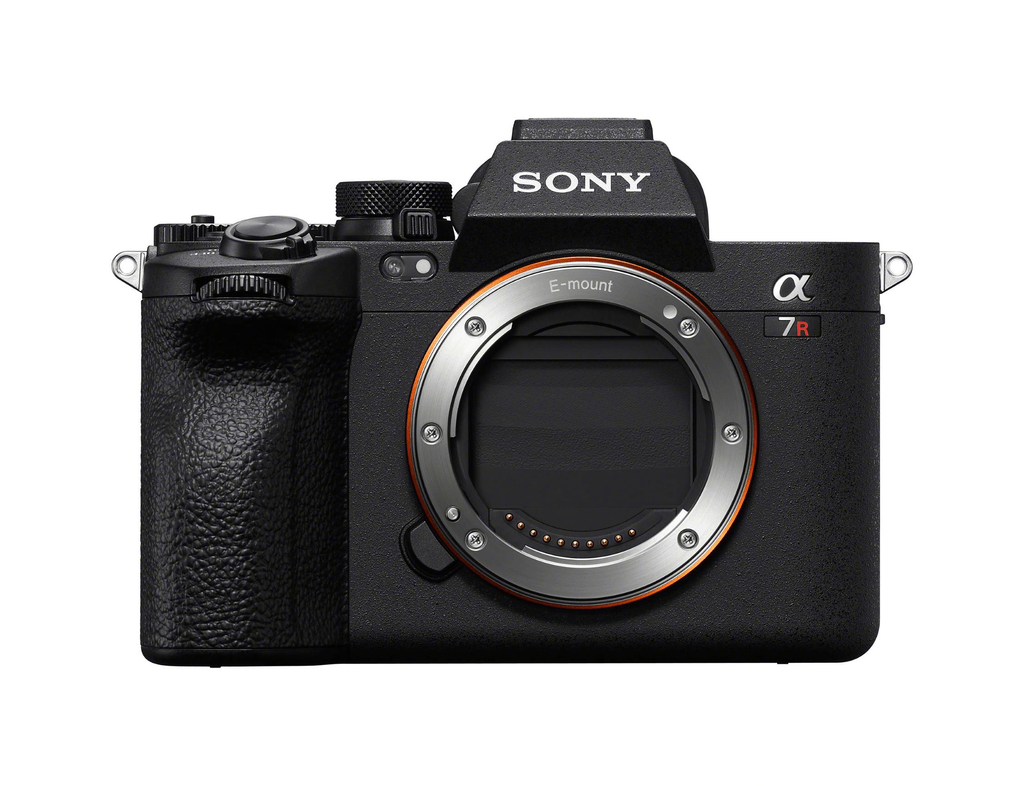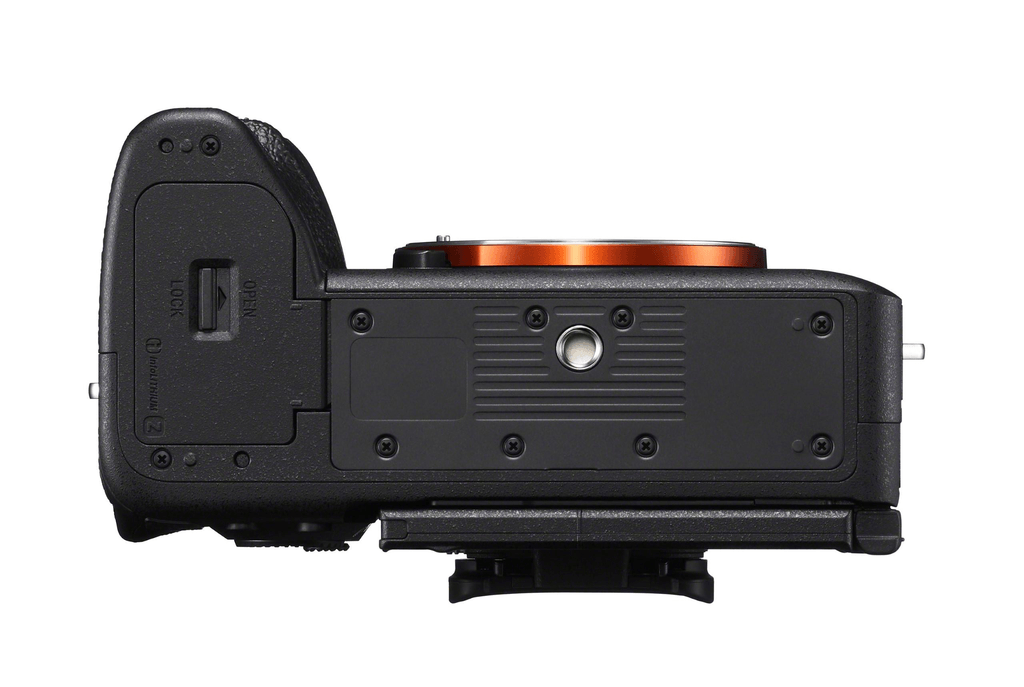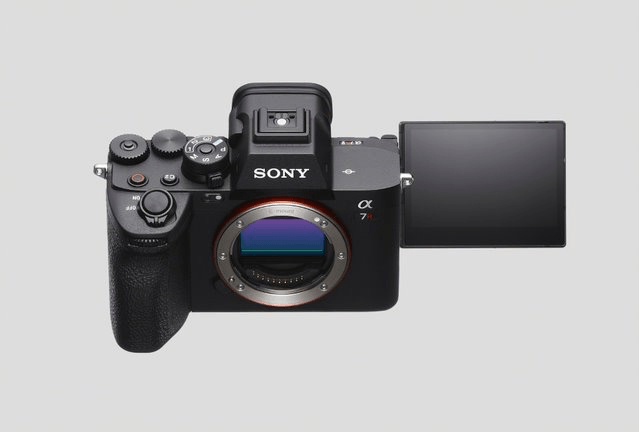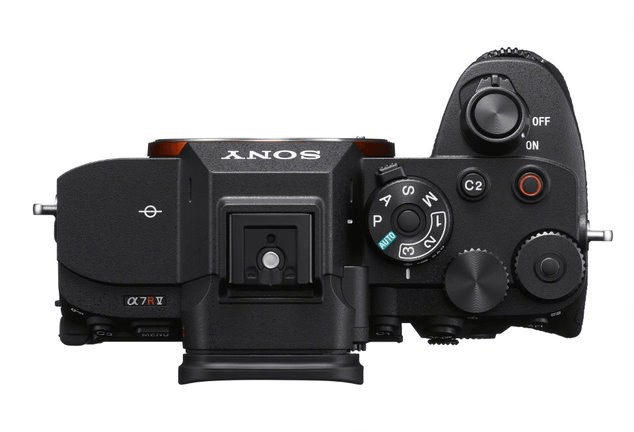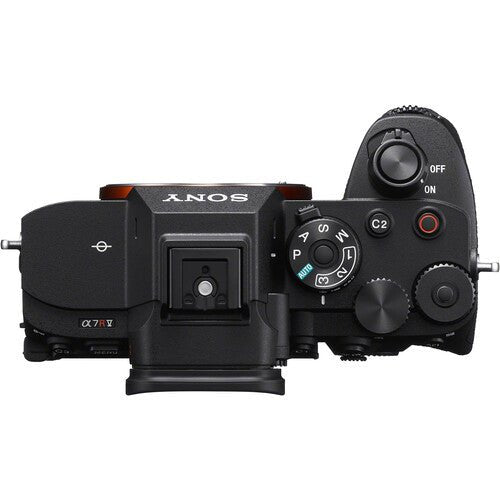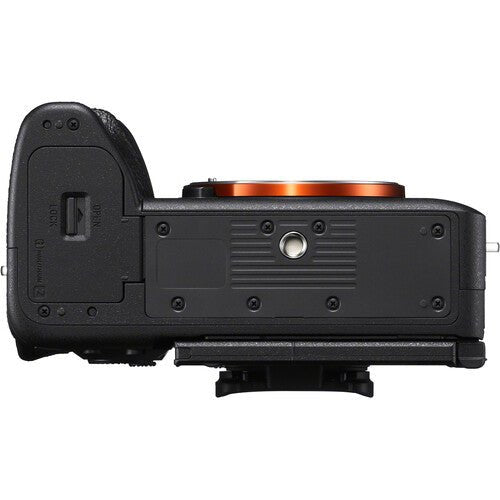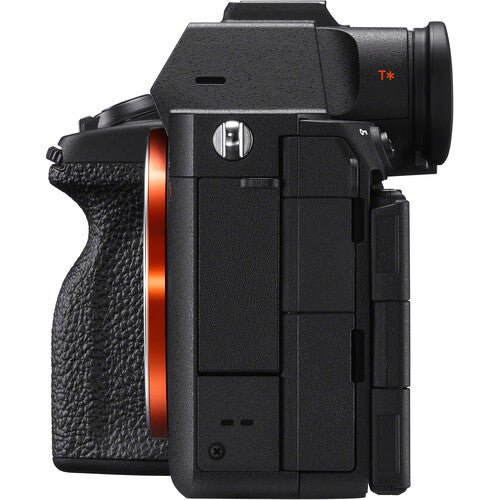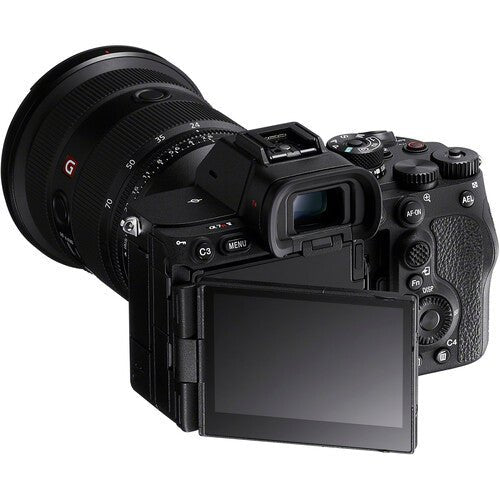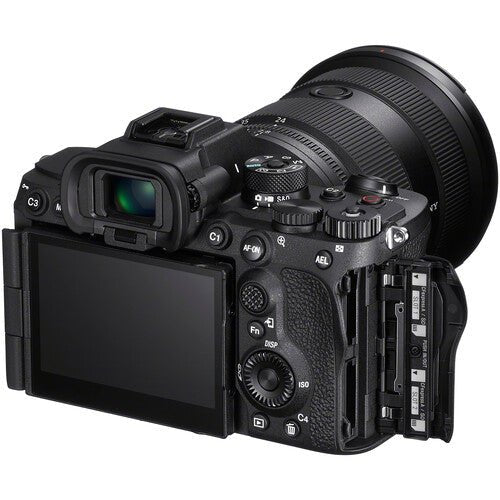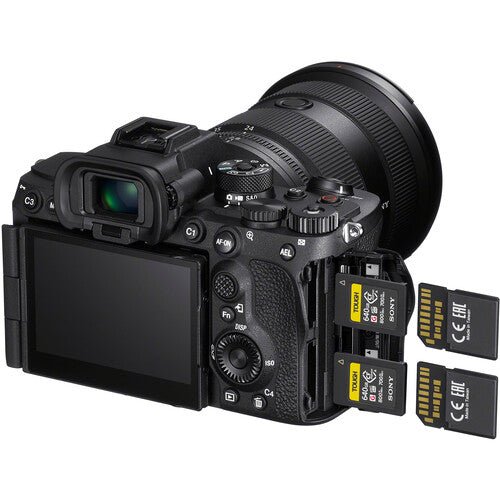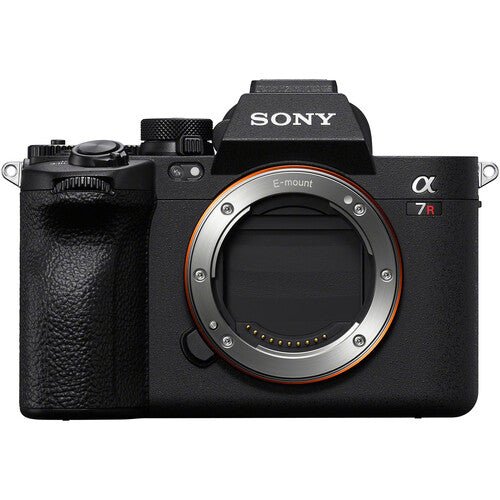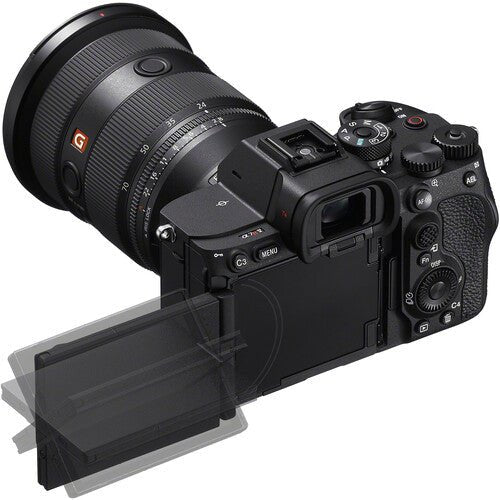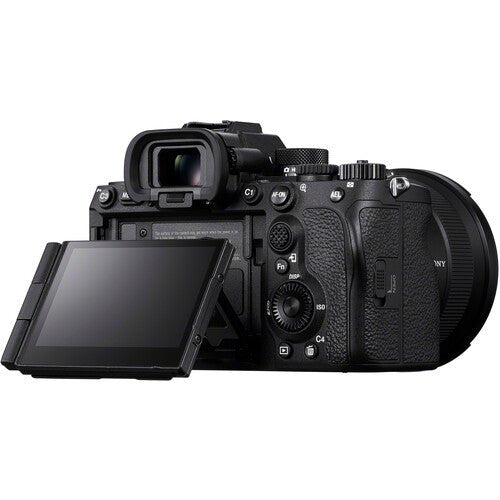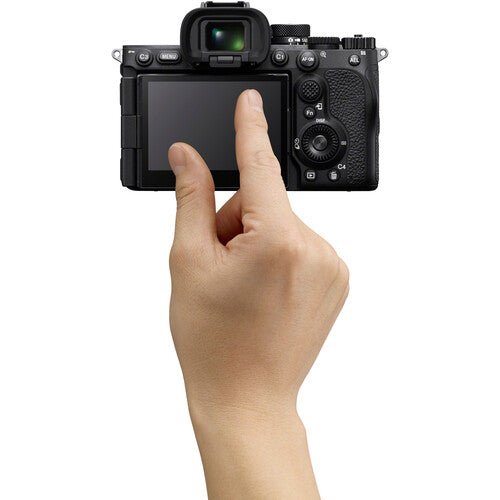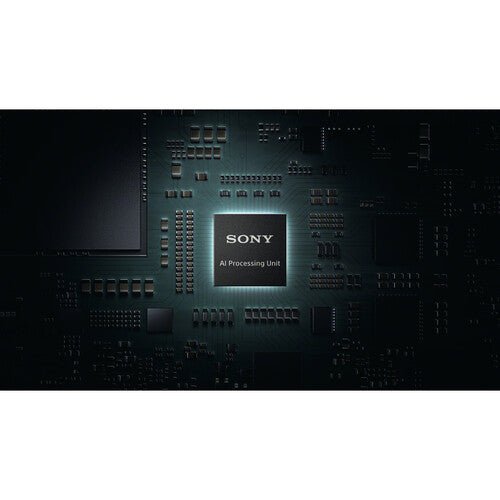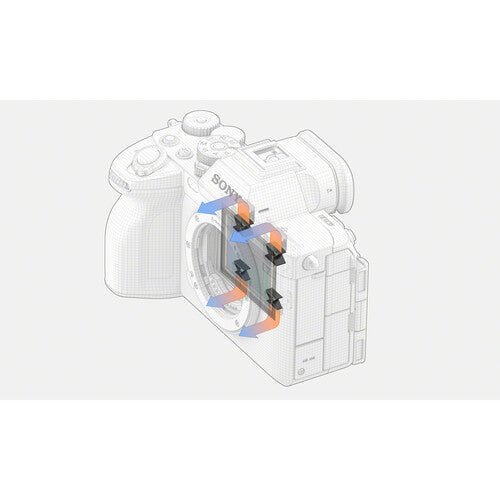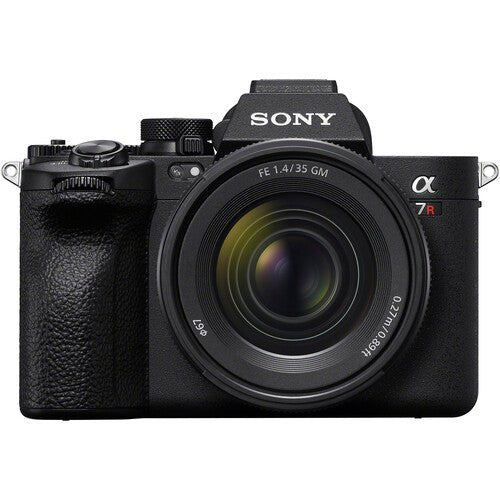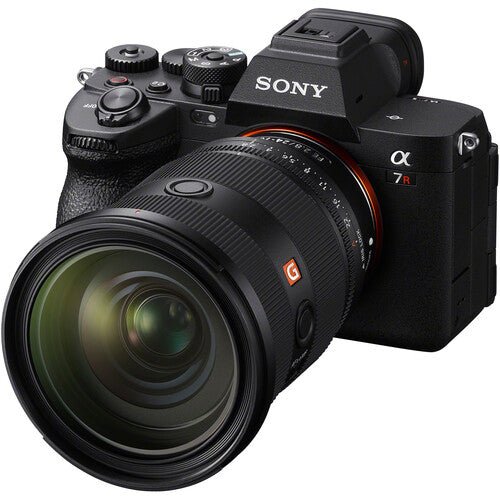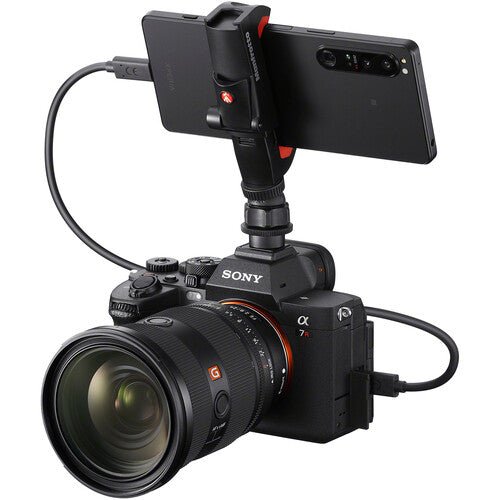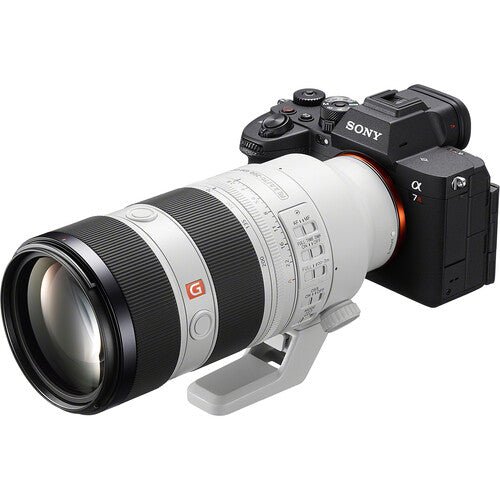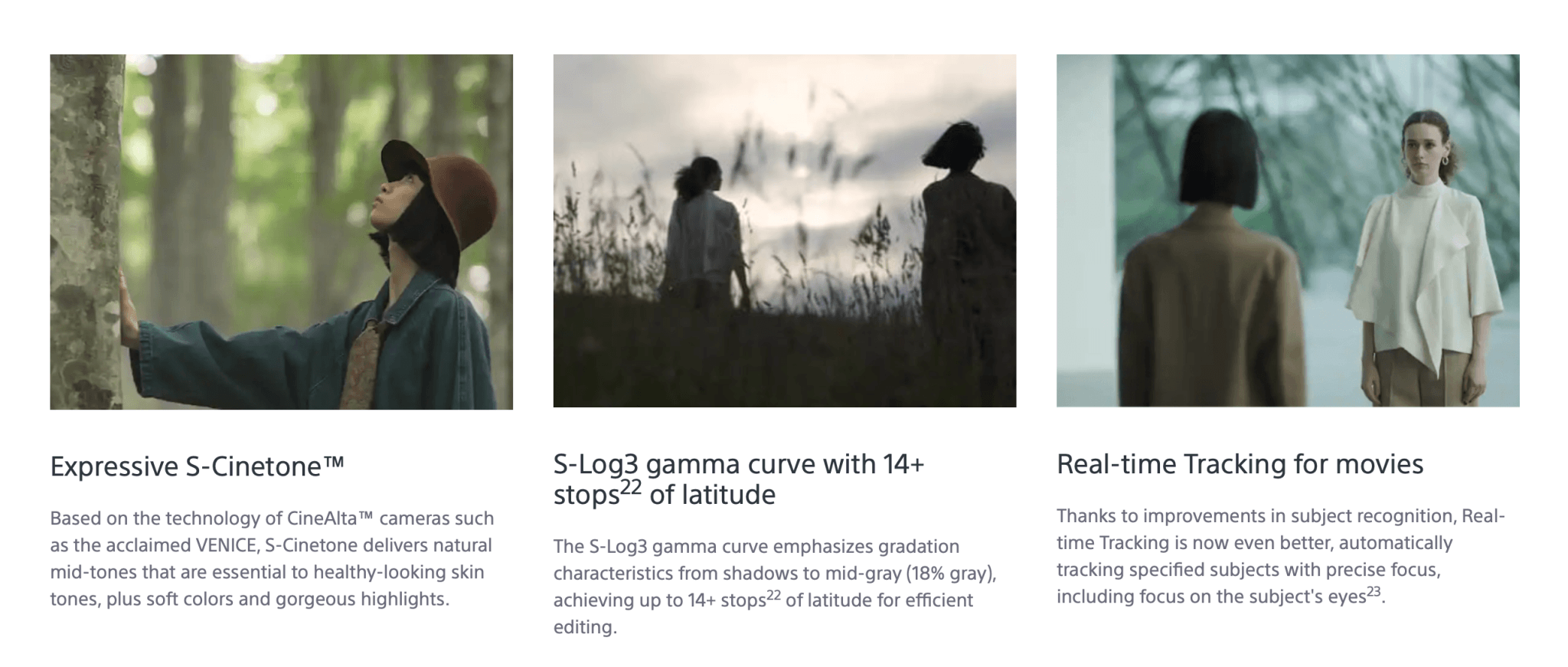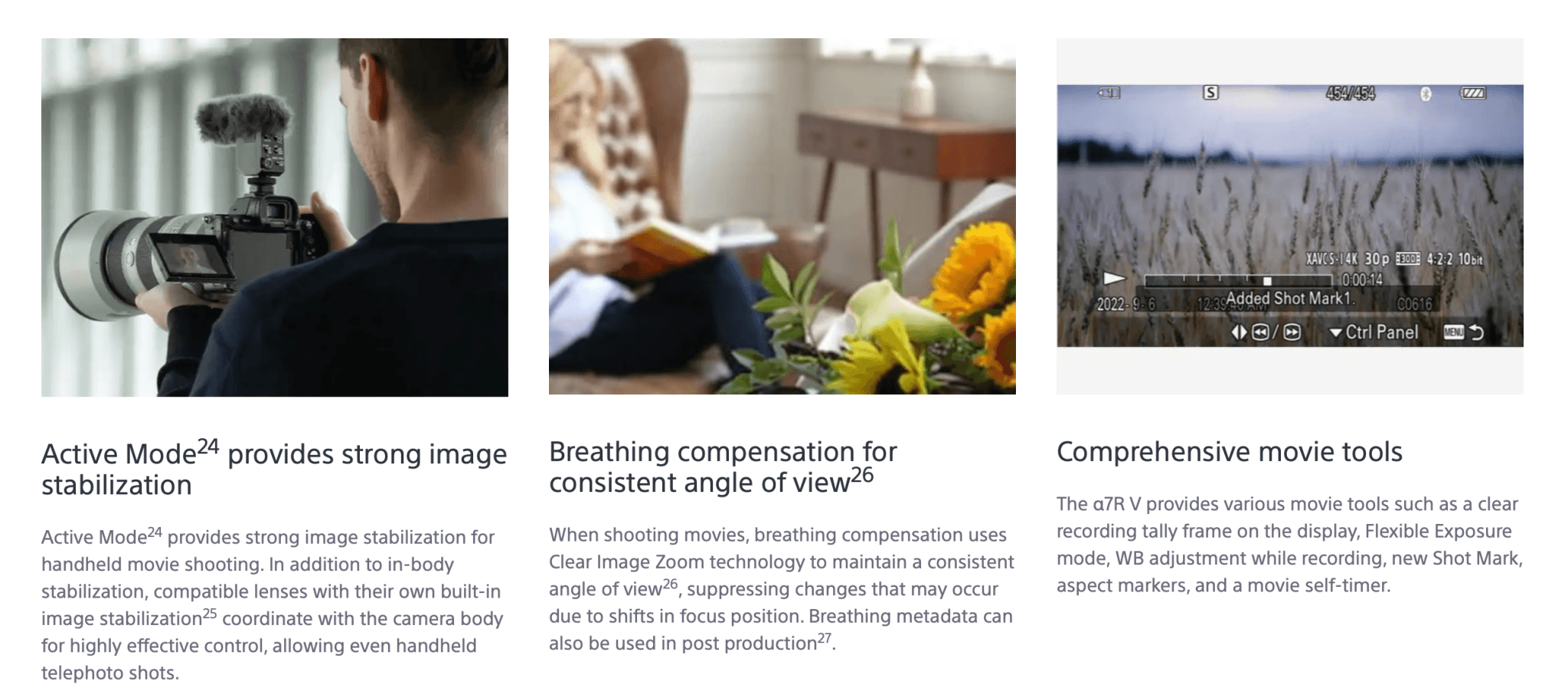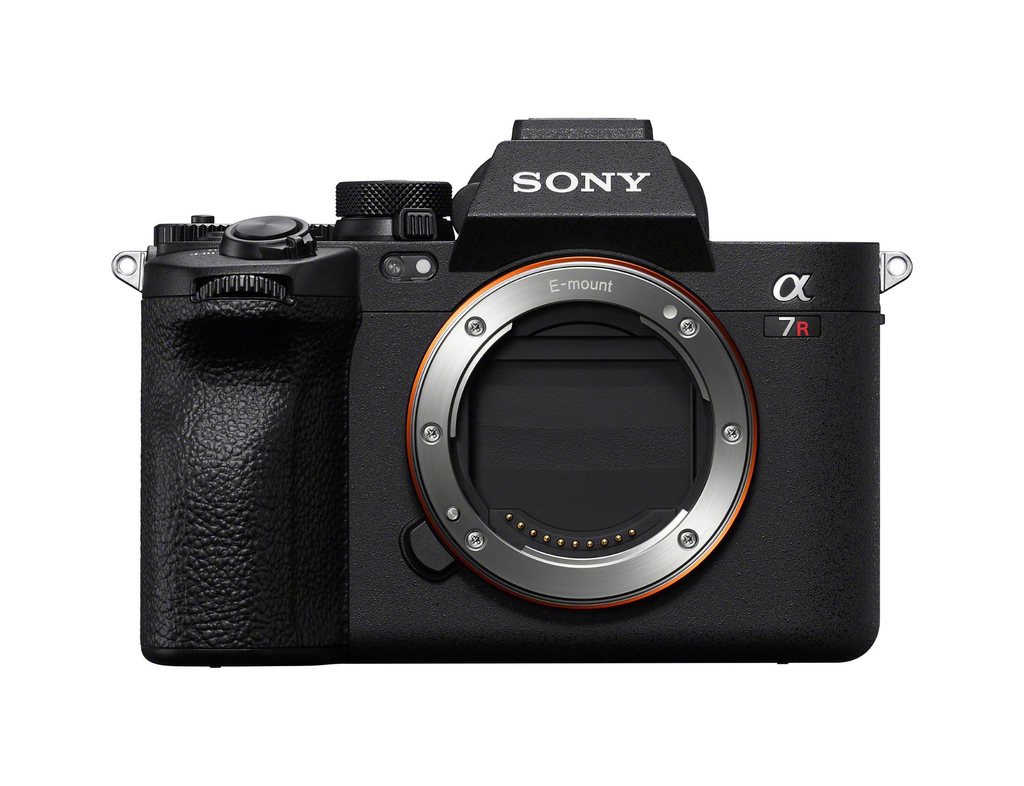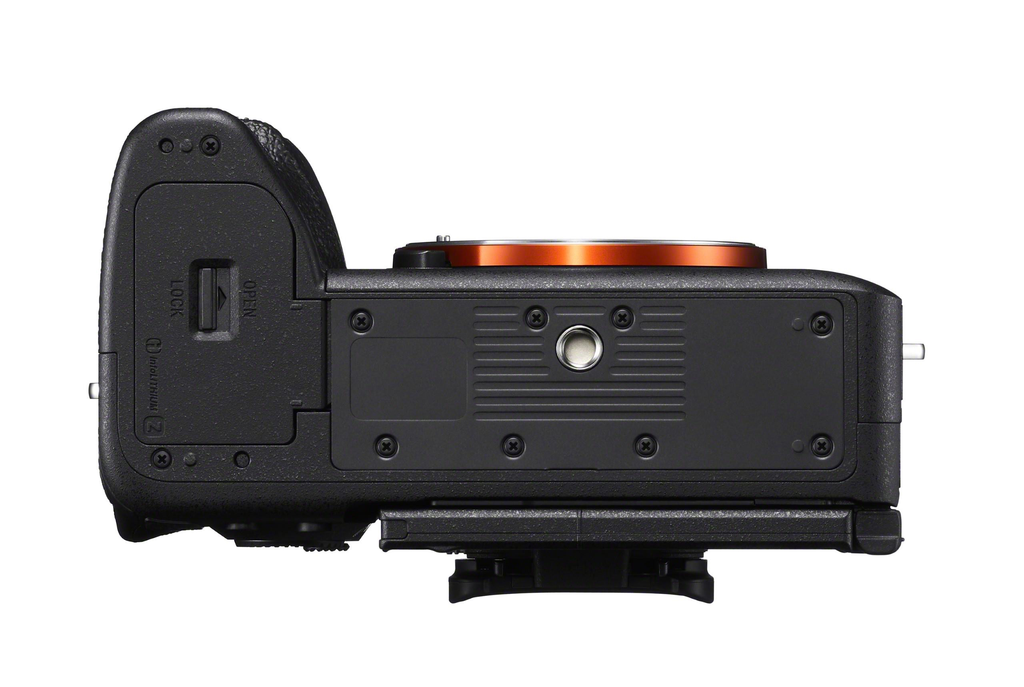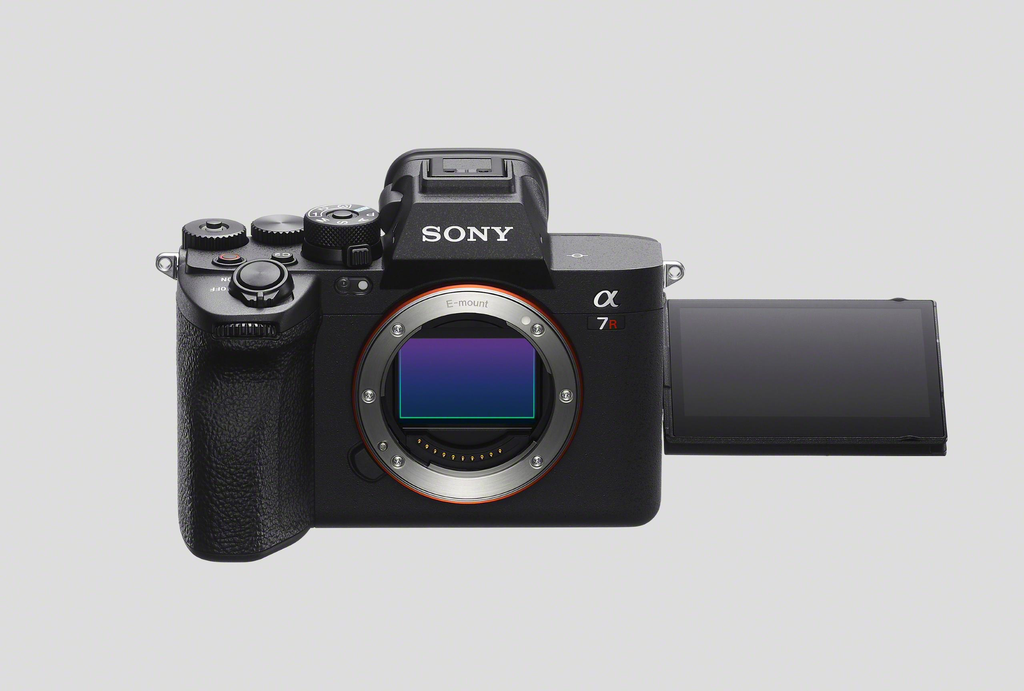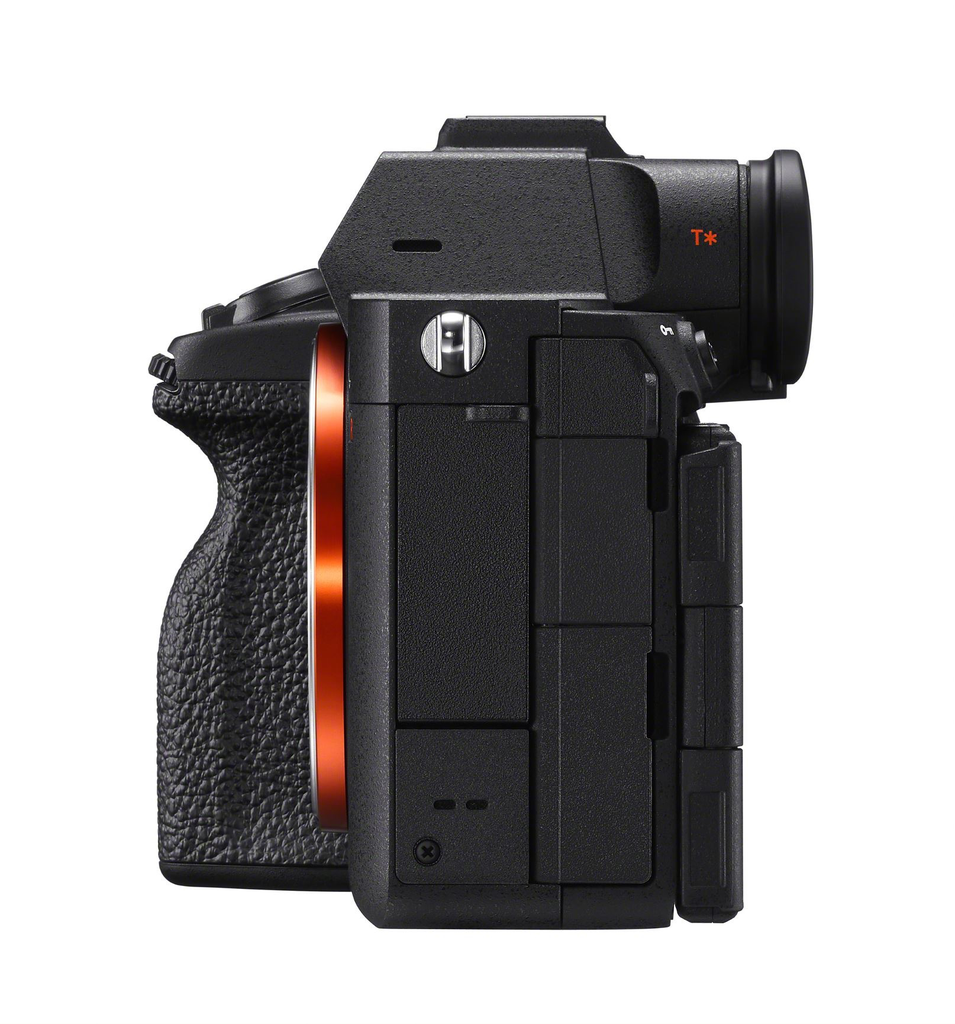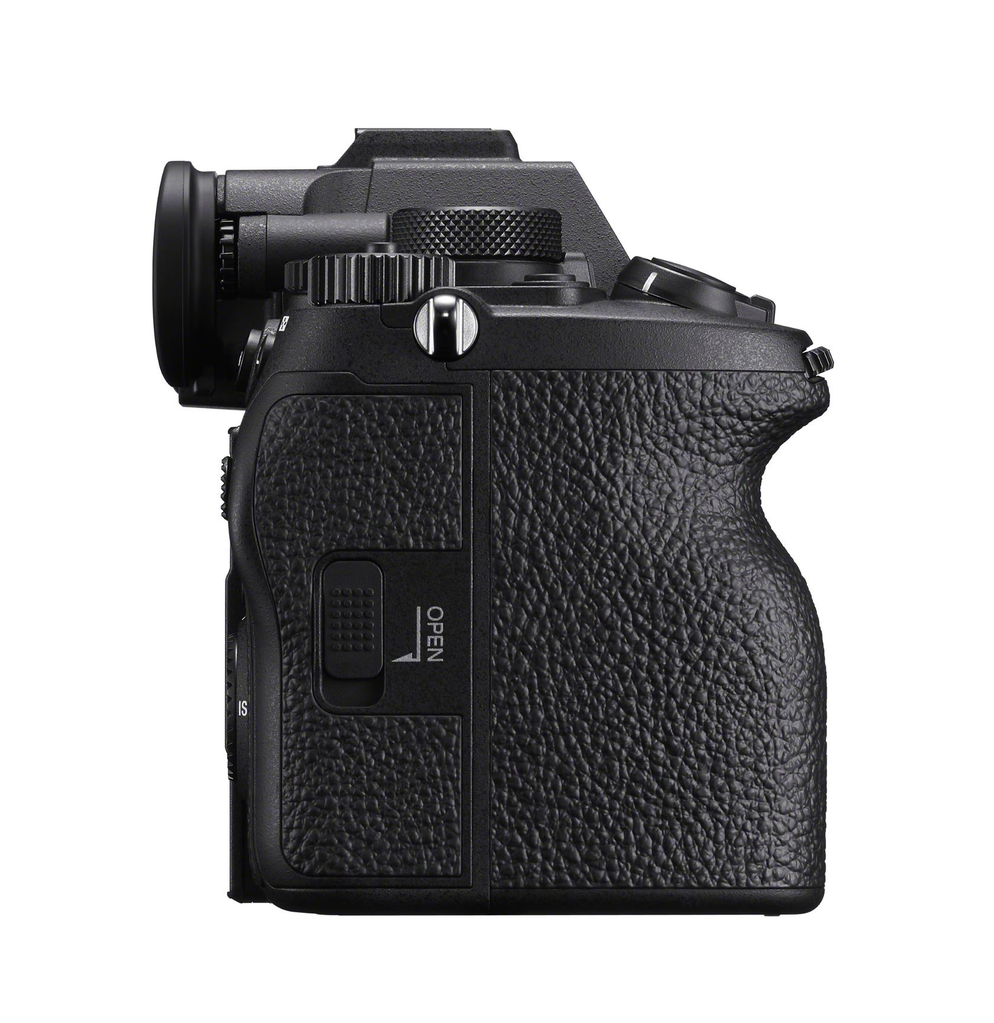 61MP Full-Frame Exmor R BSI CMOS Sensor
BIONZ XR & AI Processing Unit
AI-Based Real-Time Tracking AF System
8K 24p/4K 60p/FHD 120p/10-Bit Video
4K 16-Bit Raw Output; S-Log3/S-Cinetone
9.44m-Dot EVF with 120 fps Refresh Rate
3.2" 4-Axis Multi-Angle Touchscreen LCD
10 fps Shooting with AF/AE Tracking
8-Stop 5-Axis Image Stabilization
Dual CFexpress Type A/SD Card Slots
ALPHA 7R V

This camera features evolved imaging intelligence that brings out the best in your photos and videos, while the full-frame sensor gives you the freedom to create beautiful compositions with ease.

A whole new level of camera intelligence

The new Sony Alpha 7R V Full-frame Mirrorless Interchangeable Lens Camera is a state-of-the-art camera that uses AI processing to dramatically improve subject recognition accuracy. With a full-frame sensor and interchangeable lens system, this camera is perfect for capturing high-quality images and videos. The expanded subject recognition means that you can now capture vehicles and insects with ease. Plus, the high resolution ensures that you'll always get crystal clear results.

AI processing unit for advanced subject recognition

With a full-frame sensor and ultra-fast image processing, it's capable of capturing stunning photos and videos. Plus, the dedicated AI processing unit ensures more accurate recognition of subjects, making it ideal for capturing a wide range of subjects. So whether you're shooting landscapes or portraits, the α7R V will help you capture amazing images that you'll be proud to share with others.

Human pose estimation

With a roughly 60% improvement in human eye recognition, you'll be able to capture images like never before. Additionally, the human pose estimation feature makes it possible to track a subject facing away from the camera or wearing a mask - perfect for those hard-to-capture moments.

Recognize a wider range of subjects

The α7R IV is the world's first1 35mm full-frame back-illuminated Exmor R CMOS image sensor with a resolution of 61.0 megapixels2. The redesigned 35mm full-frame Exmor R CMOS image sensor stacked structure with back-illuminated technology is made up of over 800 million effective pixels3, 4 and delivers outstanding image quality, low noise and wide dynamic range. With its built-in 5-axis stabilization system5, the α7R IV compensates for up to 5.5 shutter speed steps6 – making it easier to capture sharp images and smooth video while handheld or in low light conditions. The autofocus system has been upgraded as well, with real-time tracking now available for animals and birds7.

Improved accuracy of WB control

The all new Sony Alpha 7R V Full-frame Mirrorless Interchangeable Lens Camera is now available and features a 7R V's AWB (auto white balance) function that has evolved in tandem with the camera's AI capabilities! In addition to the Visible Light + IR sensor on the front of the body, the camera's AI processing unit helps to achieve more accurate white balance in difficult lighting, such as when the subject is in shadow. The new Sony Alpha 7R V is truly a masterpiece of engineering, allowing photographers to capture images with incredible detail and clarity. Order yours today and start capturing amazing photos and videos like never before!

A new high in α resolution

The Sony Alpha 7R V Full-frame Mirrorless Interchangeable Lens Camera gives you the power to shoot stunning photos and videos with ease. The advanced BIONZ XR processing engine delivers breathtaking detail in both stills and movies, while the 35mm full-frame back-illuminated Exmor R CMOS image sensor gives you beautiful results. With 61.0 million effective pixels, this camera is easy to use and captures amazing pictures and videos.

35mm full-frame image sensor with 61.0 effective megapixels

his powerful camera is packed with Sony's image sensor technologies, including effective noise reduction by its back-illuminated structure, plus gapless on-chip lenses, AR coating (anti-reflection seal glass), and the elimination of an optical low pass filter. With these innovative features, you'll be able to capture stunning photos and videos with incredible detail and clarity. You can also take advantage of the Alpha 7R V's Wi-Fi and NFC capabilities to easily share your photos and videos with your friends and family.

The latest BIONZ XR image processing engine

With its up to eight times the processing power of its predecessor, the new BIONZ XR processes huge volumes of image data while minimizing latency and markedly boosting the camera's movie and still-image processing power. This makes it ideal for capturing fast-moving subjects or for shooting 4K video.

Consistently accurate exposure and color

This camera comes with the latest BIONZ XR engine which results in better exposure control and color reproduction accuracy. Additionally, the new AE (auto exposure) algorithm is capable of detecting the skin area in faces and controlling exposure accordingly when shooting stills and movies.

Selectable RAW image sizes and quality​

With a 42.4 megapixel resolution, it is capable of capturing stunning photos and videos with incredible detail and clarity. Additionally, the α7R V now supports the lossless RAW format, with three selectable pixel counts - L (60M), M (26M), and S (15M). This makes it easier than ever to get the perfect shot, regardless of the lighting conditions or subject matter.

Advanced 5-axis in-body optical stabilization

Its 5-axis in-body optical stabilization is a real game-changer, allowing for incredibly sharp and clear photos even in low light or when zoomed in. Add to that its 8 steps of stabilization in the body, and you have a camera that is capable of capturing stunningly detailed images no matter the conditions.

Precise compensation at the single-pixel level​

The camera's 61.0 megapixel resolution sensor provides precise detection and control of your subject matter, allowing you to bring out the finest details in your photos and videos. The new stabilization algorithm provides even more precise stabilization, ensuring that your shots are always sharp and clear.

Creative Look supports varied expression

This powerful camera comes with 10 preset "looks" that you can use as-is or modify to suit your needs, giving you the power to fine-tune the mood of your images in-camera.

Pixel Shift Multi Shooting responds to changing conditions

Powered by a precision in-body image stabilization system control, the camera is able to take up to 16 pixel-shifted images and later composited using a computer to achieve outstanding resolution in a single image. Single-pixel level movements can be detected and compensated for by the PC software performing the compositing, making this camera perfect for capturing even the smallest details.

Real-time Recognition AF

The α7R V's AF system delivers dramatically enhanced overall performance, drawing on major advances in subject recognition technology. Deep learning technology supports powerful Real-time Recognition AF (autofocus) as well as more reliable Real-time Tracking which is supported by higher Fast Hybrid AF performance over a wider area. Whether you're shooting photos or videos, the α7R V will help you capture amazing images and video footage that you'll be proud to share with friends and family.

Faster, more precise wide-area AF

he powerful BIONZ XR engine and updated algorithms provide noticeably improved AF (autofocus) performance, while the high-density array of 693 phase-detection points covers approximately 79% of the image area. With its full-frame sensor, the Alpha 7R V produces stunning images with beautiful detail and clarity.

Accurate AF in low EV -4.0 light

With AF algorithms that enable high AF precision down to light levels as low as EV -4.0, you can be sure of getting great results even in low light or when using smaller apertures. The Focus Priority mode provides more reliable AF in tricky situations, while the advanced autofocus system ensures fast and accurate focus no matter what you're shooting.

Continuously shoot up to 583 compressed RAW images at 10 fps

The Sony Alpha 7R V is a high-end, full-frame mirrorless interchangeable lens camera that is capable of continuous shooting at up to 10 fps with full AF/AE tracking. This makes it an excellent choice for photographers who demand the very best in terms of speed and performance. The camera can shoot up to 583 compressed RAW images at this speed, making it one of the most powerful and versatile cameras on the market today.

Focus bracketing to capture the best shot

With its unique ability to automatically shoot up to 299 images with sequentially shifted focus points, it allows you to create stunningly detailed composites that would otherwise be impossible to capture.

Flicker suppression

With the "Anti-flicker shoot" mode, you can effectively suppress flicker from artificial lighting for stunning still shots. For movie shooting, the "Var Shutter" mode lets you fine-tune shutter speeds to match flicker rates, ensuring smooth, consistent footage.

Full-time DMF (direct manual focus)

It features AF-C or AF-S autofocus for stills, as well as a focus ring that can be rotated to switch to manual focus mode instantly. This makes it easy to change focus to a different subject on the fly, which is perfect for capturing those candid moments.

3.2 type high-detail LCD panel

This camera features a 3:2 aspect ratio LCD monitor with 2.1 million dots, touch operation and a wide color gamut (DCI-P3 equivalent), making it perfect for capturing stunning images and videos. An outdoor mode is also provided for clear visibility in bright outdoor settings.

QXGA viewfinder with the highest resolution in its class

With a 9.44 million-dot OLED electronic viewfinder, it offers a 1.6x improvement in resolution, 0.90x viewfinder magnification, and a 41° diagonal FOV. Additionally, the 120 fps setting minimizes motion blur for even more precise shots.

Fast Wi-Fi for PC tethering, FTP and smartphone transfers

With its built-in Wi-Fi, you can easily transfer data and communicate with others on the 2.4 GHz and 5 GHz32 bands. Plus, its 2x2 MIMO support provides fast and stable data transfer and reliable communication.

UVC/UAC support for high-quality webcam applications

The Sony α7R V is a full-frame mirrorless interchangeable lens camera that makes easy streaming in 4K possible with a UVC/UAC compatible smartphone or PC via USB connection. With its high-resolution sensor, the α7R V can be used as a high-resolution webcam, making it perfect for vlogging, live-streaming, and other content creation.

Sony's goal: zero environmental footprint

The camera is also designed to be environmentally friendly, with a "Road to Zero" project that aims to achieve a zero environmental footprint.

Applying our plan to the α7R V

The Sony Alpha 7R V also features unique non-plastic packaging made from plant-based materials, helping to reduce environmental stress.

Imaging Edge Desktop™

With Imaging Edge Desktop applications, you can control and monitor your shots live on your PC screen, making it easy to get the perfect photo every time.
Image Sensor
| | |
| --- | --- |
| Aspect Ratio | 3:2 |
| Anti-Dust System | Yes (Charge protection coating on Optical Filter and ultrasonic vibr ation mechanism) |
| Sensor Type | 35mm full frame (35.7 x 23.8 mm), Exmor R CMOS sensor |
| Number of Pixels (Effective) | Approx. 61.0 megapixels |
| Number of Pixels (total) | Approx. 62.5 megapixels |
Recording (still images)
| | |
| --- | --- |
| Recording Format | JPEG (DCF Ver. 2.0, Exif Ver. 2.32, MPF Baseline compliant), HEI F (MPEG-A MIAF compliant), RAW (Sony ARW 4.0 format compli ant) |
| Image Size (pixels) [3:2] | 35mm full frame L: 9504 x 6336 (60 M), M: 6240 x 4160 (26 M), S: 4752 x 3168 (15 M), APS-C M: 6240 x 4160 (26 M), S: 4752 x 316 8 (15 M) |
| Image Size (pixels) [16:9] | 35mm full frame L: 9504 x 5344 (51 M), M: 6240 x 3512 (22 M), S: 4752 x 2672 (13 M), APS-C M: 6240 x 3512 (22 M), S: 4752 x 267 2 (13 M) |
| Image Quality Modes | RAW (Compressed / Lossless Compressed (L / M / S) / Uncompre ssed), JPEG (Extra fine / Fine / Standard / Light), HEIF (4:2:0 / 4:2: 2) (Extra fine / Fine / Standard / Light), RAW & JPEG, RAW & HEIF |
| Picture Effect | |
| Creative Style | |
| Picture Profile | Yes (Off / PP1-PP11) Parameters: Black level, Gamma (Movie, Stil l, S-Cinetone, Cine1-4, ITU709, ITU709 [800%], S-Log2, S-Log3, H LG, HLG1-3), Black Gamma, Knee, Color Mode, Saturation, Color Phase, Color Depth, Detail, Copy, Reset |
| Dynamic Range Functions | Off, Dynamic Range Optimizer |
| 14bit RAW | Yes |
| Creative Look | ST, PT, NT, VV, VV2, FL, IN, SH, BW, SE, Custom Look (1-6) |
| Image size (pixels) [4:3] | 35mm full frame L: 8448 x 6336 (54 M), M: 5552 x 4160 (23 M), S: 4224 x 3168 (13 M), APS-C M: 5552 x 4160 (23 M), S: 4224 x 316 8 (13 M) |
| Image size (pixels) [1:1] | 35mm full frame L: 6336 x 6336 (40 M), M: 4160 x 4160 (17 M), S: 3168 x 3168 (10 M), APS-C M: 4160 x 4160 (17 M), S: 3168 x 316 8 (10 M) |
| Color Space | sRGB standard (with sYCC gamut), Adobe RGB standard and Re c. ITU-R BT.2100 standard (BT.2020 gamut). |
Recording (movie)
| | |
| --- | --- |
| Recording Format | XAVC S, XAVC HS |
| Video Compression | XAVC S: MPEG-4 AVC/H.264,XAVC HS: MPEG-H HEVC/H.265 |
| Audio Recording Format | LPCM 2ch (48kHz 16bit), LPCM 2ch (48kHz 24bit), LPCM 4ch (48kHz 24bit), MPEG-4 AAC-LC 2ch |
| Color Space | Rec. ITU-R BT.2100 standard compatible (BT.2020 gamut) |
| Picture Profile | Yes (Off / PP1-PP11) Parameters: Black level, Gamma (Movie, Stil l, S-Cinetone, Cine1-4, ITU709, ITU709 [800%], S-Log2, S-Log3, H LG, HLG1-3), Black Gamma, Knee, Color Mode, Saturation, Color Phase, Color Depth, Detail, Copy, Reset |
| Movie Functions | Audio Level Display, Audio Rec Level, PAL/NTSC Selector, Proxy Recording (1280 x 720 (Approx. 6 Mbps), 1920 x 1080 (Approx. 9 Mbps), 1920 x 1080 (Approx. 16 Mbps)), TC/UB, Auto Slow Shutte r, Gamma Disp. Assist, RAW Output(HDMI) |
| Creative Look | ST, PT, NT, VV, VV2, FL, IN, SH, BW, SE, Custom Look (1-6 |
| MOVIE RECORDING SYSTEM (XAVC HS 8K) | 7680 x 4320 (4:2:0, 10bit, NTSC) (Approx.): 24p (400 Mbps / 200 Mbps) , 7680 x 4320 (4:2:0, 10bit, PAL) (Approx.): 25p (400 M bps / 200 Mbps)] |
| MOVIE RECORDING SYSTEM (XAVC HS 4K) | 3840 x 2160 (4:2:0, 10bit, NTSC) (Approx.): 60p (150 Mbps / 75 M bps / 45 Mbps), 24p (100 Mbps / 50 Mbps / 30 Mbps), 3840 x 2160 (4:2:0, 10bit, PAL) (Approx.): 50p (150 Mbps / 75 Mbps / 45 Mbps), 3840 x 2160 (4:2:2, 10bit, NTSC) (Approx.): 60p (200 Mb ps / 100 Mbps), 24p (100 Mbps / 50 Mbps), 3840 x 2160 (4: 2:2, 10bit, PAL) (Approx.)): 50p (200 Mbps / 100 Mbps) |
| MOVIE RECORDING SYSTEM (XAVC S 4K) | 3840 x 2160 (4:2:0, 8bit, NTSC) (Approx.): 60p (150 Mbps), 3 0p (100 Mbps / 60 Mbps) 5 , 24p (100 Mbps / 60 Mbps), 3840 x 2160 (4:2:0, 8bit, PAL) (Approx.): 50p (150 Mbps), 25p (100 Mbp s / 60 Mbps),3840 x 2160 (4:2:2, 10bit, NTSC) (Approx.): 60p (200 Mbps), 30p (140 Mbps), 24p (100 Mbps), 3840 x 2160 (4:2:2, 10bit, PAL) (Approx.): 50p (200 Mbps), 25p (140 Mbps) |
| MOVIE RECORDING SYSTEM (XAVC S HD) | 1920 x 1080 (4:2:0, 8bit, NTSC) (Approx.): 120p (100 Mbps / 60 M bps), 60p (50 Mbps / 25 Mbps), 30p (50 Mbps / 16 Mbps), 24p (50 Mbps),1920 x 1080 (4:2:0, 8bit, PAL) (Approx.): 100p (100 Mbps / 60 Mbps), 50p (50 Mbps / 25 Mbps), 25p (50 Mbps / 16 Mbps),1920 x 1080 (4:2:2, 10bit, NTSC) (Approx.): 60p (50 Mbp s), 30p (50 Mbps), 24p (50 Mbps),1920 x 1080 (4:2:2, 10bit, PAL) (Approx.):50p (50 Mbps), 25p (50 Mbps) |
| MOVIE RECORDING SYSTEM (XAVC S-I 4K) | 3840 x 2160 (4:2:2, 10bit, NTSC) (Approx.): 60p (600 Mbps), 30p (300 Mbps), 24p (240 Mbps), 3840 x 2160 (4:2:2, 10bit, P AL) (Approx.): 50p (500 Mbps), 25p (250 Mbps) |
| MOVIE RECORDING SYSTEM (XAVC S-I HD) | 1920 x 1080 (4:2:2, 10bit, NTSC) (Approx.): 60p (222 Mbps), 30 p (111 Mbps), 24p (89 Mbps),1920 x 1080 (4:2:2, 10bit, PAL) (Approx.): 50p (185 Mbps), 25p (93 Mbps) |
| SLOW & QUICK MOTION (SHOOTING FRAME RATE) | NTSC mode: 1fps,2fps,4fps,8fps,15fps,30fps,60fps,120fps, PAL mode: 1fps,2fps,3fps,6fps,12fps,25fps,50fps,100fps |
| SOFT SKIN EFFECT | Yes |
USB Streaming
| | |
| --- | --- |
| VIDEO DATA FORMAT | MJPEG, YUV420 |
| Video Resolution | 3840 x 2160 (15p / 12.5p) / 1920 x 1080 (60p / 50p / 30p / 25p) / 1 280 x 720 (30p / 25p) |
| AUDIO DATA FORMAT | LPCM 2 ch (16 bit 48 kHz) |
| SIMULTANEOUS INTERNAL RECORDING | Yes |
Recording System
| | |
| --- | --- |
| Location information Link from smartphone | Yes |
| Media | SD memory card, SDHC memory card (UHS-I/II compliant), SDXC memory card (UHS-I/II compliant), CFexpress Type A memory card |
| Memory Card Slot | SLOT1: Multi slot for SD (UHS-I/II compliant) memory card / CFexp ress Type A card, SLOT2: Multi slot for SD (UHS-I/II compliant) me mory card / CFexpress Type A card |
| Recording mode on 2 memory cards | Simult. Rec, Sort, Auto Switch Media, Copy |
Noise Reduction
| | |
| --- | --- |
| Noise Reduction | Long exposure NR: On/Off, available at shutter speeds longer than 1 s, High ISO NR: Normal / Low / Off |
White Balance
| | |
| --- | --- |
| White Balance Modes | Auto / Daylight / Shade / Cloudy / Incandescent / Fluorescent / Flas h / Underwater / Color Temperature (2500 to 9900 K) & color filter / Custom |
| Shutter AWB Lock | Yes (Shut. Halfway Down / Cont. Shooting / Off) |
Focus
| | |
| --- | --- |
| Focus Type | Fast Hybrid AF (phase-detection AF / contrast-detection AF) |
| Focus Mode | AF-A (Automatic AF), AF-S (Single-shot AF), AF-C (Continuous A F), DMF (Direct Manual Focus), Manual Focus |
| Focus Area | Wide / Zone / Center Fix / Spot / Expand Spot / Tracking |
| Focus Sensor | Exmor R CMOS sensor |
| FOCUS POINT | 35mm full frame: 693 points (phase-detection AF), APS-C mode wi th FF lens: 693 points (phase-detection AF), with APS-C lens: 567 points (phase-detection AF) / 25 points (contrast-detection AF) |
| Focus Sensitivity Range | EV-4 to EV20 (ISO100 equivalent with F2.0 lens attached) |
| Other Features | Predictive control, Focus lock, AF Track Sens. (Still), AF Subj. Shift Sensitivity (Movie), AF Transition Speed (Movie), Switch V/H AF Ar ea, AF Area Regist., Circ. of Focus Point, Focus Map (Movie), AF Assist (Movie) |
| AF illuminator | Yes (with Built-in LED type) |
| AF Illuminator range | Approx. 0.3 m - approx. 3.0 m (with FE 28-70 mm F3.5-5.6 OSS le ns attached) |
| Eye AF / Subject Recognition AF | Human (Right/Left Eye Select) / Animal (Right/Left Eye Select) / Bir d / Insect / Car・Train / Airplane |
Exposure
| | |
| --- | --- |
| Exposure Compensation | +/- 5.0EV (1/3 EV, 1/2 EV steps selectable) |
| Metering Type | 1200-zone evaluative metering |
| Metering Sensor | Exmor R CMOS sensor |
| METERING SENSITIVITY | EV-3 to EV20 (ISO100 equivalent with F2.0 lens attached) |
| Metering Mode | Multi-segment, Center-weighted, Spot (Standard / Large), Entire Sc reen Avg., Highlight |
| Exposure Bracketing | Bracket: Cont., Bracket: Single, 2/3/5/7/9 frames selectable. (Ambi ent light, Flash light) |
| AE Lock | Locked when shutter button is pressed halfway. Available with AE l ock button. (On/Off/Auto) |
| EXPOSURE MODES | AUTO (iAuto), Programmed AE (P), Aperture priority (A), Shutter-s peed priority (S), Manual (M), Movie (Programmed AE (P) / Apertur e priority (A) / Shutter-speed priority (S) / Manual (M) / Flexible Ex p. Mode), Slow & Quick Motion (Programmed AE (P) / Aperture pri ority (A) / Shutter-speed priority (S) / Manual (M) / Flexible Exp. Mo de) |
| ISO Sensitivity (Recommended Exposure Index) | Still images: ISO 100-32000 (ISO numbers up from ISO 50 to ISO 102400 can be set as expanded ISO range.), AUTO (ISO 100-128 00, selectable lower limit and upper limit), Movies: ISO 100-32000 equivalent, AUTO (ISO 100-12800, selectable lower limit and uppe r limit) |
| Anti-Flicker Shoot. | Yes |
Viewfinder
| | |
| --- | --- |
| Viewfinder Type | 1.6 cm (0.64 type) electronic viewfinder (Quad-XGA OLED) |
| Field Coverage | 100% |
| Magnification | Approx. 0.90x (with 50 mm lens at infinity, -1 m) |
| Eye Point | Approx. 25 mm from the eyepiece lens, 21 mm from the eyepiece f rame at -1 m-1 (CIPA standard) |
| Number of Dots | 9 437 184 dots |
| Dioptre Adjustment | -4.0 to +3.0 m |
| Finder Frame Rate Selection | NTSC mode: STD 60 fps / HI 120 fps, PAL mode: STD 50 fps / HI 100 fps |
| Display Function | Histogram, Real-time image-adjustment display, Digital level gaug e, Grid line, Focus check, Peaking MF, Zebra, Movie marker, Emph asized display during REC |
LCD Screen
| | |
| --- | --- |
| Monitor Type | 8.0 cm (3.2-type) type TFT |
| Number of Dots | 2 095 104 dots |
| Touch Panel | Yes |
| Brightness Control | Manual (5 steps between -2 and +2), Sunny Weather mode |
| Adjustable Angle | Opening Angles (approx.): Up 98°, down 40°, side 180°, rotation 27 0° |
| Focus Magnifier | Yes, Focus Magnifier (35mm full frame: 4.7x / 9.3x, APS-C: 3.1x / 6.1x) |
Shutter
| | |
| --- | --- |
| type | Electronically-controlled, vertical-traverse, focal-plane type |
| Shutter Type | Mechanical shutter / Electronic shutter |
| SHUTTER SPEED | Still images: 1/8000 to 30 s, Bulb, Movies (NTSC mode): 1/8000 to 1/4 (1/3 steps), up to 1/60 in AUTO mode (up to 1/30 in Auto slow s hutter mode), Movies (PAL mode): 1/8000 to 1/4 (1/3 steps), up to 1/50 in AUTO mode (up to 1/25 in Auto slow shutter mode) |
| Flash Sync. Speed | 1/250 s (35 mm full frame), 1/320 s (APS-C) |
| Electronic Front Curtain Shutter | Yes (ON/OFF) |
| Silent Shooting | Yes (ON/OFF) |
Flash Control
| | |
| --- | --- |
| Control | Pre-flash TTL |
| Flash compensation | +/- 3.0 EV (switchable between 1/3 and 1/2 EV steps) |
| Flash Modes | Flash off, Autoflash, Fill-flash, Slow Sync., Rear Sync., Red-eye re duction (on/off selectable), Wireless, Hi-speed sync. |
| External Flash Compatibility | Sony α System Flash compatible with Multi Interface Shoe, attach t he shoe adaptor for flash compatible with Auto-lock accessory sho e |
| FE Level Lock | Yes |
| Wireless Control | Yes (Light signal: Available with Fill-flash, Slow Sync., Hi-speed sy nc. / Radio signal: Available with Fill-flash, Rear Sync., Slow Sync., Hi-speed sync.) |
Drive
| | |
| --- | --- |
| Self-timer | 10 s delay / 5 s delay / 2 s delay / Continuous self-time / Bracketing self-timer / Self-timer (Movie) |
| DRIVE MODES | Single Shooting, Continuous shooting (Hi+/Hi/Mid/Lo selectable), S elf-timer,Self-timer (Cont.), Bracket: Single, Bracket: Cont., Focus Bracket, White Balance bracket, DRO bracket |
| Continuous Drive Speed (approx. max.) | Continuous shooting: Hi+: 10 fps, Hi: 8 fps, Mid: 6 fps, Lo: 3 fps |
| No. of recordable frames (approx.) | JPEG Extra fine L: over 1000 frames, JPEG Fine L: over 1000 fram es, JPEG Standard L: over 1000 frames, RAW: 583 frames, RAW & JPEG: 184 frames, RAW (Lossless Compressed): 547 frames, R AW (Lossless Compressed) & JPEG: 159 frames, RAW (Uncompr essed): 135 frames, RAW (Uncompressed) & JPEG: 88 frames |
| Pixel Shift Multi Shooting | Yes (4 shots / 16 shots) |
Size & Weight
| | |
| --- | --- |
| Dimensions (W x H x D) | Approx. 131.3 x 96.9 x 82.4 mm, Approx. 131.3 x 96.9 x 72.3 mm (FROM GRIP TO MONITOR)(approx. 5 1/4 x 3 7/8 x 3 1/4 inches, Approx. 5 1/4 x 3 7/8 x 2 7/8 inches (FROM GRIP TO MONITOR)) |
| SUPPLIED ACCESSORIES | Rechargeable Battery NP-FZ100, Battery Charger BC-QZ1, Power cor d, Cable Protector, Shoulder strap, Body cap, Accessory shoe cap, Ey epiece cup, USB-A to USB-C cable (USB 3.2) |
What's in the Box
| | |
| --- | --- |
| Dimensions (W x H x D) | Approx. 131.3 x 96.9 x 82.4 mm, Approx. 131.3 x 96.9 x 72.3 mm (FROM GRIP TO MONITOR)(approx. 5 1/4 x 3 7/8 x 3 1/4 inches, Approx. 5 1/4 x 3 7/8 x 2 7/8 inches (FROM GRIP TO MONITOR)) |
| Weight (with battery and memory card included) | Approx. 723 g (approx. 1 lb 9.6 oz) |
Other Features
| | |
| --- | --- |
| Clear Image Zoom | Still images: Approx. 2x, Movies: Approx. 1.5x (4K / 8K), Approx. 2 x (HD) |
| Digital Zoom | Smart zoom (Still images): 35mm full frame: M: approx. 1.5x, S: ap prox. 2x / APS-C: S: approx. 1.3x, Digital zoom (Still images): 35 m m full frame: L: approx. 4x, M: approx. 6.1x, S: approx. 8x,APS-C: M: approx. 4x, S: approx. 5.3x,Digital zoom (Movie): 35mm full fra me: approx. 4x ,APS-C: approx. 4x |
| Face Detection | Modes: Face/Eye Priority in AF, Face Priority in Multi Metering, Re Gist. Faces Priority |
Image Stabilization
| | |
| --- | --- |
| type | Image Sensor-Shift mechanism with 5-axis compensation (Compe nsation depends on lens specifications) |
| Compensation Effect | 8.0 stops (based on CIPA standard. Pitch/yaw shake only. With FE 50mm F1.2 GM lens mounted. Long exposure NR off.) |
Accessibility
| | |
| --- | --- |
| Screen Reader | -, Yes (Language: English, Speed: 7 steps, Volume:16 steps) |
Print
| | |
| --- | --- |
| Compatible Standards | Exif Print, Print Image Matching III |
Custom function
| | |
| --- | --- |
| type | Custom key settings, Programmable Setting (Body 9 sets /memory card 12 sets), My Dial Settings, My Menu, Reg Cust Shoot Set |
Lens Compensation
| | |
| --- | --- |
| Setting | Peripheral Shading, Chromatic Aberration, Distortion, Breathing (M ovie) |
Others
| | |
| --- | --- |
| Operating Temperature | 0 - 40 ℃ / 32 - 104 °F |
Audio
| | |
| --- | --- |
| Microphone | Built-in, stereo |
| Speaker | Built-in, monaural |
Interface
| | |
| --- | --- |
| Multi Interface Shoe | Yes (with Digital Audio Interface) |
| Wireless LAN(built-in) | Yes (Wi-Fi Compatible, IEEE 802.11a/b/g/n/ac (2.4GHz band/5GHz band)) |
| PC Interface | Mass-storage / MTP |
| Multi / Micro USB Terminal | Yes |
| Bluetooth | Yes (Bluetooth Standard Ver. 5.0 (2.4 GHz band)) |
| Mic Terminal | Yes (3.5 mm Stereo minijack) |
| Sync terminal | Yes |
| Headphone Terminal | Yes (3.5 mm Stereo minijack) |
| Vertical Grip Connector | Yes |
| Functions | FTP Transfer Func.(Wired LAN(USB-LAN), USB Tethering, Wi-Fi), View on Smartphone, Remote control via Smartphone, PC Remot e, BRAVIA Sync (Control for HDMI), PhotoTV HD |
| USB Type-C Terminal | Yes (SuperSpeed USB 10 Gbps (USB 3.2) compatible) |
Playback
| | |
| --- | --- |
| Photo Capture | Yes |
| Modes | Single (with or without shooting information Y RGB histogram & hig hlight / shadow warning), Index view, Enlarged display mode (L: 1 8.6x, M: 12.2x, S: 9.3x), Auto Review, Image orientation, Folder sel ection (Date / Still / Movie), Protect, Rating, Display as Group, Shot Mark (Movie), Divider Frame,Crop |
Power
| | |
| --- | --- |
| USB Power Supply | Yes (Available with USB Type-C Terminal. USB Power Delivery co mpatible) |
| Supplied Battery | One rechargeable battery pack NP-FZ100 |
| Battery Life (Still Images) | Approx. 440 shots (Viewfinder) / Approx. 530 shots (LCD monitor) (CIPA standard) |
| Battery Life (Movie, actual recording) | Approx. 90 min (Viewfinder) / Approx. 100 min (LCD monitor) (CIP A standard) |
| Battery Life (Movie, continuous recording) | Approx. 145 min (Viewfinder) / Approx. 150 min (LCD monitor) (CIP A standard) |
| Internal Battery Charge | Yes (Available with USB Type-C Terminal. USB Power Delivery co mpatible) |
| Power consumption with Viewfinder | Still images: Approx. 4.5 W (with FE 28-70 mm F3.5-5.6 OSS lens attached), Movies: Approx. 6.8 W (with FE 28-70 mm F3.5-5.6 OS S lens attached) |
| Power consumption with LCD screen | Still images: Approx. 3.7 W (with FE 28-70 mm F3.5-5.6 OSS lens attached), Movies: Approx. 6.6 W (with FE 28-70 mm F3.5-5.6 OS S lens attached) |
Lens
⚠️ WARNING: This product can expose you to chemicals including Lead, which is known to the State of California to cause cancer and birth defects and/or other reproductive harm. For more information go to www.P65Warnings.ca.gov