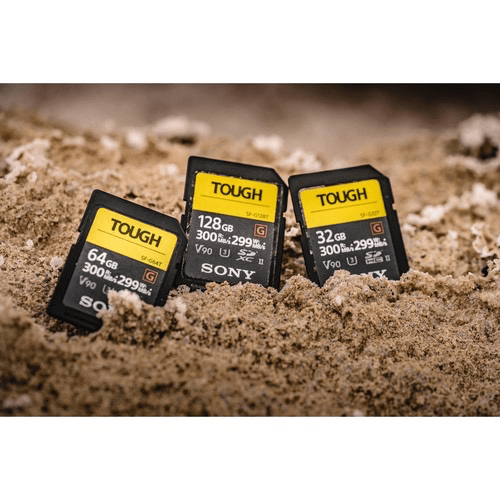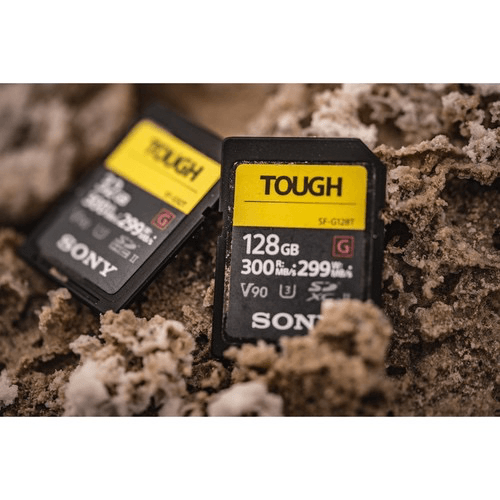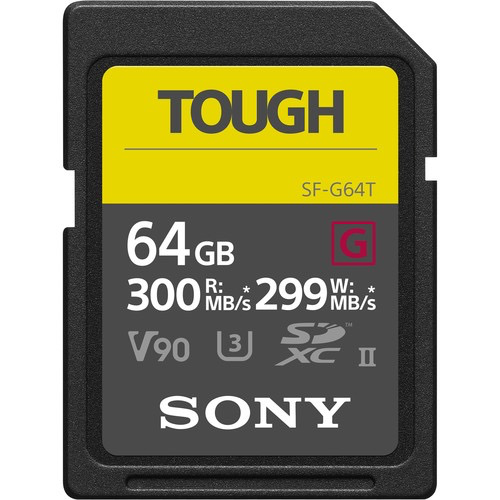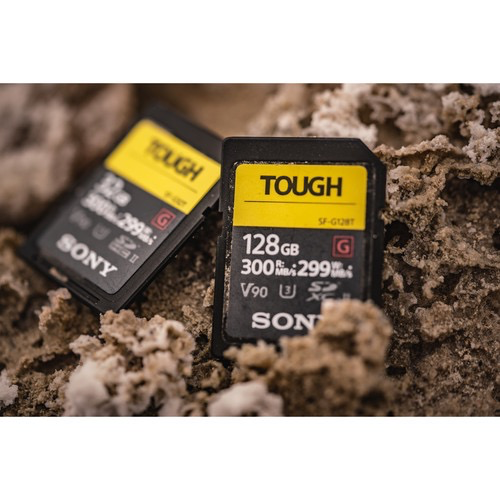 TOUGH specification with crush and shock-proof design
Rib-less and switchless design enhances reliability eliminating risks of breakage
Highest level (IP68) dust and water proofing
The world's fastest write speed at up to 299 MB/s for burst and high-resolution imaging
SD Scan Utility monitors the condition of your card and lets you know before it has reached its write cycle limit.
No challenge too great for the engineered toughest SD card

The Sony 64 GB TOUGH G Series UHS-II SDXC Memory Card is built to withstand even the most extreme conditions. Whether you're shooting photos in freezing cold temperatures or capturing video in blazing hot desert conditions, this memory card can take it all. Plus, it's waterproof, shockproof, and x-ray proof, so you can rest assured that your precious memories are safe and sound no matter what mother nature throws your way.

Bodyguard-tough to protect your data

This card is constructed with ultra-strong resin-moulded housing that makes it 18x more resistant to bending than the SD card standard. With such a tough build, you can rely on this memory card for high-stakes shooting in harsh environments and weather conditions.

Arm yourself against mud, muck, and mayhem

This card is dust, dirt, water, mud and grime proof, so you can have confidence knowing your images and videos are safe even in the most extreme environments.

Rock-solid durability and protection from impact

Made from rock-solid materials in one-piece moulding, this new SD card can withstand drops up to 5 m, making it ideal for use in challenging environments.

World's first one-piece moulded structure creates one singularly rugged SD card

This memory card is designed with professional photographers in mind, with an innovative one-piece moulded design and high-durability materials. The SF-G series TOUGH specification cards give professional photographers peace of mind and protection wherever their shoots take them.

World's first ribless SD card for added toughness

This card is specially designed to be more resistant to damage, with no fragile connector ribs or write-protect switch that can easily break and cause data loss.

Ultra-fast write speeds for continuous shooting

With a write speed of up to 299 MB/s, it's perfect for continuous shooting and fast buffer clearing, making it an ideal choice for professional photographers and videographers.

Faster back-up and data transfer

With up to 300 MB/s read speeds, this card is one of the fastest on the market, making it ideal for photographers and videographers who need to transfer data quickly and easily. The UHS-II interface ensures compatibility with a wide range of devices, making this card the perfect choice for anyone who needs high-speed data storage.

For high-resolution video

With support for the Video Speed Class - V90, this card is able to provide stable 4K recording and playback.

Check and monitor your card condition

With Sony's exclusive Media Scan Utility, you'll always know when your memory card is about to reach its limit, so you can back up your data before it's too late.

Recover lost files

From accidental deletion to corrupt files, this memory card has you covered with dedicated software that recovers lost files quickly and easily.
CARD TYPE
CARD TYPE
SDXC
QUANTITY
1
STORAGE CAPACITY
64GB
BUS TYPE
UHS-II
SPEED CLASS
10
READ SPEED
MAXIMUM: 300 MB/s
WRITE SPEED
Maximum: 299 MB/s

Minimum: 90 MB/s

DURABILITY
Dustproof, Magnet-Proof, Shockproof, Static Proof, Temperature Extremes, UV Light Resistant, Waterproof, X-Ray Proof
⚠️ WARNING: This product can expose you to chemicals including Lead, which is known to the State of California to cause cancer and birth defects and/or other reproductive harm. For more information go to www.P65Warnings.ca.gov