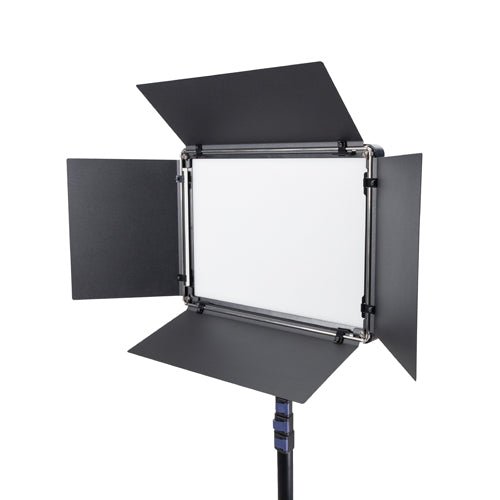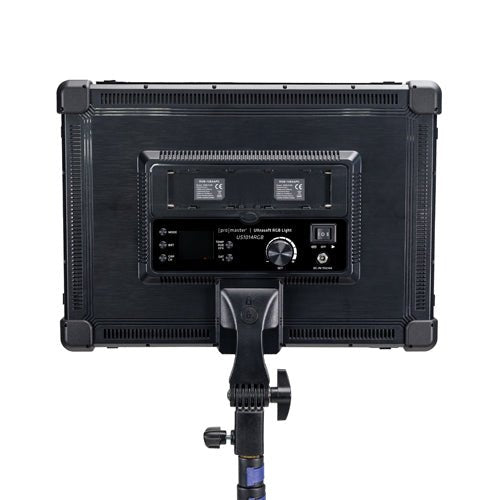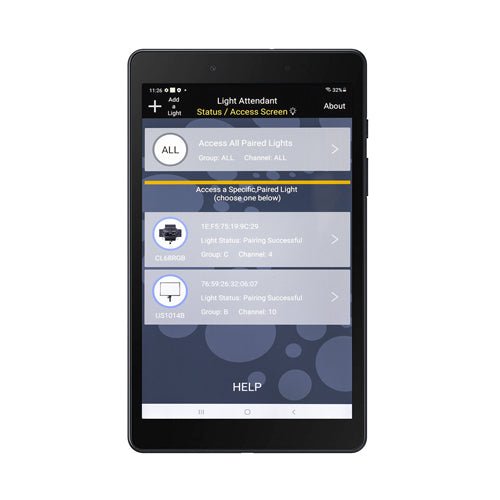 -Ultrasoft LED design emits incredibly soft light without the need for modifiers
-RGB mode with 360 colors and saturation control
-Variable color temperature range of 2500K – 8500K
-Special effects mode with 19 scenes
-Excellent color rendition (TLCI 98+ / CRI 96+)
-Wide 120° beam angle
-Three power options: AC/ NP-F batteries and D-Tap (batteries sold separately)
-Works wirelessly with the free Light Attendant app available for iOS and Android
Overview

Introducing the Promaster Ultrasoft RGB LED Light, a revolutionary lighting solution that combines the best of two technologies to create a truly exceptional product. Perfect for photographers and videographers, this light guarantees to elevate your work to new heights. One of the standout features of the Ultrasoft US1014RGB LED Light is its unparalleled softness. With no need for additional modifiers, this light provides a stunningly soft and beautiful illumination that will make your subjects look their absolute best. Say goodbye to harsh shadows and unflattering lighting – with the Ultrasoft RGB LED Light, every shot is a masterpiece. But that's not all. Equipped with RGBWW LEDs, this light offers an impressive range of 360 hues and saturation control, allowing you to unleash your creativity and add a touch of magic to your projects. From vibrant, eye-catching colors to subtle and nuanced tones, the possibilities are endless. And with a wide bi-color range of 2,500K – 8,500K, you have complete control over the warmth and coolness of your lighting. One of the standout features of the Ultrasoft US1014RGB LED Light is its wireless control capability. Using the ProMaster Light Attendant app, you can effortlessly control every aspect of your lighting setup from your phone or tablet. The app connects seamlessly to the lights, ensuring a quick and hassle-free experience. It's time to say goodbye to cumbersome cables and hello to the convenience of wireless control. With a 120° beam angle, this light covers a wide area, making it perfect for both close-up shots and tight spaces. You can easily adjust the 4-panel barn doors to precisely control and feather the light's beam, giving you even more flexibility and creative possibilities.
Photometrics
5600K / 100% brightness

3,600 lux at 1.64' / 0.5 m

1,040 lux at 3,28 ' / 1 m

160 lux at 9.84' / 3 m

Luminous Flux (lumens)
2,600 lm +/- 250 lm
Brightness Adjustment
1 - 100%
Color Temperature
2,500K - 8,500K +/- 200K
Color Accuracy
TLCI 98+ & CRI 96+
Beam Angle
120-degrees
Batteries
NP-F x 2 or D-Tap x 1 (not included)
Fixture Mount
5/8" Receiver
Wireless Connection
Bluetooth (registered trademark)
Controller
ProMaster Light Attendant app
Groups
A, B, & C + All
Channels
1 - 15 + All
Operational Range
49' / 15
Maximum Power Consumption
50 W
Cooling System
Passive
Working Temperature
32 - 95 F / 0 - 35 F
Dimensions:
15 1/8" x 10 3/4" x 2" | 38.4 cm x 27.3 cm x 5.1 (without barn doors or light stand adapter)

15 1/8" x 14 3/4" x 2 7/8" | 38.4 cm x 37.5 cm x 7.3 cm (with barn doors and light stand adapter)

Weight:
3 lbs 5 oz | 1.5 kg (without barn doors or light stand adapter)

5 lbs | 2.27 kg (with barn doors and light stand adapter)
⚠️ WARNING: This product can expose you to chemicals including Lead, which is known to the State of California to cause cancer and birth defects and/or other reproductive harm. For more information go to www.P65Warnings.ca.gov