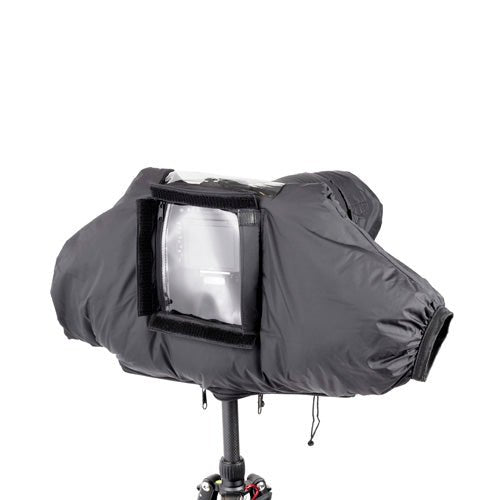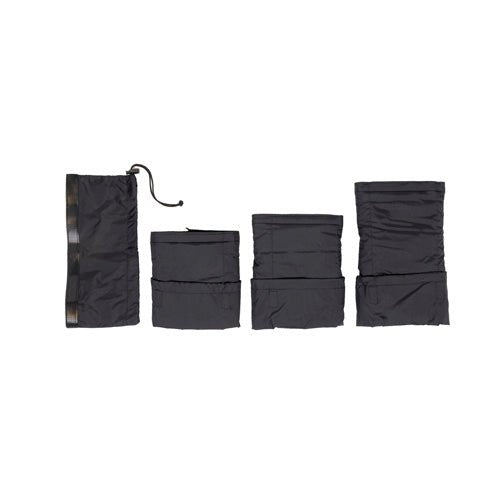 Works with most interchangeable lens cameras
Nylon shell is wind and water resistant
Cotton batting provides insulation and warmth
Soft/ comfortable fleece-lined interior
3 lens port sizes to choose from (all included)
Clear windows show the camera's LCD screen and top controls
Bottom opening allows access to a tripod
Overview

Are you sick of having to leave your photography behind when the wind and rain gets too much? With the PROMASTER COLD WEATHER CAMERA PARKA, you don't have to worry about nature's tricky ways any more. Now, you can stay out no matter the weather: wind, rain, snow or hail – capture the perfect shot with the PROMASTER COLD WEATHER CAMERA PARKA! The parka is created with a durable Pu-coated nylon shell which is water and wind resistant, while the cotton batting insulation traps the warmth. Plus, two self-sealed windows allow you to compose and operate the controls on your camera with ease. A fleece-lined inner lining is also provided for an extra soft and comfortable feeling. And that's not all. The PROMASTER COLD WEATHER CAMERA PARKA also comes with three lens ports that will fit most 70-200mm f2.8 lenses, 150-600mm lenses, and 200-600mm lenses. You can even customize the lens port lengths up to fourteen inches with an adjustable nylon front. And with the drawstring feature of the lens port cinching against the lens or lens hood, you can keep the heat in and the water out! So don't let the elements stop you from getting the perfect shot. Embrace the weather and explore your inner photographer with the PROMASTER COLD WEATHER CAMERA PARKA!
Lens port sizes
Small = Approximately 9 1/2" long when fully extended. Can be shortened to as little as 6 1/4". Diameter is approximately 3 7/8".

Medium = Approximately 11 1/2" long when fully extended. Can be shortened to as little as 7 1/2". Diameter is approximately 4 1/4"

Large = Approximately 14" long when fully extended. Can be shortened to as little as 10". Diameter is approximately 4".

Lens port dimensions are listed as "approximate" for a few reasons. The use of hook & loop fasteners and drawstrings allows some adjustments to their size. The use of multiple panels for batting creates some "give" to the fabric. These ports can also be scrunched-up to a shorter length then the shortened size listed above when they are folded-over.

Weight of kit:
1 lb 2 oz / 510 g (includes all components and storage pouch)
⚠️ WARNING: This product can expose you to chemicals including Lead, which is known to the State of California to cause cancer and birth defects and/or other reproductive harm. For more information go to www.P65Warnings.ca.gov