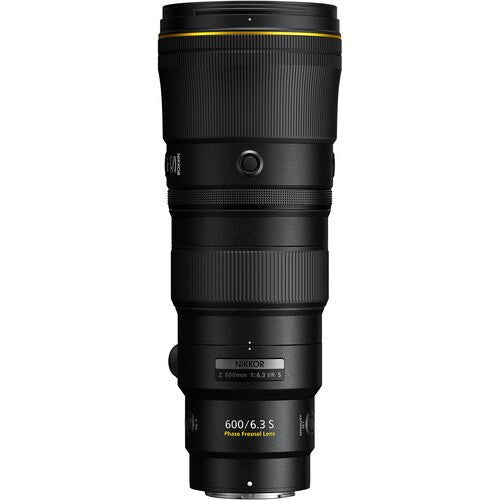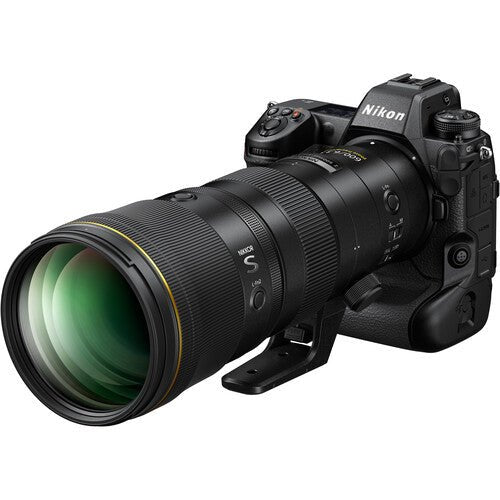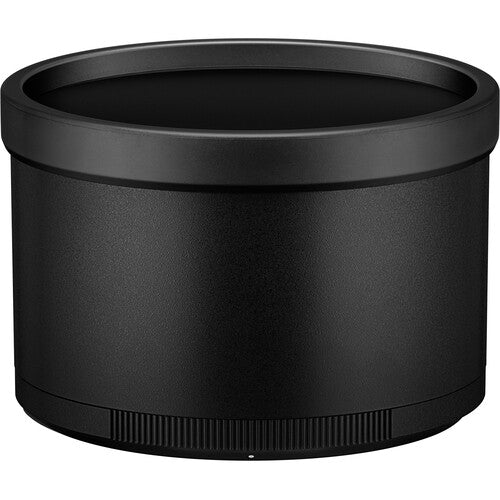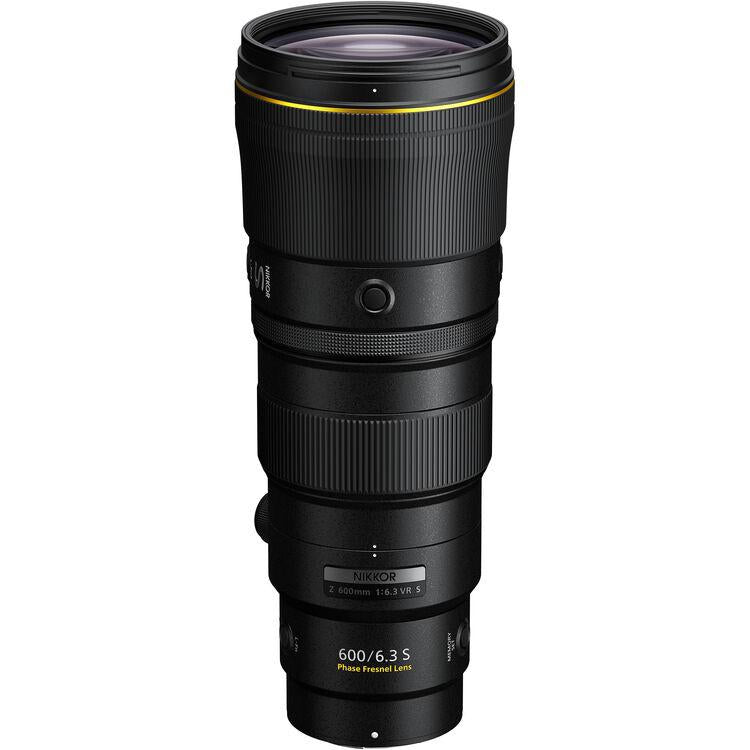 Full-Frame | f/6.3 to f/32
Handheld Super-Telephoto Prime
Multi-Focus System
5.5-Stop VR Image Stabilization
Customizable Control Ring
Size-Reducing Phase Fresnel Element
ED and SR Elements
Nano Crystal Coating
Dust- and Water-Resistant Design
A handheld 600mm prime in a class of its own.

Get ready to take your photography to the next level with the stunning new Nikon NIKKOR Z 600mm f/6.3 VR S Lens! This lens is the lightest and most portable 600mm prime lens Nikon has ever created, making it the perfect choice for on-the-go wildlife, motorsport, and aircraft photography. The size-reducing Phase Fresnel (PF) lens element allows you to get beautiful close-up shots with astonishing clarity. Capture your wildest moments with the highest level of mobility and spontaneity – now available with the amazing NIKKOR Z 600mm f/6.3 VR S Lens. This incredible lens is sure to be the envy of all your friends!

So much power in your hands.

Imagine taking barrier-breaking images and videos from any angle without lugging around a tripod or monopod. This lens delivers on that promise, allowing you to capture faraway subjects with lightning-quick speed and impressive precision. It's the perfect tool for nature photographers, allowing you to stay in the moment and capture animals in their natural habitat without any of the traditional constraints. Whether you're frozen in time by the grace of a gazelle or tracking the progress of a group of hawks across the sky, this Nikon lens will ensure the quality of your images stays intact.

Just 11 inches long and 3 pounds.

A perfect travel companion, this lightweight lens offers the perfect combination of portability and function, allowing you to take beautiful shots anywhere. From panoramic vistas to majestic mountain ranges or extraordinary wildlife, nothing this exciting should ever be missed!

Outstanding balance & handling.

The center of gravity is shifted toward the camera, giving you more speed and control when panning and making the lens feel even lighter.

600mm draws you in.

Ideal for motorsport enthusiasts, this lens captures every exhilarating moment with precision and clarity. Whether you're capturing the blazing speed of a Formula One race-car or the intense competition of a motocross event, the NIKKOR Z 600mm f/6.3 VR S Lens ensures that you never miss a single detail. Say goodbye to compromising on image quality and embrace the power of capturing professional-grade shots from a distance.

Get even closer.

Add an optional Z series teleconverter and extend your view up to 1200mm. Switch to DX Crop Mode in-camera for an additional 1.5x boost to your angle of view.

Stunning clarity down to the smallest detail.

Specialized ED and SR lens elements prevent light dispersion, giving you the sharpest images possible. With this lens, you'll be able to capture even the finest of details and intricate patterns – like the feathers of birds – with breathtaking lifelike accuracy. Have confidence in the quality of your results every time you take out this lens.

Cut through backlighting and glare.

Nikon's anti-reflection coating, Nano Crystal Coat (N), greatly reduces ghosting and flare, even against bright backgrounds with direct sunlight.

Fast, reliable autofocus.

Boasting near-silent AF drive system powered by the Nikon Stepping Motor (STM), this lens is designed to provide photographers with accurate and responsive autofocus that won't let you miss a single moment. Perfect for capturing stunning images of fast-paced action, this amazing lens ensures that you can get accuracy and crisp clarity no matter what you're photographing. Whether you're photographing birds in flight or capturing every detail of motorsports, the Nikon NIKKOR Z 600mm f/6.3 VR S Lens offers you the chance to get the perfect shot the first time, every time.

Up to 6.0 stops of VR.

Built-in optical VR achieves an effect of shooting up to 6.0 stops* faster on a camera that supports Synchro VR and 5.5 stops* faster on all other Z series cameras.

Versatile video performance.

With advanced innovative technologies, this lens offers powerful support for professional-level creative work. Enjoy virtually no mechanical noise and sharply focused images with continuous AF to help you track subjects. And aperture adjustments made during capturing are always smooth, steady, and stepless thanks to the precision electromagnetic diaphragm – making this lens perfect for capturing exact moments.

Advanced weather sealing.

Rubber gaskets keep dust, dirt and moisture out of moving parts, including the lens mount.

Recall stored focus positions.

Save a focus position with the Memory Set button. As your subject approaches the decisive moment, instantly snap back to that saved position using the Fn or Fn2 buttons.

Nonstick protective coating.

The front element has Nikon's nonstick Fluorine Coat, which repels oil, moisture and smudges and easily wipes clean.

The S-Line advantage.

The Nikon NIKKOR Z 600mm f/6.3 VR S Lens is the pinnacle of top-end photography technology. Professional photographers everywhere know that you can't miss with this prestigious lens and its high-caliber features. Utilize the powerful optical performance reach of 600mm in order to capture moments that may otherwise have gone unnoticed. Add a unique perspective to your photos with large, distant subjects against striking background blur. Photograph professionals are able to take in everyone's tiny details from far away, giving gorgeous clarity and sharpness to any subject. Plus, the enhanced image stabilization of this lens ensures your photographs remain stable and crisp even at long distance shooting or in low light settings. With the Nikon NIKKOR Z 600mm f/6.3 VR S Lens, superior image quality right out of the box is ensured time after time!
| | |
| --- | --- |
| Maximum Aperture | f/6.3 |
| Minimum Aperture | f/32 |
| Lens Mount | Nikon Z |
| Lens Format Coverage | Full-Frame |
| Angle of View | 2° 40' to 4° 10' |
| Water Resistance | 13.1' / 4 m |
| Maximum Magnification | 0.15x |
| Optical Design | 21 Elements in 14 Groups |
| Diaphragm Blades | 9, Rounded |
| Focus Type | Autofocus |
| Image Stabilization | Yes |
| Tripod Collar | Removable |
| Filter Size | 95 mm (Front) |
| Dimensions | 4.2 x 11" / 106.7 x 279.4 mm |
| Weight | 3.1 lb / 1390 g |
⚠️ WARNING: This product can expose you to chemicals including Lead, which is known to the State of California to cause cancer and birth defects and/or other reproductive harm. For more information go to www.P65Warnings.ca.gov