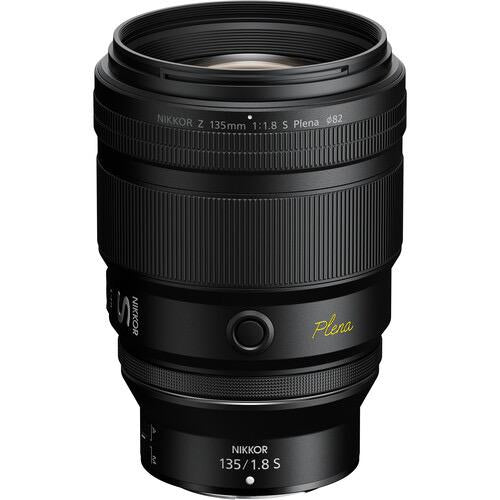 Full-Frame | f/1.8 to f/16
Fast/Lightweight Telephoto Prime
Multi-Focus System
Round Bokeh from Edge to Edge
ED/SR and Aspherical Elements
Programmable Linear Focus Ring
Customizable Control Ring
ARNEO and Meso Amorphous Coatings
Dust- and Water-Resitant Design
Beauty that reaches every corner.

Introducing the Nikon NIKKOR Z 135mm f/1.8 S Plena Lens - your passport to a realm of artistic brilliance. Immerse yourself in a world where boundaries are pushed, limitations are shattered, and creativity knows no bounds. This remarkable 135mm prime lens is unlike anything you have ever experienced before. Prepare to be captivated by the astonishing edge-to-edge clarity that the NIKKOR Z 135mm f/1.8 S Plena lens offers. Every intricate detail is beautifully rendered, allowing you to truly showcase the essence of your subject. Whether you are capturing breathtaking portraits that jump off the page, immortalizing still life in all its glory, or bringing cinematic scenes to life with unmatched realism, this lens is your ultimate tool.

Groundbreaking peripheral illumination.

Nikon's NIKKOR Z 135mm F/1.8 S Plena is the ultimate choice for those seeking a truly professional lens. With a maximum aperture of f/1.8, this lens provides unprecedented amount of light transmission no matter what the conditions. Plus, its innovative design delivers more light to the edges and corners of the frame across the entire aperture range, so you can create beautiful visuals with uniform brightness.

Wide open without vignetting.

This lens gives you the capability to capture stunning shots with amazing clarity, making your images look incredible at any aperture. You won't have to worry about vignetting on the corners of your frame, as it is already minimized by design. Plus, the wide-angle focal length allows you to capture sweeping landscapes and tight details with stunning sharpness and resolution. With its fast and silent autofocus capabilities, you'll be able to capture sharp professional-quality photos that you'll be proud to share with friends and family.

A lens only Nikon could create.

The extra-wide diameter of Nikon's Z mount allows for a larger curved rear element that projects light evenly across a full-frame image sensor.

Exquisite foreground and background bokeh.

Add spectacular drama and style to your photos and videos with large, round bokeh that spreads across the entire frame, right to the edges.

Smooth, natural gradation.

This lens is perfect for portrait and landscape photography, capturing stunning details for a dreamlike, professional aesthetic. With its wide f/1.8 aperture, you'll always be able to capture the beauty of those soft, creamy backgrounds, enhancing the look of your images and creating striking images for all to admire.

Stunning without stopping down.

This lens boasting an impressive 11-rounded-blade aperture makes capture nighttime sceneries, breathtaking landscapes, and beautiful portraits a breeze. With such a wide aperture, you can expect sharp, vibrant images, free of flares and aberrations. And when you want to really dial up the drama, you can effortlessly create melt away dreamlike bokeh circles that envelop your focal plane.

Pure color and sharp edges.

Advanced SR and ED glass lens elements produce bokeh free of onion rings and color fringing.

Astonishing precision and clarity.

With the lens' apochromatic element, chromatic aberrations are eliminated, allowing for multi-dimensional images with breathtaking details. And when you add in its wide f/1.8 aperture, you can enjoy soft and shallow depth of field to draw the eye of your viewers to the subject. Every delicate texture of skin and hair is painstakingly rendered with lifelike nuance, allowing you to truly capture the beauty and emotion of your subject.

Point light, totally on-point.

Whether you're photographing city lights or-stars, this lens ensure a stunningly sharp image across the entire frame so you can never miss a single detail. Enjoy precision focus that will leave you in complete awe - with outstanding optical performance and an extremely wide f/1.8 aperture, you'll capture brighter images with spectacular definition even in low-light conditions. The lightweight design also ensures that you can take on every shooting situation without compromising on mobility.

Cut through the glare and flare.

With the perfect blend of edge-to-edge sharpness, gorgeous bokeh, and no chromatic aberration, this impressive lens will allow you to capture stunning shots. And thanks to Nikon's most advanced anti-reflective coatings, you can even handle the harshest light coming from multiple directions.

Fast, accurate and near-silent autofocus.

This lens gives you edge-to-edge sharpness that allows you to capture stunning and vivid shots with spectacular detail. Equipped with Nikon's Multi-Focus System, you'll have near-silent focusing capabilities that are incredibly accurate, particularly when shooting wide open. This ultra-fast system is perfect for capturing fast-moving subjects without distracting mechanical noise or vibrations.

Add a new dimension to your footage.

With smooth, responsive, quiet handling and a manageable 995 g total weight, the NIKKOR Z 135mm f/1.8 S Plena can bring extraordinary depth and richness to your 8K and 4K footage.

Smooth, precise focus pulls with minimal breathing.

This revolutionary lens uses linear focus to move between objects in either rotation direction with remarkable consistency when paired with compatible Nikon's Z series cameras. Get amazing detail and sharpness, even when transitioning from foreground to background subjects. With a large maximum aperture of f/1.8, you'll get beautiful bokeh effects and glorious portraits that are sure to impress your clients or friends. And fast autofocus features allow you to pinpoint precise areas while shooting in low light scenarios.

Power aperture makes it easy to maintain your lighting.

Use the clickless control ring or your camera's Fn1 and Fn2 buttons to smoothly, steplessly open and close the aperture, allowing you quickly to respond to lighting changes beyond the reach of Auto ISO.

An S-Line NIKKOR Z lens.

A perfect addition for safe, secure everyday use, this incredibly reliable lens offers high-quality results no matter what you're taking pictures of. With it, you'll capture stunningly vivid images with incredible depth of field and draw attention to specific elements of your subject. Packed with features for convenience and performance, this lens is perfect for professionals, amateurs, and all levels of photographers in between.
| | |
| --- | --- |
| Maximum Aperture | f/1.8 |
| Minimum Aperture | f/16 |
| Lens Mount | Nikon Z |
| Lens Format Coverage | Full Frame |
| Angle of View | 18° 10' |
| Minimum Focus Distance | 2.7' / 82 cm |
| Maximum Magnification | 0.2x |
| Optical Design | 16 Elements in 14 Groups |
| Diaphragm Blades | 11, Rounded |
| Focus Type | Autofocus |
| Image Stabilization | No |
| Tripod Collar | N/A |
| Filter Size | 82 mm x 0.75 (Front) |
| Dimensions (ø x L) | 3.9 x 5.5" / 98 x 139.5 mm |
| Weight | 2.2 lb / 995 g |
⚠️ WARNING: This product can expose you to chemicals including Lead, which is known to the State of California to cause cancer and birth defects and/or other reproductive harm. For more information go to www.P65Warnings.ca.gov