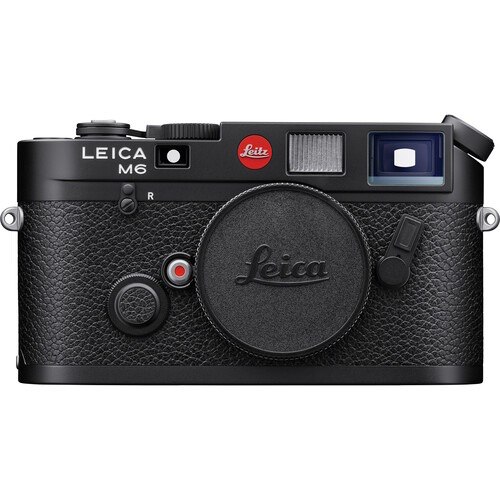 0.72x Viewfinder with Coated Glass Surfaces
Solid Brass Top Plate Enhanced with Abrasion Resistant Black Lacquer
Red Leitz Logo
Original M6 Style Packaging
New Light Meter Indicator with Battery Warning
New Leica M6 Style ISO Dial - Newly Developed with Modern Electronic Components Inside
Leather Carrying Strap with Embossed LEICA lettering
New Black Leatherette with Leica M6 Typical "MADE IN GERMANY" Embossing
Made in Germany
Leica M6 – an icon of analog photography

For more than three decades, the Leica M6 has been the camera of choice for many of the world's best photographers. With its intuitive design, compact size and discreet appearance, the M6 allows you to get up close to the action and capture real emotions. Over the years, this legendary camera has helped create countless iconic images. From its inception in 1984, the M6 has been renowned for its exceptional build quality, superb optics and outstanding performance. Today, it remains an essential tool for anyone who wants to capture the world around them with incredible precision and clarity. If you're looking for a camera that will help you create lasting memories, the Leica M6 is the perfect choice. With its unrivaled combination of features and quality, it's sure to exceed your expectations.

A milestone in the company's history

Leica has been a trusted name in photography for over a century, and the M6 is a camera that epitomizes the company's commitment to quality. The M6 was in production for nearly two decades, and it quickly became one of Leica's most popular cameras. Over 175,000 were manufactured, and it was used by some of the world's best photographers. The M6 is still handmade in Germany, and it remains an excellent choice for those who prefer analog photography. With its precision mechanics and exceptional image quality, the M6 is a camera that will continue to impress for years to come.

The rangefinder – The heart of every Leica M camera

The Leica M6 gives you an exceptionally bright and clear view of your subject, with excellent contrast. This rangefinder camera provides a wider view of the scene than other cameras, so you can compose your shots with precision. The M6 uses a mechanical rangefinder with 0.72x viewfinder magnification and 100% frame coverage. This camera is handcrafted from over 100 individual parts, making it durable and precise. The aperture and exposure time can be precisely set thanks to selective exposure metering through the lens, and the light balance is displayed in the lower part of the viewfinder. You can focus quickly and precisely with the superimposed image method or split image method. Whether you're shooting in low light or bright conditions, the Leica M6 is the perfect tool for capturing amazing photos and videos.

The advantages of rangefinder photography

This top-of-the-line camera features rangefinder technology that allows you to see beyond the picture frame, so you can assess the right moment to release the shutter. Additionally, illuminated framelines highlight the image field for six focal lengths, arranged in pairs for 28 and 90 mm, 35 and 135 mm, as well as 50 and 75 mm. So whether you're shooting a landscape or a close-up portrait, you can be sure that your subject will be in sharp focus. And with the field selector, you can easily switch between different focal lengths to get the perfect shot every time. Order your Leica M6 today and start capturing stunning images like never before!

Iconic design

With a simple elegance, absolute reliability, and high-quality materials, the Leica M6 is an icon in the world of photography. The camera is crafted with a sturdy brass top cap, leatherette, and scratch-resistant lacquer that give it a classic look that will stand the test of time. The anti-reflective coating on the glass surfaces prevents disruption from scattered light, making this camera perfect for any type of photography.

True value endures

The Leica M6 is a world-renowned camera that has stood the test of time. With its durability, reliability and quality, it is no wonder this camera is still around today and being used by professionals all over the world. Leica has always manufactured its precision tools by hand, ensuring that each one is a masterpiece. The M6 is no different, with its high-grade materials and solid mechanics. It is a camera that you can depend on to get the perfect shot every time. So whether you are a professional photographer or an amateur just starting out, the Leica M6 is the perfect camera for you.
| | |
| --- | --- |
| Designation | Leica M6 |
| Camera type | Analogue rangefinder system camera (35 mm) |
| Type No. | 2248 |
| Order No. | Black: 10 557 |
| Material | Closed full metal housing, Top cover and bottom cover: brass, black finish |
| Lens mount | Leica M bayonet |
| Operating conditions | 0°C to +40°C |
| Interfaces | ISO accessory shoe |
| Tripod thread | A 1⁄4 DIN 4503 (1⁄4") with stainless steel in the base |
| Dimensions | 138 x 40 x 77 mm |
| Weight | 575 g (without battery) |
Viewfinder
Viewfinder
Large, bright-line rangefinder with automatic parallax compensation
Parallax compensation
The horizontal and vertical difference between viewfinder and lens is compensated automatically in line with the relevant focus setting. Congruence of viewfinder and actual image.

The size of the bright-line frame matches the distance:

– at 2 m: the exact sensor size of approx. 23.9 x 35.8 mm

– at infinity: (depending on focal length) approx. 7.3% (28 mm) to 18% (135 mm)

– less than 2 m: less than film size

Viewfinder magnification
x0.73 (all lenses)
Wide- base rangefinder
Split and superimposed image rangefinder shown as a bright field in the center of the viewfinder image.
Shutter
Shutter type
Focal plane shutter with rubber liner, mechanically controlled
Shutter speeds
Mech. shutter: 1 s - 1⁄1000 s

Flash Synch: up to 1⁄50 s

Shutter release
Two-stage: Power up (activation of exposure meter) – Release. Integrated standard cable release thread.
Film winding
| | |
| --- | --- |
| Loading | Manual with quick wind lever or LEICAVIT M, motorized with LEICA MOTOR-M, LEICA WINDER-M, LEICA WINDER |
| Rewinding | Manual with telescopic rewind knob |
| Frame counter | On top of camera. Automatic reset after removal of bottom cover. |
Focusing
| | |
| --- | --- |
| Working range | 70 cm to ∞ |
| Focus mode | Manual |
Exposure
Exposure metering
TTL (exposure metering through the lens), with working aperture
Metering cell
Silicon photo diode with convex lens to the top left behind the camera bayonet.
Film speed range
Manual setting from ISO 6/9° to ISO 6400/39°.
Metering principle
The light reflected by a metering spot in the center of the 1st shutter curtain is metered.

The metering spot has a diameter of 12mm and therefore corresponds to approx. 13% of the full negative format or around 2/3 of the short side of the corresponding

frame in the viewfinder.

Exposure control mode
Manual shutter speed and aperture setting, adjustment using LED light balance.
Flash
| | |
| --- | --- |
| Flash unit connection | Via accessory shoe |
| Synchronisation | On the 1st shutter curtain |
| Flash sync speed | 1/50s; slower shutter speeds possible. |
| Flash exposure control | Via computer control of flash unit or via guide number calculation and manual setting for the required aperture. |
Power Supply
| | |
| --- | --- |
| Power Supply | 2 Silver oxide button cells (PX76/SR44) or 1 Lithium battery (DL1/3N) |
⚠️ WARNING: This product can expose you to chemicals including Lead, which is known to the State of California to cause cancer and birth defects and/or other reproductive harm. For more information go to www.P65Warnings.ca.gov