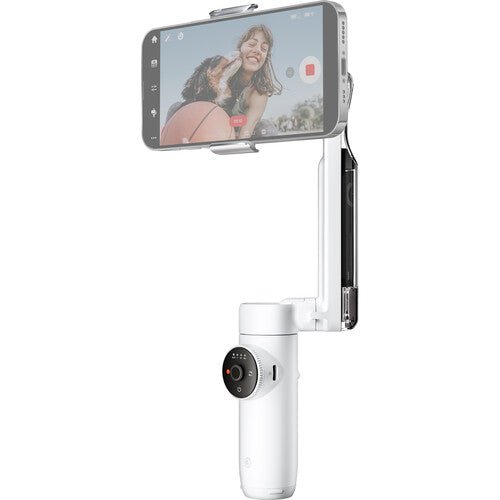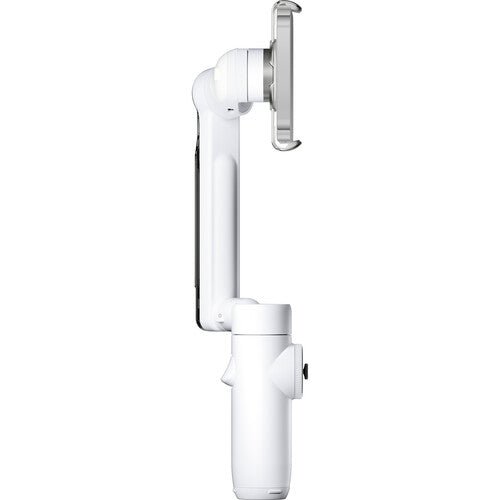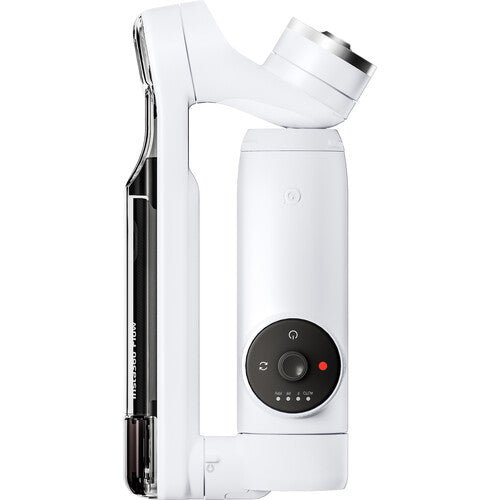 3-Axis Stabilization for Smooth Footage
Built-In Selfie Stick and Tripod
Deep Track 3.0 AI Subject Tracking
Slow Motion/Zoom Tracking
SmartWheel Control for Zoom/Mode/Trigger
16-Hour Battery/USB-C Charging
Auto/Follow/Pan Follow FPV Modes
Magnetic Phone Clamp/ 1-Step Deployment
Panorama and Widescreen Mode
Edit with Insta360 App
Capture on the go.

Are you a content creator looking for the next big thing? Look no further than Insta360 Flow. This AI tracking smartphone stabilizer is the ultimate content creation tool, giving you smooth and steady images that elevate your smartphone into professional-level production. The best part is, it's so easy to use – just unfold once and go – no need to untwist or power on. Insta360 Flow makes getting smooth footage easier than ever before. Plus, it has the most advanced AI tracking technology allowing it to perfectly follow your subject without any setup needed. It's also incredibly lightweight, making it great for taking on the go when you want to shoot outdoors in different locations. For media makers who want to take their game up a notch but don't have time or budget for bulky multi-axis gimbals, this is the perfect solution. Ready to take your content creation further? Get Insta360 Flow today and turn your smartphone into a powerful filmmaking device!

Take it anywhere.

The Insta360 Flow has been designed with simplicity in mind while still packing great features. All you need to do is control its pan, tilt and yaw separately to get mind-blowing footage from any angle you want! It even comes with 6 attached motors that provide extreme stability in any lighting environment to make sure you capture those special memories perfectly - without having to worry at all about smooth video recording.

Professional-level stabilization.

Smooth footage any time, from start to finish. Introducing Flow – the newest smartphone gimbal stabilizer from Insta360. Capture smooth and stable handheld videos no matter the time of day or night. Flow's 3-axis gimbal stabilization technology ensures your motion blur and shakes are eliminated for crystal clear footage no matter how active you get. Get ready for the professional production quality in every single video whether you're skateboarding, swimming, biking, hiking, fishing – or anything else you can dream up!

Next-gen subject tracking.

With years of research and development, our AI tracking algorithm has been brought to new standards to keep your subject in frame and in focus with unmatched accuracy and flexibility. Leave behind the blurry, boring footage that can leave memories blurred! Enjoy cinematic scenes with smooth stabilization that will turn any dull shot into a work of art. This innovative design allows for fine adjustments and fuss-free shooting so you can capture precious memories hassle-free. Equipped with clever Face & Object Tracking Technology, this gimbal stabilizer ensures moving subjects stay perfectly framed at all times no matter how fast they move or where their attention is directed. Get this gimbal stabilizer now and discover the ultimate photography experience.

More versatile.

Zoom Tracking Get more cinematic shots. Even when zoomed in, Flow can track your subject, and automatically adjust settings for more stable shots.

More accurate.

Person Re-Identification Select a person and Deep Track 3.0 will stay locked on throughout the recording, even if they're blocked from view.

Smarter subject recovery.

Even when your subject moves out of frame, Flow will keep tracking it by zooming out or following the direction it's moving.

Get the angle just right.

Tired of blurry, jumpy footage ruining your adventure videos and social media posts? With an innovative design to ensure smooth locked-off shots and a lightweight gimbal stabilizer compatible with most smartphones, you'll be ready to capture perfect, steady shots in no time. But what sets the Insta360 Flow apart is its versatility. From walking shots and 360° panoramas to low angle photography - you can even whip out the selfie stick for those perfect group selfies - nothing ever needs to be missed out again! Get creative with your angles while ensuring footage that is incredibly smooth and totally professional looking. The secure grip guarantees no wobbling or shaking as you make your final adjustments on location.

Always be prepared.

Whenever, wherever, set Flow down and capture the moment with the tripod. Flow is the only smartphone gimbal with everything you need built in.

Your robot filmmaker.

Simply raise your hand and Flow starts recording and tracking you. All done? Raise your hand again and Flow will stop recording. No need to even press a button.

Stay in frame on calls and streams.

Even when video calling or live streaming in another app, Flow always keeps tracking. Chat with friends, family or followers stress-free.

Create like a pro.

Create cinematic effects with dynamic camera movements and speed controls in the Insta360 app.

Effortless panoramas.

The only smartphone gimbal that can shoot 360 photos. Simply set up the tripod and let Flow snap an immersive panorama in 360°, 240°, 180° or 3x3 grid format.
Grip Design
Single Handgrip
Load Capacity
4.6 to 10.6 oz / 130 to 300 g
Number of Axes
3-Axis (Pitch (Tilt), Roll, Yaw (Pan))
Rotation Range
Yaw (Pan): -230 to 100°

Pitch (Tilt): -150 to 180°

Pitch (Tilt): -100 to 82°

Follow Speed
Pan: 120°/s

Tilt: 120°/s

Roll: 120°/s

Camera Control
On Compatible Models
Smartphone Dimensions
Width: 2.5 to 3.3" / 64 to 84 mm

Thickness: 0.3 to 0.4" / 6.9 to 10 mm

Inputs/Outputs
1 x USB-C (Power) Input
Wireless Protocol
Bluetooth 5.0
Mobile App Compatible
Yes

*As of March, 2023: Check with manufacturer for the most up-to-date compatibility

Battery Type
1 x Built-In
Battery Capacity
2900 mAh
Battery Runtime
12 Hours
Battery Chemistry
Lithium-Ion
Voltage
5.0 VDC
Operating Voltage
5.0 VDC
Operating Current
2A
Operating Temperature
14 to 104°F / -10 to 40°C
Mounting
1 x 1/4"-20 Female
Dimensions
6.38 x 3.13 x 1.4" / 162.08 x 79.59 x 36 mm (Folded)

10.6 x 2.9 x 2.75" / 269 x 73.57 x 69.94 mm

Weight
13.0 oz / 369 g
⚠️ WARNING: This product can expose you to chemicals including Lead, which is known to the State of California to cause cancer and birth defects and/or other reproductive harm. For more information go to www.P65Warnings.ca.gov