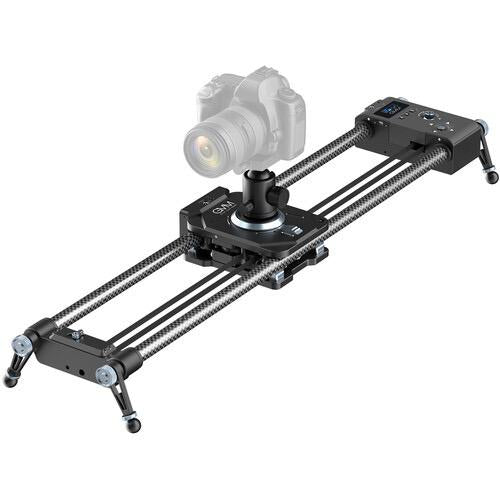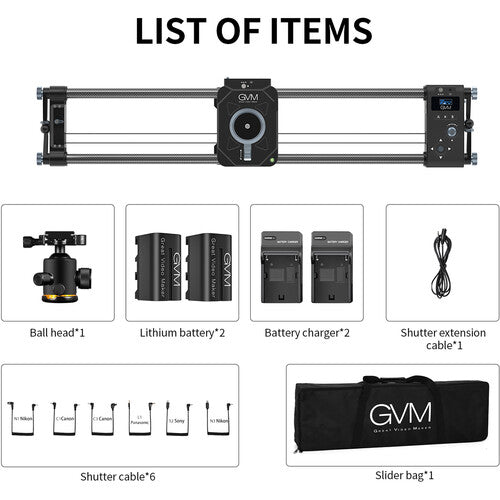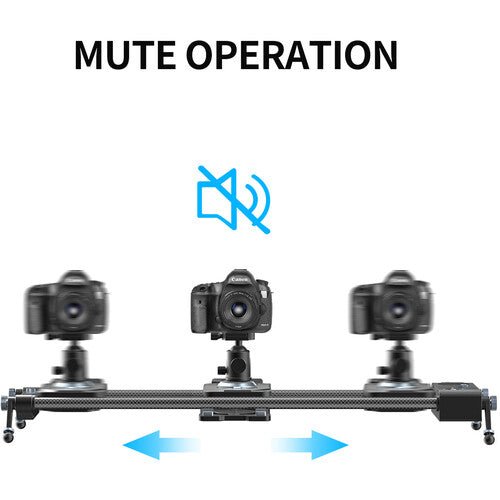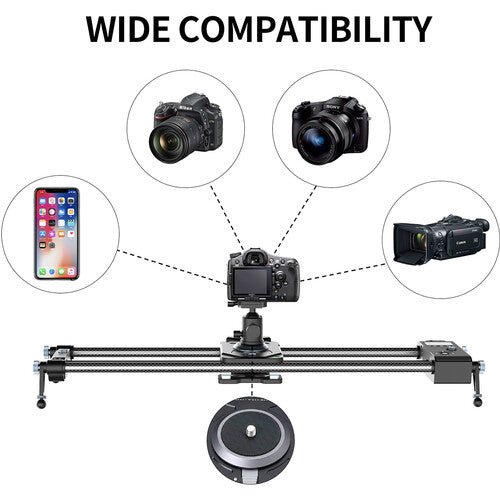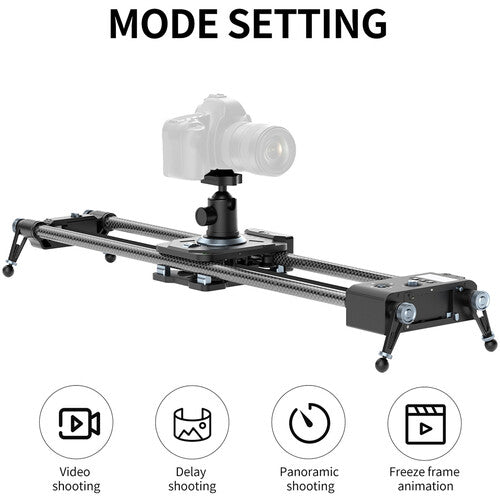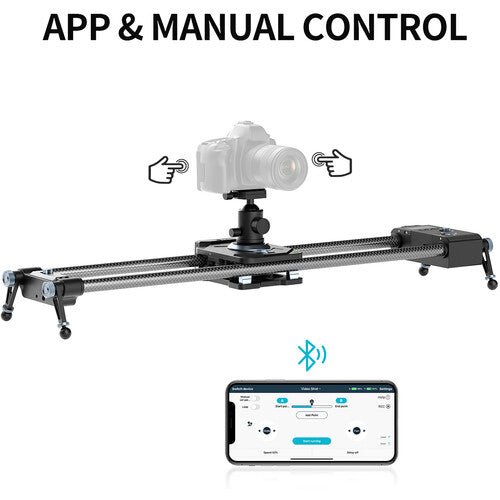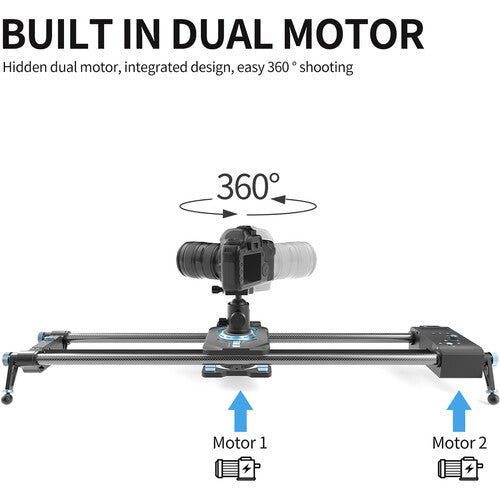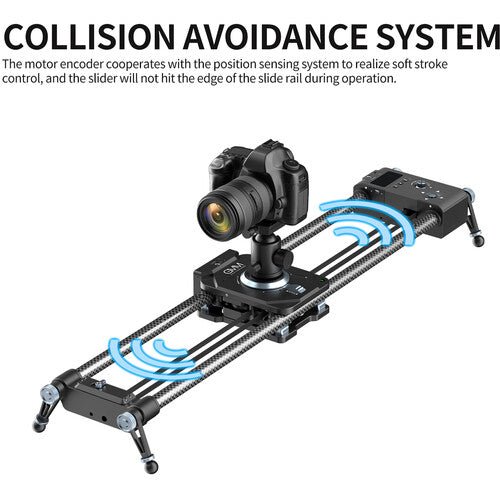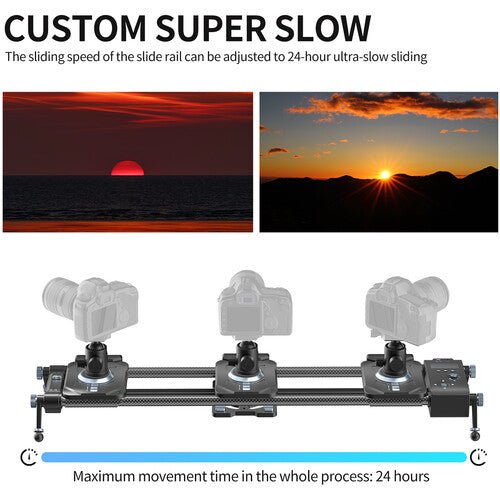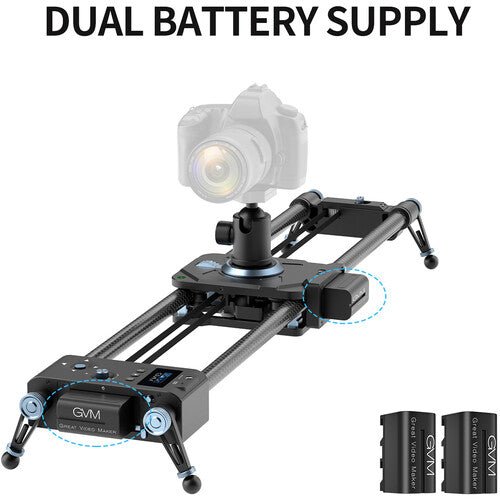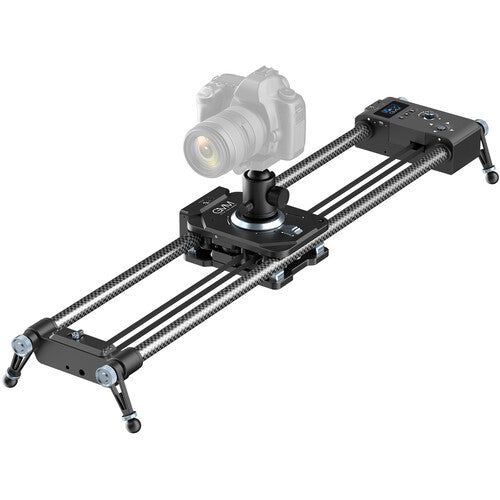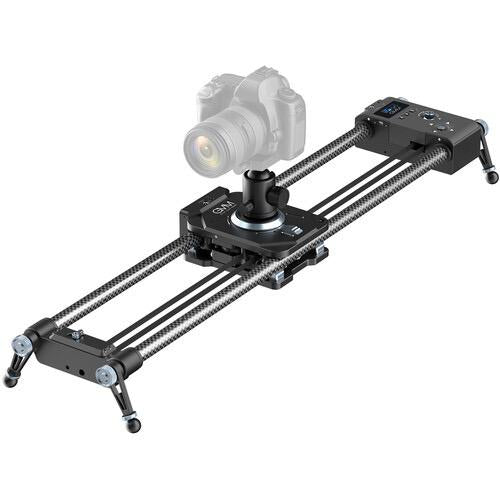 Wireless Programmable 2-Axis Slider
Mobile App Control
Carbon Fiber Rails
360° Pan Range
Time-Lapse and Real-Time Capture
6 x Shutter Cables Included
Professional film grade motorized camera Slider

GVM's newest motorized camera slider is essential for any professional cinematographer or aspiring filmmaker! Our Professional Brushless 2-Axis Carbon Fiber Motorized Camera Slider is a game-changer for smooth and stable video shooting. With an incredible 330lbs carrying capacity, you can easily put your equipment on the slider and access shots that were impossible before. Not to mention, the unprecedented 360 degrees panoramic rotation and 45-degree tilt make it possible to capture the perfect shot with ease.

High quality carbon fiber

Carbon fiber and light aluminum alloy allow this Camera Slider to be comfortably carried without sacrificing strength and stability. It also features adjustable feet that make it suitable for nearly every surface—perfect for those who shoots in or out of the studio. But it's the brushless motors included that make the greatest difference. Say goodbye to wavy or jerky shots because this Camera Slider will help you achieve smooth, consistent footage with every shoot. And with its built-in ultraviolet light, you can shoot in the dark to get the most dynamic shots possible.

Hidden double motor

This innovative device measures 32-inches and is truly a masterpiece featuring motors that are tucked out of sight for seamless tracking and bearings rollers that make a smooth and continuous slide. When paired with its dual 4400mAh batteries, you can enjoy a perfectly clear shot all day long with up to sixteen hours of operating time. Its belt-driven capabilities allow it to support an incredible eleven pounds of camera weight even when mounted on a tripod or having tilt settings with ease and precision. You'll be sure to get the perfect shot each and every time, without feeling weighed down by the camera itself.

Screw installation

Ws-2d camera sliders with 1/4 "and 3/8" threaded holes are compatible with light holder and camera tripod for securing your camera through a compatible tripod head or ball head. Its pad prevents distortion and allows for more secure connection of your equipment.

Run automatically

Arbitrarily set the starting and ending points on the operating equipment. Optional motor torque setting. Slide interval (0.1-999.9) Stop time (0.1-999.9) Photo Number (1-1000) automatic cycle.

time-lapse

The versatility of this camera slider is unmatched. With a slide interval ranging from 0.1 to 999.9, you have complete control over the timing of your shots. Whether you're looking to capture a fast-paced time-lapse or create a smooth, cinematic effect, the possibilities are endless. Additionally, the stop time can be set from 0.1 to 999.99, allowing for precise control over the duration of each shot.

Compatible with all kinds of equipment

With its high compatibility, powerful bearing system, and 1/4 inch threaded holes to secure most DSLR cameras and various accessories, this top of the line motorized camera slider offers a perfect solution for capturing high quality videos with ease. This professional grade slider is made from sturdy carbon fiber that can support the largest and heaviest cameras without compromising on weight or portability. Its brushless motor system ensures a perfectly smooth motion control every time for fluid movements you can rely on, making it an ideal companion on any shoot.

Manual and automatic control

The shooting mode can be set manually or automatically to create special track time-lapse photography. Can set object and camera tracking, camera will follow the object. Make your shooting easier.

Stable image stabilization

WD-2D's thickened carbon fiber rails and lever locks ensure stable video and smooth shooting. Lever lock design, easy to lock the slide track, shooting more stable in the way of movement

Super silent stepper motor

Capture photos with professional level results when you use theGVM Professional Brushless 2-Axis Carbon Fiber Motorized Camera Slider (32"). This feature-rich slider features newly upgraded ultra-quiet motorized drive technology, ensuring precise positioning and image capture without worrying about sound - making it invaluable to shooters everywhere. The smooth and stable bearing ensures no sense of frustration or hesitation while in use, so you can get continuous capture perfection every time. Forget about going without quality hardware and invest in the GVM Professional Brushless 2-Axis Carbon Fiber Motorized Camera Slider (32") today! Get reliable, high end motion control results every shoot – professionalism you can count on.

Anti-collision system

The frame of the slider was crafted with lightweight carbon fiber for ultimate sturdiness and portability. So take the GVM Professional Brushless 2-Axis Carbon Fiber Motorized Camera Slider (32") with you on all your shoots and rest easy knowing that your gear is safe and secure. Plus, the newly upgraded sensing system ensures that the stroke control is extra soft, protecting the edge of the slide track body during operation while keeping your camera safe from any damage.

Stop motion animation

At 32" in length, our GVM Professional Brushless 2-Axis Carbon Fiber Motorized Camera Slider is the perfect tool for capturing lifelike stop-motion animations and objects. Our advanced slider technology is quiet, allowing you to record images without distracting camera noise. It also features a unique sliding weight design, so you can adjust the speed of the slider to achieve the exact effects you need.

360° panoramic shot

This powerful 2-Axis Motorized Camera Slider allows the camera to move on two axes, rotating full 360 degrees on horizontal and vertical axes, and the two-axis Angle offset allows you to focus more accurately on the object that you're photographing as you move. What's more, with a built-in ball head, this camera slider can rotate 360° and select panorama mode, set key positions and number of photos according to need, and take stunning photos. This additional slide Speed Control adjustment ranges from 0.7 to 7 m/s, allowing you to capture beautiful, smooth shots.

Wide range of application

WS-2D is suitable for a wide range of wedding photography, advertising shooting, corporate promotional video shooting, TikTok, video shooting, product shooting, film shooting, food photography and so on

Wireless APP control

This revolutionary camera slider is the perfect way to stabilize your shots while adding beautiful motion with precision. With its app control feature, you can manipulate the camera slider from afar and set the parameters you need with ease. Plus, in time delay mode, it can calculate the shooting time and the number of photos needed, so you can always stay in control. Its 24 hour offline shooting capability makes it the perfect addition to any photographer's repertoire.

Lightness is better

WS-2D is a lightweight second-generation technology that comes with a portable case that makes it easier to carry around, operate, install, and store, which greatly improves our shooting efficiency.

Independently adjusted foot

The precision bearings work with the ultra-lightweight carbon fiber construction to provide smooth and reliable movement every time. But it's not just reliable, it's versatile too, with its 360° adjustable support legs allowing for a variety of shooting modes and angles. And if you're shooting in a more rugged environment, its worry-free construction means you don't have to give up on that shot.

Three modes of operation

Designed for filmmakers and photographers of all levels, this camera slider will upgrade your film and photography with the smoothness and stability that only a motorized slider can provide. And with its APP control mode, our GVM Professional Brushless 2-Axis Carbon Fiber Motorized Camera Slider puts you in complete control. Download our companion app from your mobile device to quickly and easily operate your GVM camera slider.

Ergonomic lightweight portable bag

With this robust, 32" sliding motorized camera set up, you can bring your creative vision to life. The GVM-WS-2D rail is made with robust carbon fiber, making it lightweight and easy to move from shoot to shoot. And, when you're done, the whole kit (including the rail and major components) can be stored in a lightweight portable case with foam liners to protect your slides and accessories from any bumps or bruises while you're on the move.
| | |
| --- | --- |
| Motor Power | 4 W (10 V / 400 mA) |
| Motor Sliding Speed | 0.26 to 2.8 in/s / 0.66 to 7.11 cm/s |
| Wireless | Bluetooth |
| Wireless Connectivity | Bluetooth |
Mounting
| | |
| --- | --- |
| Diameter | 0.8" / 2.1 cm |
| Rail Material | Carbon Fiber |
Physical
| | |
| --- | --- |
| Track Dimensions | L: 31.5" / L: 80 cm |
| Body Material | Carbon Fiber |
| Weight | 8.2 lb / 3.7 kg |
⚠️ WARNING: This product can expose you to chemicals including Lead, which is known to the State of California to cause cancer and birth defects and/or other reproductive harm. For more information go to www.P65Warnings.ca.gov