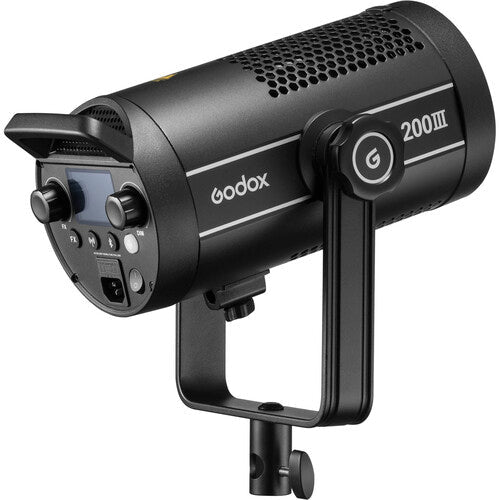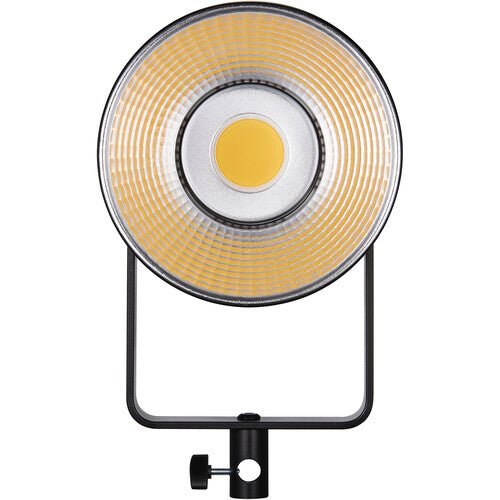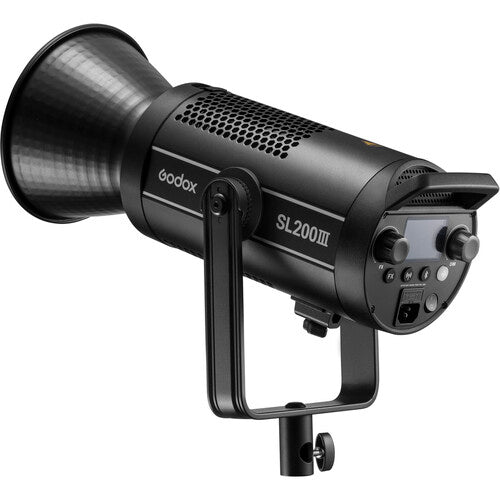 For Studio and Film/TV Production
Output: 95600 Lux at 3.3' (5600K)
5600K Color Temperature
AC Power 100-240V/50/60 Hz 2.1A
Onboard Optional Remote & App Control
96 CRI | 97 TLCI
2 Fans for On/Off Quiet Cooling
360° Rotatable Yoke/ 8 Special Effects
32 Channels/16 Groups
Dims 0-100%
SL Series

The Godox SL200III Daylight LED Video Light is an ideal choice for when you need reliable and crystal-clear lighting for any live streaming, broadcasting, or other video applications. With exceptional quality and performance, this light is not only energy-efficient, but has also been evolved to provide a more efficient and convenient experience. Some of the powerful features of this light include the new Godox Light App control, which allows you to adjust brightness, color temperature, hue, and saturation from the app, giving you the flexibility to get just the right amount of illumination on set. Whether you're a professional videographer capturing stunning footage, or you're a content creator sharing your vision with the world, you can depend on the SL200III to help bring your ideas to life. Take your creative visions to the next level with the Godox SL200III Daylight LED Video Light – the perfect choice for any professional's lighting needs.

Incredible Output

The Godox SL200III Daylight LED Video Light is the perfect light for all your videography needs! This powerful daylight LED light brings maximum power and value to every shoot, thanks to its impressive illuminance and included reflector. It allows you to easily adjust the light intensity from 0% to 100%, providing you with precise and flexible control to craft the perfect lighting for any project. Whether you're filming in the studio or outdoors, the Godox SL200III is the perfect choice for a reliable and quality LED light. For convenient transport and set-up, you can always rely on its lightweight yet durable design. Get the most out of your shoots with the Godox SL200III Daylight LED Video Light – power, precision, and portability you can rely on.

Free Option of Color Temperature

Are you a filmmaker or content creator looking for superior lighting for your photos or videos? We have exactly what you need! Introducing the Godox SL200III Daylight LED Video Light – a revolutionary lighting source that provides professional-quality results. Its 5600K daylight-balanced lighting is perfect for users who demand the highest intensity lighting possible. Plus, the Bi-color version of the Godox SL200III enables you to quickly adjust to whatever ambiance or other lighting is on set without wasting precious time searching for the right gels or filters. This LED light features adjustable brightness, color temperature, and LCD screen display, making it incredibly simple and efficient to change the settings. Whether you're a studio photographer or an outdoor shooter, the SL200III will take your lighting to the next level. Invest in the Godox SL200III Daylight LED Video Light and bring out the beauty in every photo or video you take.

Control it in Hand

In addition to the intuitive onboard operation and RC-A6 remote, the SLIll can also be controlled by Godox Light App, with which all complex coordination can be achieved at your fingertips.

Keep it Silent

This amazing sophisticated light is perfect for film and video production and boasts high brightness and accurate color rendition. Plus, you can easily switch to silent mode with no noise, so you can capture sound-sensitive environments without any distractions. With features like enhanced cooling mode and a robust metal shell, this light is strong enough to handle any kind of shooting. Our Godox SL200III Daylight LED Video Light is an efficient and reliable choice for anyone looking to take their video production to the next level, so get yours today!

High Color Fidelity

With a high CRI/TLCI rating of 96/97, the SLIll reproduces faithful colors and delivers natural results, greatly saving your time for post-production.
Item Type
1 x LED Monolight
Included Light Modifier
1 x Reflector
Photometrics
5600K:

8881 fc / 95,600 Lux at 3.3' / 1 m (with Reflector)*

Color Temperature
5600K
Color Modes
Daylight
Color Accuracy Standard
CRI 96

TLCI 97

Dimming
Yes, Built-In Dimmer

0 to 100%

Front Accessory Mount
Bowens S
Wireless Remote Control Type
Bluetooth

Radio/RF

Power Source
AC Power (Cable Included)
AC Input Power
100 to 240 VAC, 50 / 60 Hz
Power Consumption
215 W (Maximum)
Fixture Mounting
1 x 5/8" Receiver (Via Yoke Mount)
⚠️ WARNING: This product can expose you to chemicals including Lead, which is known to the State of California to cause cancer and birth defects and/or other reproductive harm. For more information go to www.P65Warnings.ca.gov