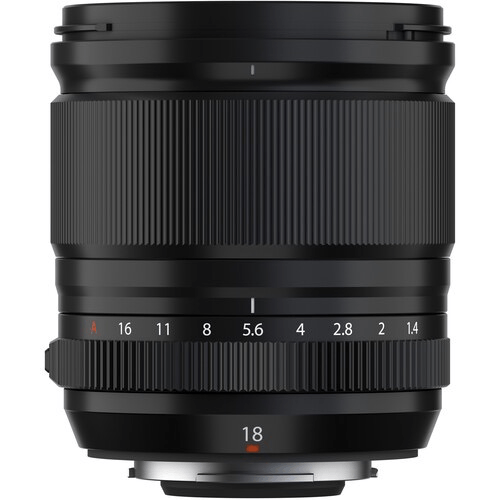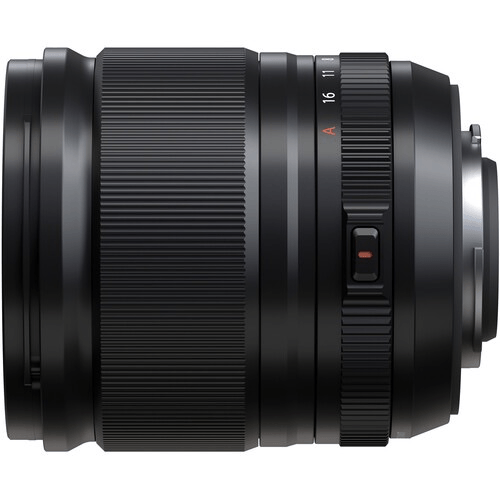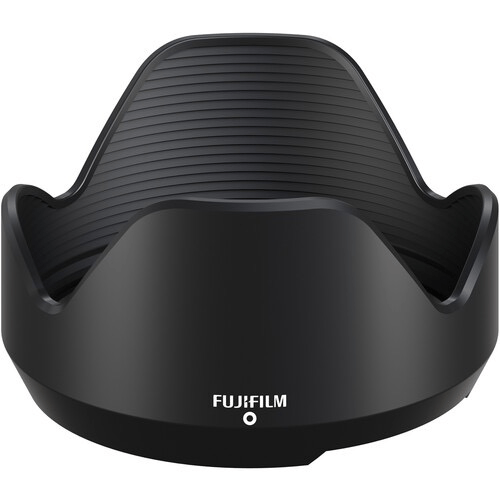 X-Mount Lens/APS-C Format
27mm (35mm Equivalent)
Aperture Range: f/1.4 to f/16
3 Asperical
1 ED Optical Glass Elements
15 Elements in 9 Groups
Linear Autofocus Motor
Minimum Focus Distance: 7.9"
Locking "A" Position Aperture Ring
Weather-Sealed Construction
Rounded 9-Blade Diaphragm
Get Up Close and Wide Open

With a focal length equivalent to 27mm, it's ideal for everything from sprawling landscapes to street photography and everything in between. The wide F1.4 aperture allows you to capture stunning photos and videos even in low light conditions, while the fast autofocus ensures you'll never miss a shot. Plus, the weather-resistant design means you can take this lens out in all kinds of conditions without worry. Whether you're a professional photographer or an amateur who wants to take their creativity to the next level, the XF18mmF1.4 R LM WR is a must-have lens for your collection.

Realizing Your Vision with Absolute Clarity

With a 35mm equivalent focal length of 27mm, the FUJINON XF18mmF1.4 R LM WR is a versatile lens that is perfect for a wide range of photography and filmmaking applications. The wide aperture of F1.4 allows you to capture stunning images with beautiful bokeh, while the lens's remarkable resolving capabilities make it ideal for capturing intricate details and textures. Whether you're shooting street photography or nature scenes, the XF18mmF1.4 is the perfect choice for anyone who cares about image quality.

Distortion-Free Results with Stunning Detail

If you're looking for a wide-angle lens that can capture stunning images with excellent sharpness and minimal distortion, then you need the FUJIFILM FUJINON XF18mm F1.4 R LM WR. This high-quality lens is designed with 15 elements, including one ED and three aspherical elements, to produce outstanding results each and every time. Whether you're shooting photos or videos, the XF18mmF1.4 R LM WR will help you capture the perfect shot while delivering beautiful image quality. So don't miss out on this must-have lens for any serious photographer or videographer.

Fast, Quiet, and Smooth Focus

The FUJIFILM FUJINON XF18mmF1.4 R LM WR is a wide-angle prime lens that is ideal for capturing images with a shallow depth of field. Featuring a linear autofocus motor, this lens is able to provide consistent and reliable autofocus results. With a minimum object distance of just 7.9in (20cm), this lens is able to capture images with a shallow depth of field in as little as 0.04 seconds.

Bokeh with Broad Appeal

The FUJIFILM FUJINON XF18mm F1.4 R LM WR is a high-performance, wide-angle lens that is perfect for a variety of photography applications. With a maximum aperture of F1.4, the XF18mmF1.4 R LM WR delivers stunning image quality and beautiful bokeh effect. The rounded aperture blades create a natural and smooth out-of-focus areas that are perfect for portraiture, landscape, and street photography. The XF18mmF1.4 R LM WR also features a weather-resistant design that makes it resistant to dust and moisture, making it an ideal choice for use in a variety of environments.

Manual Precision Whenever You Need It

With its manual focusing ring, the XF18mmF1.4 R LM WR provides smooth, even rotation from one end to the other, making it easy to pull focus when recording video and to select the perfect focus point when photographing through objects like prisms and loupes. Whether you're using autofocus or manual focus, the XF18mmF1.4 will make sure you're ready to frame that perfect moment. So the only luck you'll need is being in the right place at the right time.

Never Miss an Image, No Matter What the Conditions

This tough little lens is fully weather-resistant, with eight seals protecting it from dust, moisture, and cold temperatures down to -10°C (14°F). So whether you're shooting in a blizzard or a driving rain, you can rest assured that your gear will stay safe and dry. And if you're really in for the long haul, the addition of an 'A' position lock on the aperture ring gives extra peace of mind. So go ahead and follow your vision - even when the weather isn't cooperating.
Type
XF18mmF1.4 R LM WR
Lens configuration
15 elements in 9 groups

(includes 3 aspherical and 1 ED elements)

Focal length
f=18mm (27mm)
Angle of view
76.5°
Max. aperture
F1.4
Min. aperture
F16
Aperture control
Number of blades
9(rounded diaphragm opening)
Step size
1/3EV (22 steps)
Focus range
20cm - ∞
Max. magnification
0.15x
External dimensions : Diameter x Length*1 (approx.)
Ø68.8mm x 75.6mm
Weight*2 (approx.)
370g
Filter size
Ø62mm
⚠️ WARNING: This product can expose you to chemicals including Lead, which is known to the State of California to cause cancer and birth defects and/or other reproductive harm. For more information go to www.P65Warnings.ca.gov