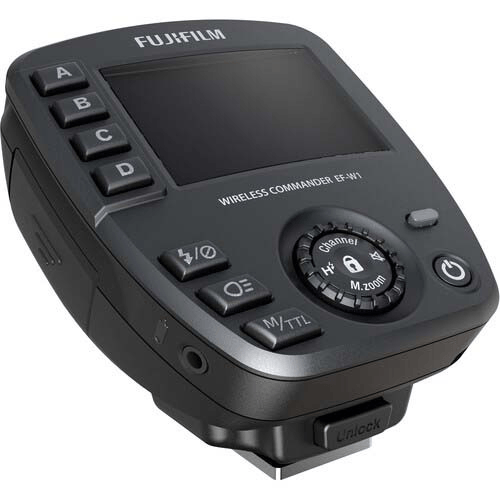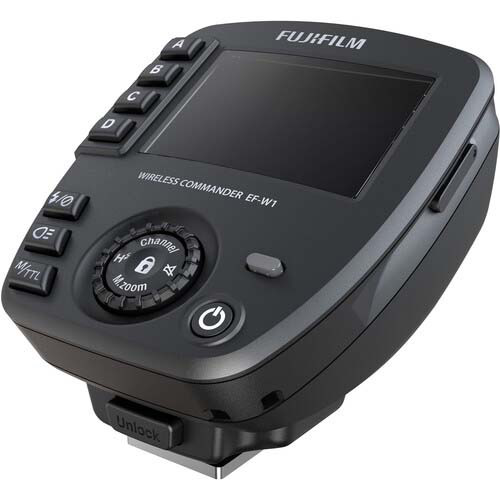 2409 to 2476 MHz Radio TTL System
Compatible with Nissin Air System
8 Channels and 4 Groups
Flash Sync Speed up to 1/8000 Second
Manual Zoom Adjustment from 24-200mm
Manual Power Adjustment from 1/1-1/256
A commander that broadens the field of creativity

The Fujifilm EF-W1 wireless commander is the perfect tool for any photographer who wants to take their creativity to the next level. This innovative device uses a radio-controlled wireless communication system to control flashes, making it easy to take stunning photos in any environment. With the EF-W1, you'll never have to worry about compromising your vision due to your surroundings again. So go ahead and let your imagination run wild - with the Fujifilm EF-W1, anything is possible.

Greater freedom with a Radio-controlled wireless communications system

The Fujifilm EF-W1 Wireless Commander is the perfect way to take your photography to the next level. With radio-controlled wireless communications, this commander unit can remotely trigger EF-60's diverse functions, including the TTL mode, Manual mode and FP High-Speed Sync mode. It can simultaneously control multiple remote flash units, which can be divided into four groups to accept different settings. This gives you the freedom to creativity in your shots like never before.

Fine-control of the "Light"

The EF-W1 Wireless Commander from Fujifilm is an incredibly versatile and powerful tool for anyone who loves photography. With the ability to control output in 1/3EV increments, it gives you the precision you need to get the perfect photo every time. But that's not all! The EF-W1 also features power control in the Manual mode, allowing you to reduce the output level to as low as 1/256. This means you can create intricate expressions and capture incredible moments with ease. So whether you're a professional photographer or a hobbyist, the EF-W1 is the perfect choice for anyone who wants complete control over their photos. Order yours today and see the difference!
Wireless Communication Unit
| | |
| --- | --- |
| Communication Method | NAS(Nissin Air System)*1 |
| Frequency Range Used (center frequency) | 2409 – 2476 MHz |
| Wireless Maximum Output | 8 dBm (EIRP) |
| Communication Channel | 8 channels |
| Remote Group | A,B,C,D |
| Maximum number of flashes used simultaneously | 30 |
Functions
Action mode
Radio Wireless Commander (TTL, Manual, OFF)
TTL Flash Exposure Compensation Control
±2EV, 1/3EV steps
Manual Flash Control
1/1 – 1/256, 1/3EV steps
FP (high speed sync) Emission Control
Compatible (when using a compatible camera)
The Coverage (zoom)
24 – 200mm (35mm format conversion), auto zoom
Recycling Time
Max. approx. 10 times/second
Other Functions
Firemware update by microSD card, open mode*2, modeling light control*2 that allows to

control one flash from multiple wireless commanders.
Power Supply and Others
No. of Flashes
Approx. 3,000 times (when using alkaline batteries)*3
Power Supply
2 x AAA batteries (Ni-MH batteries, alkaline batteries)
Using Temperature Range
-10 to 40 degrees Celsius

1/1 – 1/32 with 1/3EV step (FP(HSS) emission)

Dimension (Height x Width x Depth)
Approx. 61mm x 62mm x 68mm
Weight
Approx. 73g (without battery)
⚠️ WARNING: This product can expose you to chemicals including Lead, which is known to the State of California to cause cancer and birth defects and/or other reproductive harm. For more information go to www.P65Warnings.ca.gov