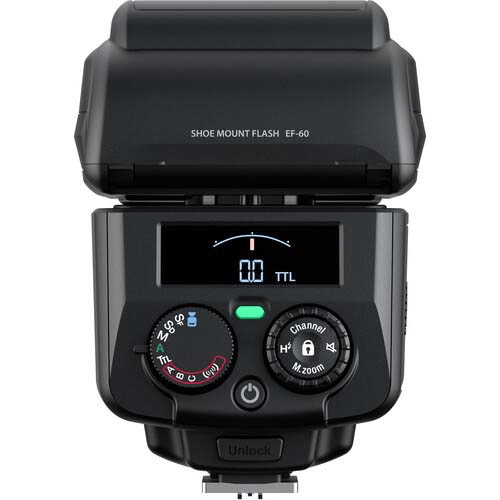 X-Series and GFX System Wireless Control
Nissin Air System Wireless Compatibility
Recycle Time: 3 sec at Full Power
Guide Number: 197' at 200mm Setting
Zoom Range 24-200mm
Wireless Channels: 8 Channels & 4 Groups
High Speed Sync
FUJIFILM's first, radio controlled wireless clip-on flash

Fujifilm EF-60 Electronic Flash is a powerful output clip-on flash that also allows wireless controls. It is ready to support our customers with its cameras and lenses. The EF-60 will assist GFX/X series customers in broadening their creative works using lights.

Powerful and multiple functions packed in a compact body

The Fujifilm EF-60 Electronic Flash is a powerful and compact clip-on flash that is perfect for any shooting situation. With a maximum Guide Number of 60, this flash offers ample output despite its small form factor. The head can be manually adjusted by 90 degrees upward or by 180 degrees either left or right, making it easy to bounce light off a wall or ceiling for a natural look with no harsh shadows. The flash coverage ranges from 24mm to 200mm, and can be extended to 16mm when the built-in diffuser is used. The Auto Zoom function adjusts the coverage according to the angle of view of the mounted lens, making it even easier to get the perfect shot every time.

Hybrid. Triggers with both radio controlled and optical wireless communication

Looking for a reliable and powerful flash to take your photography up a notch? Look no further than the Fujifilm EF-60 Electronic Flash. With built-in receiver for the radio controlled wireless communications system called NAS (Nissin Air System)2, this flash is ideal for remote shooting in a variety of conditions. Whether you're shooting indoors or outdoors, in daylight or in a location with obstacles blocking line-of-sight, the EF-60 is up to the task. Plus, with the optical wireless mode to support remote trigger in optical communications, using the FUJIFILM EF-X500 as the commander unit4, you can be confident that your wireless system will be stable even in less-than-desirable radio environments. Don't miss out on capturing those perfect moments - invest in the Fujifilm EF-60 Electronic Flash today!
Max. Guide No.
approx. 60 (ISO 100·m)

When focal length coverage is set to 200mm in 35mm format
The Coverage (zoom)
24mm – 200mm (in 35mm format)

16mm (in 35mm format) when using built-in diffuser

Bounce Position
Up: 90°, Down: 0°, Left: 180°, Right: 180°
Color Temperature
approx. 5,300K (at full flash)
FP (High Speed Sync) emission
Compatible
Exposure Control, Flashing method
TTL, Manual control
EV compensation
+/-2EV in increments of 1/3 of EV
Manual mode*5
1/1 – 1/256 with 1/3EV step selection (flashing)

1/1 – 1/32 with 1/3EV step (FP(HSS) emission)

Repeating flash
Charging
Recycling Time (Full flashing, fully charged) approx. 3 sec. (NiMH battery)

No. of flashes (Full flashing, fully charged) approx. 170 times (NiMH battery)
Wireless remote function
| | |
| --- | --- |
| Communication method | 2.4GHz NAS*2 |
| Action mode | Remote (TTL, Manual, OFF) |
| Compatible master device | FUJIFILM EF-W1, Nissin Air10s*3 |
| Communication Channel | Compatible with channel 1 to 8 of wireless commander |
| Remote Group | A, B, C |
Optical communication function
| | |
| --- | --- |
| Communication method | Optical pulse method |
| Compatible master device | FUJIFILM EF-X500 |
| Action mode | Remote (TTL, Manual, OFF) |
| Communication Channel | Compatible with channel 1 to 4 of master flash |
| Remote group | A, B, C |
| | |
| --- | --- |
| Power Source | 4 x AA batteris (NiMH battery, Alkaline battery) |
External Power Source
Category 8 H5 FOCUS
| | |
| --- | --- |
| Dimension (Height x Width x Depth) | approx. 97mm x 73mm x 113mm |
| Weight | approx. 300g (without battery) |
⚠️ WARNING: This product can expose you to chemicals including Lead, which is known to the State of California to cause cancer and birth defects and/or other reproductive harm. For more information go to www.P65Warnings.ca.gov