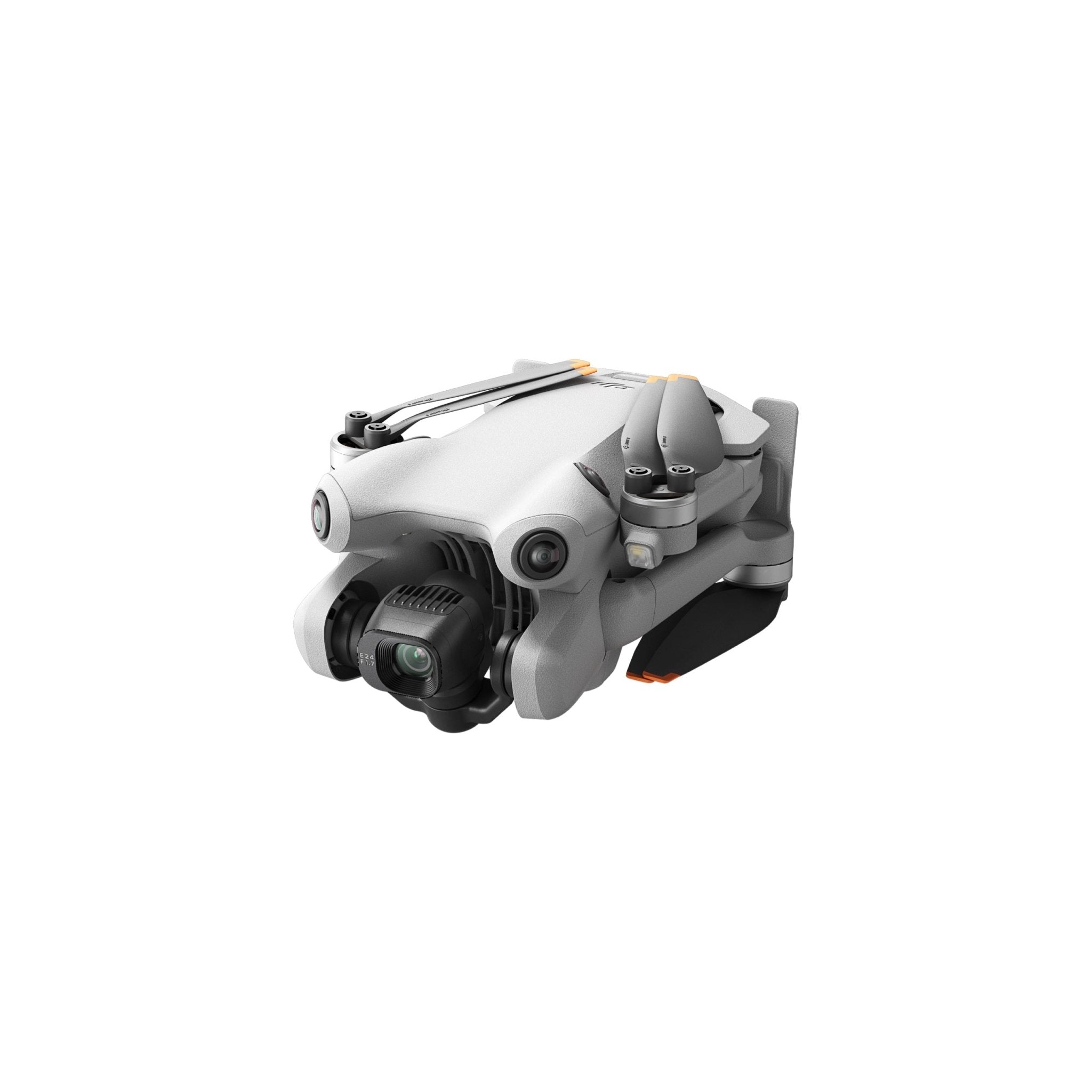 Under 249 g
4K/60fps HDR True Vertical Shooting
Omnidirectional Obstacle Sensing
Extended Battery Life
20km FHD Video Transmission
ActiveTrack 360°
Take it. Easy.

The DJI Mini 4 Pro is designed for efficiency! With this lightweight model, you no longer have to sacrifice portability without compromising on power. The 249 g frame makes it an ideal choice for anyone looking to take their drone experiences on the go. Whether you're a first-timer or an experienced professional, this one will let you get airborne with minimal effort. Plus, it's so intuitive that most countries and regions don't even require training or examinations! That's just one of the many reasons why the DJI Mini 4 Pro stands out in a sea of options. Get ready to be impressed as you take your adventures higher and farther than ever before. Invest in this piece today and make every flight worth remembering!

Fly Longer, Create More

Whether you're a professional photographer, traveler, or simply an amateur photography enthusiast, this drone is for you. Enjoy up to 34 or 45 minutes of flight time depending on your needs, allowing you to capture all the perfect shots. No need to take multiple shots and put together a masterpiece after – now you can get the picture-perfect shot with just one live-action snap. And with frigid temperatures or strong wind affecting your battery life? Don't worry! With two battery options to choose from, you can stay focused on creation no matter what the weather has in store.

Out-Sized Imaging Performance

This powerful camera drone features a 1/1.3" CMOS sensor for superior image quality, allowing you to shoot 4K/60fps HDR and True Vertical Shooting. Plus, with 10-bit D-Log M/HLG color modes, you can record up to one billion colors and get dazzling results every time. With this incredible little machine in your hands, you now have the power to capture your world with vibrancy and definition never seen before.

Stable, Reliable Video Transmission

This low-cost, lightweight drone is perfect for any level of experience and packs a huge punch! The powerful O4 video transmission can send real-time HD footage up to 20 km away from its take-off location, ensuring that you get clear, smooth images no matter how far you're flying. Enjoy magnificent 1080p/60fps live feeds that let you capture stunning landscapes or keep an eye on outdoor events without ever having to leave your chair.

Sense More, Fly Safe

DJI Mini 4 Pro is the beginning of a new era: an era of exhilaration, precision-flying and unprecedented control. Now, for the first time ever, piloting a drone of this power and accuracy is possible for virtually anyone. With its new omni sensing technology, the DJI Mini 4 Pro can flexibly avoid and detect obstacles sooner than anything before it, successfully allowing even novice pilots to fly safely with minimal effort and worry-free confidence. Whether navigating uncharted terrain or executing expert maneuvers in tight spaces – with its mirrored motor arrangement Pulse modulation system and 3D force sensors – the DJI Mini 4 Pro eliminates guesswork no matter what your flying level or flight type may be. Together with remote controls that are as user friendly as they are easy to use, you'll take off from beginner to master in no time flat.

A Touch of Cinematics

The DJI Mini 4 Pro is the ultimate tool for capturing breathtaking videos and photos – all from a small, lightweight package. It packs powerful features including ActiveTrack 360° – so you can easily unlock incredible footage without having to worry about manual control. With this intuitive tool, you can customize tracking routes to fit any shooting scenario and achieve pro-level results in no time. Plus, propel yourself further with the ability to shoot 4K/30fps videos, take crystal-clear 12MP photos with an adjustable aperture range of f/2.8–f/11, and enhanced image quality that gives you vibrant colors as well as detailed shadows. With its app and set of advanced features, the DJI Mini 4 Pro lets you express your creativity like never before: push your limits and discover possibilities!
Gimbal
Stabilization
3-axis mechanical gimbal (tilt, roll, pan)
Mechanical Range
Tilt: -135 Degree to 80 Degree

Roll: -135 Degree to 45 Degree

Pan: -30 Degree to 30 Degree

Controllable Range
Tilt: -90 Degree to 60 Degree

Roll: -90 Degree or 0 Degree

Max Control Speed (Tilt)
100 Degree /s
Angular Vibration Range
+/-0.01 Degree
Sensing
Sensing Type
Omnidirectional binocular vision system, supplemented with a 3D infrared sensor at the bottom of the aircraft
Forward
Measurement Range: 0.5-18 m

Detection Range: 0.5-200 m

Effective Sensing Speed: Flight Speed <= 12 m/s

FOV: Horizontal 90 Degree , Vertical 72 Degree

Backward
Measurement Range: 0.5-15 m

Effective Sensing Speed: Flight Speed <= 12 m/s

FOV: Horizontal 90 Degree , Vertical 72 Degree

Lateral
Measurement Range: 0.5-12 m

Effective Sensing Speed: Flight Speed <= 12 m/s

FOV: Horizontal 90 Degree , Vertical 72 Degree

Upward
Measurement Range: 0.5-15 m

Effective Sensing Speed: Flight Speed <= 5 m/s

FOV: Front and Back 72 Degree , Left and Right 90 Degree

Downward
Measurement Range: 0.3-12 m

Effective Sensing Speed: Flight Speed <= 5 m/s

FOV: Front and Back 106 Degree , Left and Right 90 Degree

Operating Environment
Forward, Backward, Left, Right, and Upward:

Surfaces with discernible patterns and adequate lighting (lux > 15)

Downward:

Surfaces with discernible patterns, diffuse reflectivity > 20% (e.g. walls, trees, people), and adequate lighting (lux > 15)

3D Infrared Sensor
Measurement Range: 0.1-8 m (reflectivity > 10%)

FOV: Front and Back 60 Degree , Left and Right 60 Degree
Video Transmission
Video Transmission System
O4
Live View Quality
Remote Controller:

Up to 1080p/60fps (available when the aircraft is flying in Photo or Video mode)

Up to 1080p/30fps (available when the aircraft is flying in Video mode)

Up to 1080p/24fps (available when the aircraft is in standby mode on the ground)

Operating Frequency
2.4000-2.4835 GHz

5.170-5.250 GHz

5.725-5.850 GHz

Transmitter Power (EIRP)
2.4 GHz:

< 33 dBm (FCC)

< 20 dBm (CE/SRRC/MIC)

5.1 GHz:

< 23 dBm (CE)

5.8 GHz:

< 33 dBm (FCC)

< 30 dBm (SRRC)

< 14 dBm (CE)

Max Transmission Distance
FCC: 20 km

CE: 10 km

SRRC: 10 km

MIC: 10 km (unobstructed, free of interference)

Strong Interference: urban landscape, approx. 1.5-4 km

Medium Interference: suburban landscape, approx. 4-10 km

Low Interference: suburb/seaside, approx. 10-20 km (unobstructed, with interference)

Low Interference & Obstructed by Buildings: approx. 0-0.5 km

Low Interference & Obstructed by Trees: approx. 0.5-3 km (obstructed w/interference)

Max Download Speed
O4

10 MB/s (with DJI RC-N2)

10 MB/s (with DJI RC 2)

Wi-Fi 5: 30 MB/s

Lowest Latency
Aircraft + Remote Controller: approx. 120 ms
Antenna
4 antennas, 2T4R
Battery
Compatible Battery
DJI Mini 4 Pro Intelligent Flight Battery
Capacity
Intelligent Flight Battery: 2590 mAh
Nominal Voltage
Intelligent Flight Battery: 7.32 V
Max Charging Voltage
Intelligent Flight Battery: 8.6 V
Type
Li-ion
Energy
Intelligent Flight Battery: 18.96 Wh
Charging Temperature
41 Degree to 104 Degree F (5 Degree to 40 Degree C)
Charging Time
Intelligent Flight Battery:

70 minutes (with the DJI 30W USB-C Charger and the battery mounted to the aircraft)

58 minutes (with the DJI 30W USB-C Charger and the battery inserted into the Two-Way Charging Hub)

Battery Info
Required, included
Battery Material
Lithium ion
Battery Quantity
1
Video Transmission
Video Transmission
2.4000-2.4835 GHz

5.170-5.250 GHz

5.725-5.850 GHz

Antenna
4 antennas, 2T4R
Transmitter Power (EIRP)
2.4 GHz: <33 dBm (FCC), <20 dBm (CE/SRRC/MIC)

5.1 GHz: <23 dBm (CE)

5.8 GHz: <33 dBm (FCC), <14 dBm (CE), <30 dBm (SRRC)
General
Battery
18650 Li-ion, 22.32Wh (3.6V, 3100mAh x2)
Charging Type
Supports up to 9V/3A fast charge.
Charging Time
1.5 hours (with 9V/3A charger)
Operating Time
Max 3 hours
Operating Temperature
14 Degree to 104 Degree F (-10 Degree to 40 Degree C)
Storage Temperature
Within one month: -22 Degree to 140 Degree F (-30 Degree to 60 Degree C)

One to three months: -22 Degree to 113 Degree F (-30 Degree to 45 Degree C)

Three to six months: -22 Degree to 95 Degree F (-30 Degree to 35 Degree C)

More than six months: -22 Degree to 77 Degree F (-30 Degree to 25 Degree C)

Charging Temperature
41 Degree to 104 Degree F (5 Degree to 40 Degree C)
Global Navigation Satellite System
GPS + BeiDou + Galileo
⚠️ WARNING: This product can expose you to chemicals including Lead, which is known to the State of California to cause cancer and birth defects and/or other reproductive harm. For more information go to www.P65Warnings.ca.gov