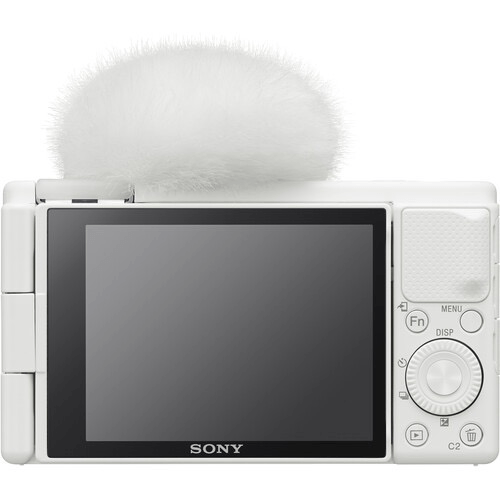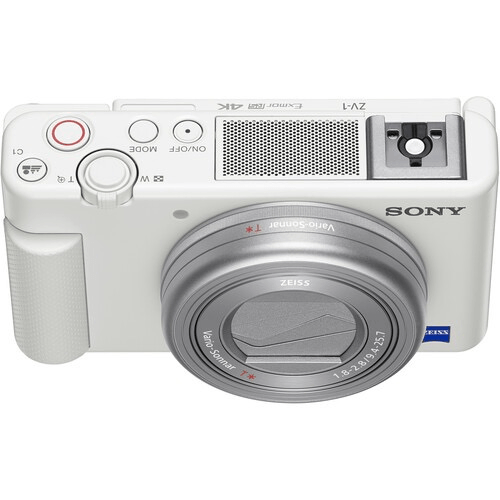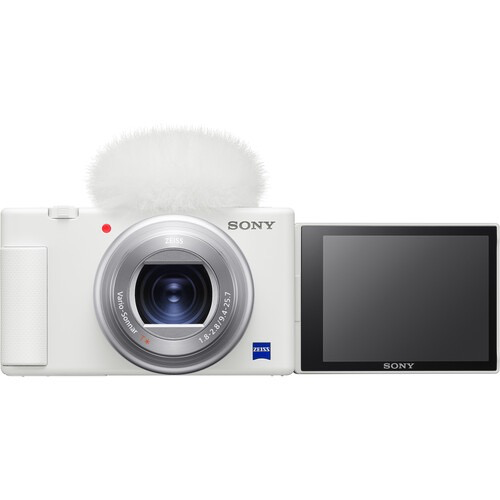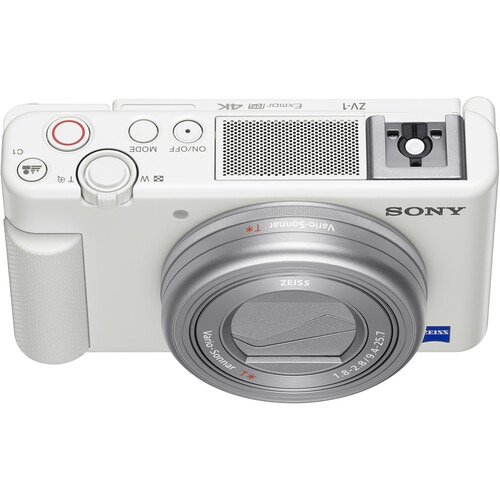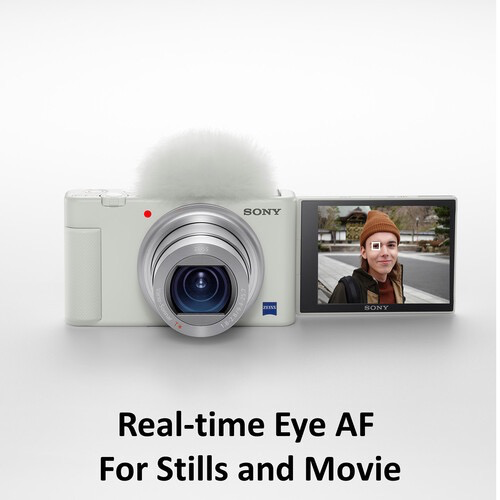 Large 1.0-type Exmor RS CMOS image sensor
BIONZ X image processing engine
4K movie recording
Directional three-capsule mic with wind screen
Vari-angle LCD screen
body grip
and recording lamp
Pro Quality Bokeh Control with One Touch.

Introducing the Sony zv-1 – the perfect camera for creating stunning professional-looking photos with ease. With its innovative Bokeh switch, you can easily create beautiful defocused backgrounds with just the press of a button. Whether you're an experienced photographer or just starting out, the zv-1 is perfect for capturing unforgettable moments with stunning clarity and ease.

Shoot Great On The Go.

With its amazing image stabilisation, you can shoot smooth video even while walking. The AE automatically tracks faces and adjusts exposure accordingly, so you always get great shots of your subjects no matter what the lighting conditions are.

Simple Video Stream.

Whether you're using it as an online communication tool or an external camera, the ZV-1 is easy to use and delivers superior performance. Thanks to its USB Type-C connection, the ZV-1 can be used with a wide range of devices, making it the ideal choice for any lifestyle.

ZV-! Feature Tour.

The Sony ZV-1 is a high-end digital camera that is perfect for anyone who wants to take amazing photos and videos. With its 20.1 megapixel sensor, 4K video recording, and 3 inch LCD screen, the ZV-1 gives you everything you need to capture stunning images and videos. Plus, with its Zeiss Vario-Sonnar T* lens, you'll be able to get beautiful photos and videos with great detail and clarity.




Built In ND Filter.

This amazing camera comes equipped with a Neutral Density (ND) filter, which gives you complete control over your video exposure, allowing you to create stunningly realistic images with incredible depth of field. In addition, the Sony zv-1's slow-shutter capabilities enable you to capture the beauty of water in motion, or the ethereal quality of light shining through mist or fog. Whether you're a professional photographer or videographer, or simply someone who enjoys capturing special moments, the Sony zv-1 is sure to exceed your expectations.
Lens
| | |
| --- | --- |
| Lens Mount | E - Mount |
| Optical Zoom | 2.7x |
| F-Number (Maximum Aperture) | F1.8 W - 2.8 T |
| Digital Zoom | 20M Approx.11x / 10M Approx.16x / 5.0M Approx.23x / VGA Approx.44x |
| Focus Range | AF (W: Approx. 5cm (0.17 ft.) to Infinity, T: Approx. 30cm (0.99 ft.) to Infinity) |
Image Sensor
| | |
| --- | --- |
| Aspect Ratio | 3:2 |
| Number of Pixels | Approx. 24.2 megapixels |
| Sensor Type | APS-C type (23.5 x 15.6mm), Exmor CMOS sensor |
| Anti Dust System | Charge protection coating on optical filter and image sensor shift mechanism |
Recording ( still images )
| | |
| --- | --- |
| Recording Format | JPEG (DCF Ver. 2.0, Exif Ver.2.31, MPF Baseline compliant), RAW (Sony ARW 2.3 format) |
| IMAGE SIZE (PIXELS) [3:2] | L: 6000 x 4000 (24M), M: 4240 x 2832 (12M), S: 3008 x 2000 (6.0M) |
| IMAGE SIZE (PIXELS) [16:9] | L: 6000 x 3376 (20M), M: 4240 x 2400 (10M), S: 3008 x 1688 (5.1M) |
| IMAGE SIZE (PIXELS) [1:1] | L: 4000 x 4000 (16M), M: 2832 x 2832 (8.0M), S: 2000 x 2000 (4.0M) |
| IMAGE QUALITY MODES | RAW,RAW & JPEG (Extra fine, Fine, Standard), JPEG (Extra fine, Fine, Standard) |
| PICTURE PROFILE | off/PP1-PP10 (Black Level, Gamma (Movie, Still, Cine1-2, ITU709, ITU709 [800%], S-Log2, S-Log3, HLG, HLG1, HLG2, HLG3), Black Gamma, Knee, Color Mode, Saturation, Color Phase, Color Depth, Detail, Copy, Reset) |
| DYNAMIC RANGE FUNCTIONS | Off, Dynamic Range Optimizer (Auto/Level (1-5)), Auto High Dynamic Range (Auto Exposure Difference, Exposure Difference Level (1-6 EV, 1.0 EV step)) |
| COLOUR SPACE | sRGB standard (with sYCC gamut) and Adobe RGB standard compatible with TRILUMINOS Color |
Recording (Movie)
| | |
| --- | --- |
| RECORDING FORMAT | XAVC S, AVCHD format Ver. 2.0 compliant |
| VIDEO COMPRESSION | XAVC S: MPEG-4 AVC/H.264, XAVC HS: MPEG-H HEVC/H.264 |
| AUDIO RECORDING FORMAT | LPCM 2 ch (48 kHz 16 bit), LPCM 2 ch (48 kHz 24 bit)2, LPCM 4 ch (48 kHz 24 bit)2, MPEG-4 AAC-LC 2 ch3 |
| COLOUR SPACE | xvYCC standard (x.v.Color when connected via HDMI cable) compatible with TRILUMINOS Color |
| CREATIVE LOOK | Standard, Vivid, Portrait, Landscape, Sunset, Black & White, Sepia, (Contrast (-3 to +3 steps), Saturation (-3 to +3 steps), Sharpness (-3 to +3 steps)) |
| IMAGE SIZE (PIXELS), NTSC | XAVC S 4K: 3840 x 2160 (30p, 100M), 3840 x 2160 (24p, 100M), 3840 x 2160 (30p, 60M), 3840 x 2160 (24p, 60M), XAVC S HD: 1920 x 1080 (120p, 100M), 1920 x 1080 (120p, 60M), 1920 x 1080 (60p, 50M), 1920 x 1080 (30p, 50M), 1920 x 1080 (24p, 50M), 1920 x 1080 (60p, 25M), 1920 x 1080 (30p, 16M), AVCHD: 1920 x 1080 (60i, 24M, FX), 1920 x 1080 (60i, 17M, FH) |
| SLOW & QUICK MOTION (SHOOTING FRAME RATE) | NTSC mode: 1fps, 2fps, 4fps, 8fps ,15fps, 30fps, 60fps, 120fps, PAL mode: 1fps, 2fps, 3fps, 6fps, 12fps, 25fps, 50fps, 100fps |
| MOVIE FUNCTIONS | Audio Level Display, Audio Rec Level, PAL/NTSC Selector, Proxy Recording (1280 x 720 (Approx. 9Mbps)), TC/UB (TC Preset/UB Preset/TC Format/TC Run/TC Make/UB Time Rec), Auto Slow Shutter, REC Control, Clean HDMI Info. (ON/OFF selectable), Gamma Disp. Assist |
RECORDING SYSTEM
LOCATION INFORMATION LINK FROM SMARTPHONE

RECORDING FORMAT

Yes
MEDIA
Memory Stick PRO Duo, Memory Stick PRO-HG Duo, Memory Stick Micro (M2), SD memory card, SDHC memory card (UHS-I compliant), SDXC memory card (UHS-I compliant), microSD memory card, microSDHC memory card, microSDXC memory card1
MEMORY CARD SLOT
Multi slot for Memory Stick Duo/SD memory card
NOISE REDUCTION
NOISE REDUCTION
Long exposure NR: On/Off, available at shutter speeds longer than 1 sec., High ISO

NR: Normal / Low / Off
WHITE BALANCE
| | |
| --- | --- |
| WHITE BALANCE MODES . | Auto, Daylight, Shade, Cloudy, Incandescent, Fluor.: Warm White, Fluor.: Cool White, Fluor.: Day White, Fluor.: Daylight, Flash, Underwater Auto, C.Temp./Filter, Custom |
FOCUS
| | |
| --- | --- |
| FOCUS TYPE | Fast Hybrid AF (phase-detection AF / contrast-detection AF) |
| FOCUS SENSOR | Exmor CMOS sensor |
| FOCUS POINT | 425 points (phase-detection AF)/ 425 points (contrast-detection AF) |
| FOCUS SENSITIVITY RANGE | EV-34to EV20 (ISO100 equivalent with F2.0 lens attached) |
| FOCUS MODE | AF-A (Automatic AF), AF-S (Single-shot AF), AF-C (Continuous AF), DMF (Direct Manual Focus), Manual Focus |
| FOCUS AREA | Wide (425 points (phase-detection AF), 425 points(contrast-detection AF)) / Zone/ Center/ Flexible Spot (S/M/L)/Expanded Flexible Spot/ Tracking (Wide/ Zone/ Center/ Flexible Spot (S/M/L)/Expanded Flexible Spot) |
| EYE AF | [Still images] Human (Right/Left Eye Select) / Animal (Right/Left Eye Select) / Bird, [Movie] Human (Right/Left Eye Select) / Animal (Right/Left Eye Select) / Bird |
| AF ILLUMINATOR | Yes (with Built-in LED type) |
| AF ILLUMINATOR RANGE | Approx. 0.3m - approx. 3.0m (with FE 28-70mm F3.5-5.6 OSS lens attached) |
RECORDING SYSTEM
LOCATION INFORMATION LINK FROM SMARTPHONE

RECORDING FORMAT

Yes
MEDIA
SD memory card, SDHC memory card (UHS-I/II compliant), SDXC memory card (UHS-I/II compliant)
MEMORY CARD SLOT
Multi slot for Memory Stick Duo/SD memory card
NOISE REDUCTION
NOISE REDUCTION
Long exposure NR: On/Off, available at shutter speeds longer than 1 sec., High ISO

NR: Normal / Low / Off
WHITE BALANCE
| | |
| --- | --- |
| WHITE BALANCE MODES | Auto / Daylight / Shade / Cloudy / Incandescent / Fluorescent (Warm White / Cool White / Day White / Daylight) / Flash /Underwater/ Color Temperature (2500 to 9900K) & color filter (G7 to M7 (57-step), A7 to B7 (29-step)) / Custom |
EXPOSURE
| | |
| --- | --- |
| LIGHT METERING MODE | 1200-zone evaluative metering |
| METERING SENSOR | Exmor CMOS sensor |
| METERING SENSITIVITY | EV-3 to EV20 (ISO100 equivalent with F2.0 lens attached) |
| METERING MODE | Multi-segment, Center-weighted, Spot (Standard / Large), Entire Screen Avg., Highlight |
| EXPOSURE COMPENSATION | +/- 5.0EV (1/3 EV, 1/2 EV steps selectable) (with exposure compensation dial: +/- 3EV (1/3 EV steps)) |
| EXPOSURE BRACKETING | Bracket: Cont., Bracket: Single, 3/5 frames selectable. With 3 frames, in 1/3, 1/2, 2/3, 1.0, 2.0, or 3.0 EV increments. With 5 frames, in 1/3, 1/2, 2/3 EV increments. |
| AE LOCK | Locked when shutter button is pressed halfway. (On/Off/Auto) |
| EXPOSURE MODES | AUTO (iAuto/Superior Auto), Programmed AE (P), Aperture priority (A), Shutter-speed priority (S), Manual (M), Movie (Programmed AE (P) / Aperture priority (A) / Shutter-speed priority (S) / Manual (M) ), Slow & Quick Motion (Programmed AE (P) / Aperture priority (A) / Shutter-speed priority (S) / Manual (M) ), Sweep Panorama, Scene Selection |
| ISO SENSITIVITY (RECOMMENDED EXPOSURE INDEX) | Auto:(ISO125 Level-ISO12800 Level, selectable with upper / lower limit), 125/160/200/250/320/400/500/640/800/1000/1250/1600/2000/2500/3200/4000/5000/6400/8000/10000/12800L |
| ANTI-FLICKER SHOOT. | YES |
LCD SCREEN
| | |
| --- | --- |
| MONITOR TYPE | 7.5cm (3.0-type) type TFT LCD |
| TOUCH PANEL | Yes |
| BRIGHTNESS CONTROL | Manual (5 steps between -2 and +2) |
| ADJUSTABLE ANGLE | Opening Angle: Approx. 176 °., Rotation Angle: Approx. 270 °. |
| FOCUS MAGNIFIER | 5.3x, 10.7x |
OTHER FEATURES
| | |
| --- | --- |
| CLEAR IMAGE ZOOM | Still images:Approx. 2x,Movies:Approx. 1.5x (4K), Approx. 2x (HD) |
| DIGITAL ZOOM | Smart zoom (Still images):M: Approx. 1.4x, S: Approx. 2x, Digital zoom (Still images):L: Approx. 4x, M: Approx. 5.7x, S: Approx. 8x, Digital zoom (Movie):Approx. 4x |
| FACE DETECTION | Modes:Face Priority in AF (On/Off), Face Priority in Multi Metering (On/Off), Regist. Faces Priority (On/Off),Face registration,Max. number of detectable:8 faces |
| OTHERS | WhiteMagic, Grid Line, (Rule of 3rds Grid/Square Grid/Diag. + Square Grid/Off), Movie Marker, (Center/Aspect/Safety Zone/Guideframe) |
SHUTTER
| | |
| --- | --- |
| TYPE | Electronically-controlled, vertical-traverse, focal-plane type |
| SHUTTER TYPE | Mechanical shutter/Electronic shutter |
| SHUTTER SPEED | Still images:1/4000 to 30 sec, Bulb, Movies: 1/4000 to 1/4 (1/3 steps), up to 1/50 in AUTO mode (up to 1/25 in Auto slow shutter mode) |
| SILENT SHOOTING | Yes (ON/OFF) |
IMAGE STABILIZATION
| | |
| --- | --- |
| TYPE | Image Sensor-Shift mechanism with 5-axis compensation (Compensation depends on lens specifications) |
| COMPENSATION EFFECT | 5 stops (based on CIPA standard. Pitch/yaw shake only. With Planar T* FE 50mm F1.4 ZA lens mounted. Long exposure NR off.) |
FLASH CONTROL
| | |
| --- | --- |
| CONTROL | Pre-flash TTL[[F_DI0181]] |
| FLASH COMPENSATION | +/- 3.0 EV (switchable between 1/3 and 1/2 EV steps) |
| FLASH MODES | Flash off, Autoflash, Fill-flash, Slow Sync., Rear Sync., Red-eye reduction (on/off selectable), Wireless2, Hi-speed sync.2 |
DRIVE
| | |
| --- | --- |
| DRIVE MODES | Single Shooting, Continuous shooting (Hi+/Hi/Mid/Lo selectable), Self-timer, Self-timer (Cont.), Bracket: Single, Bracket: Cont., White Balance bracket, DRO bracket |
| CONTINUOUS DRIVE SPEED | Continuous Shooting Hi: approx. 24 fps, Continuous Shooting Mid: approx. 10 fps, Continuous Shooting Low: approx. 3.0 fps567 |
| SELF - TIMER | 10 s delay / 5 s delay / 2 s delay / Continuous self-time / Bracketing self-timer |
| SELF TIMER | 10sec. / 5sec. / 2sec. / 3 or 5 consecutive shots with 10sec. 5sec. or 2sec. delay selectable / Bracketing shots with 10sec. 5sec. or 2sec. delay selectable |
DRIVE PLAYBACK
| | |
| --- | --- |
| PHOTO CAPTURE | Yes |
| MODES | Single (with or without shooting information Y RGB histogram & highlight/shadow warning),12/30-frame index view,Enlarged display mode (L: 16.7x, M: 11.8x, S: 8.3x, Panorama (Standard): 19.2x, Panorama (Wide): 29.1x),Auto Review (10/5/2 sec,Off),Image orientation (Manual/Off selectable),Slideshow,Panorama scrolling,Folder selection (Date/ Still/ AVCHD/XAVC S HD/XAVC S 4K),Forward/Rewind (movie),Delete,Protect,Rating,Display as Group |
INTERFACE
| | |
| --- | --- |
| PC INTERFACE | Mass-storage / MTP, PC Remote |
| BLUETOOTH | Yes (Bluetooth Standard Ver. 4.1 (2.4GHz band)) |
| MULTI INTERFACE SHOE | Yes |
| MIC TERMINAL | Yes (3.5 mm Stereo minijack ) |
AUDIO
| | |
| --- | --- |
| MICROPHONE | Built-in stereo |
| SPEAKER | Built-in, monaural |
PRINT
| | |
| --- | --- |
| COMPATIBLE STANDARDS | Exif Print, Print Image Matching III, DPOF setting |
POWER
| | |
| --- | --- |
| SUPPLIED BATTERY | One rechargeable battery pack NP-FW50 |
| BATTERY LIFE (STILL IMAGES ) | Approx. 720 shots (Viewfinder) / Approx. 810 shots (LCD monitor) (CIPA standard)10 |
| BATTERY LIFE ( MOVIE ) | Approx. 70 min (Viewfinder) / Approx. 75 min (LCD monitor) (CIPA standard)11 |
| INTERNAL BATTERY CHARGE | YES |
| POWER CONSUMPTION WITH LCD SCREEN | Approx. 250 min (Viewfinder) / Approx. 250 min (LCD monitor) (CIPA standard) |
| USB POWER SUPPLY | Yes |
OTHERS
| | |
| --- | --- |
| OPERATING TEMPERATURE | 32-104 Degrees |
SIZE AND WEIGHT
| | |
| --- | --- |
| WEIGHT ( WITH BATTERY AND MEMORY CARD INCLUDED | Approx. 720 shots (Viewfinder) / Approx. 810 shots (LCD monitor) (CIPA standard)10 |
| DIMENSIONS ( W X H X D ) | Approx. 120.0mm x 66.9mm x 69.3mm, Approx. 120.0mm x 66.9mm x 59.0mm (from grip to monitor) /Approx. 4 3/4 x 2 3/4 x 2 3/4 inches, Approx. 4 3/4 x 2 3/4 x 2 3/8 inches (from grip to monitor) |
⚠️ WARNING: This product can expose you to chemicals including Lead, which is known to the State of California to cause cancer and birth defects and/or other reproductive harm. For more information go to www.P65Warnings.ca.gov