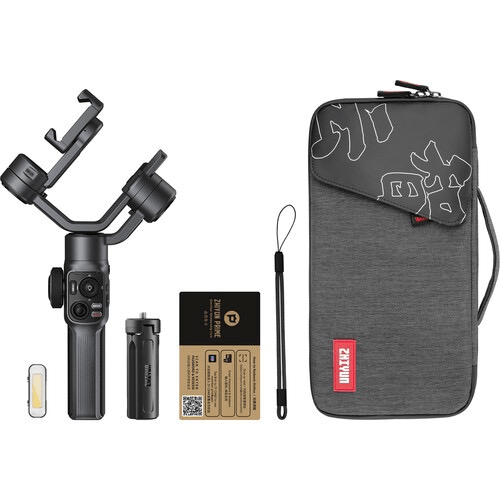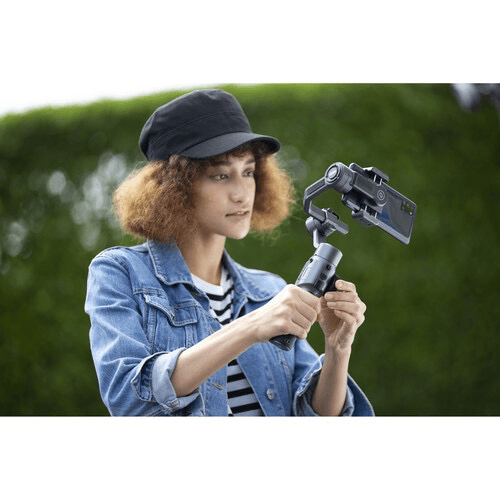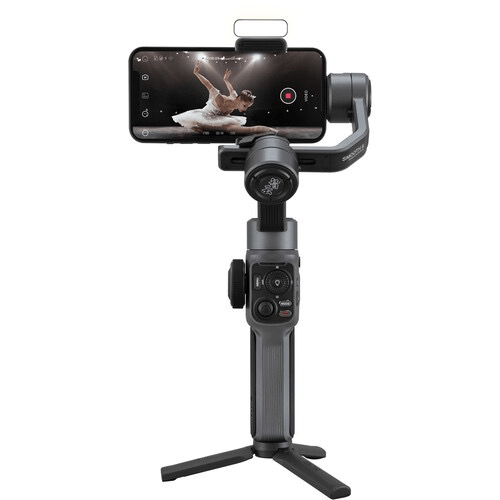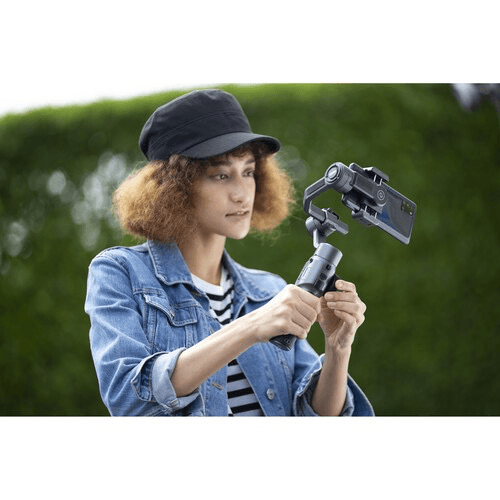 Stabilizes Smartphones for Action Shots
Redesigned Controls & Focus/Zoom Wheel
Updated Magnetic Steel Motors
Even More Compact Design
Control Select Phone Functions
Film Like A Pro

The era of smartphone filmmaking is upon us, and the Zhiyun-Tech SMOOTH 5 is leading the charge. This innovative 3-axis stabilizer allows for incredibly smooth video capture, even in extreme angles and challenging conditions. With the full-control panel and ZY Cami app, you have everything you need to produce stunning cinematic footage with your smartphone. So get out there and start filming all the things you love – with the SMOOTH 5, nothing is out of reach.

Powerful Motor Performance

The SMOOTH 5 uses professional grade magnetic steel motors that have been upgraded with a new algorithm. This results in smoother, more stable footage. The wider phone clamp ensures a safer and easier experience while filming. The strong compatibility allows you to mount a phone even with external lenses.

Professional Anti-shake

Zhiyun-Tech SMOOTH 5 is a high-quality smartphone gimbal that offers excellent anti-shake performance while preserving the original video quality of your smartphone. With its cinematic and creative movements, you can easily create stunning smartphone films that look like they were shot on a professional movie camera!

Magnetic Fill Lighting All Around

Peak brightness is capable of even lighting up a 15-square-meter room.

Controls Within Reach

Featuring a round-cap joystick and an optimized control panel, it makes it easy to check and adjust gimbal status while changing camera parameters on the fly. With its precision adjustment wheel, you can fine-tune your shots to perfection.

Upgraded Dolly Zoom

Achieve Dolly Zoom and Shot Reverse Shot by switching between zoom and focus. Focus and focal length control at ease with control wheel.

Movements in Variety

Spin around with the 360° vortex mode or expand your vision with the full-on tilt mode.

Ready, Cami, Action

SMART Mode SmartFollow Online Editing ZY Cami Video Editor Live Stream Master

Professional Protective Bag

This stylish and functional protective bag by Zhiyun takes care of your SMOOTH 5, tripod, phone lenses and charging devices when you're out filming. It has a water repellent coating and an adjustable shoulder strap for comfortable carrying. The main compartment has a custom foam interior with cutouts for the gimbal, tripod and lenses. There's also a front zipper pocket for small items like batteries and memory cards. This bag is a must-have for anyone serious about phone photography and videography.
Battery
Operation Voltage
Max: 8.4V

Standard: 7.4V

Min: 6.5V

Operation Current
Max: 3000mA

Min: 70mA

Output Voltage
Standard: 5V
Operation Temperature
Max: 45℃

Standard: 25℃

Min: -10℃

Battery Runtime
Max: 25h

Min: 4.5h

(The data is collected under the below conditions: a specified temperature of 25℃; the gimbal has been balanced and mounted with an iPhone XR (220g). When the fill light is set at the highest brightness level, the runtime of the gimbal is 4.5h. When the fill light is off and the gimbal is under standby state, the runtime is 25h.)

Charging Time
Max: 4h

Min: 2h

(When charging with a 15W Fast Charge at a specified

temperature of 25℃, the charging time is 2h. When charging with a 5V/2A rated power adapter at a specified temperature of 25℃, the charging time is 4h. The actual charging time varies with environmental factors.)
Stabilizer
Tilt Mechanical Range
Max: 209°

Standard: 349°

Min: -140°

(including the folded state)

Roll Mechanical Range
Max: 210°

Standard: 300°

Min: -90°

(including the folded state)

Pan Mechanical Range
Max: 180°

Standard: 360°

Min: -180°

Product Size
311*168*52mm (W*D*H)
Product Net Weight (Individual device)
615g (with battery)
⚠️ WARNING: This product can expose you to chemicals including Lead, which is known to the State of California to cause cancer and birth defects and/or other reproductive harm. For more information go to www.P65Warnings.ca.gov