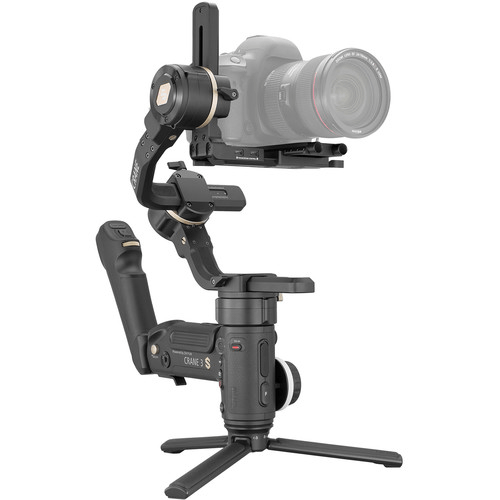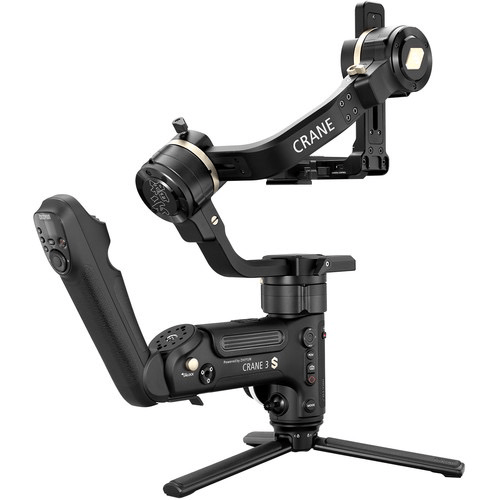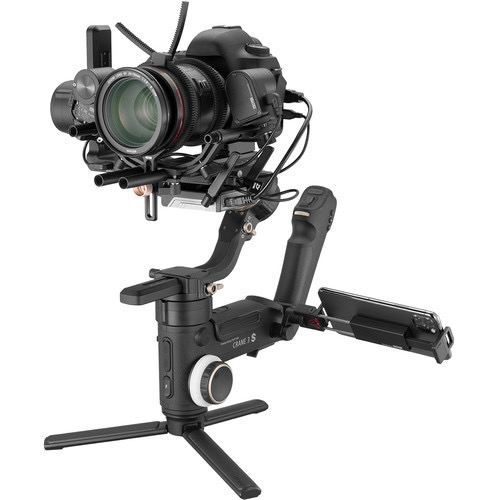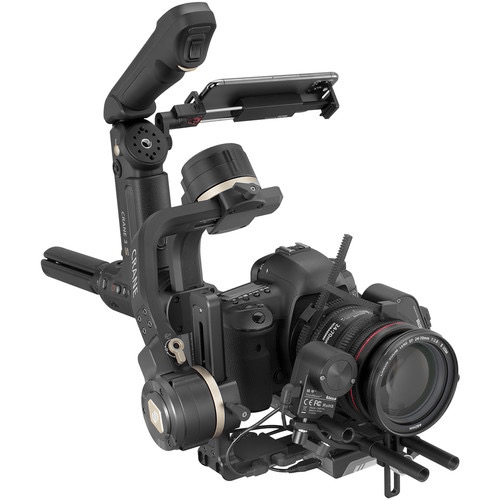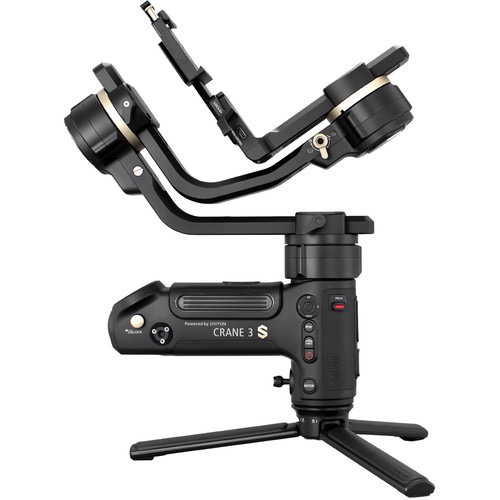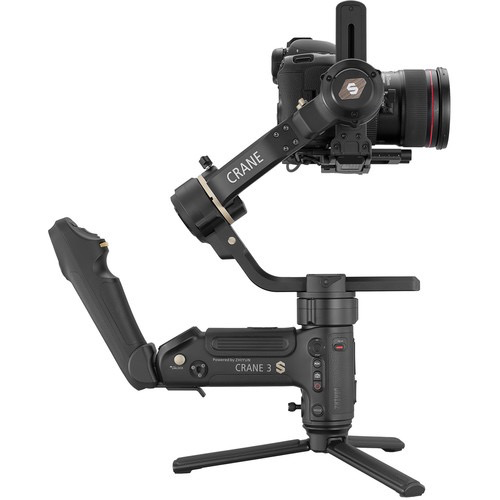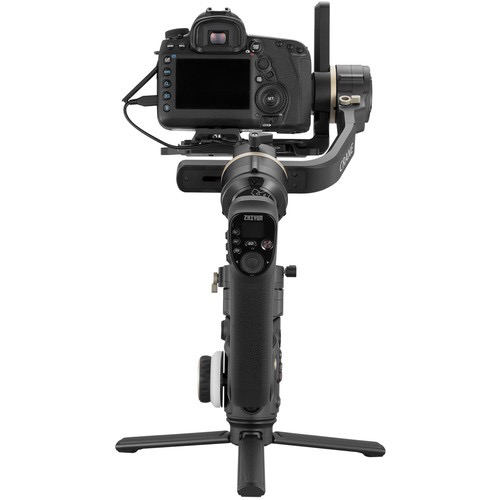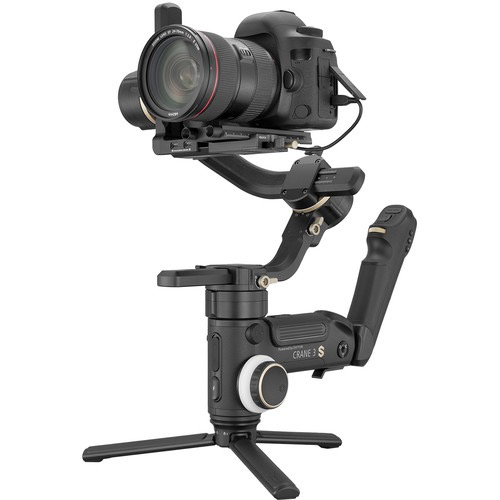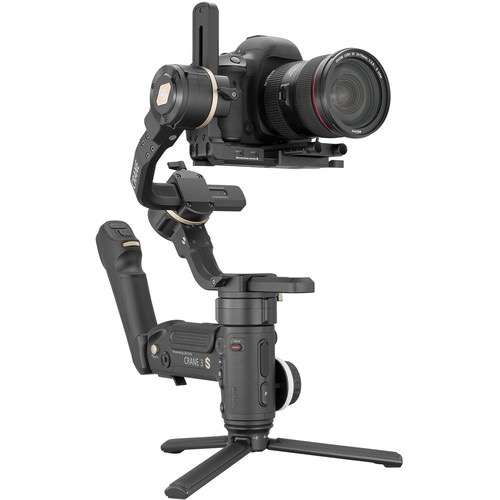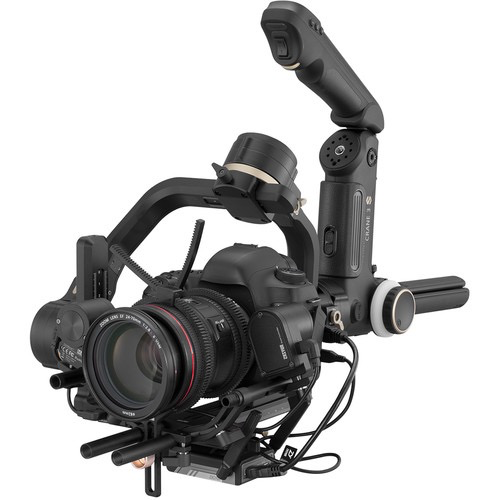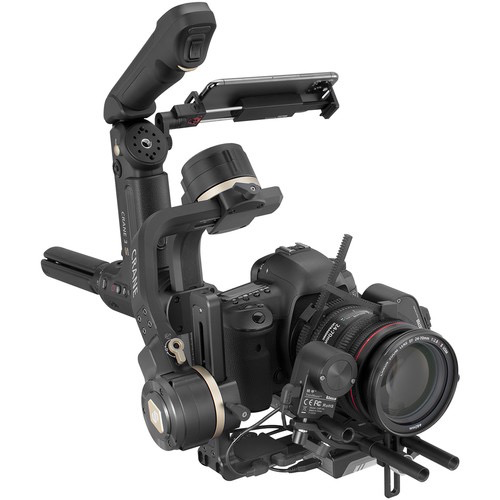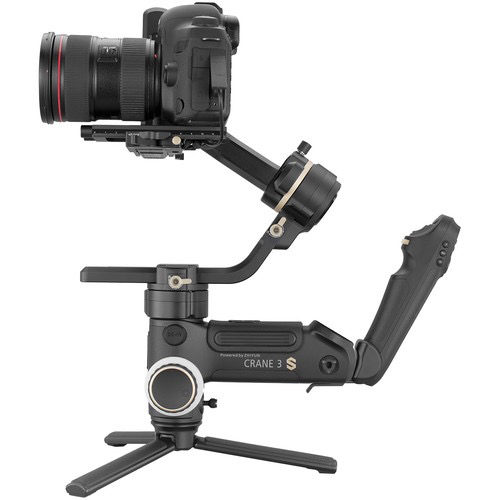 14.3 lb Payload
Zoom and Focus Wheel
Redesigned Detachable SmartSling Handle
Updated Axis Locking System
ViaTouch 2.0 Remote Motion Control
55° Angled Roll Axis
DC Input for Direct Power and Charge
Mounting Threads for Accessories
Onboard Controls
Powerful Motors
Mission Delivered

The all new Zhiyun-Tech CRANE 3S gimbal was designed with filmmakers in mind. With its high capacity and flexibility, it is perfect for any filming environment, from intense chasing shoots to studio filming. The CRANE 3S features brand new modular design, which makes it even more adaptable to your needs. With its intuitive controls, the CRANE 3S is easy to use, making it the perfect gimbal for any filmmaker.

Reengineered for More Ambitious Camera Setups

This new version is not simply an upgrade but a reconstruction, with brand new SUPER motors which allow for a maximum payload of 6.5kg. This makes it perfect for a wide range of camera setups.

Extendable Arm. Greater Flexibility

With its extension module, it is able to accommodate larger cinema camera combos, providing more space for your camera equipment. For smaller DSLR combos, the extension module can be detached for greater portability.

Modular Design. Versatile Shooting

This innovative gimbal features a detachable handle design, so you can choose between the TransMount EasySling Handle and TransMount SmartSling Handle – or combine them together for ultimate versatility. With the EasySling Handle, you can extend the grip for more comfortable operation in upright or underslung mode. Or go with the SmartSling Handle, which features an intuitive control panel and OLED screen for direct camera and gimbal parameter adjustment.

Cross-Compatibility. You can Imagine

Zhiyun-Tech's CRANE 3S is the perfect tool for challenging shooting tasks. With its modular design and cross-compatibility, it can easily be mounted on a variety of accessories, making it a versatile solution for any number of applications. The handle mods are easily separated and both provide multiple thread holes of different sizes to mount accessories. This makes it easy to attach the CRANE 3S to a motorized dolly, jib, cable cam, Easyrig, or any other piece of equipment you may need.

Zero Swinging. Hero Security

With its three-axis locking system, you can lock the camera in place without worrying about it moving or swinging. The modular design is easy to use and comes with double locks to keep your camera 100% safe while traveling or in storage.

Continuous Uptime Supported by PowerPlus

This powerful gimbal is designed for action, with a DC-IN port that supports up to 25.2V input for direct charging. The TransMount PowerPlus Battery Pack houses 6*18650 batteries, giving you the power you need to keep your gimbal running even during intense movements. Plus, the battery pack serves as a compact and fast-charging power bank for your devices.

Phenomenal Speed. Seriously Smooth

This top-of-the-line gimbal is driven by a new algorithm system that enables outstanding responsive speed and smoothness, even in fast action shoots. With its ability to resist high winds and G-forces, the CRANE 3S is perfect for capturing amazing video footage in any environment.

Properly Calculated 55°: Broader Vision

The Zhiyun-Tech CRANE 3S is the perfect gimbal for large cinema cameras. With a properly 55° tilted roll axis, it gives you an unobstructed view and allows enough space to mount your camera comfortably. made of high-quality materials, it is durable and offers smooth and stable footage. With its advanced stabilization algorithms, the Zhiyun-Tech CRANE 3S gives you professional-grade results.

Improved Zoom & Focus System

Armed with a larger lens support and a focus wheel with white board markings, the Zhiyun-Tech CRANE 3S is a powerful tool for cinematographers. With its SmartSling Handle, the CRANE 3S allows you to zoom and focus synchronously, making it easy to get the perfect shot every time.

Triple Control, Film at Your Will

With three axes of stabilization, you can capture smooth, stable footage no matter how much movement you're making. And with ZHIYUN's TransMount Image Transmission System, you can control your camera from your smartphone or motion sensor controller for even more flexibility. Whether you're a film crew working on a new project or a solo content creator, the Zhiyun-Tech CRANE 3S will help you take your videos to the next level.

ViaTouch 2.0

The ViaTouch 2.0 feature allows you to connect your stabilizer, camera, and monitoring devices via a dedicated phone app, giving you precise control over various camera and gimbal parameters. With the ZY Play APP and TransMount Image Transmission Transmitter, you can easily transmit high-quality images and videos wirelessly to your devices.

Timelapse Master

With the timelapse feature, you can capture stunning shots of sunsets, cityscapes, and more. And with the TransMount Image Transmission System, you can remotely monitor your shots and even continue shooting after you exit the app.
Battery
Operation Voltage
Max: 25.2 v

Standard: 11.1 v

Min: 9.8 v

Output Voltage
Standard: 5 v
Operation Temperature
Max: 45 °C

Standard: 25 °C

Min: -10 °C

Battery Runtime
Standard: 12 h

Laboratory data1

Charging Time
Standard: 4 h

Laboratory data2
Stabilizer
Following Deviation in Motion State
Max: ± 0.3 °

Standard: ± 0.1 °

Min: ± 0.05 °

Following Deviation in Static State
Max: ± 0.04 °

Min: ± 0.01 °

Tilt Mechanical Range
Standard: 360 °
Roll Mechanical Range
Max: 75 °

Standard: 330 °

Min: -255 °

Pan axis movement angle range
Standard: 360 °

Unlimited

Valid Payload
Max: 6500 g

Min: 600 g
⚠️ WARNING: This product can expose you to chemicals including Lead, which is known to the State of California to cause cancer and birth defects and/or other reproductive harm. For more information go to www.P65Warnings.ca.gov