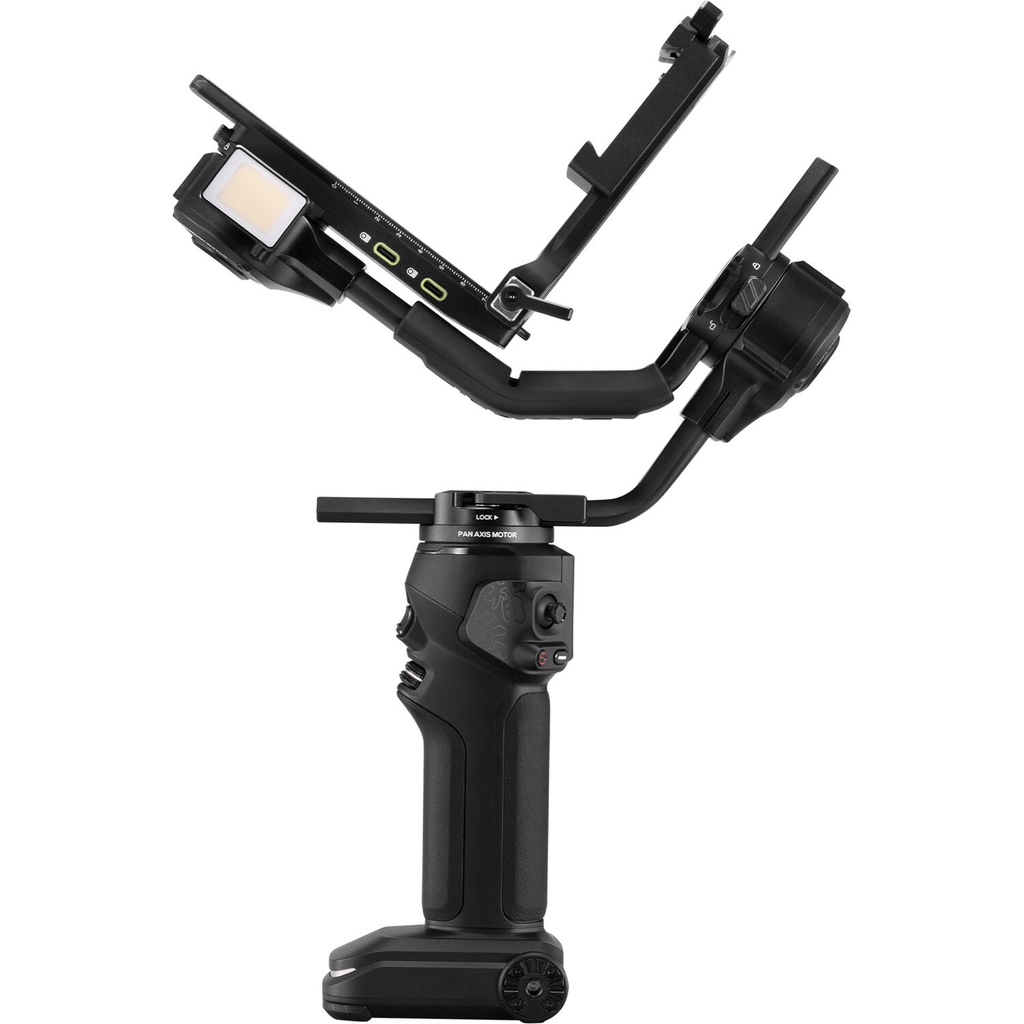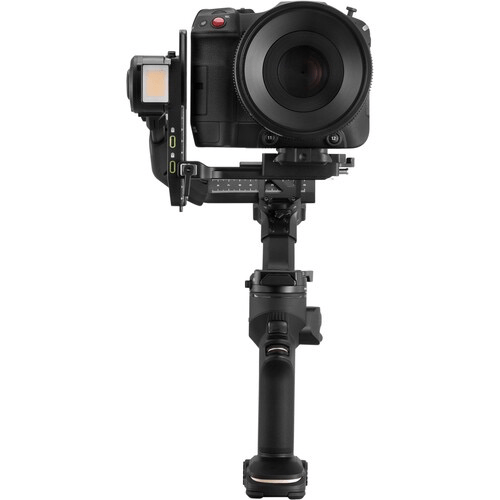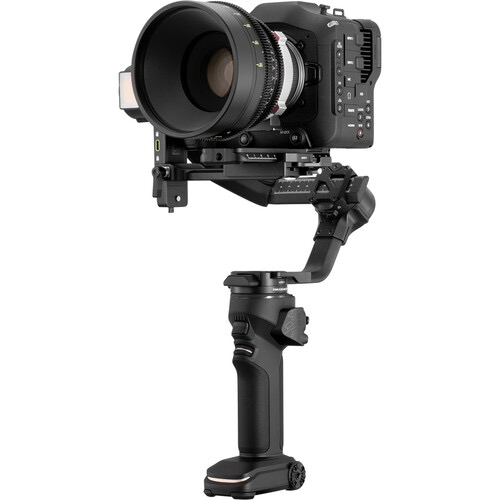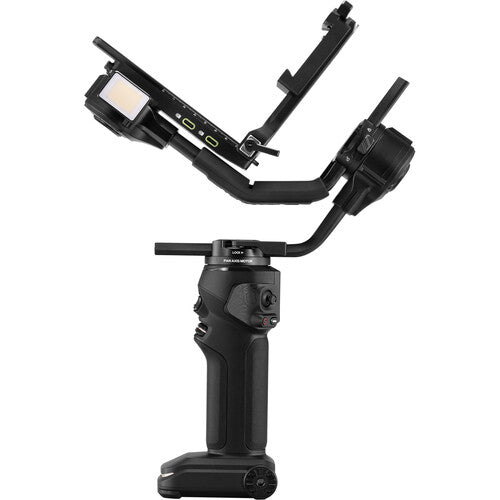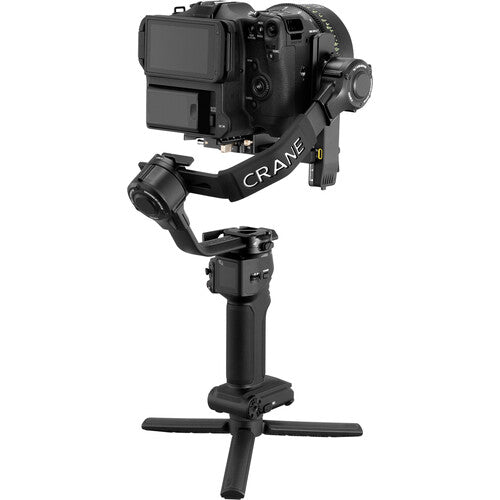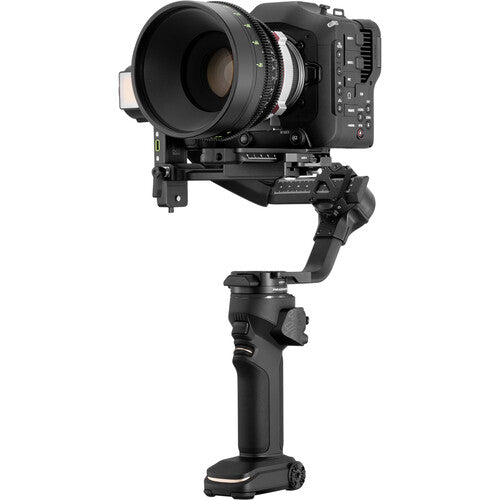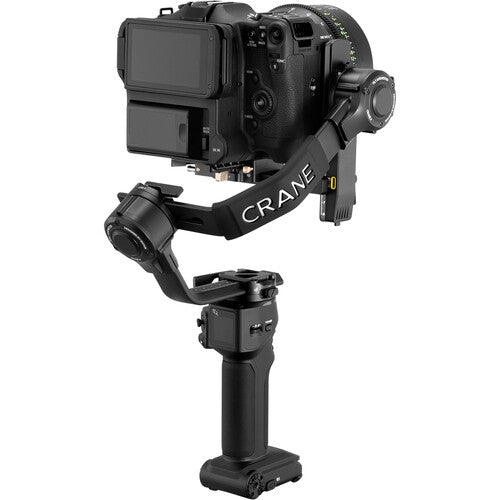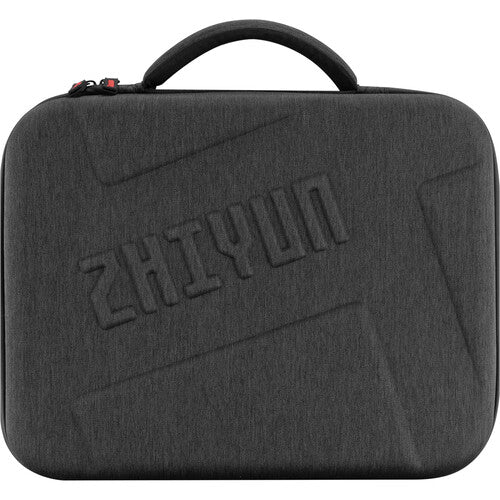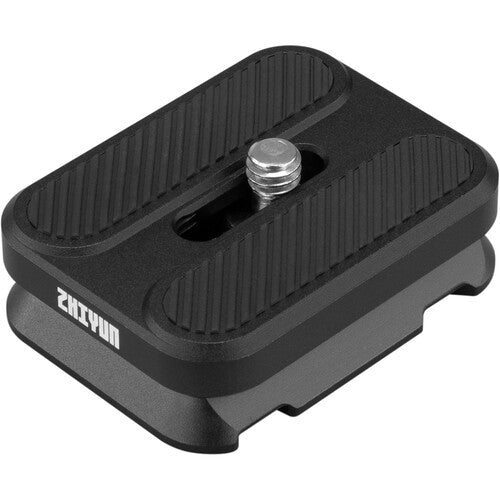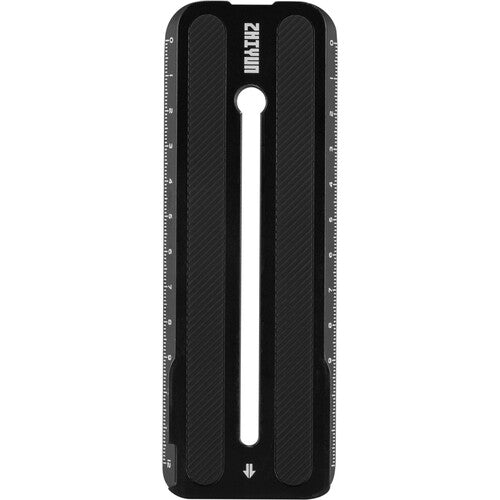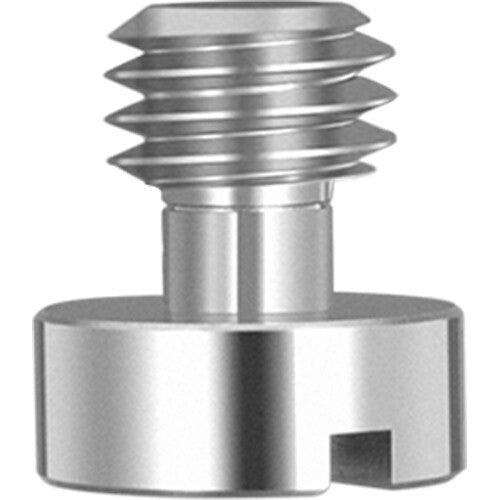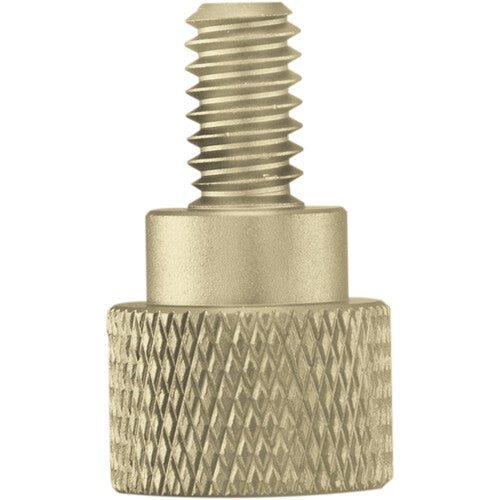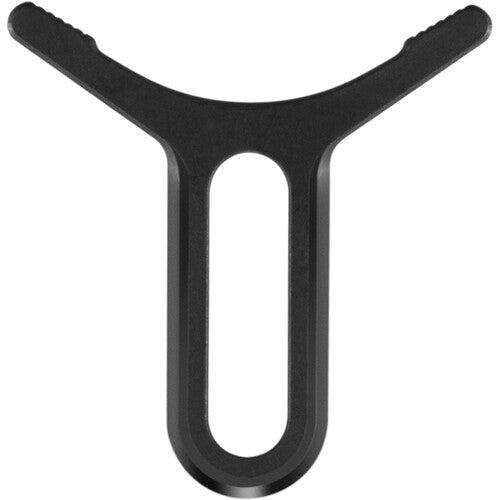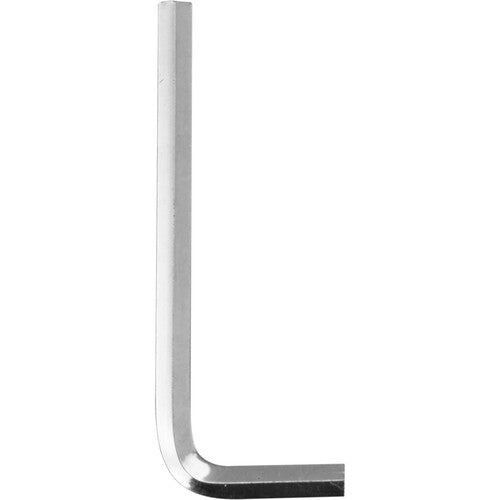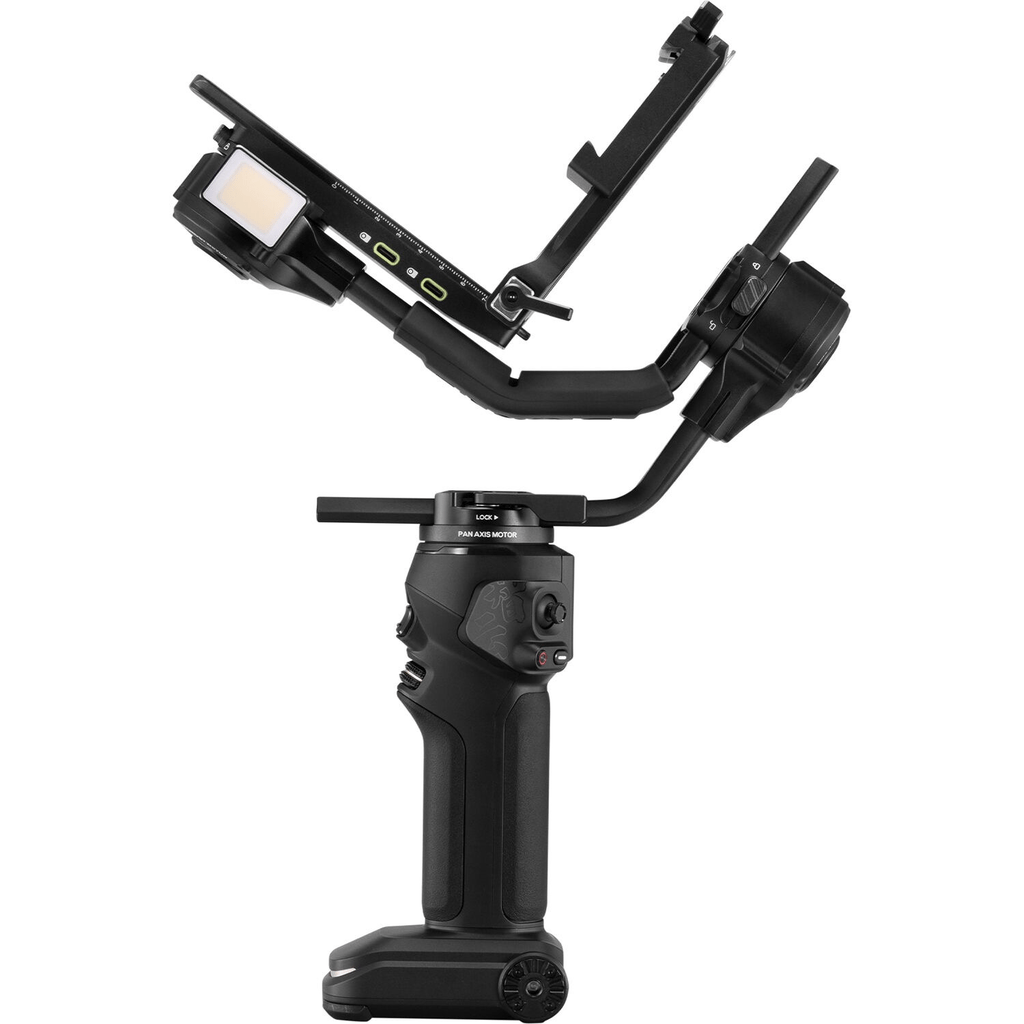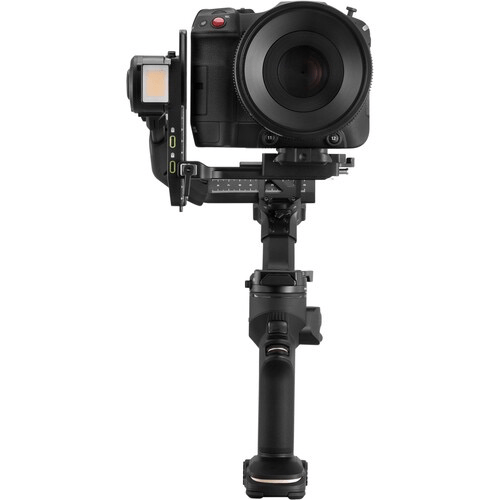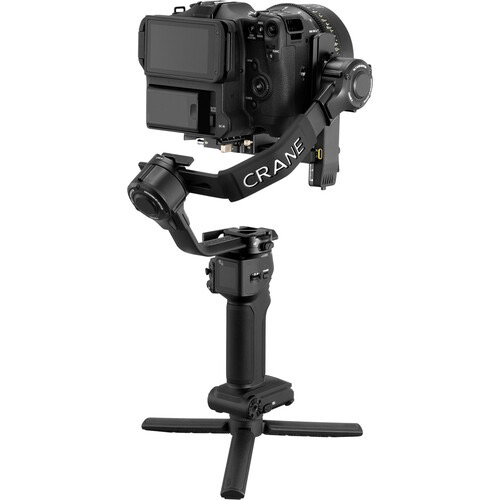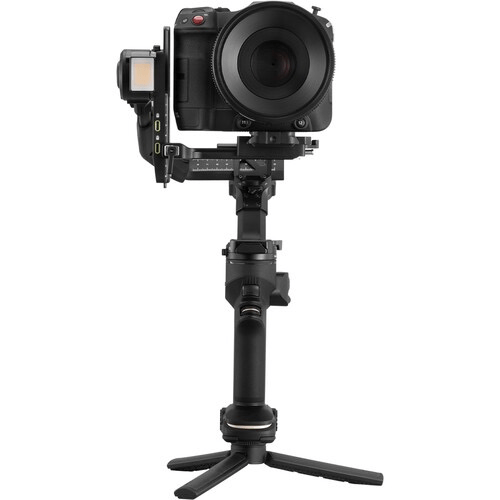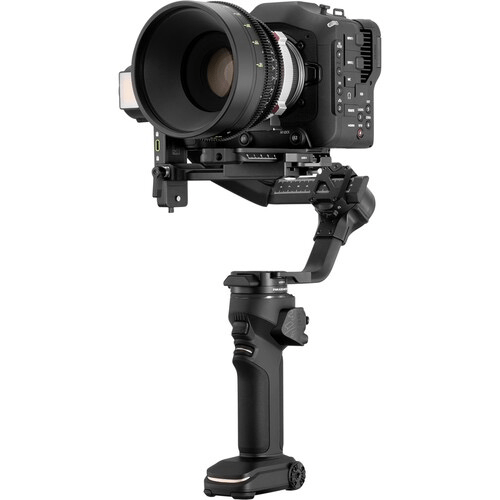 13.2 lb Load Capacity
Extended Arm for Full-Frame Lenses
Dual-Layer Quick Release Plates
Sling Grip/Wrist Rest
360° Pan/207° Tilt/70° Roll Rotation
Bluetooth 5.0 Shutter Control
Built-In 3200 Lux Fill Light
Creative Operation Modes/12-Hr Runtime
1.22" Touchscreen/Balance Indicators
2600mAh Batteries/ PD Fast Charge
New intelligent Balance Indication

The Zhiyun CRANE 4 3-Axis Handheld Gimbal Stabilizer is the latest addition to the world of cinematography, supporting all major DSLR and mirrorless cameras up to 5.5Ibs. With its precise balancing indicator lights, achieving perfect balance has never been easier! This unique feature provides a timely reminder for calibration so that you can get the best footage possible. Plus, it has three different operational modes to choose from and comes with a dedicated App for both IOS and Android devices to allow intuitive control. The Zhiyun CRANE 4 is a must-have for all serious filmmakers, offering unmatched stabilization capabilities that will take your film projects to the next level. Wherever your vision leads you, let the team of engineers at Zhiyun help power your creative journey!

Freely Switch Between Horizontal & Vertical Shots

Boasts an innovative quick-release module that integrates horizontal and vertical lock structure, enabling effortless switching between native landscape and portrait shooting modes.

Versatile Sling Grip

The extendable sling grip can be adjusted to the gimbal's central axis, allowing for easy switching between sling mode and two-handed modes. The 1/4" screw hole on the grip unlocks more combination possibilities of lights and accessories.

Upgraded Wrist Rest

The flexible wrist rest structure features energy-saving adjustment and skin-friendly texture, making creation effortless and comfortable.

Built-in 10W Fill Light

Equipped with a robust 10W fill light, it can slim down the size of your kit for superior portability while also providing professional LED lighting —all you need to create incredible shots in any environment. Plus, take advantage of its built-in light cover for perfect illumination every time! Get ready to take your video projects to the next level— this tiny yet powerful device makes capturing exceptional videos easier than ever. With its innovative features and extreme portability, you'll finally have the mobility and confidence you need to make awe-inspiring movies wherever life takes you.

Customize Function Settings

Are you a creative filmmaker looking for some additional support? Look no further than the Zhiyun CRANE 4 3-Axis Handheld Gimbal Stabilizer! This gimbal stabilizer is the perfect balance of control and convenience, giving you the freedom to explore your creative vision with confidence. The ergonomic design provides comfortable use without weighing down your setup while keeping motion smooth for high-quality footage. The trigger button and front dial enhance customization options for adjusting parameters like ISO, shutter, and aperture, as well as focus motor and gimbal mode control, so the creative process becomes even more intuitive. Get ready to uncover limitless possibilities with the Zhiyun CRANE 4 3-Axis Handheld Gimbal Stabilizer!

Upgraded Bluetooth Shutter Control

CRANE 4 supports Bluetooth shutter control with mainstream cameras. You can start/stop recording or trigger photo-taking functions via the recording button, experiencing a seamless shooting like never before.

Efficient Color Screen

1.22 inch touch control Chinese and English color screen supports multiple functional adjustments, built-in motion timelapse and other functions.

Thoughtful Design

Made with a lightweight aluminum alloy body and stainless steel shaft, this gimbal is designed for durability and convenience. It features built-in magnetic tightening wrenches that make disassembly and installation of auxiliary equipment easy as pie. Plus, it comes with a silicone protective cover on the shaft arm so you can minimize any wear and tear caused by carrying your gimbal around.

Excellent Focus Performance

With the built-in dual follow focus interface, CRANE 4 can be paired with external dual servo focus controllers to provide a precise focusing experience.

Wide Range of Professional Accessories

With the TransMount image transfer system, you can achieve excellent remote monitoring and collaborative authoring. It also supports matching and focal assembly to ensure that professional creation is not limited by equipment.

Strong Battery Life, Long Standby

Four 18650 batteries can meet the needs of high-intensity shooting for a day, and PD fast charge supports charging while using.
Grip Design
Single Handgrip
Load Capacity
13.2 lb / 6 kg
Number of Axes
3-Axis (Pitch (Tilt), Roll, Yaw (Pan))
Rotation Range
Mechanical Range

Pitch (Tilt): 214° (-72 to 142°)

Roll: 322° (-251 to 71°)

Yaw (Pan): 360°

Controllable Range

Pitch (Tilt): 207° (-71 to 136°)

Roll: 70° (-35 to 35°)

Yaw (Pan): 360° Unlimited

Camera Control
On Compatible Models
Camera Mounting Screw
3 x 1/4"-20 Male
Inputs/Outputs
1 x USB-C (Power / Firmware Updates)

1 x USB-C (Control / Video)

2 x USB-C (Control)

Wireless Frequency
2.4 GHz
Wireless Protocol
Bluetooth 5.0
Mobile App Compatible
Yes: Android & iOS

App Name: ZY Play

Functionality: Adjust Settings, Firmware Update, Remote Control, Setup

*As of June, 2023: Check with manufacturer for the most up-to-date compatibility

Battery Type
4 x 18650
Battery Capacity
2600 mAh
Battery Runtime
12 Hours
Battery Charging Time
1.5
Operating Voltage
11.0 to 16.8 VDC
Operating Current
200 to 14500 mA
Operating Temperature
14 to 77°F / -10 to 25°C
Display Type
Fixed Touchscreen OLED
Mounting
4 x 1/4"-20 Female
Dimensions
13.4 x 11 x 2.8" / 340 x 280 x 70 mm
Weight
3.68 lb / 1.67 kg (without Tripod)
Have a question about Zhiyun CRANE 4 3-Axis Handheld Gimbal Stabilizer?
Ask a question.
Ask a question
⚠️ WARNING: This product can expose you to chemicals including Lead, which is known to the State of California to cause cancer and birth defects and/or other reproductive harm. For more information go to www.P65Warnings.ca.gov