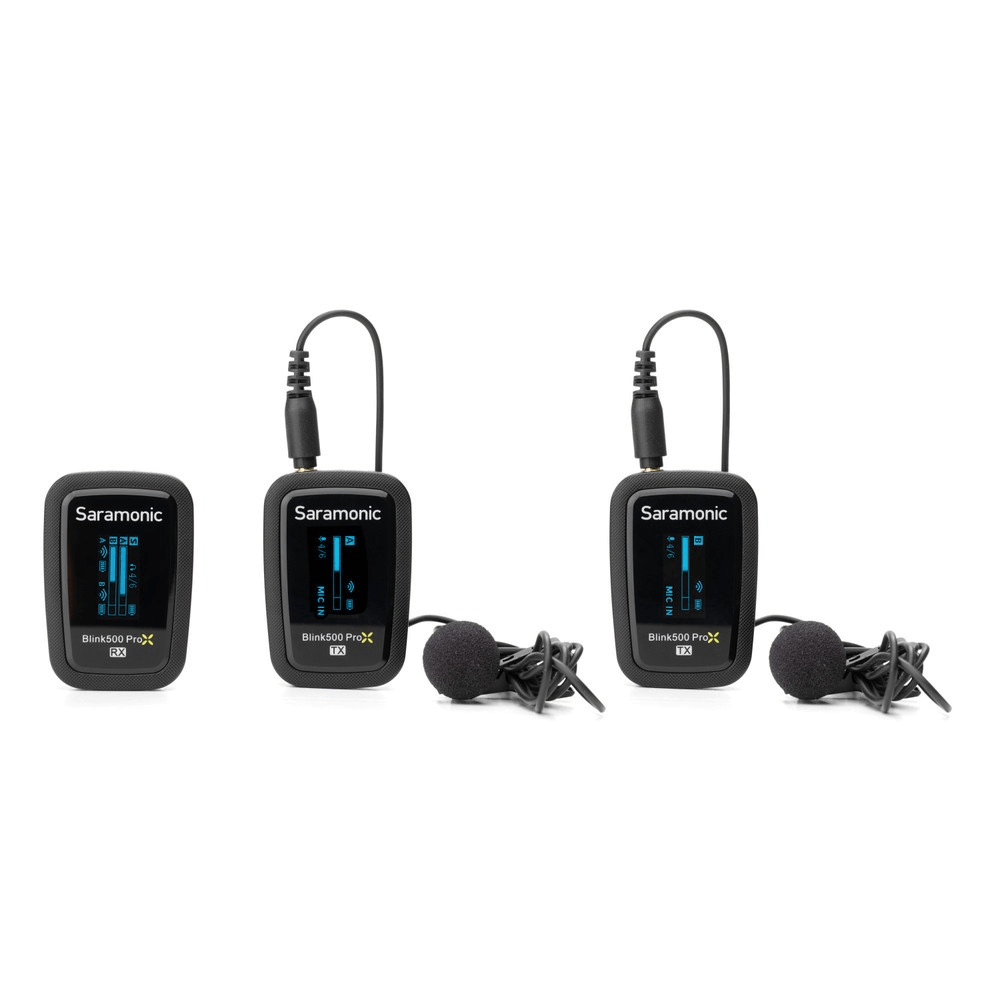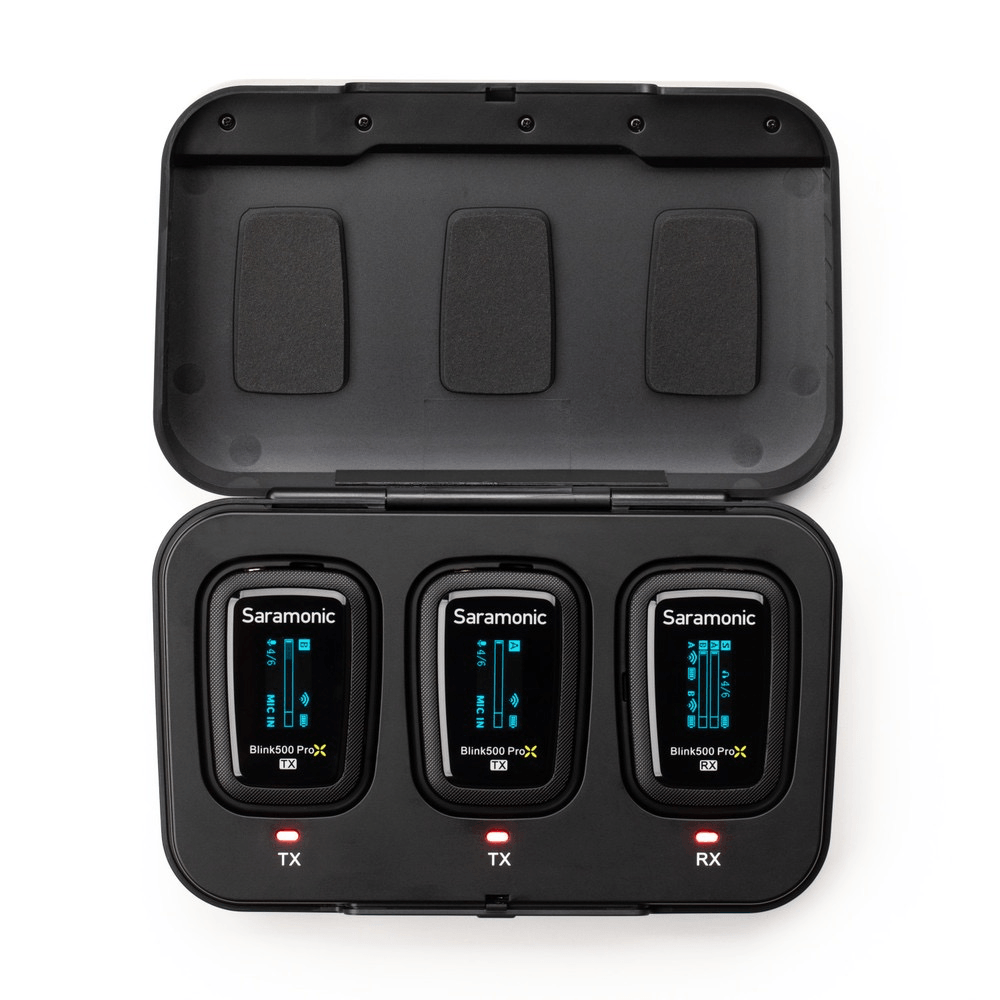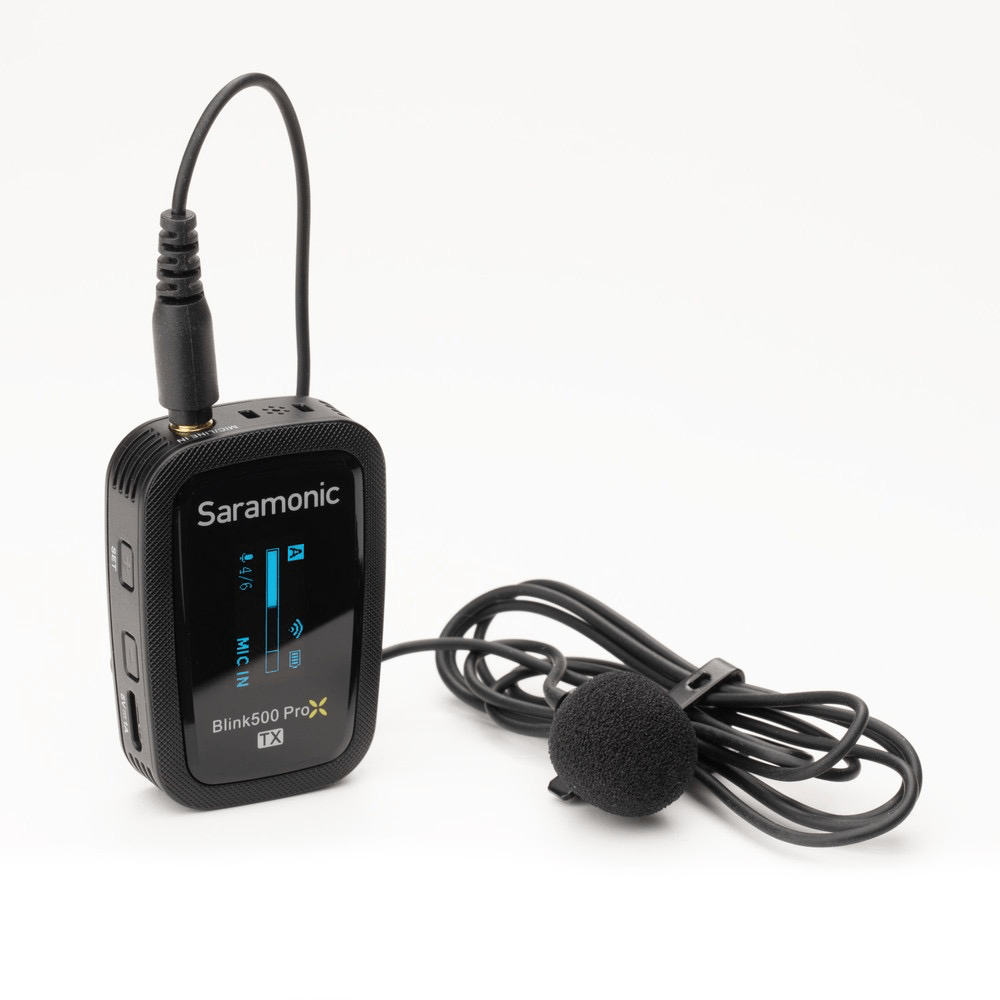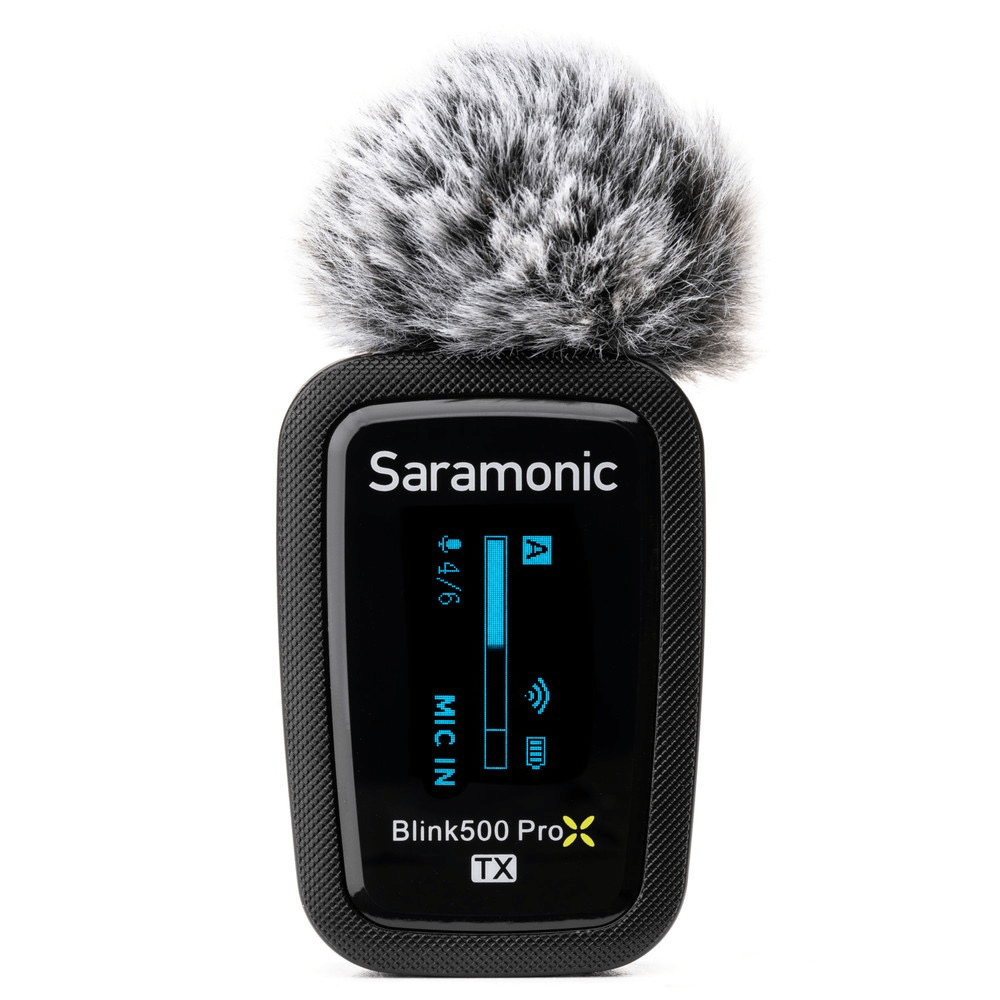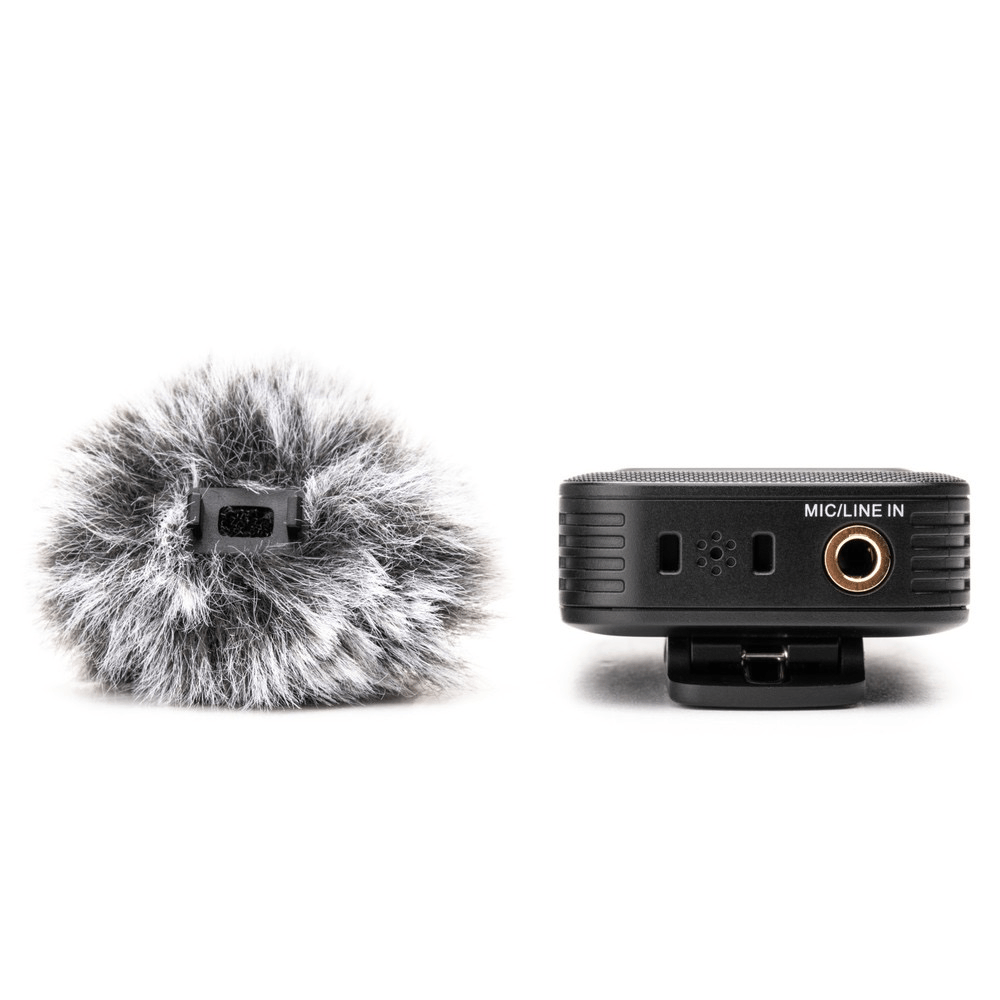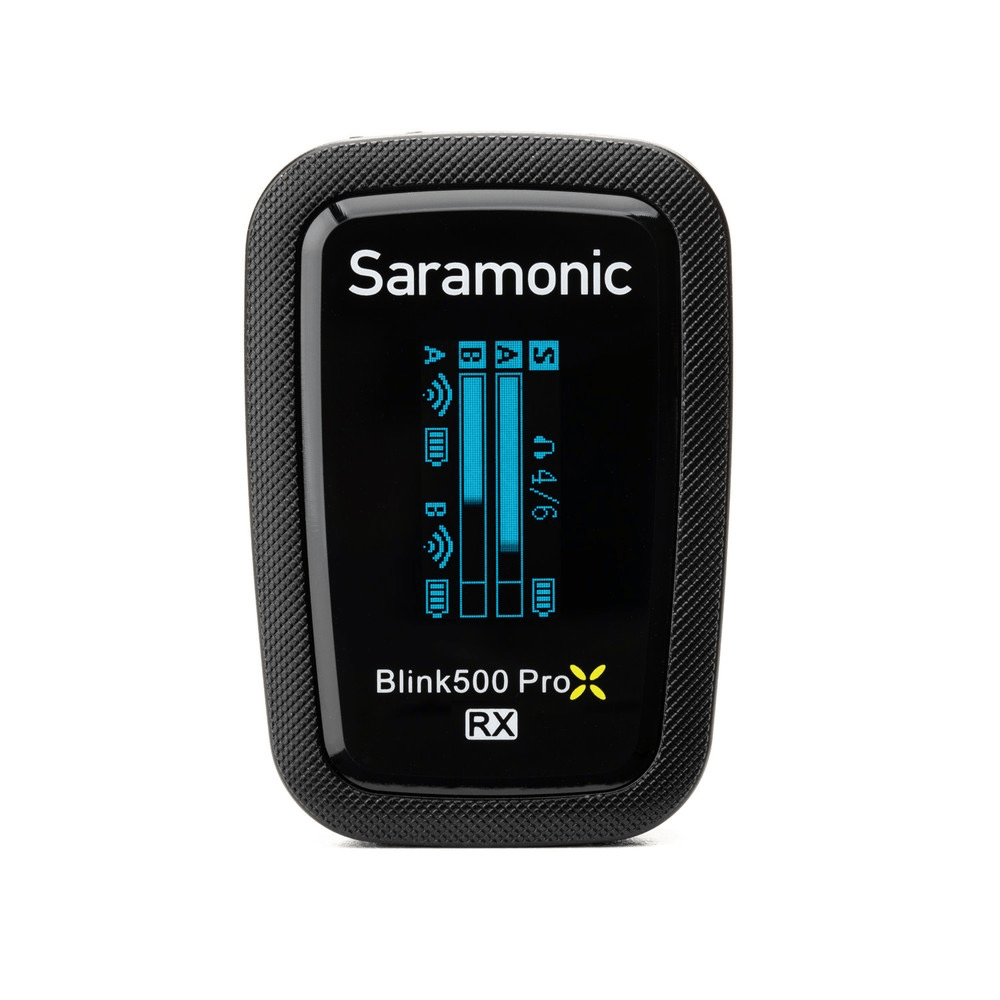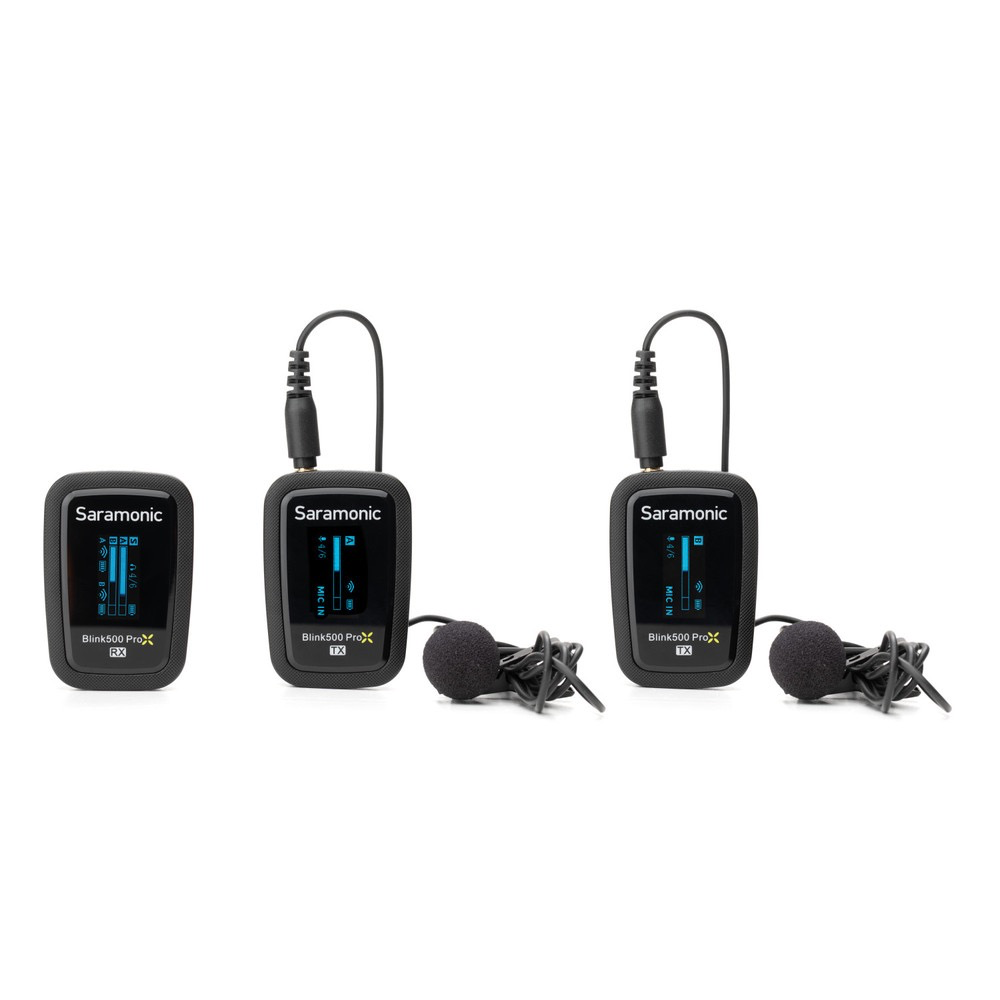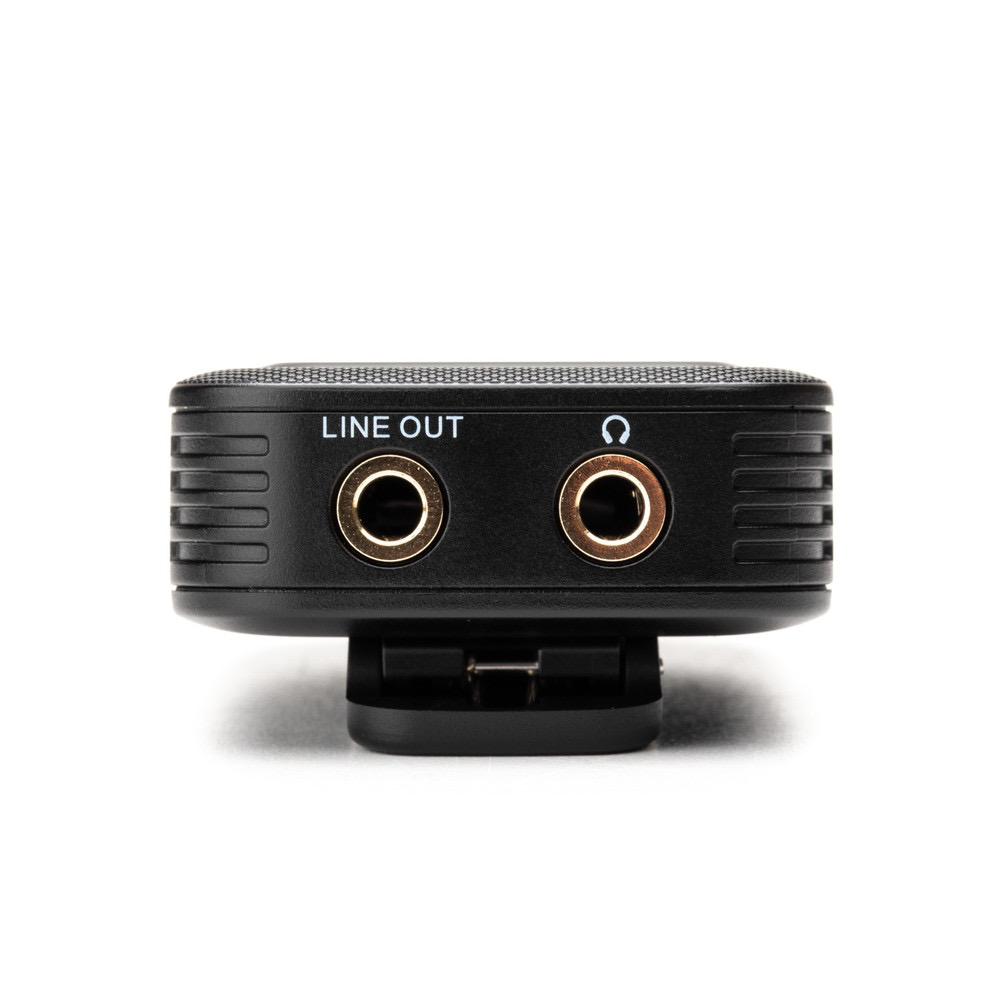 Content Creators/Vlogs/Live Streaming
2 x Compact Clip-On Transmitter/Mics
2 x Omnidirectional Lavalier Mics
Compact Dual-Channel Receiver
Separate 3.5mm Main & Headphone Outputs
Easy to Use/Informative OLED Screens
Mute Function/Mono/Stereo Output Mode
Internal 10-Hour Batteries
Charging Case with 35 Hours of Power
18 Systems at Once Max/up to 328' Range
Saramonic Blink 500 ProX B2

The Saramonic Blink 500 ProX B2 is the perfect solution for content creators who demand broadcast-quality sound. This ultra-portable and incredibly lightweight mic system comes with a wireless transmitter with a built-in mic, professional lavalier microphone, a dual-channel receiver, and an advanced portable charging carry case. The Blink 500 ProX B2 delivers exceptional, broadcast-quality sound to cameras, recorders, mixers, and other 3.5mm input devices. Ideal for filmmakers, journalists, vloggers, live streaming, and so much more.

Upgraded in Every Way: The Industry Original Dual-Channel 2.4GHz System Just Keeps Getting Better

The Blink 500 ProX is the next generation of the immensely successful, and much copied Blink 500 Pro system. Combining the innovative features of the original Blink 500 Pro system with a smaller and lighter updated design, less latency, more reliability, upgraded OLED displays with real-time metering, longer battery life, higher resolution audio signal, wider frequency response, higher signal-to-noise ratio, and even more new features that set the ProX apart from the original Pro system and competitors. While still being incredibly easy to use.

Tiny and Light TX Transmitter, with Big and Heavy Features

This powerful little transmitter features a built-in omnidirectional microphone with an impressive sensitivity of -39dB, giving you superior sound quality no matter where you are. It also comes with a lavalier microphone, so you can use it as a traditional belt pack transmitter for even more discreet miking. Plus, the vivid OLED display and tactile input gain controls make it easy to keep an eye on your levels and make adjustments on the fly. And if you need to quickly mute the transmitter for privacy, no problem - just hit the soft-touch mute button.

Wireless Transmit Line-Level Audio and Other 3.5mm Microphones

The Blink 500 ProX TX transmitter allows you to transmit line-level signal or microphone-level wirelessly, and also provides plug-in power to microphones, making it tremendously versatile. The included SR-M1 lavalier microphone is perfect for capturing clear and concise audio, while the adjustable mic gain and input gain meter let you get perfect levels every time. The Blink 500 ProX B2 is perfect for vloggers, filmmakers, podcasters, and anyone else who needs high-quality wireless audio in a small and affordable package.

Compact Dual Receiver with Headphone Out, OLED Display, Mono/Stereo Out and More

The receiver has a 3.5mm TRS output cable, which lets you connect it to your camera or other recording device. It also has a selectable Mono / Stereo output setting, so you can record each mic to separate channels when using an additional ProX TX transmitter (sold separately). The transmitter features a vivid OLED display that shows you the battery life and wireless connection strength with just a glance. The Blink 500 ProX B2 also includes a 3.5mm headphone output with level control, so you can monitor the sound in real-time. This is especially important if your camera or device lacks a headphone output.

Remarkable Power and Convenience for Creators on the Move

Introducing the Saramonic Blink 500 ProX B2, the next generation of micro wireless systems. With up to 10-hours of battery life, this system provides enough power for even the most demanding Filmmakers. The included 2000mAh car case gives you an additional 2 and 1/2 full charges, giving you a total of 35-hours of filming time on a full system and case charge! The USB-C charging ports on the transmitter and receiver allow you to keep your system powered while in use or charge it outside of the case using USB battery packs or a power supply. This system is perfect for any Filmmaker looking for reliable, long-lasting power in a compact form factor.
RX Receiver Specifications
| | |
| --- | --- |
| Reception Type: | 2.4GHz Digital Frequency |
| Modulation: | Digital Modulation |
| Antenna: | Built-In FPC Antenna |
| Operating Range (Without Obstacles): | Up to 328' (100m) |
| Line Output Connector: | 3.5mm TRS |
| Output Level: | -16.5dBu |
| Output Mode Types: | Mono / Stereo |
| Headphone Output Connector: | 3.5mm TRS |
| Headphone Output Level: | -6dBu |
| Frequency Response: | 20Hz to 20KHz |
| Digital Signal Resolution: | 16bit / 48kHz |
| Signal-to-Noise Ratio: | ≥84dB |
| Distortion: | ≤0.1% |
| System's Voice Delay: | ≤8ms |
| High-contrast OLED Screen Resolution: | 128 x 64 pixels |
| Other Functions: | Tactile Output Mute Function |
| Power Requirements: | Built-in Li-ion Battery, USB-C DC 5V or Charging Contact |
| Battery Life: | Approximately 10-hours |
| Battery Specifications: | 3.7V / 400mAh |
| Weight: | 1.08oz (30.5g) |
| Dimensions: | 2.2 x 1.49 x 0.61" (56 × 38 × 15.5mm) |
| Operating Temperatures: | 0° to 122°F (0°C to 50°C) |
| Storage Temperatures: | -50° to 122°F (–10°C to +50°C) |
TX Transmitter Specifications
| | |
| --- | --- |
| Transmission Type: | 2.4GHz Digital Frequency |
| Modulation: | Digital Modulation |
| Antenna: | Built-In FPC Antenna |
| Operating Range (Without Obstacles): | (Without Obstacles): Up to 328' (100m) |
| RF Output Power: | <10mW |
| Frequency Response: | 20Hz to 20KHz |
| Reference Audio Input Level: | -20~-42dBv (MIC input, 0dB Attenuation) |
| Input Connector: | 3.5mm Mic In / Line In (Mic with Plug-in-Power) |
| Built-in Microphone Polar Pattern: | Omnidirectional |
| Built-in Microphone Maximum SPL: | 106dB |
| Built-in Microphone Sensitivity: | 39±2dB (Tested at 2V 2.2KΩ) |
| Lavalier Microphone Maximum SPL: | 120dB |
| Lavalier Microphone Sensitivity: | 39+/-2dB (0dB=1V/Pa,1kHz) |
| Digital Signal Resolution: | 16bit / 48kHz |
| Signal-to-Noise Ratio: | ≥84dB |
| Distortion: | ≤0.1% |
| High-contrast OLED Screen Resolution: | 128 x 64 pixels |
| Other Functions: | Tactile Microphone Mute Function |
| Power Requirements: | Built-in Li-ion Battery, USB-C DC 5V or Charging Contact |
| Battery Life: | Approximately 10-hours |
| Battery Specifications: | 3.7V / 400mAh |
| Weight: | 1.04oz (29.5g) |
| Dimensions: | 2.2 x 1.49 x 0.61" (56 × 38 × 15.5mm) |
| Operating Temperatures: | 0° to 122°F (0°C to 50°C) |
| Storage Temperatures: | -50° to 122°F (–10°C to +50°C) |
SR-M1 Lavalier Specifications
| | |
| --- | --- |
| Acoustic Principle: | Electret Condenser |
| Polar Pattern: | Omnidirectional |
| Connector: | 3.5mm |
| Cable Length: | 4.1' (1.25m) |
| Maximum SPL: | 110dB |
| Sensitivity: | -39dB+/-2dB(0dB=1V/Pa,1kHz) |
| Signal-to-Noise Ratio: | ≥60dB |
| THD: | <1% (94dB SPL at 1kHz) |
| Power Requirements: | Plug-in-Power (1V~10V) |
| Standard Operating Voltage: | 3V |
| Current Consumption: | <500μA |
| Output Impedance: | <2.2KΩ |
Blink 500 ProX B1 Charging Case Specifications
| | |
| --- | --- |
| Power Requirements: | Powered by USB-C port |
| Power Capacity: | 2000mAh |
| System Charging Time: | Approximately 2-hours |
| Case Charging Time: | Approximately 2.5-hours |
| Charge Cycles for Transmitter and Receiver: | Approximately 2.5 Times |
| Weight: | 6.98oz (198g) |
| Dimensions: | 4.84 x 3.91 x 1.51" (123 x 899.5 x 38.5mm) |
| Operating Temperatures: | 0° to 122°F (0°C to 50°C) |
| Storage Temperatures: | -50° to 122°F (–10°C to +50°C) |
⚠️ WARNING: This product can expose you to chemicals including Lead, which is known to the State of California to cause cancer and birth defects and/or other reproductive harm. For more information go to www.P65Warnings.ca.gov