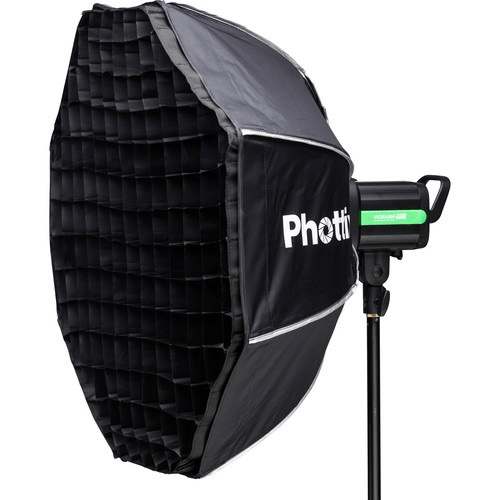 Both a Beauty Dish and Octa Softbox
Portable and easy to assemble
Compatible with Phottix Speed Rings
Can be used with all popular brands of studio lights with optional speedings
Speed ring is not included
The 28" Spartan Beauty Dish from Phottix is both a beauty dish and an Octa softbox. Location shooting was always problematic with beauty dishes which required large cases and were subject to denting. The collapsible design of the Spartan Beauty Dish solves that problem and shortens setup time to seconds. The dish has a central deflector that bounces the light backwards and directs it outwards to produce that soft but crisp look favored by fashion photographers. Remove the deflector and replace it with the included inner diffuser and the front diffuser and you have an Octa softbox - a favorite of portrait photographers for its wrap-around light quality and natural-looking catchlight reflections in their subject's eyes. For more dramatic results, mount the included collapsible fabric grid to the front of the softbox. The grid combines the softness of the Octabox with the directional control of a hard reflector while controlling spill light. The Spartan Beauty Dish is compatible with separately purchased Phottix speedrings and most popular flash heads.
⚠️ WARNING: This product can expose you to chemicals including Lead, which is known to the State of California to cause cancer and birth defects and/or other reproductive harm. For more information go to www.P65Warnings.ca.gov