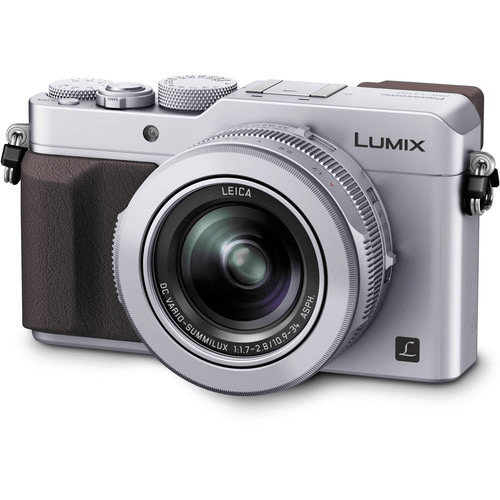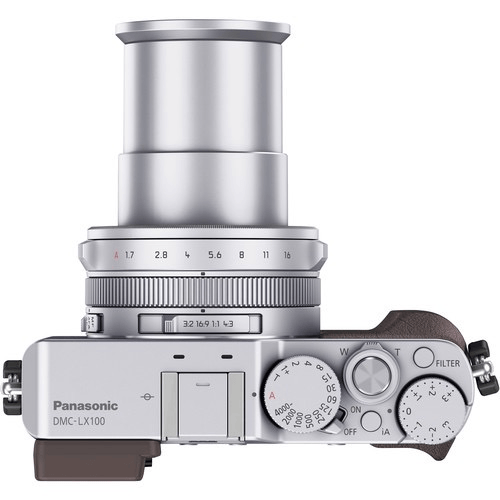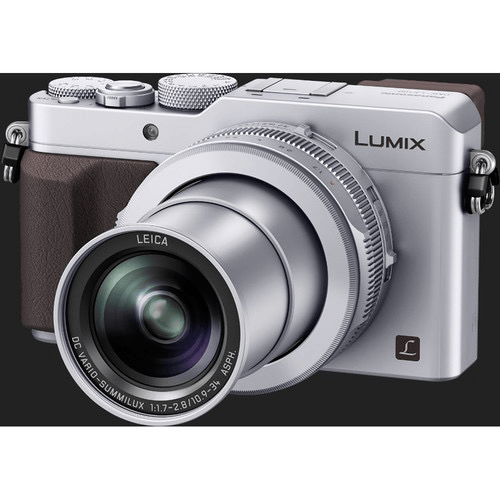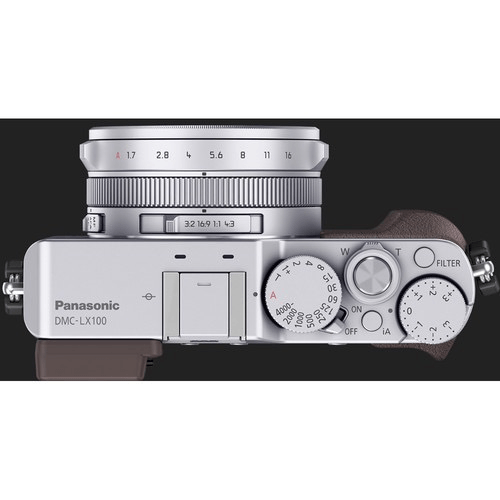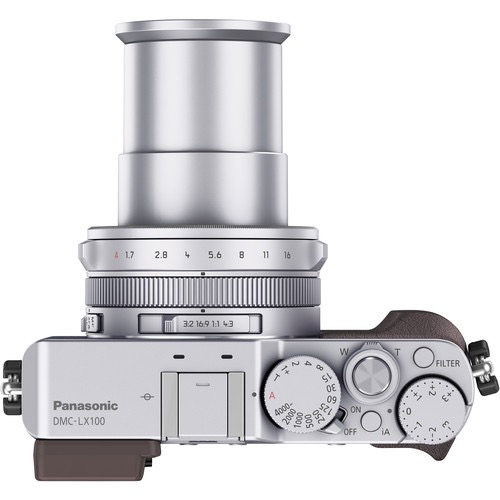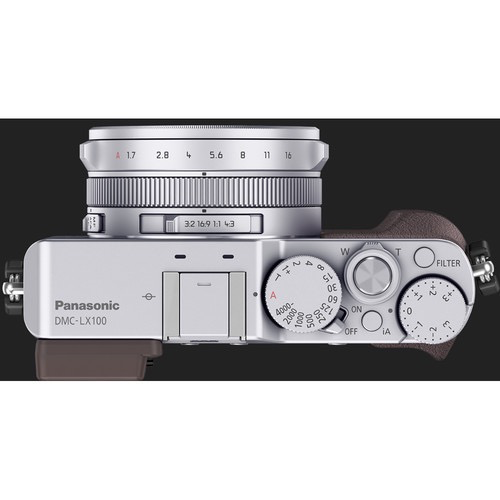 12.8 Megapixels 4/3-inch High Sensitivity MOS Sensor
24-75mm Leica DC lens (F1.7-2.8) for a desirable Bokeh defocus effect
Power O.I.S.
LUMIX 4K PHOTO
DFD (Depth From Defocus) that instantly calculates the distance to the subject and quickly establishes a focus lock
Wi-Fi and NFC Enabled
Controls Designed to Inspire Creativity Designed to inspire and expand the creative potential of every camera enthusiast, the LX 100 comes complete with an exciting range of advanced imaging features. It encourages direct, intuitive control with dedicated lens rings and dials, including aperture and control rings for precise zooming and focusing, as well as speed and exposure compensation dials. Approaching New Expressive Horizons — Micro Four Thirds High Sensitivity MOS Sensor It's now more rewarding than ever to render smooth, seamless gradations and rich, fuller textures in all their natural beauty. To help capture subtle details and nuances the LX100 incorporates a large 4/3-inch High Sensitivity MOS Sensor with multi-aspect ratios. By maintaining resolution at 12.8-MP* (in 4:3 setting), the volume of light is controlled to improve the S/N ratio, making it possible to create clear, detailed images with minimum noise. Even when shooting at ISO25600. Multiple Aspect Ratios With a simple switch on the lens barrel, it's easy to select and set three aspect ratios. This quick, convenient function makes it possible to confidently record images in the 4:3, 3:2 or 16:9 aspect ratio with the same angle of view. Great Lens, Compact Body — F/1.7-2.8 LEICA DC VARIO-SUMMILUX Lens With F1.7-2.8 brightness, high speed and crisp detail corner to corner, this sophisticated LEICA lens system is the perfect complement to the camera's compact body, and the key to innovative imaging. This precision lens unit consists of 11 elements in eight groups with five aspherical lenses — including two ED lenses. These lenses, together with a space-saving drive range, work seamlessly with Panasonic's original centering technology to enhance alignment sharpness. Light Speed AF with DFD Technology With the LX100, new Depth From Defocus technology slashes focus time. It instantaneously calculates distance to subject by evaluating two separate image with different sharpness levels. The result is ultra-high speed AF in approximately 0.14 seconds. 2,764-dot Equivalent High Resolution LFV An integrated Live View Finder with 2,764-dot equivalent high resolution delivers approximately 100% color reproduction* to assure stable framing and superb visibility when shooting under strong sunlight. And to prevent missing any shooting opportunity, the Eye Sensor AF initiates auto focusing the instant you look into it. A 3.0-inch 921k-dot rear monitor is also available. A New Form of Photo Expression - Print High-Resolution Photos from 4K Video In addition to 4K Ultra HD video recording,* the LX100 also has the ability to grab 3840 x 2160 MP equivalent stills from 4K video footage to enlarge and print high-definition photos. Once 4K Photo mode is selected, the luminance level is adjusted to 0-255, suitable for photos. At the same time, you can also select 4:3 or 3:3 in addition to 16:9 with the aspect ratio switch. External Flash Included A highly practical, color coordinated, easy-mount external flash unit (GN10 ISO200 * m/GN7 OISO100) is included.
 Aspect Brackets * The Aspect Bracket enables the LX100 to simultaneously create an image 4:3, 3:2, 16:9 and 1:1.
 * WB Bracket - A White Balance bracket is available to record three images with different WB parameters at a single shutter release.
 * Monochrome in Photo Style - The Monochrome Filter (Ye/Or/R/G) in the Photo Style function easily creates rich, smooth expression from the limited hues of monochrome images.
 * Multi Exposure - This versatile function enables the camera to shoot four exposures in a single frame, and to layer subjects that wouldn't ordinarily appear in the same frame.

⚠️ WARNING: This product can expose you to chemicals including Lead, which is known to the State of California to cause cancer and birth defects and/or other reproductive harm. For more information go to www.P65Warnings.ca.gov