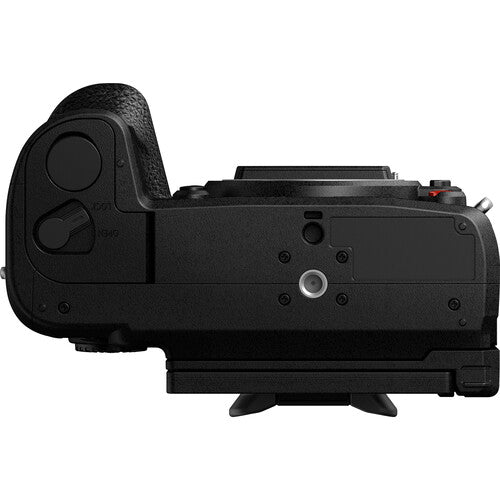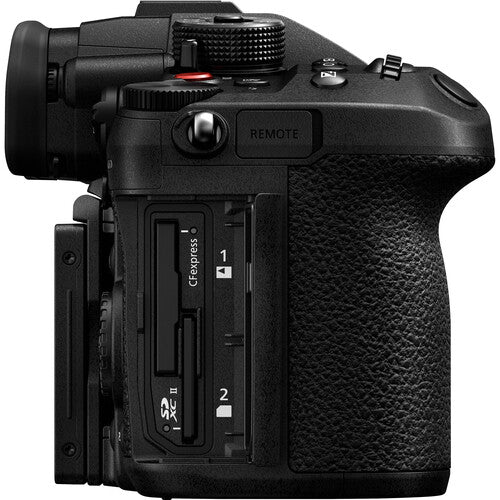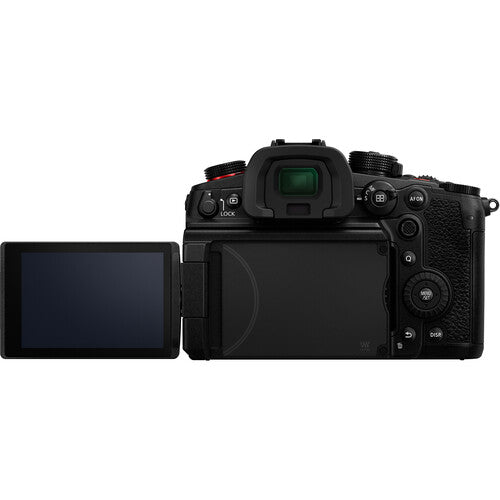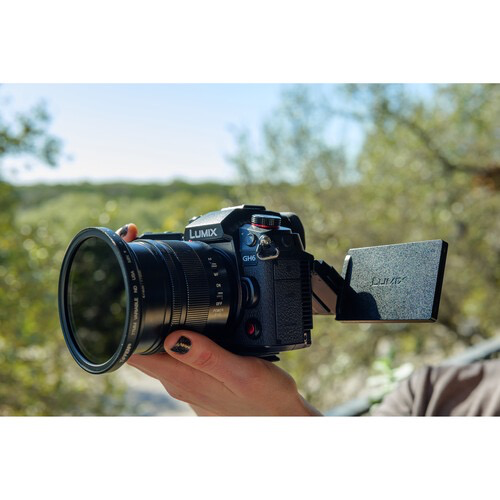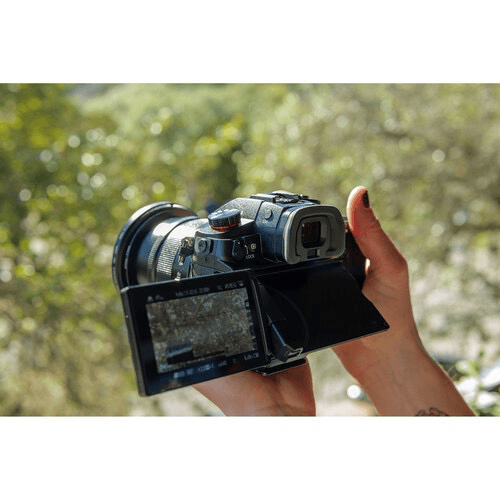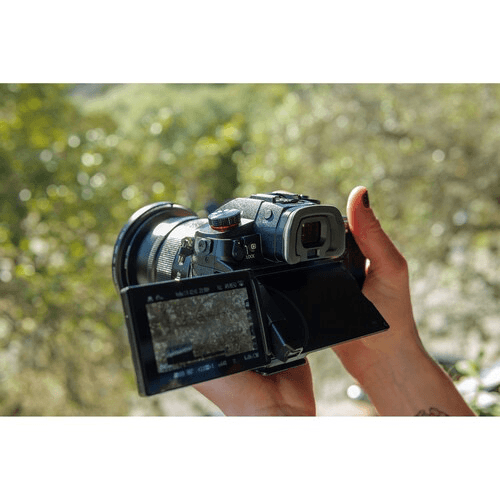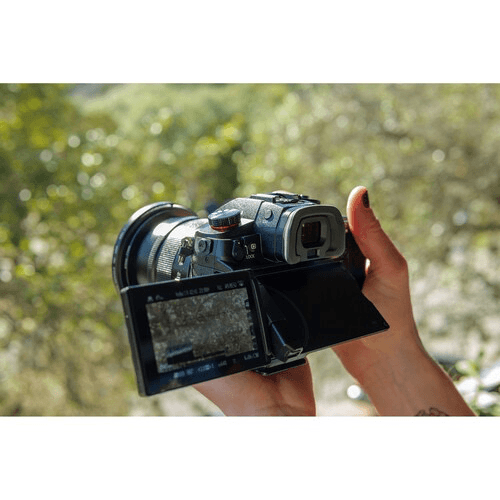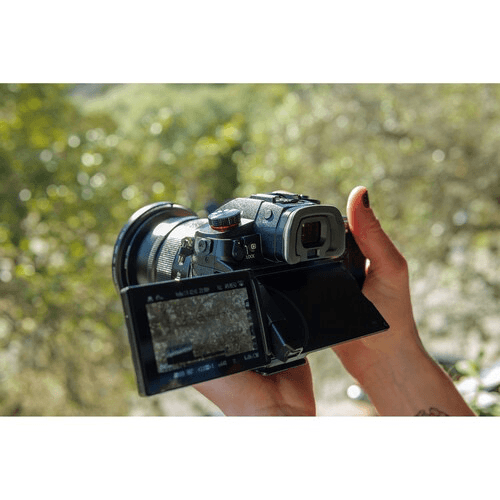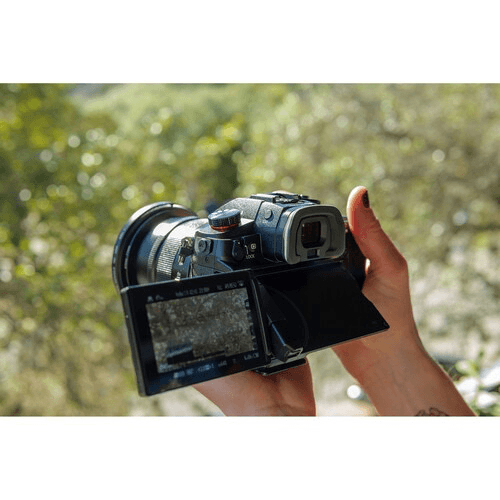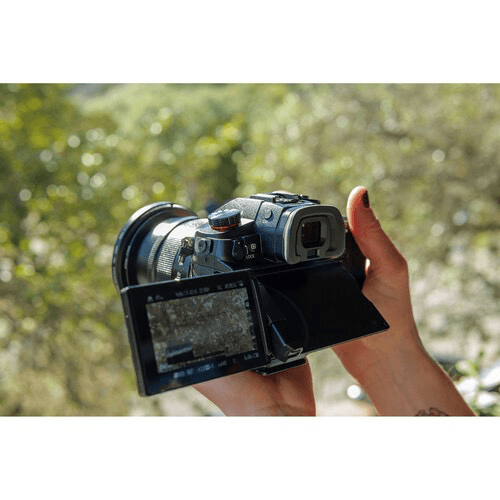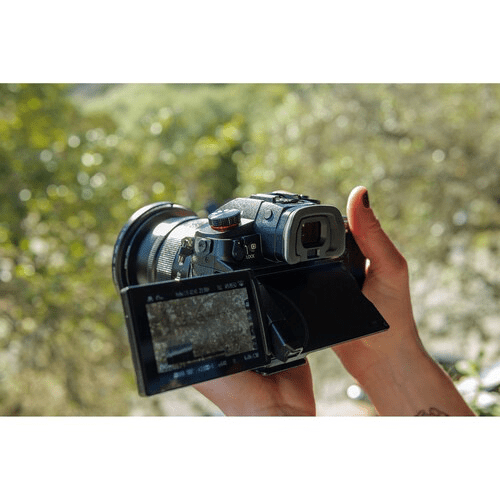 25.2 MP CMOS sensor with parallel readouts
Built-in fan for unlimited recording
UHD or DCI 4K in 10-bit 4:2:2 at up to 60p
Slow-mo UHD or DCI 4K in 10-bit 4:2:0 at up to 120 fps
5.7K full-width capture at up to 60p
5.8K Full-sensor 'open gate'/anamorphic capture at up to 30p
Full V-Log/V-Gamut shooting
Range of capture formats including ProRes 422 and 422 HQ
1 x CFexpress Type B
1 x UHS-II SD slot
Stabilization rated to 7.5EV
maintained at longer focal lengths with Dual IS 2 lenses
Tilt-and-articulating screen from S1H
Full-sized Type A HDMI socket
14 fps shooting with AF-S
8 with AF-C (75 fps with e-shutter)
A Powerful Hybrid

Introducing the Panasonic Lumix GH6 with 12-60mm f/2.8-4 Lens Mirrorless Camera Kit- a powerful hybrid addition to the video-centric GH series that offers cutting-edge tech to cinematographers and photographers alike. The improved processing power of the Venus Engine enables fast sensor readouts for internal recording of 5.7K 30p in Apple ProRes 422 HQ, FHD 300p, and handheld 100MP photos. The GH6 properly exposes across 13+ stops, features in-body, sensor-shift stabilization, and can be spliced into VariCam footage with its pre-installed V-Log L firmware upgrade.

Completely Redesigned

The Panasonic Lumix GH6 is the latest and most advanced camera in the GH Series. It has been completely redesigned, with a new sensor that improves upon its predecessors in terms of dynamic range, pixel count, and recording bitrates. The GH6 is perfect for professional videographers who need a camera that can capture high-quality footage with unlimited recording time.




Stunning Image Quality

The Panasonic Lumix GH6 is a professional-grade mirrorless camera that delivers stunning image quality. It features a new Venus engine with double the power of previous generations, which enables 75 fps continuous shooting or 300 fps variable frame rate (VFR) slow motion footage. The sensor is unhindered by a low-pass filter, and the image stabilization system synthesizes eight distinct images into a single 100MP image - all without requiring a tripod. With its comprehensive feature set and impressive performance, the Panasonic Lumix GH6 Mirrorless Camera is redefining what an everyday camera can do.
IMAGING
LENS MOUNT
Micro Four Thirds
SENSOR RESOLUTION
Actual: 26.52 Megapixel

Effective: 25.2 Megapixel (5776 x 4336)

SENSOR TYPE
17.3 x 13 mm (Four Thirds) MOS
BUILT IN ND FILTER
No
IMAGE STABILIZATION
No
CAPTURE TYPE
Stills and Video
EXPOSURE CONTROL
SHUTTER TYPE
Electronic Shutter
SHUTTER SPEED
Electronic Front Curtain Shutter

1/2000 to 60 Seconds

Up to 30 Minutes in Bulb Mode

Electronic Shutter

1/32000 to 1 Second

to 60 Seconds in Bulb Mode

1/25,000 to 1/8 Second in Movie Mode

Bulb/Time Mode
Bulb Mode
ISO SENSITIVITY
Photo

100 to 25,600 in Auto Mode (Extended: 50)

Video

100 to 12,800 (Extended: 50)

METERING METHOD
Center-Weighted Average, Highlight Weighted, Multiple, Spot
Exposure Modes
Aperture Priority, Manual, Program, Shutter Priority
Exposure Compensation
-5 to +5 EV (1/3 EV Steps)
White Balance
Presets: Auto, Cloudy, Color Temperature, Daylight, Flash, Incandescent, Shade, White Set 1, White Set 2, White Set 3, White Set 4
CONTINUOUS SHOOTING
Mechanical Shutter

Up to 14 fps for up to 65 Frames (Raw) / 95 Frames (JPEG)

Electronic Shutter

Up to 75 fps for up to 200 Frames (Raw) / 200 Frames (JPEG)

SELF TIMER
2/3/10-Second Delay
STILL IMAGE CAPTURE
IMAGE SIZES
4:3 JPEG / Raw

25.2 MP (5776 x 4336)

3:2 JPEG / Raw

5776 x 3848

16:9 JPEG / Raw

5776 x 3242

1:1 JPEG / Raw

4336 x 4336

ASPECT RATIO
1:1, 3:2, 4:3, 16:9
IMAGE FILE FORMAT
JPEG, Raw
BIT DEPTH
14-BIT
INTERNAL VIDEO CAPTURE
RECORDING MODES
H.264/MOV/MPEG-4 AVC/ProRes 422 HQ 4:2:2 10-Bit

5.7K (5728 x 3024) at 29.97p [1900 Mb/s]

5.7K (5728 x 3024) at 23.98p/24.00p [1500 Mb/s]

5.7K (5728 x 3024) at 25p [1600 Mb/s]

H.264/MOV/MPEG-4 AVC/ProRes 422 4:2:2 10-Bit

5.7K (5728 x 3024) at 29.97p [1300 Mb/s]

5.7K (5728 x 3024) at 25p [1100 Mb/s]

5.7K (5728 x 3024) at 23.98p/24.00p [1000 Mb/s]

H.264 ALL-Intra/MOV 4:2:2 10-Bit

4096 x 2160 at 47.95p/50p/59.94p [600 to 800 Mb/s]

4096 x 2160 at 23.98p/24.00p/25p/29.97p [400 Mb/s]

3840 x 2160 at 47.95p/50p/59.94p [600 to 800 Mb/s]

3840 x 2160 at 23.98p/24.00p/25p/29.97p [400 Mb/s]

1920 x 1080 at 200p/239.76p [800 Mb/s]

1920 x 1080 at 100p/119.88p [400 Mb/s]

1920 x 1980 at 23.98p/24.00p/25p/29.97p/47.95p/50p/59.94p [200 Mb/s]

1920 x 1080 at 50i/59.94i [100 Mb/s]

H.264 Long GOP/MOV/MPEG-4 AVC 4:2:2 10-Bit

4096 x 2160 at 50p/59.94p [200 Mb/s]

4096 x 2160 at 47.95p [200 Mb/s]

4096 x 2160 at 23.98p/24.00p/25p/29.97p [150 Mb/s]

3840 x 2160 at 47.95p/50p/59.94p [200 Mb/s]

3840 x 2160 at 23.98p/24.00p/25p/29.97p [150 Mb/s]

1920 x 1080 at 200p/239.76p [200 Mb/s]

1920 x 1080 at 100p/119.88p [150 Mb/s]

1920 x 1080 at 23.98p/24.00p/25p/29.97p/47.95p/50p/59.94p [100 Mb/s]

1920 x 1080 at 59.94i [50 Mb/s]

H.265 Long GOP/MOV 4:2:0 10-Bit

5760 x 4320 at 23.98p/24.00p/25p/29.97p [200 Mb/s]

5.7K (5728 x 3024) at 47.95p/48.00p/50p/59.94p [300 Mb/s]

5.7K (5728 x 3024) at 23.98p/24.00p/25p/29.97p [200 Mb/s]

4352 x 3264 at 47.95p/48.00p/50p/59.94p [300 Mb/s]

4096 x 2160 at 100p/119.88p [300 Mb/s]

4096 x 2160 at 47.95p/50p/59.94p [200 Mb/s]

4096 x 2160 at 23.98p/24.00p/25p/29.97p [150 Mb/s]

3840 x 2160 at 100p/119.88p [300 Mb/s]

3840 x 2160 at 47.95p/50p/59.94p [200 Mb/s]

3840 x 2160 at 23.98p/24.00p/25p/29.97p [150 Mb/s]

3840 x 2160 at 23.98p/25p/29.97p/50p/59.94p [100 Mb/s]

3840 x 2160 at 23.98p/25p/29.97p [72 Mb/s]

1920 x 1080 at 200p/239.76p [200 Mb/s]

1920 x 1080 at 100p/119.88p [150 Mb/s]

1920 x 1080 at 23.98p/24.00p/25p/29.97p/47.95p/50p/59.94p [100 Mb/s]

1920 x 1080 at 50p/59.94p [28 Mb/s]

1920 x 1080 at 25p/29.97p [20 Mb/s]

1920 x 1080 at 23.98p [24 Mb/s]

BUILT IN MICROPHONE
Stereo
GAMMA CURVE
Panasonic V-Gamut, Panasonic V-Log
RECORDING LIMIT
Unlimited for DCI 4K (4096 x 2160) at 59.94p (4:2:2 10-Bit)
VIDEO SYSTEM
NTSC
AUDIO RECORDING
MOV: 2/4-Channel 24-Bit 96 kHz LPCM Audio

MOV: 2/4-Channel 24-Bit 48 kHz LPCM Audio

MP4: 2-Channel 16-Bit 48 kHz AAC Audio
MONITOR
| | |
| --- | --- |
| SIZE | 3." |
| RESOLUTION | 1,840,000 Dot |
| DISPLAY TYPE | Free-Angle Tilting Touchscreen LCD |
INTERFACE
MEDIA CARD SLOT
Slot 1: CFexpress Type B

Slot 2: SD/SDHC (UHS-II) [U3/V30 or Faster Recommended]

WIRELESS
Wi-Fi

Bluetooth

VIDEO I/O
1 x HDMI Output
AUDIO I/O
1 x 1/8" / 3.5 mm TRRS Headphone/Mic Microphone Input

1 x 1/8" / 3.5 mm TRRS Headphone/Mic Headphone Output

OTHER I/O
1 x USB Type-C (USB 3.2 / 3.1 Gen 1) Data Input/Output (Shared with Power Input)

1 x 2.5 mm Sub-Mini Control Input

1 x PC Sync Socket Output

POWER I/O
1 x USB Type-C Input/Output
WIRELESS
Bluetooth, Wi-Fi
VIEWFINDER
| | |
| --- | --- |
| TYPE | Built-In Electronic (OLED) |
| RESOLUTION | 3,686,000 Dot |
| COVERAGE | 100% |
| DIOPTER ADJUSTMENT | Yes |
| EYE POINT | 21 mm |
GENERAL
BATTERY TYPE
1 x DMW-BLK22 Rechargeable Lithium-Ion, 7.2 VDC, 2200 mAh (Approx. 350 Shots)
Dimensions (W x H x D)
5.45 x 3.95 x 3.92" / 13.84 x 10.03 x 9.96 cm
Weight
1.8 lb / 823 g (With Battery, Recording Media)

1.63 lb / 739 g (Body Only)
⚠️ WARNING: This product can expose you to chemicals including Lead, which is known to the State of California to cause cancer and birth defects and/or other reproductive harm. For more information go to www.P65Warnings.ca.gov