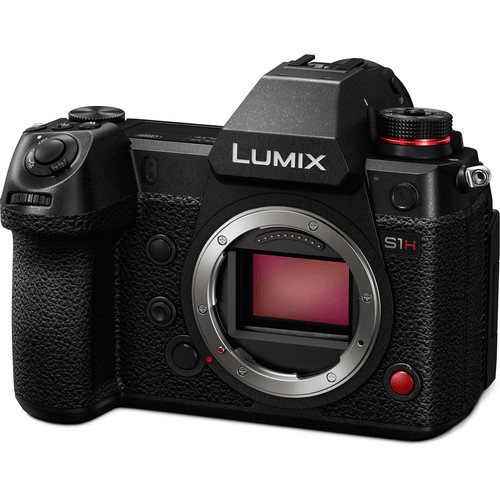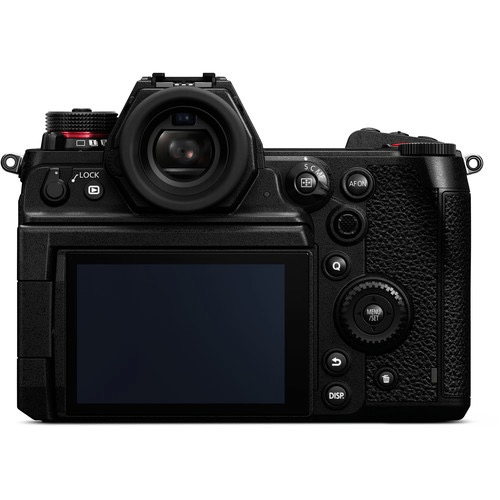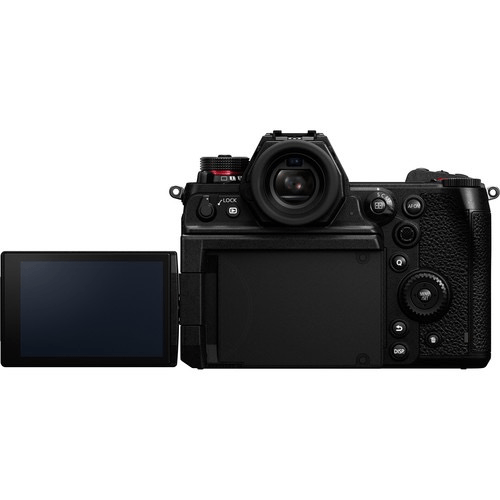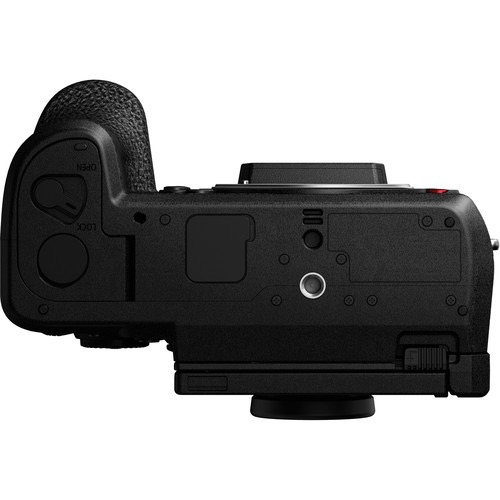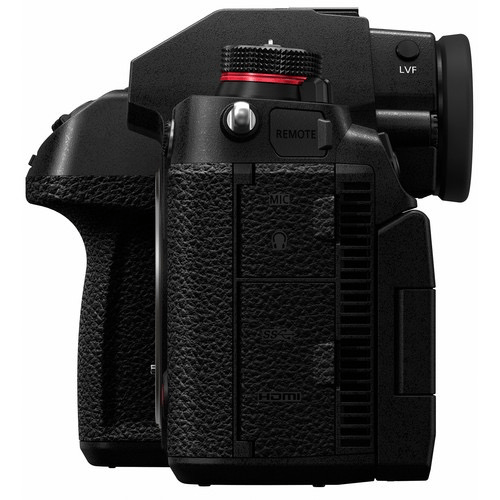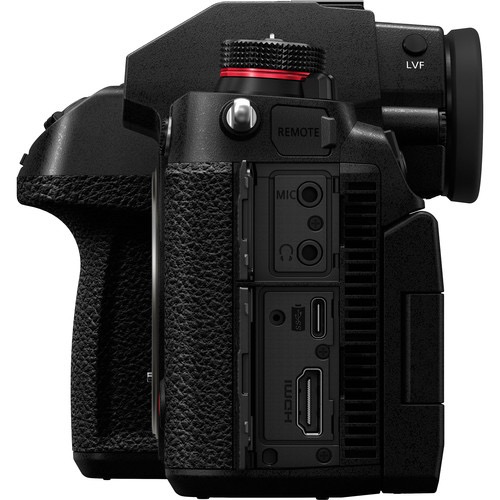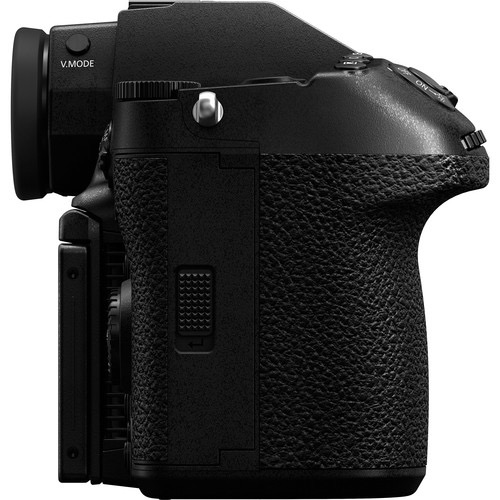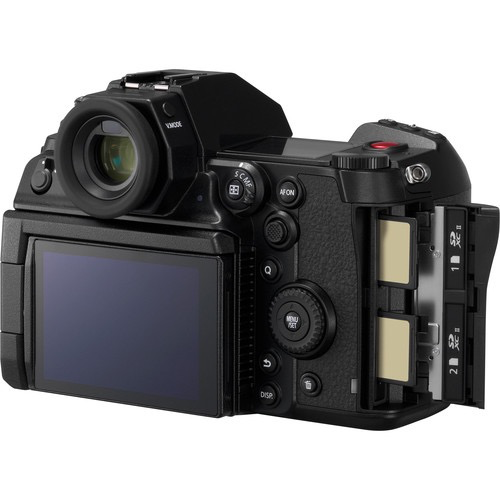 24.2-megapixel full-frame MOS sensor provides a wide dynamic range
6K 10-BIT VIDEO - Includes full-area 3:2 6K24p. C4K(4096 x 2160) and anamorphic modes
Dual Native ISO Suppresses noise while offering high low-light sensitivity
14+ stops of dynamic range with V-LOG/V-GAMUT
4:2:2 10-bit Internal Recording
Panasonic Lumix S1H

The Panasonic Lumix DC-S1H Camera is perfect for capturing incredible video footage. With its C4K/4K 60p/50p* 4:2:0 10-bit and C4K/4K 30p/25p/24p 4:2:2 10-bit capabilities, this camera is able to capture stunning images with rich color profiles. Additionally, the V-Log/V-Gamut with 14+ stops of dynamic range allows you to capture great video footage with accurate color reproduction, subtle gradations, and precise color control. This mirrorless digital camera is perfect for capturing beautiful, ultra high definition footage. With its Anamorphic Desqueeze Display function, you can easily create widescreen videos with an aspect ratio of 1.3x, 1.33x, 1.5x, 1.8x, or 2.0x. The VFR (Variable Frame Rate) Support feature also lets you overcrank and under crank your footage to create some truly amazing slow-motion effects. And with the 5-axis Dual I.S. 2 (Image Stabilizer), you can rest assured your shots will be smooth.
IMAGING
LENS MOUNT
Leica L
SENSOR RESOLUTION
Actual: 25.28 Megapixel

Effective: 24.2 Megapixel (6000 x 4000)

SENSOR TYPE
35.6 x 23.8 mm (Full-Frame) CMOS
BUILT IN ND FILTER
No
IMAGE STABILIZATION
Sensor-Shift, 5-Axis
CAPTURE TYPE
Stills and Video
EXPOSURE CONTROL
SHUTTER SPEED
Mechanical Shutter

1/8000 to 60 Seconds

Up to 30 Minute in Bulb Mode

Electronic Front Curtain Shutter

1/2000 to 60 Seconds

Up to 30 Minutes in Bulb Mode

Electronic Shutter

1/8000 to 60 Seconds

1/16000 to 1/125 Second in Movie Mode

Up to 60 Seconds in Bulb Mode

SHUTTER TYPE
Electronic Shutter, Mechanical Focal Plane Shutter
ISO SENSITIVITY
Photo/Video

100 to 51,200 (Extended: 50 to 204,800)

METERING METHOD
Center-Weighted Average, Highlight Weighted, Multiple, Spot
Exposure Modes
Aperture Priority, Manual, Program, Shutter Priority
Exposure Compensation
-5 to +5 EV (1/3 EV Steps)
White Balance
2500 to 10,000K

Presets: Auto, Cloudy, Color Temperature, Daylight, Flash, Incandescent, Shade, White Set 1, White Set 2, White Set 3, White Set 4

CONTINUOUS SHOOTING
Up to 9 fps at 24.2 MP for up to 60 Frames (Raw) / 999 Frames (JPEG)

Up to 30 fps at 18 MP

Up to 60 fps at 8 MP

SELF TIMER
2/10-Second Delay
STILL IMAGE CAPTURE
IMAGE SIZES
4:3

10,656 x 8000

5312 x 3984

4992 x 3744

3536 x 2656

3328 x 2496

2880 x 2160

2560 x 1920

1840 x 1376

3:2

12,000 x 8000

5984 x 4000

5184 x 3456

3888 x 2592

3504 x 2336

3232 x 2160

2784 x 1856

1968 x 1312

16:9

12,000 x 6736

5888 x 3312

4064 x 2288

3840 x 2160

2816 x 1584

1920 x 1080

ASPECT RATIO
1:1, 2:1, 3:2, 4:3, 16:9, 65:24
IMAGE FILE FORMAT
JPEG Raw
BIT DEPTH
14-BIT
Internal Video Capture
RECORDING MODES
H.265/MOV 4:2:0 10-Bit

6K 3:2 (5952 x 3968) at 23.98p/24.00p [200 Mb/s]

5.4K 3:2 (5376 x 3584) at 25p/29.97p [200 Mb/s]

5.9K (5888 x 3312) at 23.98p/24.00p/25p/29.97p [200 Mb/s]

DCI 4K (4096 x 2160) at 47.95p/48.00p/50p/59.94p [200 Mb/s]

UHD 4K (3840 x 2160) at 47.95p/48.00p/50p/59.94p [200 Mb/s]

4K Anamorphic (3328 x 2496) at 47.95p/48.00p/50p [200 Mb/s]

Full HD (1920 x 1080) at 47.95p/48.00p/100p/119.88p [100 to 150 Mb/s]

H.264/MOV 4:2:2 10-Bit

DCI 4K (4096 x 2160) at 23.98p/24.00p/25p/29.97p [150 to 400 Mb/s]

UHD 4K (3840 x 2160) at 23.98p/24.00p/25p/29.97p [150 to 400 Mb/s]

4K Anamorphic (3328 x 2496) at 23.98p/24.00p/25p/29.97p [150 to 400 Mb/s]

Full HD (1920 x 1080) at 23.98p/24.00p/25p/29.97p/50i/50p/59.94i/59.94p [50 to 200 Mb/s]

H.264/MOV 4:2:0 8-Bit

DCI 4K (4096 x 2160) at 23.98p/24.00p/25p/29.97p/50p/59.94p [100 to 150 Mb/s]

UHD 4K (3840 x 2160) at 23.98p/24.00p/25p/29.97p/50p/59.94p [100 to 150 Mb/s]

4K Anamorphic (3328 x 2496) at 23.98p/24.00p/25p/29.97p/50p [100 to 150 Mb/s]

Full HD (1920 x 1080) at 23.98p/24.00p/25p/29.97p/50p/59.94p [100 Mb/s]

H.265/MP4 4:2:0 10-Bit

UHD 4K (3840 x 2160) at 23.98p/25p/29.97p/50p/59.94p [72 to 100 Mb/s]

H.264/MP4 4:2:0 8-Bit

UHD 4K (3840 x 2160) at 23.98p/25p/29.97p/50p/59.94p [100 Mb/s]

Full HD (1920 x 1080) at 23.98p/25p/29.97p/50p/59.94p [20 to 28 Mb/s]

AVCHD 4:2:0 8-Bit

Full HD (1920 x 1080) at 23.98p/50i/50p/59.94i/59.94p [17 to 28 Mb/s]

SENSOR CROP MODES
Super35 / APS-C

4K (4096 x 2160)

4K (3840 x 2160)

4K (3328 x 2496)

1080p (1920 x 1080)

GAMMA CURVE
HDR-HLG
RECORDING LIMIT
UP TO 29 MINS
BROADCAST OUTPUT
NTSC/PAL
BUILT IN MICROPHONE
STEREO
AUDIO RECORDING
MOV: 2-Channel 16-Bit 48 kHz LPCM Audio

MP4: 2-Channel AAC Audio

AVCHD: 2-Channel AC-3 Audio
External Video Capture
Raw Output
HDMI In Raw Mode:

5888 x 3312 12-Bit at 23.98/25/29.97 fps

4096 x 2960 12-Bit at 23.98/25/29.97/50/59.94 fps

3536 x 2656 12-Bit at 23.98/25/29.97/50 fps

External Recording Modes
4:2:2 10-Bit via HDMI

DCI 4K (4096 x 2160) up to 24.00p/50p/59.94p

UHD 4K (3840 x 2160) up to 24.00p/50p/59.94p

IP Streaming
RTP, RTSP: 3840 x 2160
MONITOR
| | |
| --- | --- |
| SIZE | 3.2" |
| RESOLUTION | 2,330,000 Dot |
| DISPLAY TYPE | Free-Angle Tilting Touchscreen LCD |
INTERFACE
MEDIA CARD SLOT
Dual Slot: SD/SDHC/SDXC (UHS-II)
Video I/O
HDMI D (Micro), USB Micro-B (USB 2.0)
Audio I/O
1 x 1/8" / 3.5 mm TRRS Headphone/Mic Output

1 x 1/8" / 3.5 mm TRRS Headphone/Mic Mic/Line Input

Other I/O
1 x USB Type-C (USB 3.2 / 3.1 Gen 1) Output (Shared with Power Input)

1 x 2.5 mm Sub-Mini Control Input

Power I/O
1 x USB Type-C Input
GPS
YES
WIRELESS
2.4 GHz Wi-Fi 4 (802.11n), Wi-Fi (802.11b/g)

5 GHz Wi-Fi 5 (802.11ac), Wi-Fi 4 (802.11n)
VIEWFINDER
| | |
| --- | --- |
| TYPE | Built-In Electronic (OLED) |
| RESOLUTION | 5,760,000 Dot |
| COVERAGE | 100% |
| EYE POINT | 21mm |
| DIOPTER ADJUSTMENT | -4 to +3 |
GENERAL
| | |
| --- | --- |
| BATTERY TYPE | 1 x DMW-BLJ31 Rechargeable Lithium-Ion, 7.4 VDC, 3050 mAh (Approx. 400 Shots) |
| Dimensions (W x H x D) | 5.94 x 4.5 x 4.35" / 151 x 114.2 x 110.4 mm |
| Weight | 2.56 lb / 1164 g (With Battery, Recording Media) |
⚠️ WARNING: This product can expose you to chemicals including Lead, which is known to the State of California to cause cancer and birth defects and/or other reproductive harm. For more information go to www.P65Warnings.ca.gov