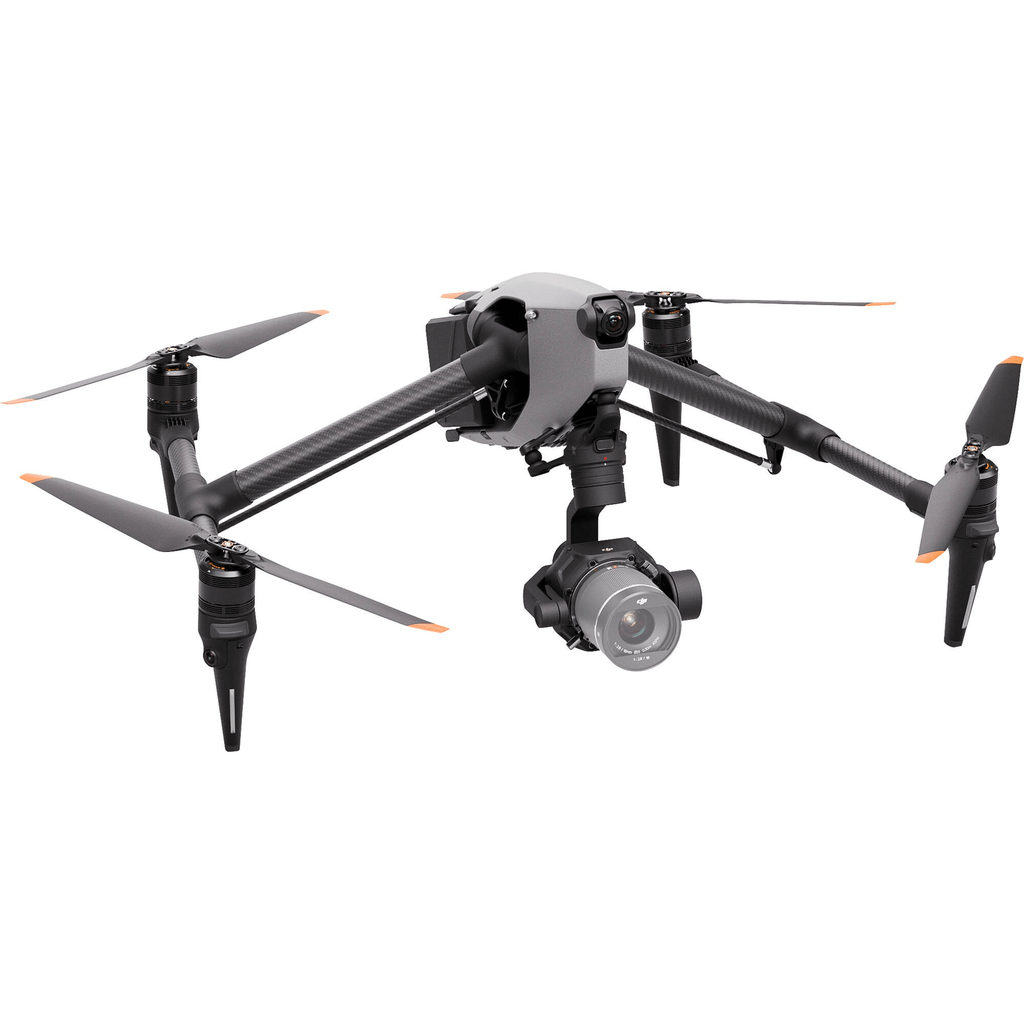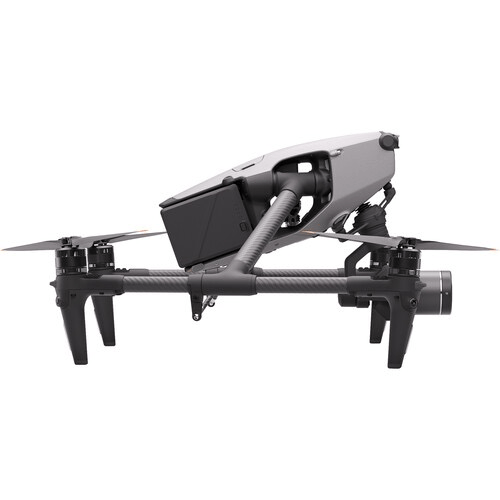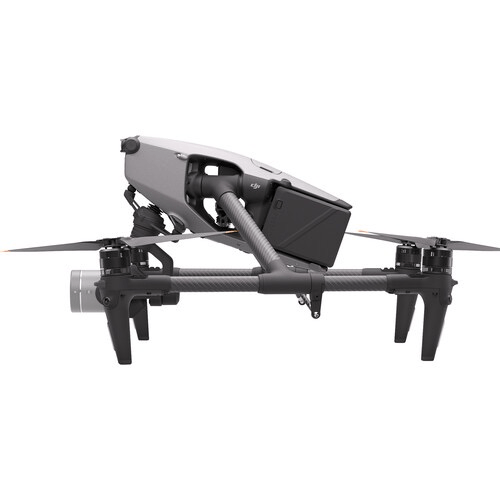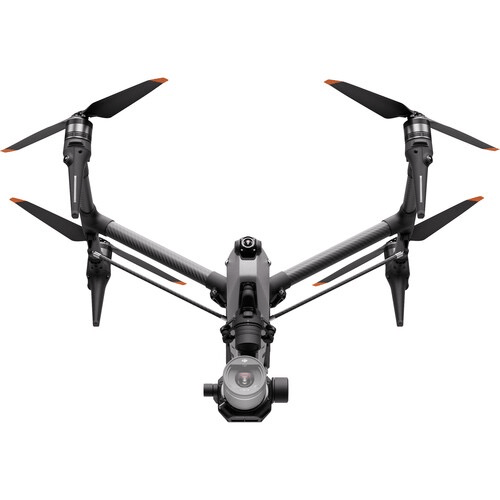 X9-8K Air Full-Frame 3-Axis Gimbal
8K25 CinemaDNG or 8K75 Apple ProRES
CineCore 3.0 Image Processing
Centimeter-Level RTK Positioning
1/1.8" FVP Camera with 161° DFOV
Spotlight Pro Subject Tracking
Omnidirectional Obstacle Avoidance
Up to 9.3-Mile Control via O3 Pro
Up to 58.4 mph Flight Speed
RC Plus Remote with 7" 1200-nit Display
Master the Unseen

Engineered for efficiency and creativity, you can cinematically revolutionize the way you film with its oversized sensors, cutting-edge processing capability, unprecedented stabilization levels, and lack of environmental restrictions. While most projects subjected to external elements often fail because of damaging weather patterns or aggravating wind pressure rules out aerial visuals from being part of your production – with DJI Inspire 3, never worry again! Now you have full control over this cameradrone and unlock endless possibilities with its ability to fly in practically any condition while capturing stunning footage.

Sleek, Integrated Design

With a sleek, streamlined design that takes aerodynamics fully into consideration to reduce air resistance, you'll be able to move through the air swiftly and effortlessly. And thanks to its powerful maneuverability, this drone can deliver accurate control in a fast and responsive way. Plus, with a max dive speed of 10 m/s and a flight time of up to 28 minutes, you won't have to sacrifice power for performance either. Whether you're filming live events or capturing stunning aerial shots in nature, the DJI Inspire 3 is the perfect companion for making your content stand out from the rest.

FPV

With its impressive hardware specs, such as the FPV camera and visual sensors, you can take pictures without ever having to compromise on stability - your shots will come out crisp, clean and clear every time! In addition to this, the positioning antennas have been seamlessly incorporated into the quadcopter's body for a modern industrial aesthetic. And it gets even better - with a storage card slot that makes it easy to save all your favorite memories in one convenient place. Extremely user-friendly, this powerful yet compact drone is perfect for outdoor adventures or simply capturing those special moments - making it a must-have gadget for anyone creative at heart.

Obstruction-free 80°

With its innovative design, it is able to provide 360° Pan and Tilt Boost structures, so you can capture innovative shots that were never possible before. All you have to do is lower the landing gear and it supports unobstructed 80° upward-angle shooting. You'll be in awe at some of the stunning footage you're able to produce with this machine! The Inspire 3 is not just a drone; it's a whole creativity philosophy!

Optimized

From the outer design to the internal structure, every detail of Inspire 3 was carefully considered and optimized.

Centimeter-Level RTK Positioning

This highly advanced drone offers industry-level accuracy through its use of high-precision RTK positioning technology. With RTK, you get way more than just a stable flying experience - you also get unparalleled accuracy when it comes to planning flight routes. You'll be awe-struck by the level of detail and creative efficiency this dynamic drone can provide. Plus, you don't have to worry about relying on Global Navigation Satellite Systems (GNSS) that measure accuracy at the meter-level - with DJI Inspire 3 you get accurate readings down to the centimeter!

RTK network

This new and improved drone breaks boundaries as its RTK antennas have been integrated into the airframe with a unique stacked ceramic design, allowing three types of GNSS (GPS, BeiDou, and Galileo) and dual-frequency positioning down to the centimeter level. Say goodbye to mounting additional modules as it has never been easier to achieve highly accurate positioning without any hassle. With this new model of DJI drone, you can push your boundaries and fine-tune your explorations beyond imagination. Capture stunning footage and explore with clarity using advanced technological features that allow for an unparalleled immersive experience.

Dual-Antenna Orientation

Both the front and the rear of Inspire 3 have a built-in stacked ceramic antenna, providing powerful anti-magnetic-interference capability to further improve flight accuracy and safety.

Waypoint Pro

The new Waypoint Pro technology enables you to customize your flight routes and shot plans in detail, so you can have complete creative control over your project. With Repeatable Routes and 3D Dolly modes enabled, even complex shots are easy to deliver with perfection every time. And with RTK centimeter-level positioning, you don't have to worry about navigational errors - ensuring a seamless shooting experience.

Repeatable Routes

With its repeatable routes, you can confidently focus on telling your story while this drone takes care of the details - It will fly the same exact route and maintain all the necessary parameters such as altitude, speed, gimbal angle and camera settings! This feature makes those tricky one-take shots a breeze. And based on your convenience, capture amazing long term timelapses with ease by flying at different times in the same place.

3D Dolly

3D Dolly can simulate a crane, cablecam, or dolly on film sets while going far beyond the limitations of those devices.

Deliver improved visual effects

After planning a flight route, the cinematographer can manually control the aircraft to move along the route back and forth while adjusting parameters such as speed, gimbal angle, and more according to the needs of the shot. This makes complicated cinema-grade camera movements easier and more efficient and can deliver improved visual effects.

Spotlight Pro

Upgraded from Inspire 2, Spotlight Pro further enables solo creators with more shot possibilities. Based on powerful machine-learning algorithms, Inspire 3 supports automated subject recognition and locking for people, vehicles, and boats with greater accuracy than its predecessor.

Omnidirectional Sensing System

Choose this state-of-the-art drone and never have to worry about obstacles getting in the way of your perfect shots! With its nine sensors paired with fisheye cameras added to each of the four landing arms, you can rely on the uncompromised power and protection during use, while still enjoying unobstructed views all around. Let go and explore to new heights free from fear – the Inspire 3 will take care of you every step of the way.

Customizable Obstacle Sensing

In addition, Inspire 3 features a new customizable function to help ensure greater flight safety and more creative freedom. Horizontal, upward, and downward obstacle sensing can be enabled or disabled independently, and an obstacle alert range can be manually set to suit different scenarios.

Ultra-Wide Night-Vision FPV Camera

Equipped with the latest hardware and technology, this product will give anyone the opportunity to record stunning videos at a whole new level. The Inspire 3's 1/1.8-inch-sensor FPV camera is a revolution in aerial photography, featuring an irresistible 3μm pixel size, ultra-wide 161-degree DFOV, and live feeds up to 1080p/60fps. So why settle for just another boring video? Impress your audience with the vivid images and true colors you get with this product and make every shot count. And don't worry about flying at night—with an incredible light-sensing capability, your Inspire 3 nocturnal flights will be just as crisp as any other.

Tailormade 8K Sensor

The X9-8k Air, its lightest full-frame three-axis gimbal camera ever, is custom-built with its top-of-the-line image processing system, CineCore 3.0. With CineCore 3.0 in your corner, you'll be able to record up to 8K/25fps CinemaDNG video or 8K/75fps Apple ProRes RAW video — no matter what your project demands, you'll be able to meet the needs of top-class television and film productions.

8K

8K means ultra-high-resolution aerial footage that retains true-to-life texture close to what the human eye sees, with clarity that stuns audiences when displayed on larger screens. RAW brings X9-8K Air's sensor fully into play, providing abundant space for visual effects and color grading.

Dual Native ISO

With its revolutionary X9-8K Air functionality, this drone helps you enhances productions to create professional-level photos and videos. The dual native ISO supports full-frame 30fps and below allowing for a range of frame-rates production such as 24fps for films, 25fps for commercials and television, EI 800/4000 as well as EI 320/1600 at above 30fps. Here's your chance to take things up a notch with extraordinary images that capture all the beauty with exquisite detail and minimal noise - even in low light conditions like cityscapes or beaches! The DJI Inspire 3 Drone is your powerful partner that helps bring your creativity to life through stunning visuals.

14+ Stops of Dynamic Range

X9-8K Air covers 14+ stops of dynamic range, which captures rich highlight and shadow details in complex lighting scenarios like sunrises and sunsets. High dynamic range brings more possibilities for post-editing, retaining genuine colors even after significant exposure adjustments.

DL Mount Lenses

Inheriting DJI's proprietary DL mount, X9-8K Air is compatible with an additional 18 mm F2.8 full-frame ultra-wide lens and a new telephoto lens (will be released at a later date) on top of the previous full-frame lens selections of DL 24/35/50 mm F2.8. All five lenses are custom-made for aerial cinematography. The housings are made of lightweight, monocoque carbon fiber, so the lightest lens weighs just 178 g, meeting Inspire 3's requirement for ultra-high maneuverability.

DJI Cinema Color System (DCCS)

The DJI Inspire 3 Drone is an aerial video powerhouse designed with one purpose in mind: cinematic excellence. Equipped with the all new DJI Cinema Color System, X9-8K Air redefines the look of aerial videography. This next-generation technology accurately captures natural environments and urban landscapes in stunning detail, ensuring that every shot you take looks absolutely stunning. And even better - authentication skin tones are captured any location and lighting condition. Plus, DCCS seamlessly integrates with your ground-based cinema cameras for effortless color matching and a consistent style that transitions from sky to ground seamlessly.

Multi-Camera Timecode Sync

Through the 3.5mm port on the aircraft, you can sync timecode between equipment in the air and on the ground. When dealing with abundant footage from multiple cameras, timecode sync makes the editing process significantly more simplified and efficient.

DJI RC Plus

The high-tech remote controller, the DJI RC Plus, brings an intense outdoor experience right to your fingertips with its 7-inch 1,200-nit high-bright screen. With HDMI out and several customizable buttons and dials located on the front, back and top of the controller, action is made easy and thrilling. Never have outdoor, FPV drone flying been this exciting before! From experienced flyers to newbies alike, the Inspire 3 lets you take full control of your flight with amazing precision and agility - a great way to experience breathtaking views, no matter where you are.

Extends to 6 hours

The built-in battery of RC Plus provides an operating time of approximately 3.3 hours, and extends to 6 hours with an external WB37 battery. It also supports battery hot-swapping to improve creative efficiency.

Cinema-grade monitoring

On top of the classic flight control interface, the new DJI Pilot 2 app for Inspire adds a cinema-grade monitoring interface, which allows simple and convenient checking of information like camera exposure, video specifications, focal length, and gimbal angle, easily meeting the monitoring requirements of gimbal operators and DPs.

Cinema-Grade O3 Pro Video Transmission

With O3 Pro, our cinema-grade video transmission system, you can get up to 15 km of transmission distance in single control mode and 12 km in dual-control mode. Not only that but you can also benefit from full 1080p/60fps live feeds, an ultra-low latency of only 90ms and 4K/30 fps live feeds supported with a max 5km transmission distance for UHD monitoring and livestreaming on set.

Independent Links for Dual Control

Compared with its predecessor, the dual-control experience of Inspire 3 has been significantly upgraded. Two remote controllers can receive live feeds and control the drone independently, so the pilot and gimbal operator can be at different positions on set. This breaks Inspire 2's limitations of binding the primary and secondary control links.

Dual-Battery System

Equipped with a TB51 dual-battery system, this amazing drone takes reliability and performance to a new level. This system utilizes state-of-the-art battery chemistry technology, making each flight more efficient and seamless than before. Plus, it's smaller, lighter, and higher voltage compared to other drones on the market – meaning you can fly for up to 28 minutes at a time! That's right, uninterrupted flight time – now that's something you don't get with any other drone. But that's not all; even in extreme weather conditions as low as -20° C (-4° F), its auto-heating function ensures optimal flight performance and reliable operation.

New Battery Charging Hub

The all-new foldable battery charging hub strikes the optimum balance between charging efficiency and storage size. It can accommodate eight batteries. In Fast mode, it can charge two batteries to 90% in just 35 minutes and eight batteries to 100% in only 160 minutes. The included 65W USB-C port can also be used to charge an RC Plus.

DJI PROSSD 1TB Included

The included DJI PROSSD 1TB supports a max read speed of 900MBps and the footage can be read on a computer directly through the provided USB-C to USB-C cable without the need for a card reader.

Storage and Transitions

Get the ultimate experience of aerial photography and filmmaking with DJI's Inspire 3 Drone. Lightweight and powerful, the Inspire 3 offers you smooth flying technology that allows you to capture motion control shots with ease. With its newly designed trolley case, this drone is effortless to transport - featuring an extendable handle and four 360-degree-movement wheels for easy transportation. Your flight takes off in seconds flat with foldable quick-release propellers so you can get to the moment without spending time on setup and installation. Inside, you have the capacity to store one aircraft, one X9-8K Air gimbal camera, two receivers, four lenses, twelve batteries, two battery charging hubs and more! Plus numbered locks for added safety for your peace of mind. The days of worrying about transporting your drone are over. Embark on truly stunning flights with DJI's Inspire 3 Drone today!
Performance
Maximum Takeoff Weight
9.5 lb / 4310 g
Payload Capacity
0.7 lb / 315 gl
Maximum Horizontal Speed
58.4 mph / 94 km/h
Maximum Ascent Speed
17.9 mph / 8 m/s
Maximum Descent Speed
22.4 mph / 10 m/s
Maximum Wind Resistance
31.3 mph / 14 m/s
Flight Ceiling
2.4 Miles / 3800 m
Maximum Flight Time
28 Minutes
Maximum Hover Time
25 Minutes
Maximum Tilt Angle
35° (A/N Mode)

40° (S Mode)

20° (T Mode)

55° (Emergency Brake)

Hovering Accuracy
RTK

Horizontal: ±0.3' / 0.1 m

Vertical: ±0.3' / 0.1 m

GNSS

Horizontal: ±1.6' / 0.5 m

Vertical: ±1.6' / 0.5 m

Vision Positioning

Horizontal: ±1.0' / 0.3 m

Vertical: ±0.3' / 0.1 m

Maximum Angular Velocity
200°/s (Pitch)

150°/s (Yaw)

200°/s (Roll)
Camera
Image Sensor
36 x 19 mm (Full-Frame) CMOS
Sensor Resolution
Effective: 44.69 Megapixel
ISO Sensitivity
Photo

100 to 25,600

Video

200 to 6400

Shutter Speed
Electronic Shutter

1/8000 to 8 Seconds

Video Format
8192 x 4320p (MOV)
Still Image Support
DNG / JPEG

(8192 x 5456)

Media/Memory Card Slot
Dual Slot: DJI ProSSD [1 TB Maximum]
Gimbal
Number of Axes
3-Axis (Pitch (Tilt), Roll, Yaw (Pan))
Rotation Range
Mechanical Range

Pitch (Tilt): -148 to 110°

Roll: -90 to 230°

Yaw (Pan): -330 to 330°

Controllable Range

Pitch (Tilt): -140 to 100°

Roll: -20 to 20°

Yaw (Pan): -300 to 300°

Follow Speed
Using DJI RC Plus:

Tilt: 120°/s

Roll: 180°/s

Pan: 270°/s

Using DJI Master Wheels:

Pan/Tilt/Roll: 432°/s

Stabilization Accuracy
±0.002° (Motionless)

±0.004° (Motion)
Flight Control System
| | |
| --- | --- |
| Model | T740 |
| GNSS Support | GPS, BeiDou, Galileo |
Vision/Sensing System
Vision System
Downward / Upward / Forward / Backward / Left / Right
Vision System Capabilities
Forward

Measurement Range: 4.9 to 157.5' / 1.5 to 48 m

Max Speed: 33.6 mph / 15 m/s

Field of View: 103° (Vertical) / 90° (Horizontal)

Backward

Measurement Range: 4.9 to 157.5' / 1.5 to 48 m

Max Speed: 33.6 mph / 15 m/s

Field of View: 90° (Horizontal) / 103° (Vertical)

Lateral

Measurement Range: 4.9 to 137.8' / 1.5 to 42 m

Max Speed: 33.6 mph / 15 m/s

Field of View: 90° (Horizontal) / 85° (Vertical)

Upward

Measurement Range: 0.7 to 42.7' / 0.2 to 13 m

Max Speed: 13.4 mph / 6 m/s

Field of View: 100° (Vertical) / 90° (Horizontal)

Downward

Measurement Range: 1.0 to 59.1' / 0.3 to 18 m

Max Speed: 13.4 mph / 6 m/s

Field of View: 130° (Vertical) / 160° (Horizontal)

Operating Environment
Surface with Clear Patterns at >15 lux
Required Object Reflectivity
>20%
Remote Controller / Transmitter
Operating Frequency
2.4 GHz (2.400 to 2.4835)

5.1 GHz (5.150 to 5.250)

5.8 GHz (5.725 to 5.850)

Maximum Operating Distance
9.3 Miles / 15 km
Transmitter Power
33 dBm (2.4/5.8 G)

23 dBm (5.1 G)

Transmitter I/O
1 x HDMI Output
Power Consumption
12.5 W
Battery Type
1 x Built-In or WB37
Battery Capacity
3250 mAh
Battery Configuration
2 S / 7.2 V
Mobile App Compatible
Yes: Android & iOS

App Name: DJI Pilot 2

*As of April, 2023: Check with manufacturer for the most up-to-date compatibility

Built-In Display Size / Type
7" / LCD
Display Resolution
1920 x 1200
Display Brightness
1200 nits / cd/m2
Storage Temperature
-22 to 113°F / -30 to 45°C
Operating Temperature
-4 to 122°F / -20 to 50°C
Flight Battery
| | |
| --- | --- |
| Model | TB51 |
| Battery Chemistry | Lithium Cobalt Oxide (LiCoO2) |
| Battery Capacity | 4280 mAh / 98.8 Wh |
| Battery Configuration | 6 S / 23.1 V |
| Maximum Charging Power | 411 W |
| Operating Temperature | -4 to 104°F / -20 to 40°C |
| Charging Temperature | -4 to 104°F / -20 to 40°C |
| Weight | 16.6 oz / 470 g |
General
Motor Model
DJI 3511s
Propeller Model
DJI 1671
Propeller Attachment Type
Quick Release
Rotor Configuration
4
Operating Temperature
-4 to 104°F / -20 to 40°C
Diagonal Size
27.4" / 695 mm (Landing Gear Raised)

27" / 685 mm (Landing Gear Lowered)

Overall Dimensions
27.9 x 19.7 x 6.9" / 709.8 x 500.5 x 176.0 mm
Weight
8.8 lb / 3995 g (Including Propellers, Battery, Gimbal, Camera)
Have a question about DJI Inspire 3 Drone?
Ask a question.
Ask a question
⚠️ WARNING: This product can expose you to chemicals including Lead, which is known to the State of California to cause cancer and birth defects and/or other reproductive harm. For more information go to www.P65Warnings.ca.gov