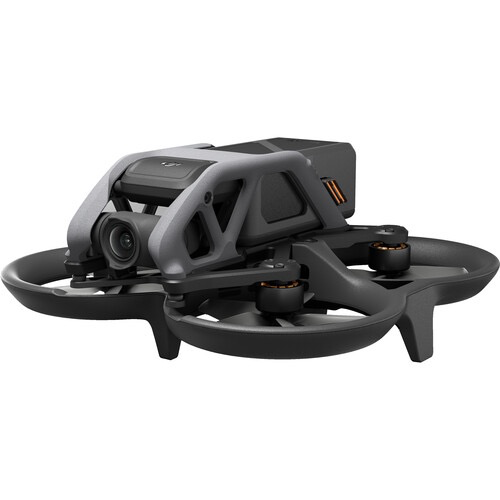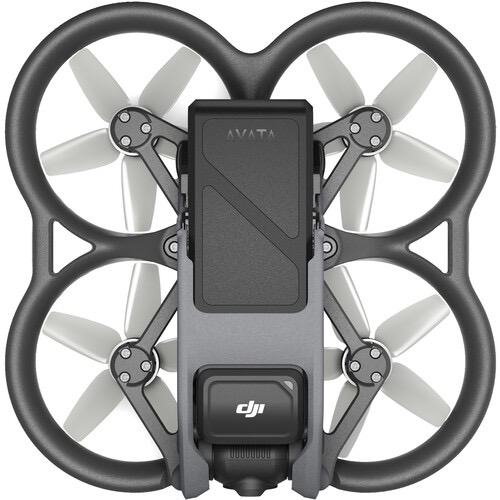 Close-Up Filming Indoors or Outside
Ultra-Wide 4K100p Stabilized Video
Propeller Guards for Safe Flying
Goggles 2 with 1080p Full HD Resolution
DJI Motion Controller Included
Up to 6.2-Mile Video Transmission Range
Downward Sensing Obstacle Avoidance
Emergency Brake & RTH Safety Features
Up to 18 Minutes of Flight Time
3 Speed Modes from 17.9 to 60.4 mph
The Sky is Your Playground

We all have a little bit of a daredevil in us. The feeling of flight is one that has been sought after since the beginning of time. And now, with the DJI Avata, that feeling is accessible to all. The Avata was designed with total immersion in mind. When you put on the goggles and pick up the motion controller, you are transported into a whole new world. Suddenly, you have unrivaled safety and control as you take to the skies. And with the camera capturing everything around you, you can share your flight experiences with others like never before. So whether you're looking for an adrenaline rush or just want to explore your world from a new perspective, the DJI Avata is your ticket to flight. Just remember, some of us were born to fly.

Where Agility Meets Toughness

This little drone is nimble and light, making it perfect for taking with you on your adventures. The built-in propeller guard means that if it comes into contact with an object, it will bounce back and stay in the air. So whether you're hiking through the woods or exploring a new city, you can rest assured that your DJI Avata will be there to capture all the action.

Get in the Pilot's Seat

Drone flying just got even more immersive and exciting with the DJI Avata. These goggles provide next-level comfort and convenience, thanks to their smaller, lighter design and Micro-OLED screens. This way, you'll enjoy outstanding clarity as you navigate the sky. Plus, the DJI Avata is compatible with DJI FPV Goggles V2.

Get a Feel for Flying

With its unique design, the Avata gives you the power to perform amazing stunts and maneuvers with just a squeeze of the trigger or a turn of your wrist. The controls are highly responsive and provide a totally new way to experience flying.

A Breakthrough in FPV Visuals

To see is to believe, and with the DJI Avata, you'll have 4K ultra-wide-angle recording that will leave your audience slack-jawed in disbelief. With a 1/1.7-inch CMOS sensor, f/2.8 aperture, and high-grade imaging performance, the Avata captures stunning visuals that are impossible to look away from. If you're looking for a product that will keep your audience engaged and coming back for more, look no further than the DJI Avata.

155° Super-Wide FOV

With its super-wide 155° FOV, you'll be able to capture stunning, hyper-immersive visuals that are closer to what we see with our own eyes. Whether you're shooting photos or videos, this expanded field of view will give your work a unique and impactful look.

Smooth Shooting

This top-of-the-line drone features RockSteady 2.0 and HorizonSteady technology, which work together to keep your footage stable as you fly. So whether you're swooping and diving or just capturing everyday moments, you can rest assured that your video will be smooth and ultra-HD quality.

Agile in the Editing Room

With DJI Avata, you can create beautiful and vibrant videos that will stand out from the rest. Shoot in D-Cinelike color mode to make your footage pop with advanced color grading. This makes it easy to turn your video into a work of art.

Portable and Ready for Adventure

This innovative new drone adopts a new design that is made with convenience in mind. It is more lightweight and compact than ever before, making it the perfect choice for those who are always on the go. In addition, the Avata comes with a variety of accessories that make it even more user-friendly.

Be Bold. Fly Far.

With its durable frame, the Avata can withstand any bumps or crashes, making it a great choice for those who want to explore without worry. Additionally, the new ducted aerodynamic design makes the Avata more power efficient, allowing for an impressive flight time of up to 18 minutes.

Soar and Explore

DJI Avata is the perfect tool for those who want to discover their surroundings and find new and creative ways to capture video. With its flexibility in various scenarios, DJI Avata opens up a world of possibilities for anyone with a creative mind. Whether you're exploring a new location or simply want to get a different perspective on your surroundings, DJI Avata will give you the freedom to do just that.

Downward Obstacle Sensing System

In addition to the built-in propeller guard, the Avata features downward binocular vision and ToF infrared sensing for even greater safety. These sensors detect obstacles below and allow the Avata to perform low-altitude or indoor flight with ease.

Who Said Safety Isn't Fun?

Looking for a drone that's easy to fly and won't give you anxiety? The DJI Avata is perfect for you! With the Emergency Brake button, you can stop on a dime at the tap of a button. And with support for RTH (Return to Home), you'll have added protection in case the battery gets low or the signal drops out. So go ahead and enjoy the experience with less worry.

Transmission You Can Depend On

Featuring DJI's flagship O3+ video transmission and 2T2R omnidirectional antennas, the Avata offers unrivaled stability and responsiveness during flight. You'll enjoy a crisp and smooth real-time view in your goggles, even in environments with interference. Plus, with a max flight time of 30 minutes and a max distance of 4.5 miles, you'll be able to explore your surroundings like never before.

Master Your Moves

With its compatible remote control devices and flight simulator, you can sharpen your skills and try out different control modes that offer enriched visual effects and new opportunities. So no matter if you're a beginner or a pro, the DJI Avata is perfect for you.
| | |
| --- | --- |
| Approx. 410 g | |
| 180×180×80 mm | |
| 1/1.7-inch sensor | |
| Aperture: | f/2.8 |
Up to 4K/60fps video
Effective pixels:
48 MP
FOV:
155°
Supports motion control by hand or head movements

HorizonSteady and RockSteady

Up to 10km video transmission*

1080p/100fps video transmission quality: the lowest latency of 30 ms

18-min max hovering time

20GB internal storage
⚠️ WARNING: This product can expose you to chemicals including Lead, which is known to the State of California to cause cancer and birth defects and/or other reproductive harm. For more information go to www.P65Warnings.ca.gov